Faculty search committee actions (a case of MGM/MKT/GBUS Department at College of Business and Public Management,

Wenzhou-Kean University)
Faculty is the most fundamental and valuable asset to achieve an educational institution's mission, vision, and strategic goals.
Acquiring the best and appropriate faculty is the most critical and necessary thing to secure a high quality of education.
Wenzhou-Kean University (WKU) took over the faculty hiring authority from the Headquarter campus s

ince August., 2019.
WKU set up a new faculty hiring policy and exercise it with newly established procedures and processes.
[updated Jan. 12, 2022]
Search Committee Guide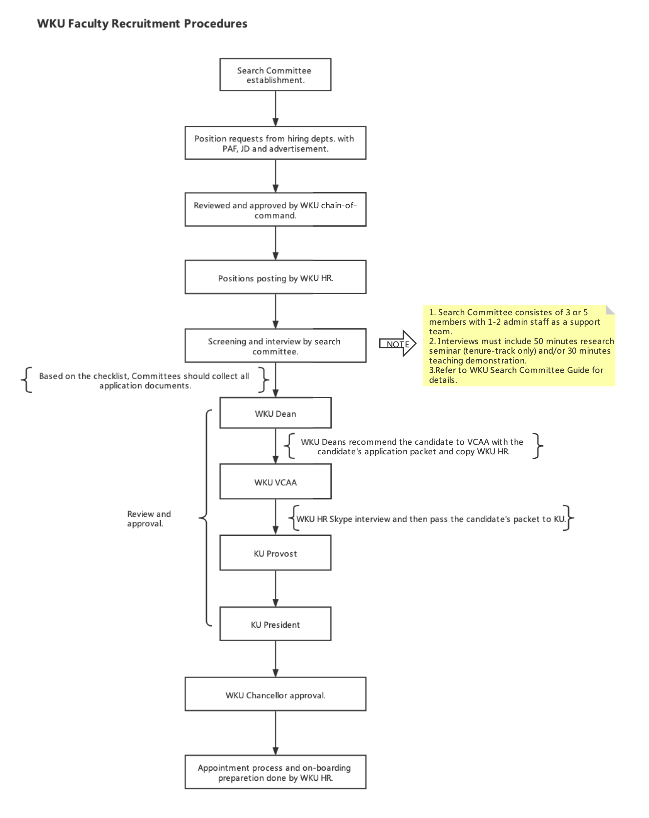 *Interview must include 50 minutes research seminar (tenure-track only) and/or 30 minutes teaching demo. (interpretation: total 50 minutes research (30 min.) /teaching demo (20 min.) job talk is necessary).
Faculty Search Committee of Wenzhou-Kean University, College of Business & Public Management (CBPM) is performing the faculty hiring processes.
Especially, the Management, Marketing, and Global business (MGM) department at the CBPM formed a faculty search committee.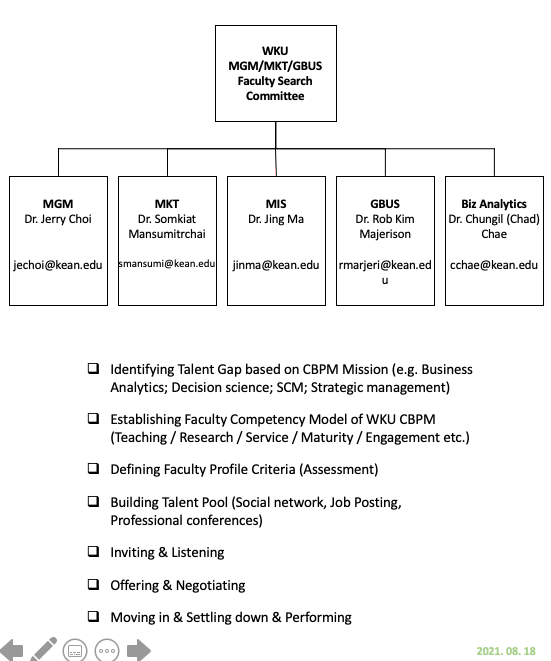 These are actions what the MGM faculty search committee taking.
Faculty Search Procedures
Necessary Documents:
1. The Committee Chair assigns a committee member the applicant with the initial evaluation form and the applicant's application package (CV, Cover Letter).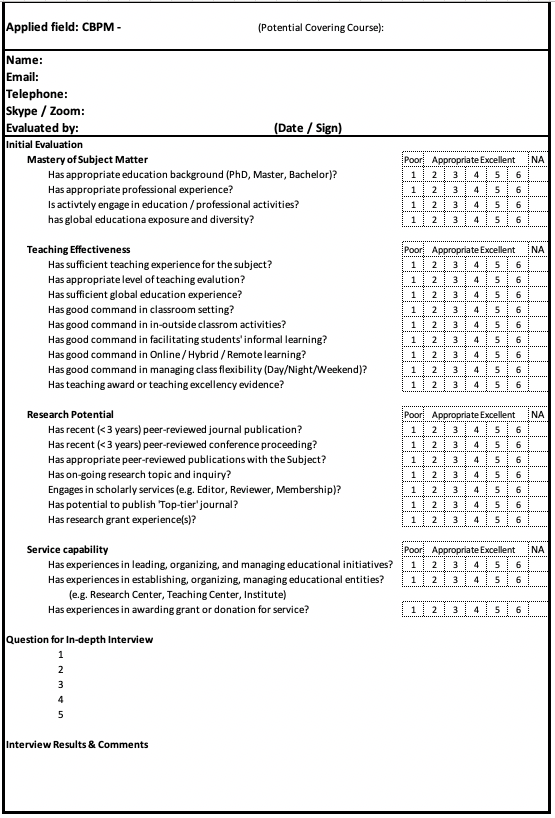 2. The member who has a relevant background with the applicant evaluate the applicant's capability. And the member gives the Chair his/her evaluation.
3. The Chair and the member discussed the result together. And we make a choice out of three options.
1) Directly Recommend to Dean
2) Having An Interview with Committee
3) Stop going further process.
This case shows that the Committee wants to have an interview with a candidate to talk about his teaching capability.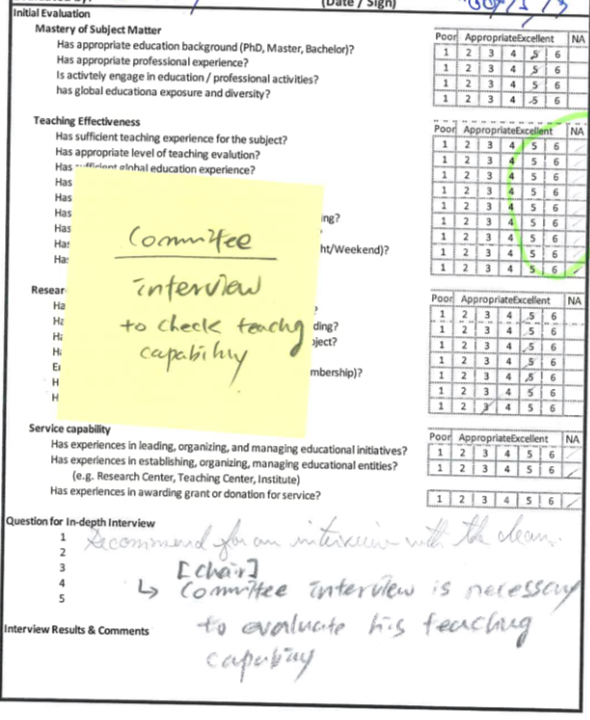 4. Conducting an Interview + Teaching Demo.
By using the interview template, all Committee members, and representing WKU CBPM Student Advisory Council Member(s) provide interview evaluations with their own opinions.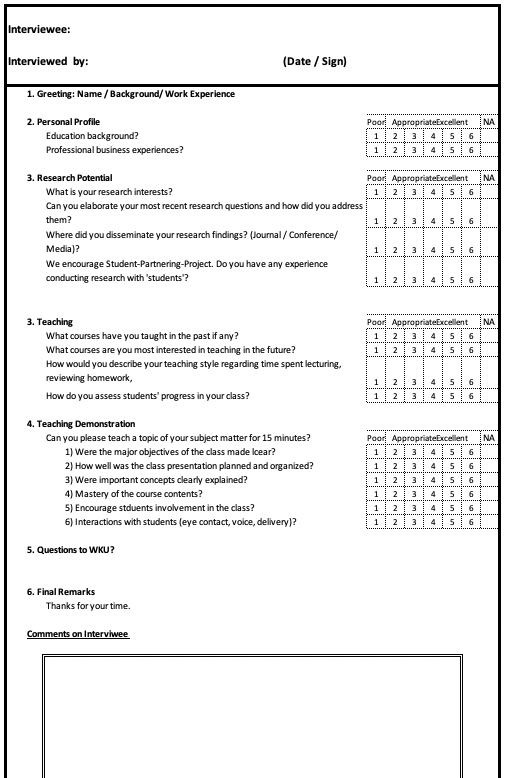 After the interview, the Committee archive a meeting minutes for record.
Also, the Video conferencing interview is archived in Video form by using "Zoom.us" service.
Recorded interview/teaching demonstrations are stored in a secure server that is fully protected by a committee.
Example of an interview Meeting Minutes.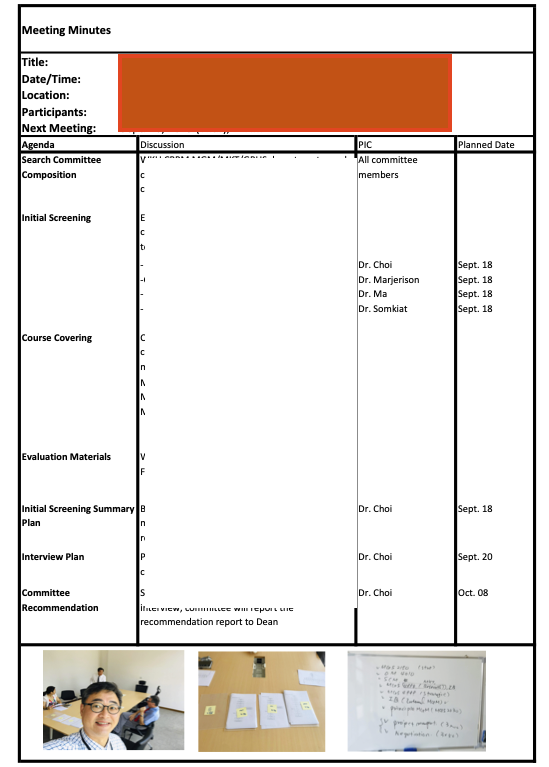 5. Report "Committee Decision" to Dean.
In this stage, we have two options.
1) Recommend to Dean
2) Stop going further process.
Full final report forms are here.
Kean AA-1 (Applicant Listing Form) and AA-2 (Search Clearance Form) need to be updated with the faculty candidate.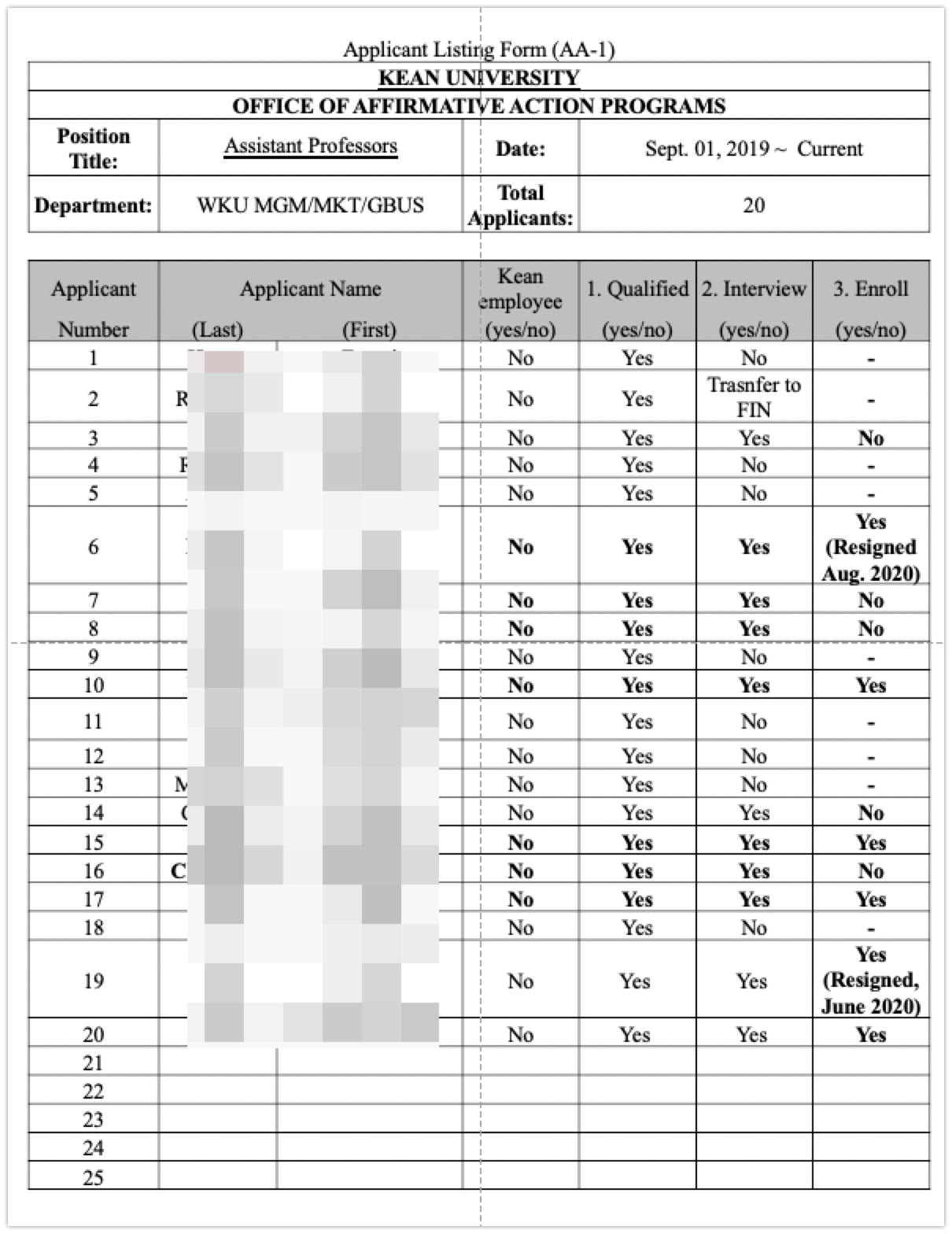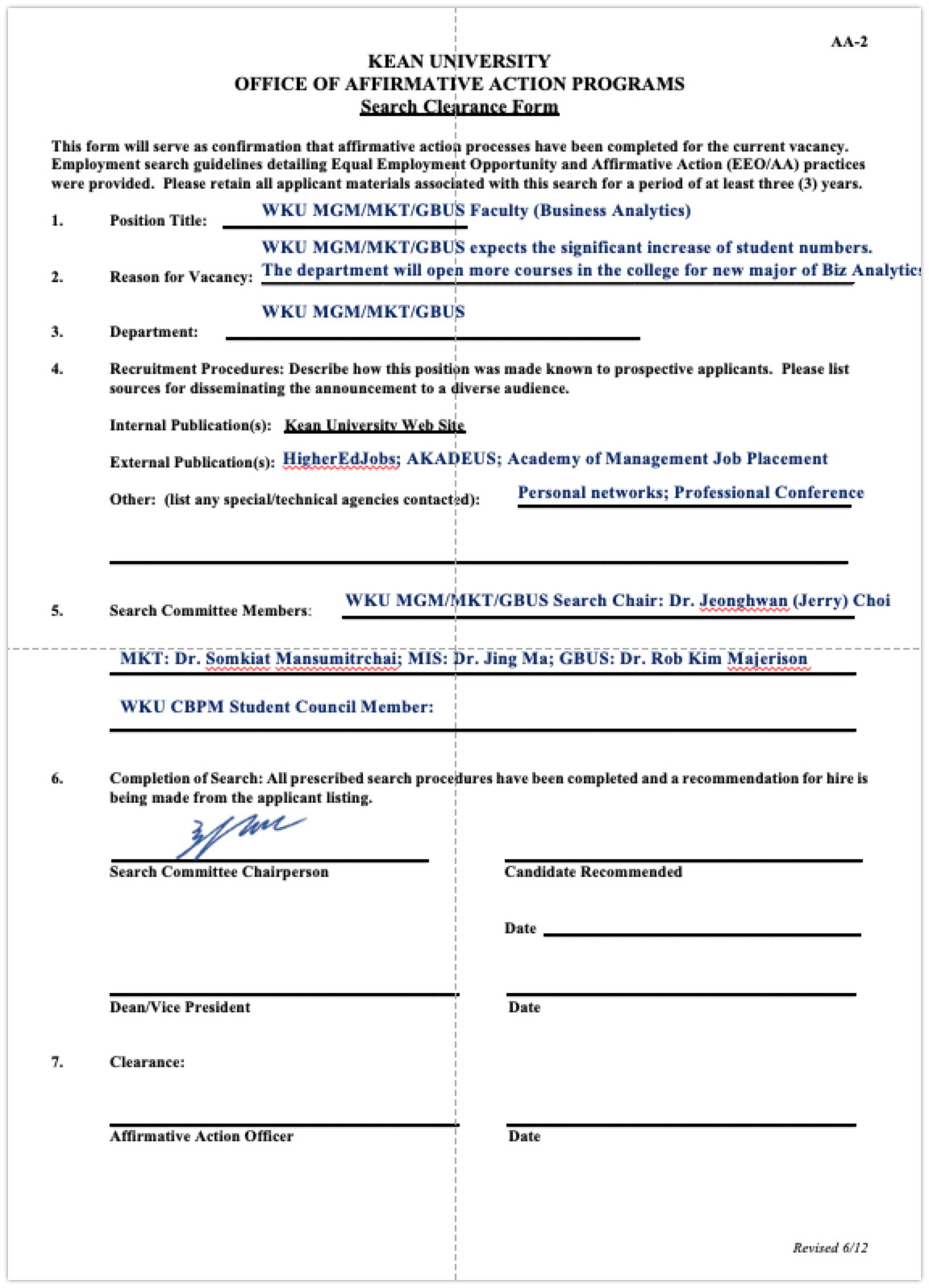 6. WKU CBPM Dean reports and recommends final rounder(s) to WKU Dean, WKU VCAA, and KU Dean and Provost Office.
7. KU President & WKU Chancellor finalize job offer decision, and KU/WKU HR officially offer a job
Results of 2019-20 Faculty Hiring Results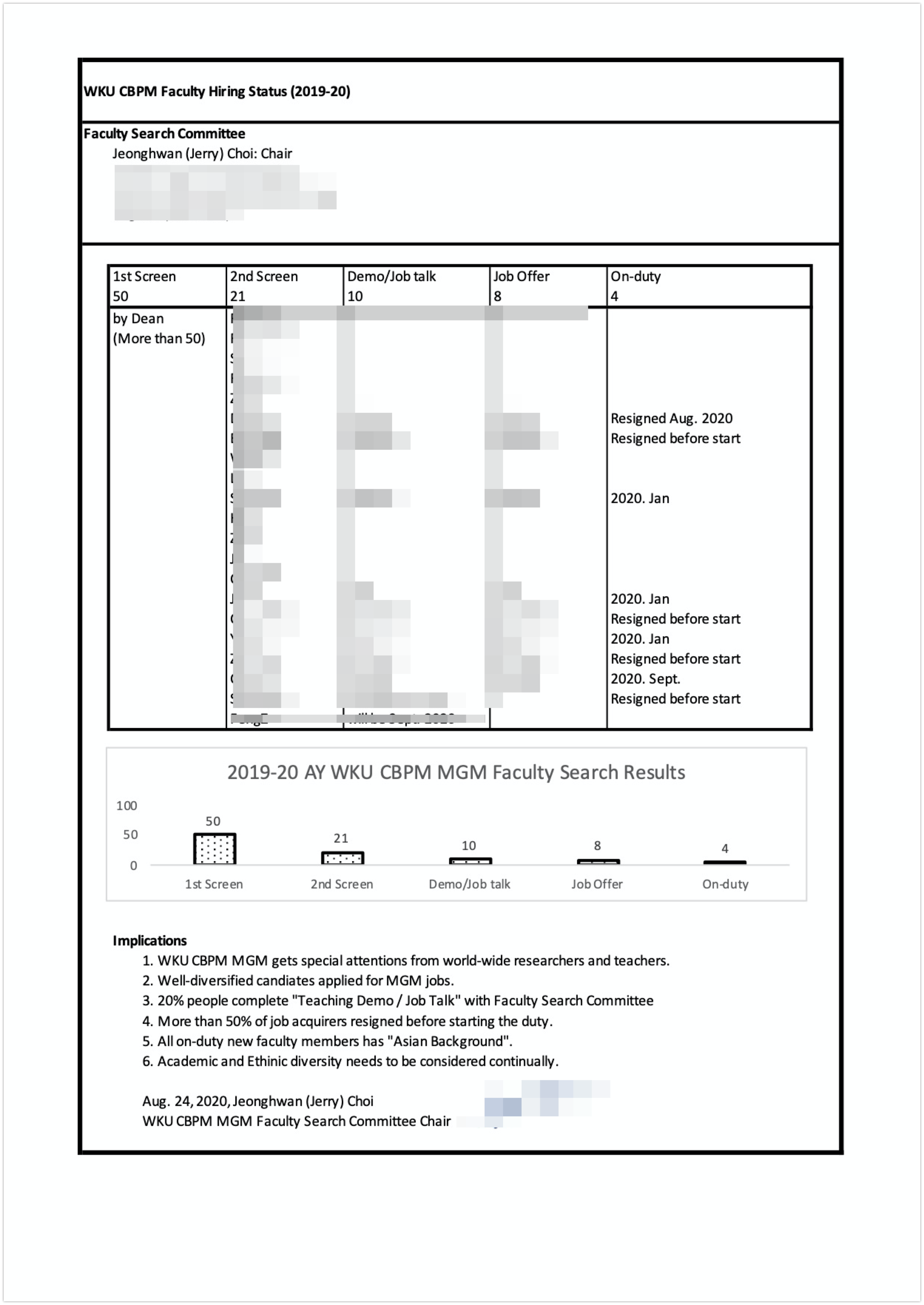 Implications
1. WKU CBPM MGM gets special attention from world-wide researchers and teachers.
2. Well-diversified candidates applied for MGM jobs.
3. 20% people complete "Teaching Demo / Job Talk" with Faculty Search Committee
4. More than 50% of job acquirers resigned before starting the duty.
5. All on-duty new faculty members have "Asian Background".
6. Academic and Ethnic diversity needs to be considered continually.
2021. 03. 09: Updates of WKU CBPM Faculty Search Activities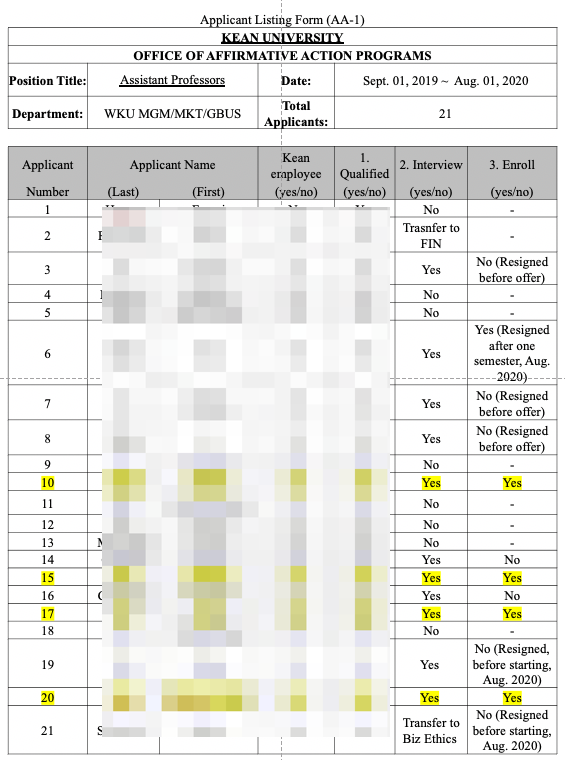 Mar. 20, 2021: Job Postings of WKU CBPM MGM Faculty Jobs (BA, MGM, GBUS)
April 21, 2021: Significant Shortcoming in Acquring Business Faculty Workforce at WKU.
WKU CBPM MGM Search Committee conducted 6 job talks (Sept. 2020 - April 2021), and we recommended those candidates.
However, only one candidate confirmed coming to WKU so far.
6% from Assessment;
17% from WKU Job offers.
We know WKU is not the best option for many strong candidates.
But, the ratio of acceptance and enrollment in WKU is way too low.
AA-1: AY 2020-2021 (Sept. 01, 2020 ~ July. 2021)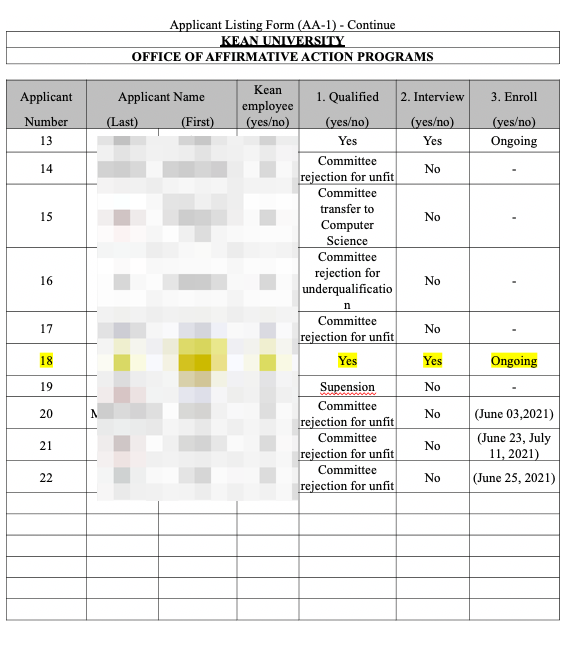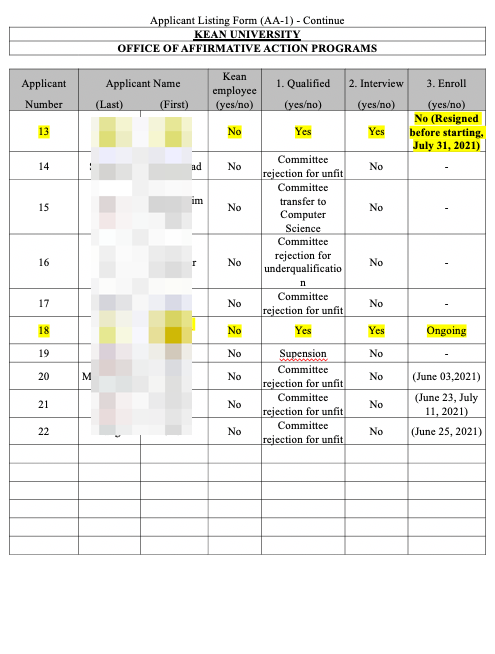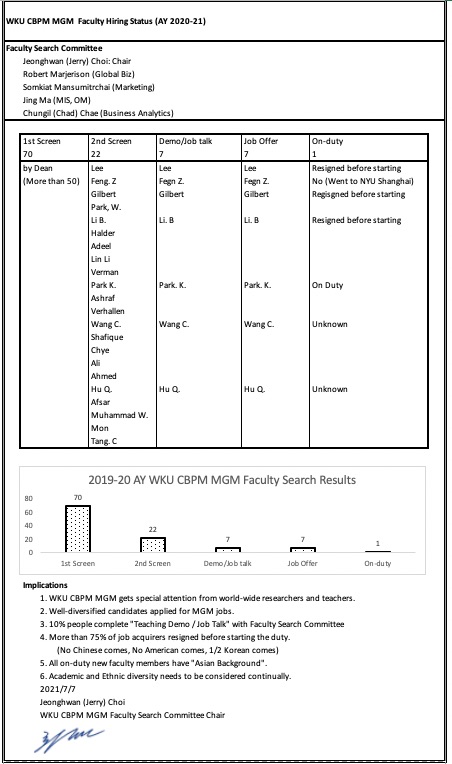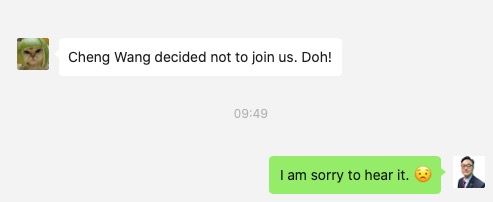 2021. 10.11: Search Committee Activity Update for WKU Academic Affairs.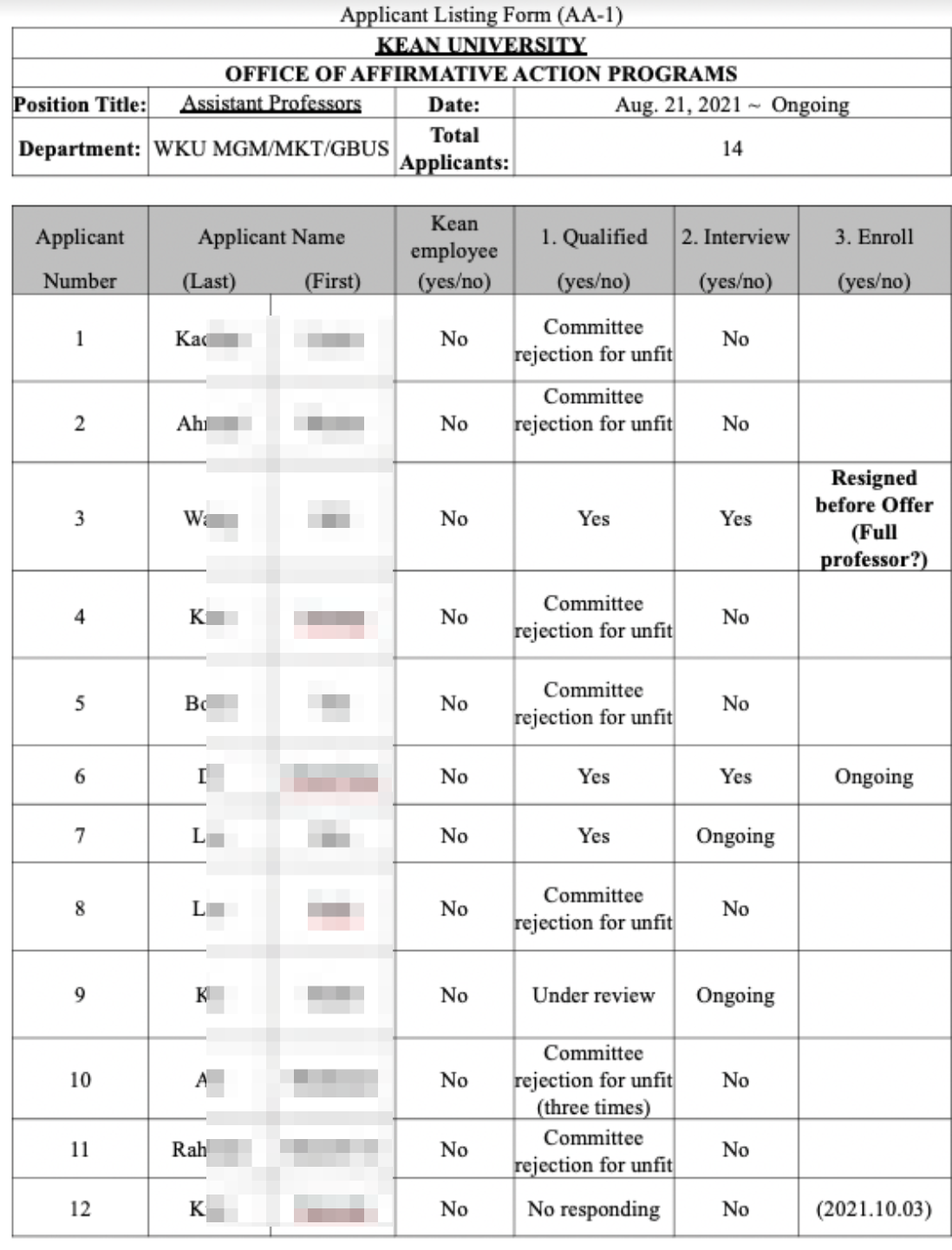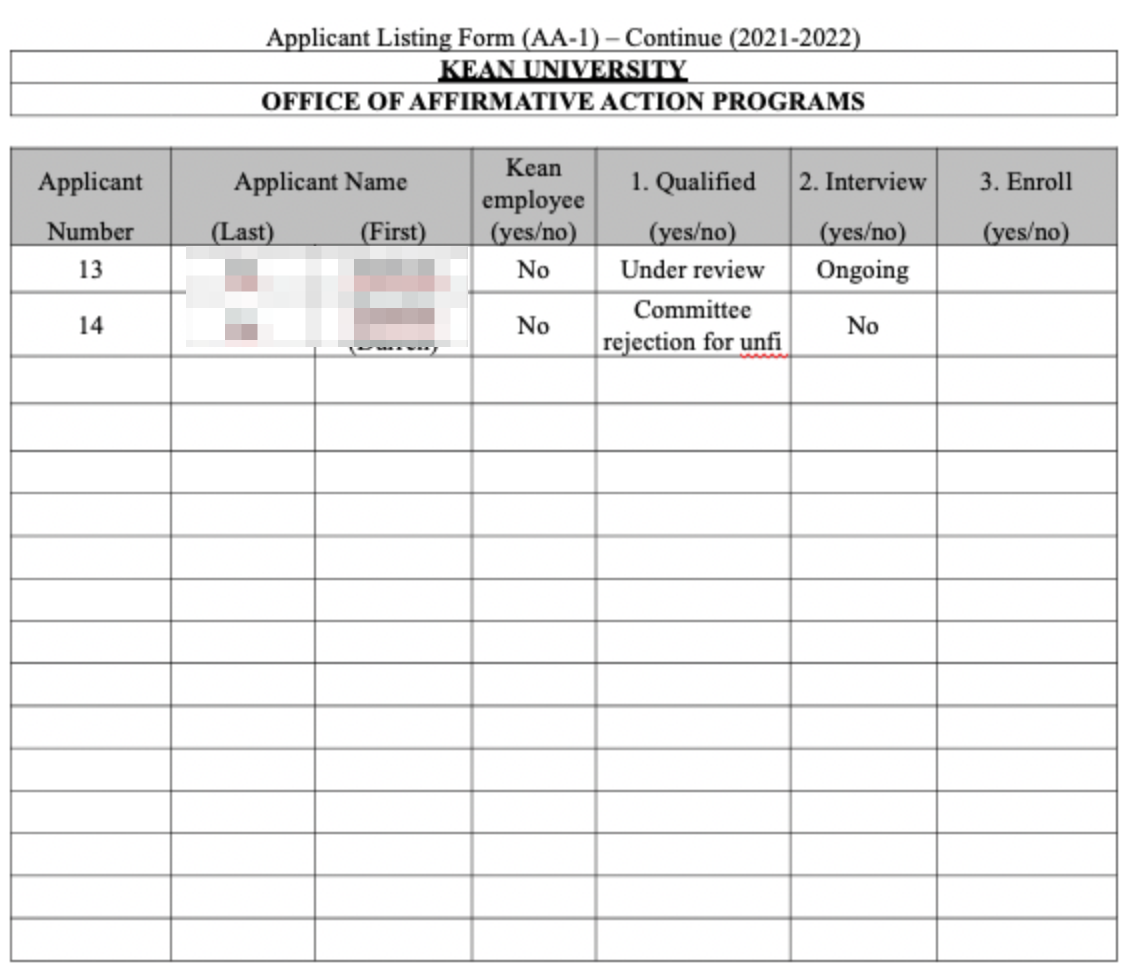 2021. Oct. 15: A Tension between Search Committee & Office (different valuation)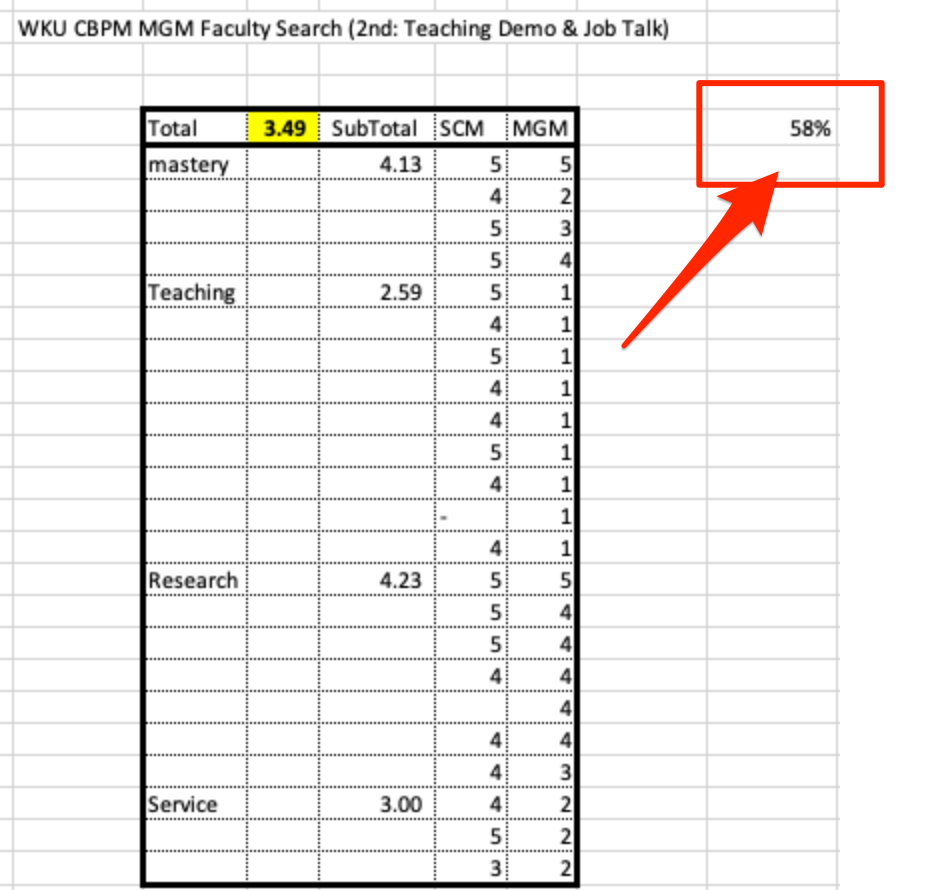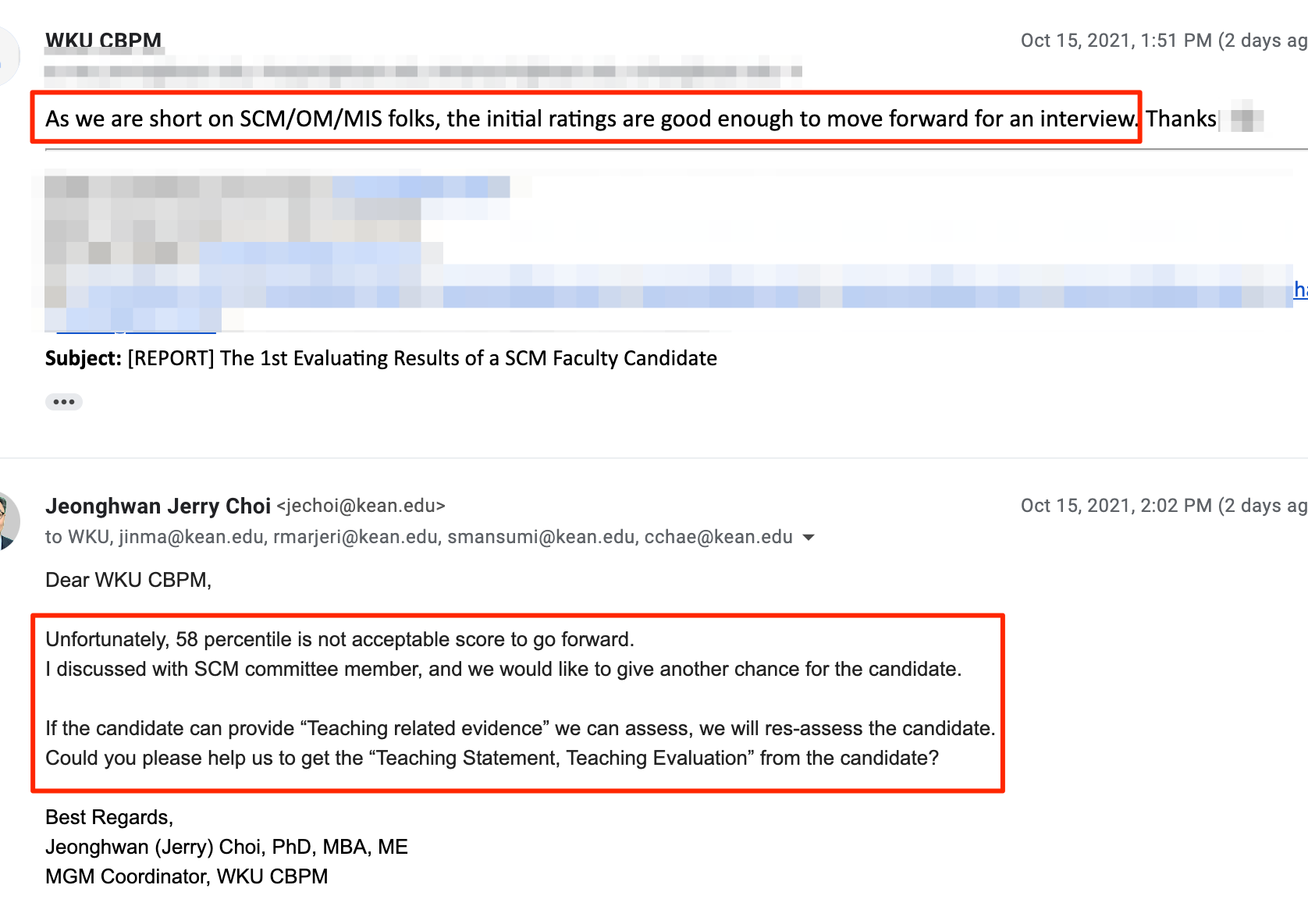 2022. January, 13: WKU CBPM MGM Job Posting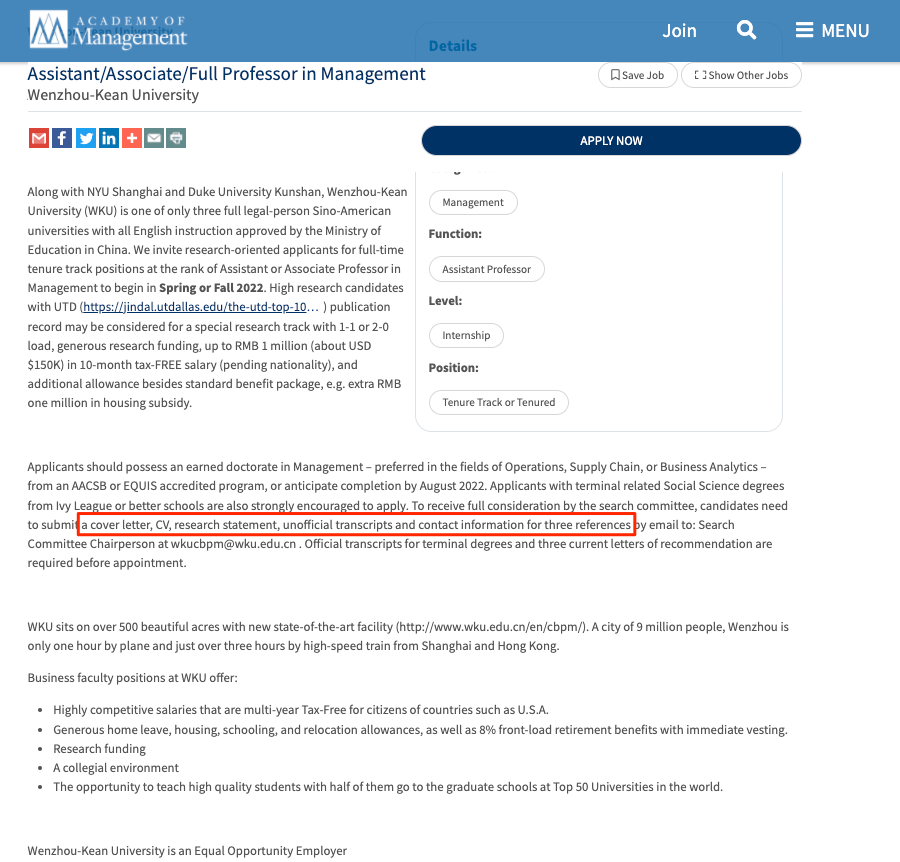 * Teaching Evidence requirement should be added.
==================
2022. January, 13: WKU CBPM MGM Job Posting
2022. 01. 12: Updated Search Committee Guide and Procedure
2021.10.15: Search Committee and Office have a tentions by different valuation.
2021.10.11: Search Committee Activities Reported to WKU Academic Affairs (?)
2021. 08.18: Search Committee Structure is Updated.
2021. 07.31: Faculty Hiring Results of AY 2020-2021 updated.
2021. 07.11: Faculty Hiring Results of AY 2020-2021 updated.
2021. 04. 20: Faculty Hiring Results (2020 Sept. ~ 2021 April)
2021. 03. 21: WKU CBPM MGM Job Postings at AOM
2021.03.09: Updated Progress in WKU MGM Faculty Hiring.
2020. 08. 13: Added the "Involvement of WKU CBPM Student Advisory Council Members in the new faculty hiring 'Teaching Demo' and interview process".
2019. 10. 17: Document created by Dr. Jerry Choi