Faculty search committee actions (a case of MGM/MKT/GBUS Department at College of Business and Public Management,

Wenzhou-Kean University)
Faculty is the most fundamental and valuable asset to achieve an educational institution's mission, vision, and strategic goals.
Acquiring the best and appropriate faculty is the most critical and necessary thing to secure a high quality of education.
Wenzhou-Kean University (WKU) took over the faculty hiring authority from the Headquarter campus s

ince August., 2019.
WKU set up a new faculty hiring policy and exercise it with newly established procedures and processes.
[updated Jan. 12, 2022]
Search Committee Guide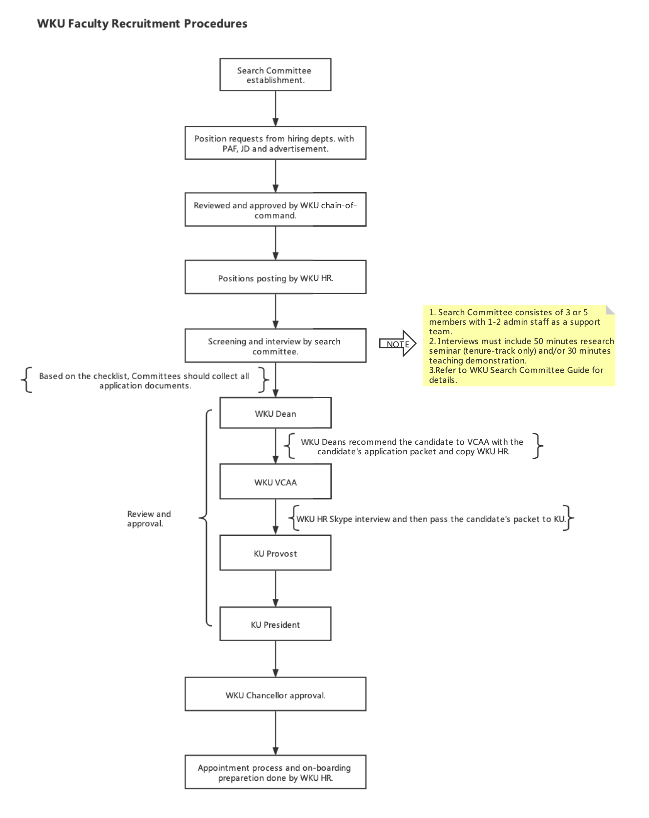 *Interview must include 50 minutes research seminar (tenure-track only) and/or 30 minutes teaching demo. (interpretation: total 50 minutes research (30 min.) /teaching demo (20 min.) job talk is necessary).
Faculty Search Committee of Wenzhou-Kean University, College of Business & Public Management (CBPM) is performing the faculty hiring processes.
Especially, the Management, Marketing, and Global business (MGM) department at the CBPM formed a faculty search committee.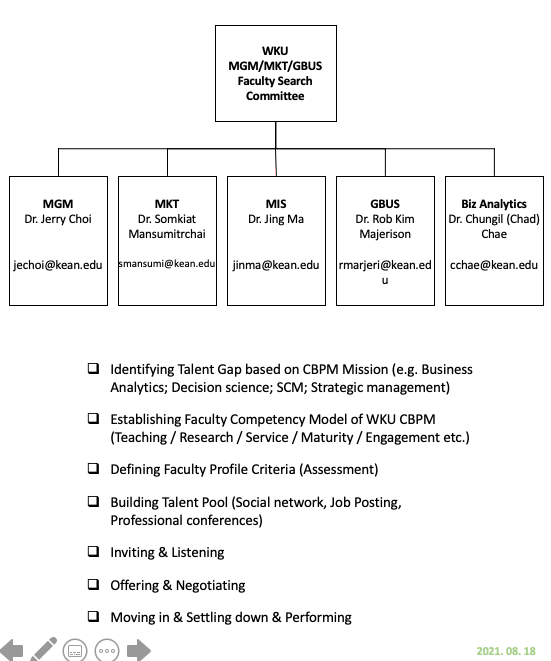 These are actions what the MGM faculty search committee taking.
Faculty Search Procedures
Necessary Documents:
1. The Committee Chair assigns a committee member the applicant with the initial evaluation form and the applicant's application package (CV, Cover Letter).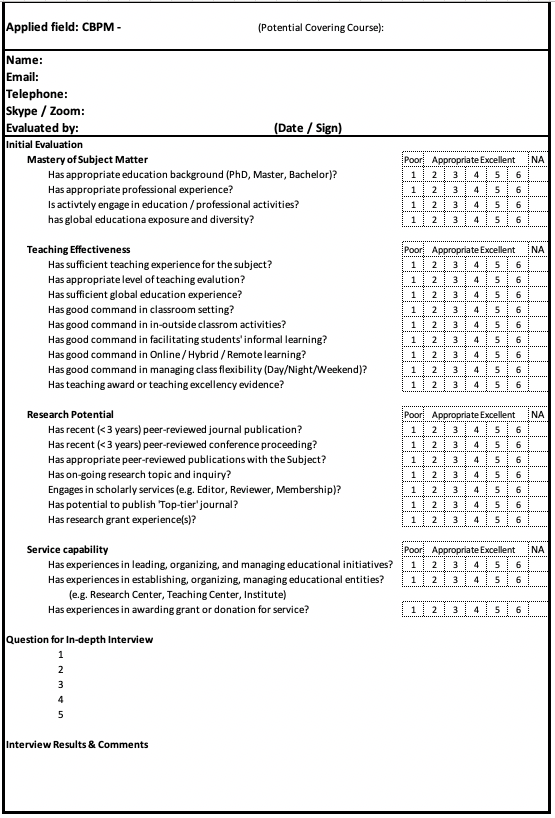 2. The member who has a relevant background with the applicant evaluate the applicant's capability. And the member gives the Chair his/her evaluation.
3. The Chair and the member discussed the result together. And we make a choice out of three options.
1) Directly Recommend to Dean
2) Having An Interview with Committee
3) Stop going further process.
This case shows that the Committee wants to have an interview with a candidate to talk about his teaching capability.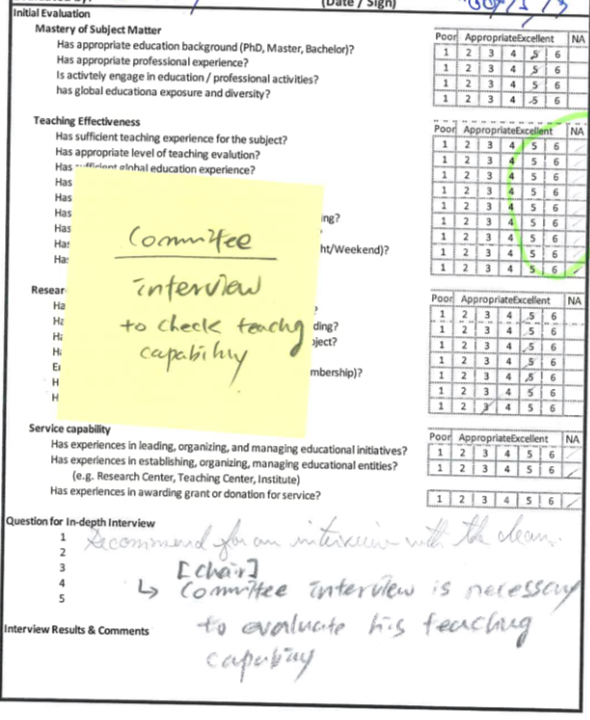 4. Conducting an Interview + Teaching Demo.
By using the interview template, all Committee members, and representing WKU CBPM Student Advisory Council Member(s) provide interview evaluations with their own opinions.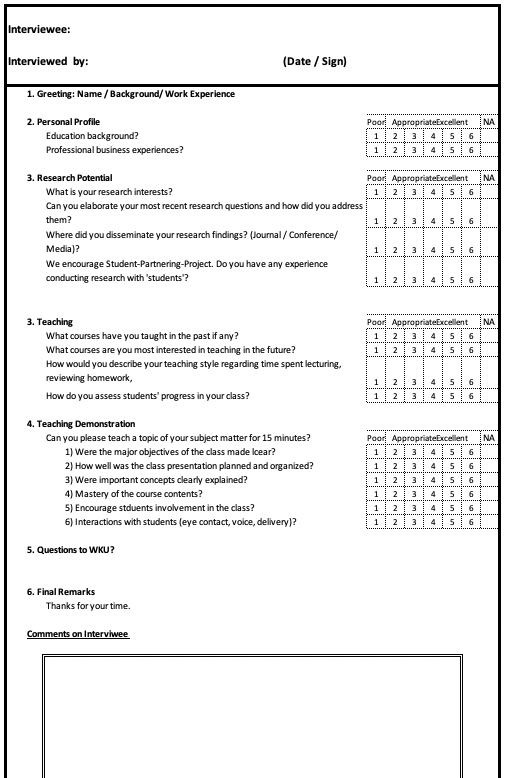 After the interview, the Committee archive a meeting minutes for record.
Also, the Video conferencing interview is archived in Video form by using "Zoom.us" service.
Recorded interview/teaching demonstrations are stored in a secure server that is fully protected by a committee.
Example of an interview Meeting Minutes.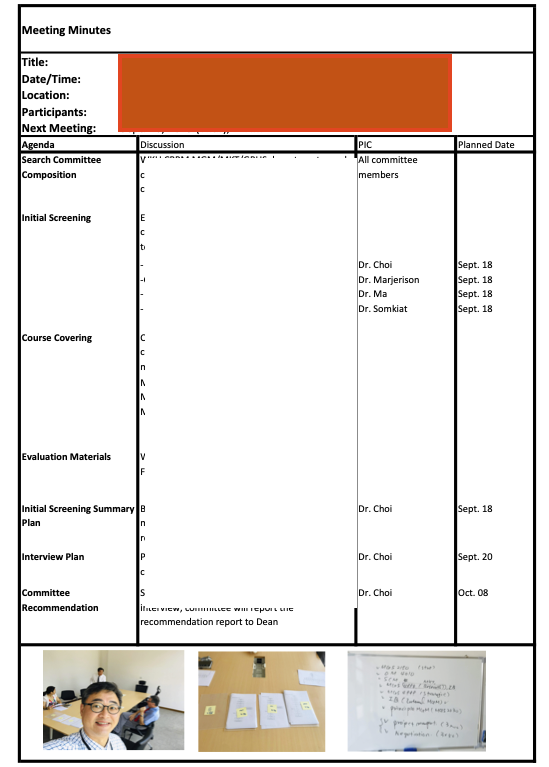 5. Report "Committee Decision" to Dean.
In this stage, we have two options.
1) Recommend to Dean
2) Stop going further process.
Full final report forms are here.
Kean AA-1 (Applicant Listing Form) and AA-2 (Search Clearance Form) need to be updated with the faculty candidate.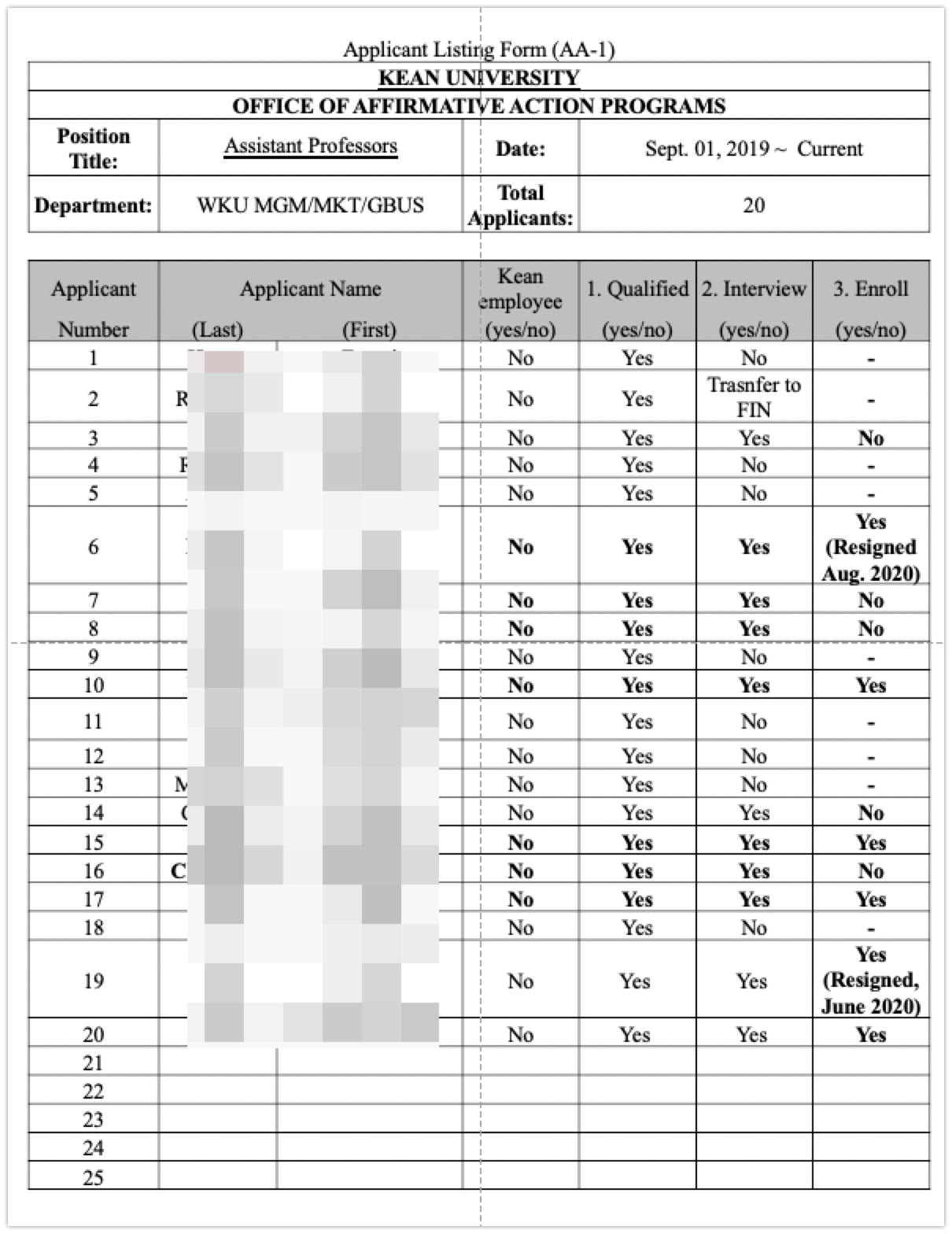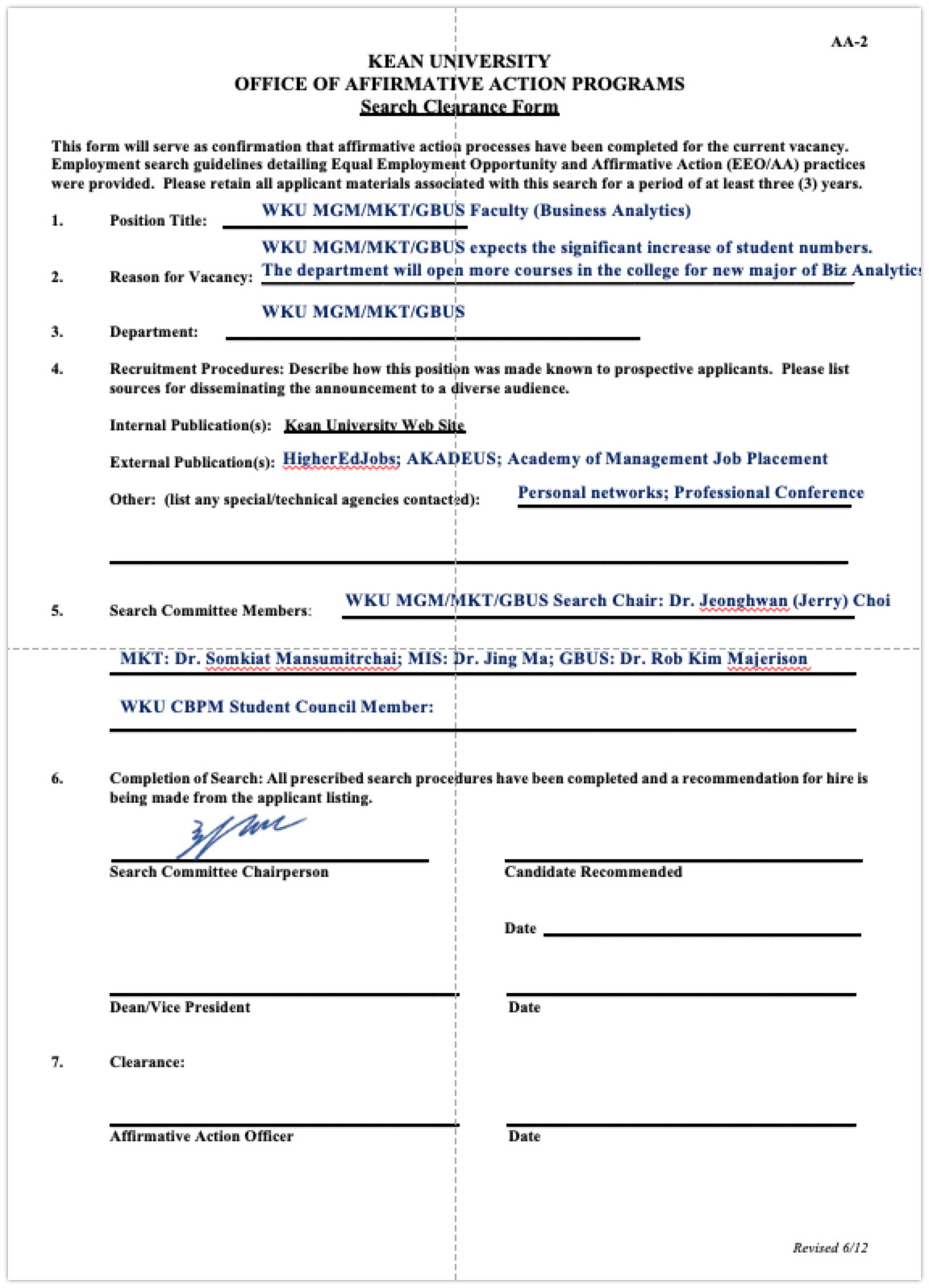 6. WKU CBPM Dean reports and recommends final rounder(s) to WKU Dean, WKU VCAA, and KU Dean and Provost Office.
7. KU President & WKU Chancellor finalize job offer decision, and KU/WKU HR officially offer a job
Results of 2019-20 Faculty Hiring Results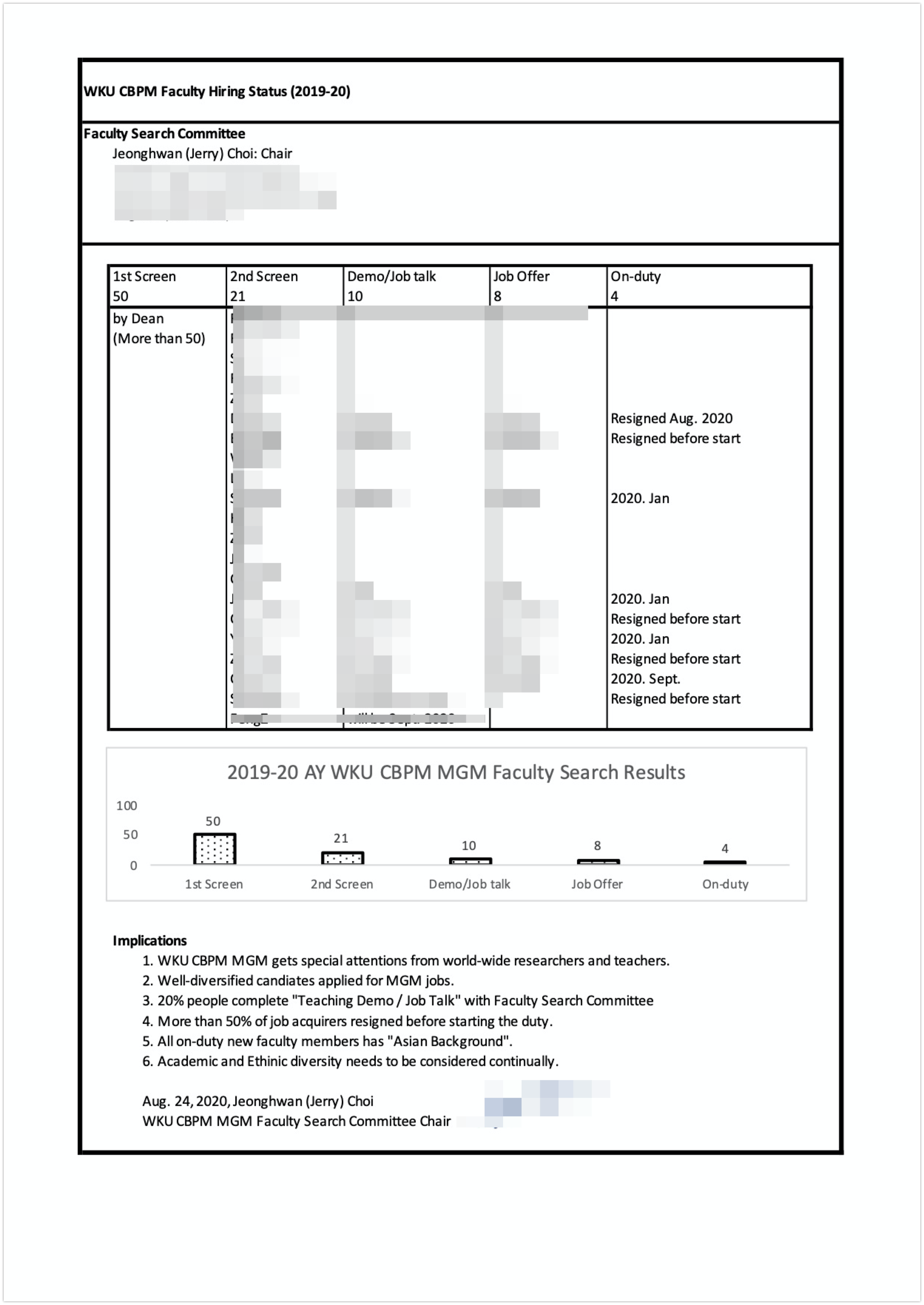 Implications
1. WKU CBPM MGM gets special attention from world-wide researchers and teachers.
2. Well-diversified candidates applied for MGM jobs.
3. 20% people complete "Teaching Demo / Job Talk" with Faculty Search Committee
4. More than 50% of job acquirers resigned before starting the duty.
5. All on-duty new faculty members have "Asian Background".
6. Academic and Ethnic diversity needs to be considered continually.
2021. 03. 09: Updates of WKU CBPM Faculty Search Activities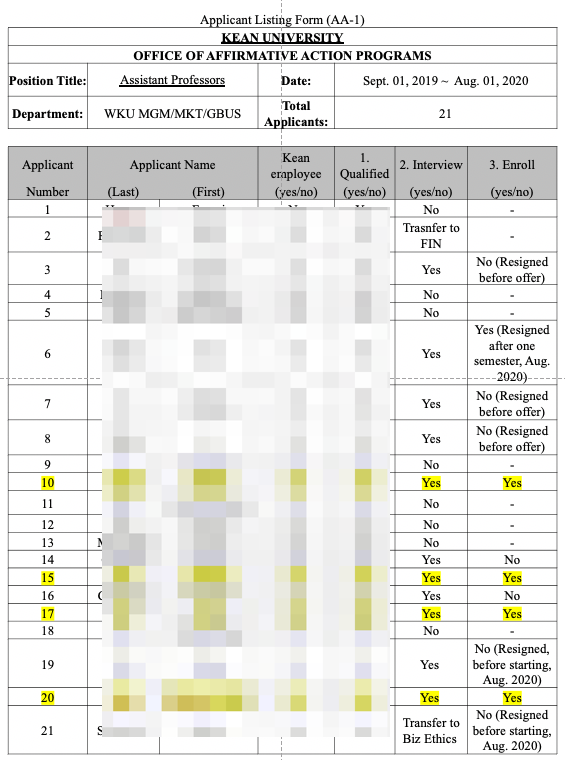 Mar. 20, 2021: Job Postings of WKU CBPM MGM Faculty Jobs (BA, MGM, GBUS)
April 21, 2021: Significant Shortcoming in Acquring Business Faculty Workforce at WKU.
WKU CBPM MGM Search Committee conducted 6 job talks (Sept. 2020 - April 2021), and we recommended those candidates.
However, only one candidate confirmed coming to WKU so far.
6% from Assessment;
17% from WKU Job offers.
We know WKU is not the best option for many strong candidates.
But, the ratio of acceptance and enrollment in WKU is way too low.
AA-1: AY 2020-2021 (Sept. 01, 2020 ~ July. 2021)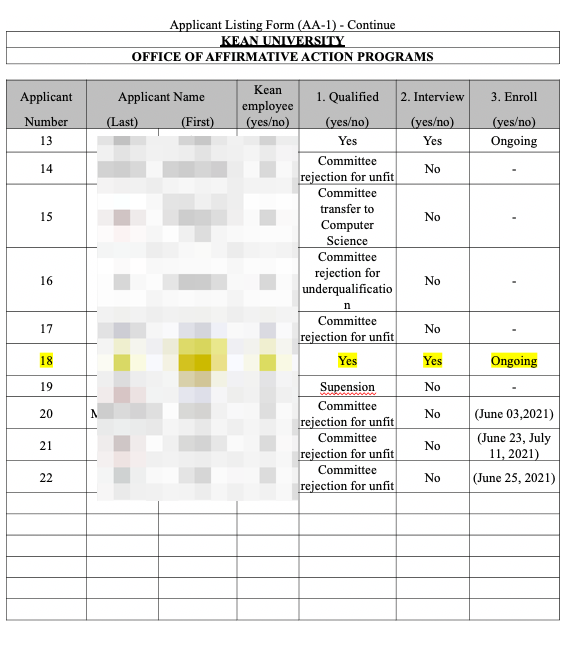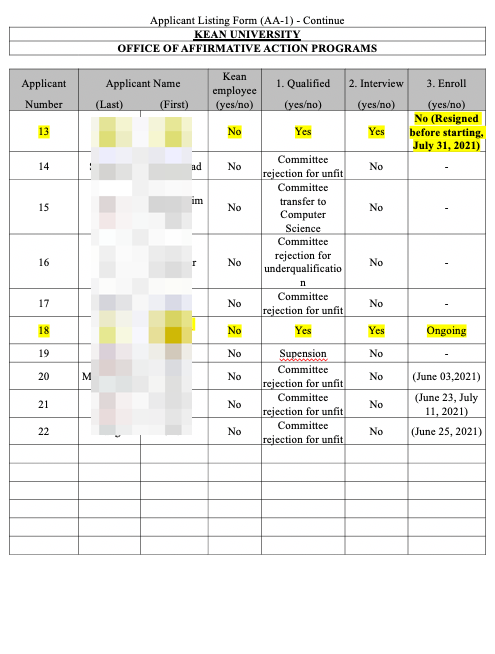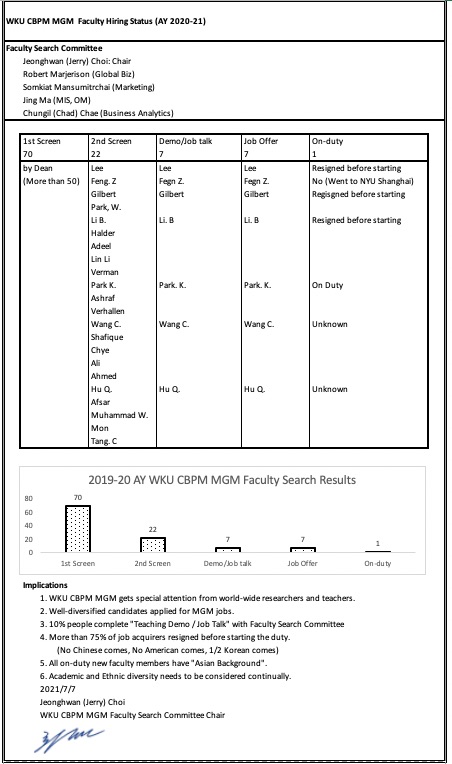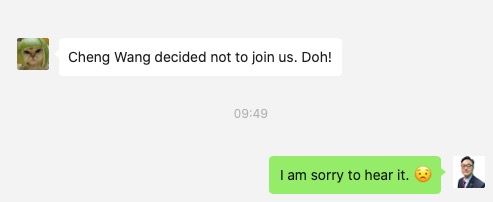 2021. 10.11: Search Committee Activity Update for WKU Academic Affairs.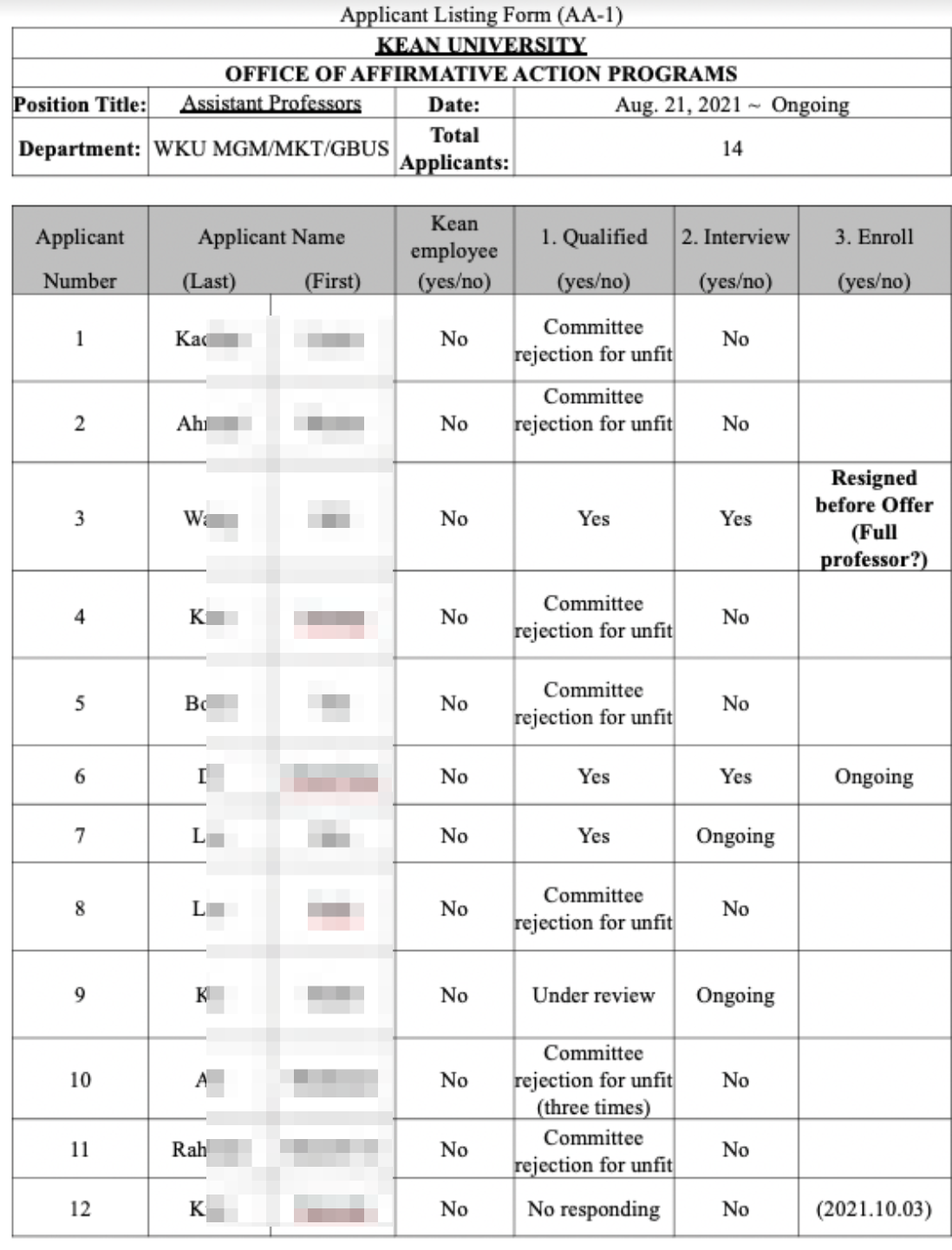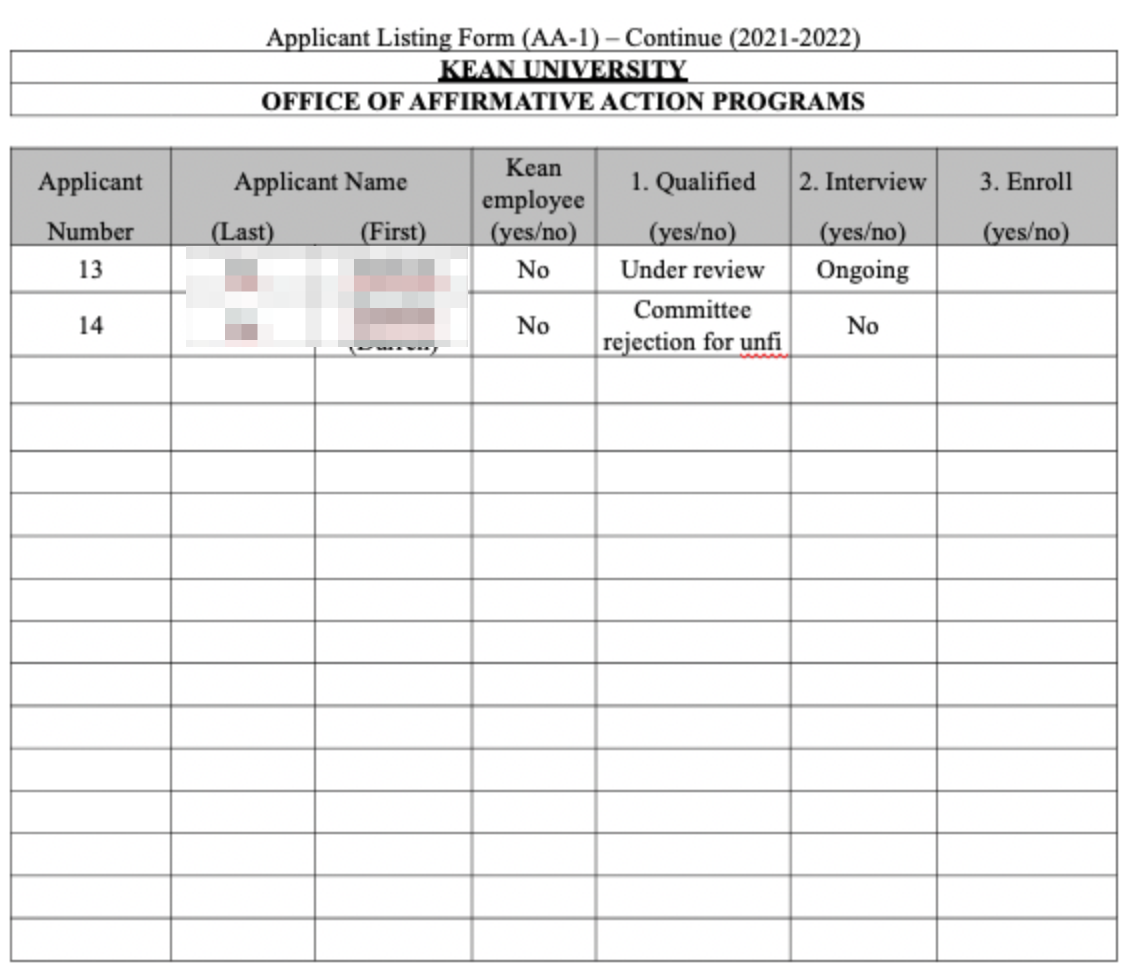 2021. Oct. 15: A Tension between Search Committee & Office (different valuation)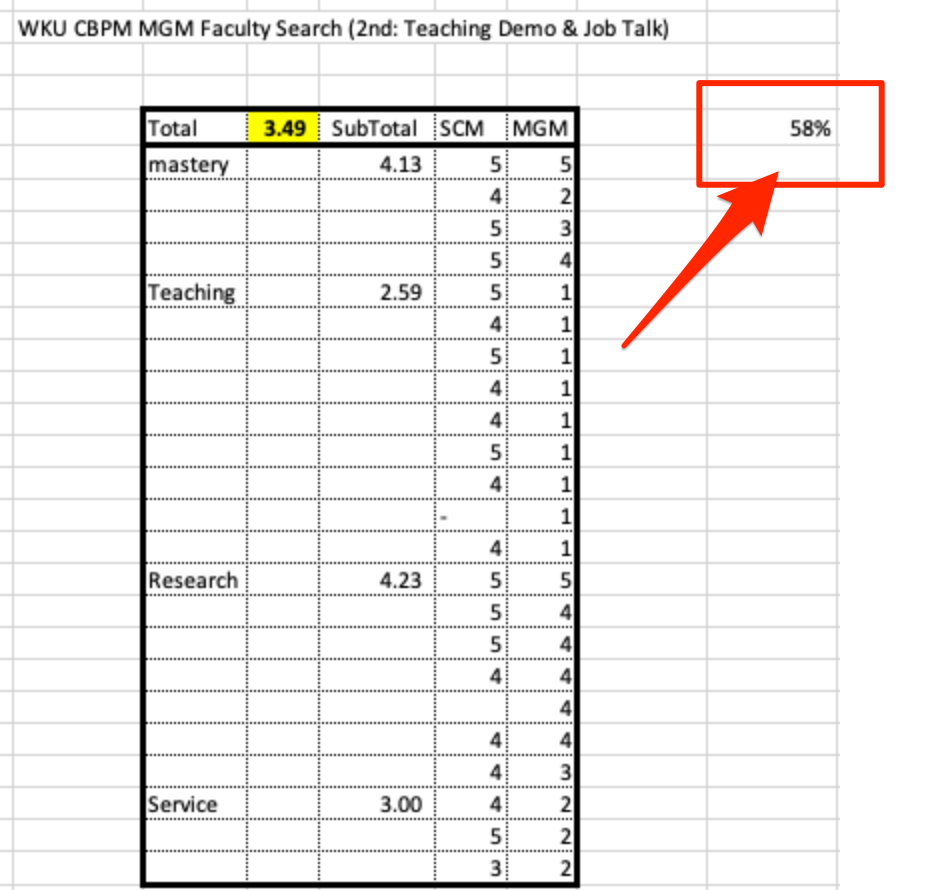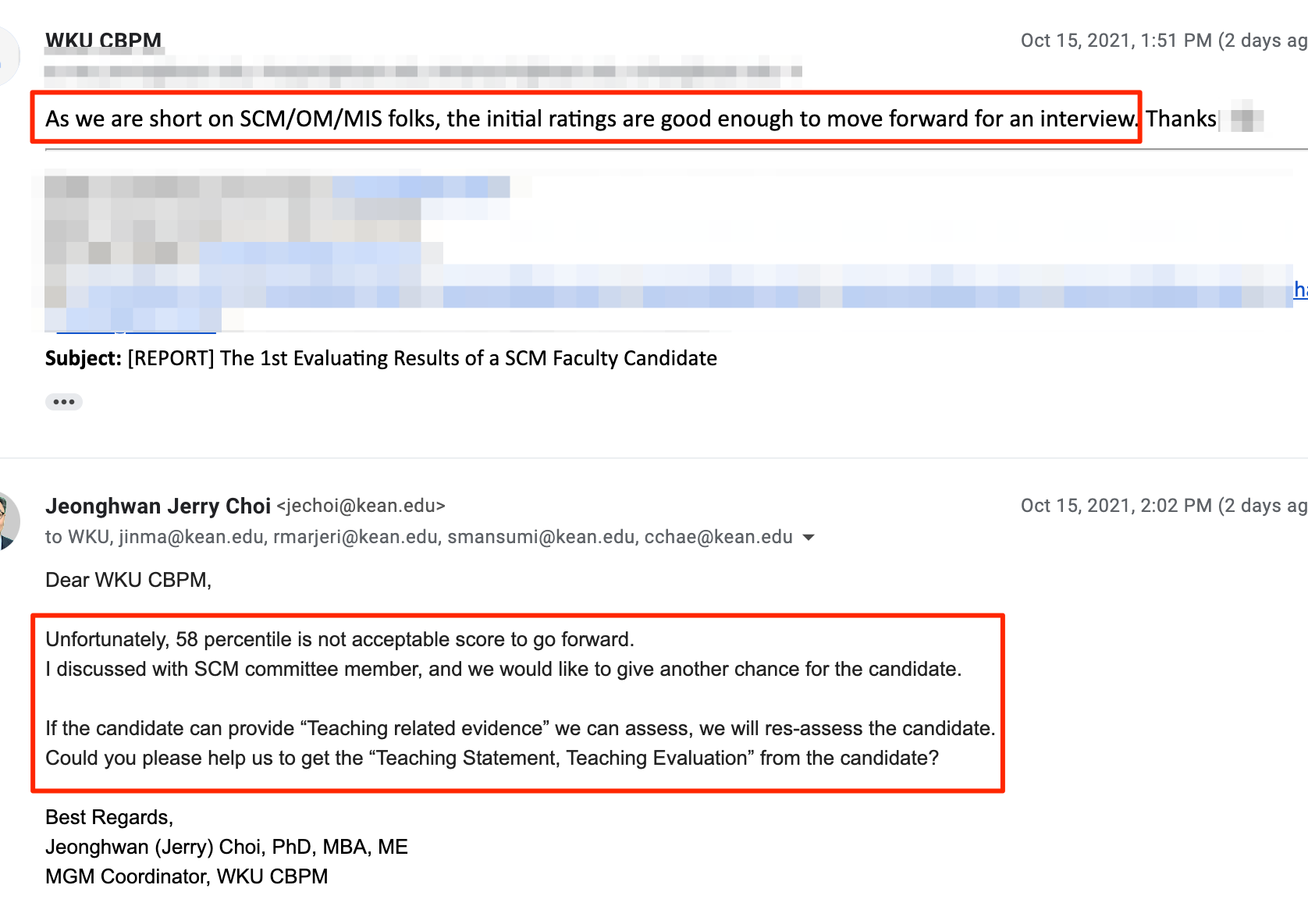 2022. January, 13: WKU CBPM MGM Job Posting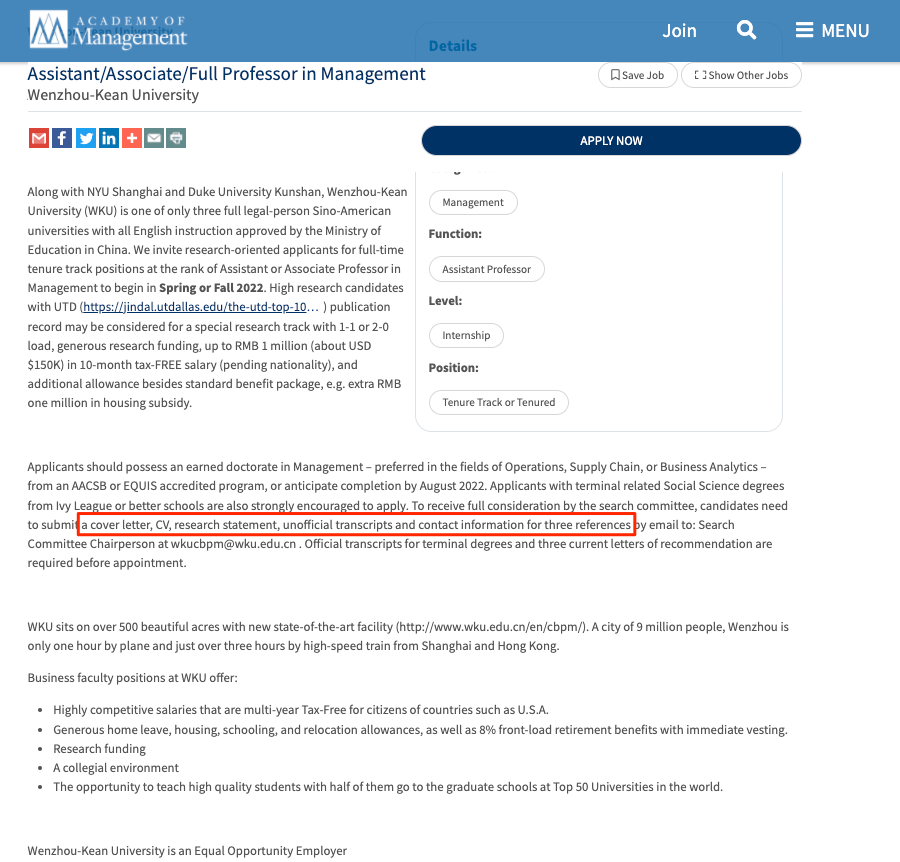 * Teaching Evidence requirement should be added.
2022. March 01, 2022: WKU CBPM MGM Search Chair to Dr. Rob Marjerison.
Since 2022 March, Only Chinese applicants were chosen and suggested by WKU CBPM Associated Dean Dr. Cao Jiang. No international faculty was administered.
Dr. Keeyeon Park and Dr. Salman quit their MGM faculty jobs and returned to their home countries.
Since 2022 March, WKU CBPM Dean's office recommend Only Chinese or Chinese degree candidates! (e,g, Khan earned PhD from a Chinese college).

2022. Julye 01: WKU AD Dr. CJ dismissed Dr. Jerry Choi from WKU CBPM MGM Faculty Search Committee (no prior discussion). And the AD replace Dr. Choi with a new Department Coordinator (Dr. Ho).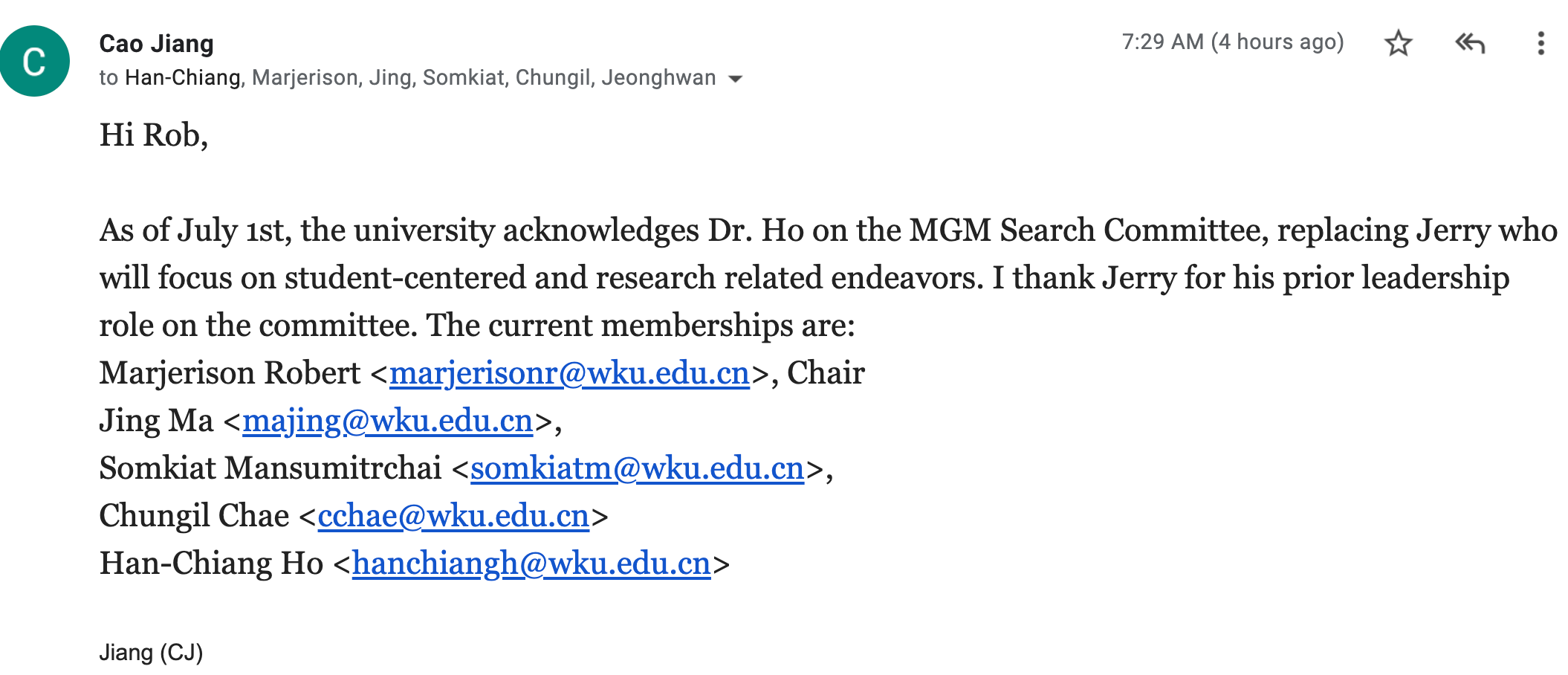 However, Dr. Choi's role can be replaced by a Management Faculty rather than a Marketing faculty member to aovid "under-representation" problem.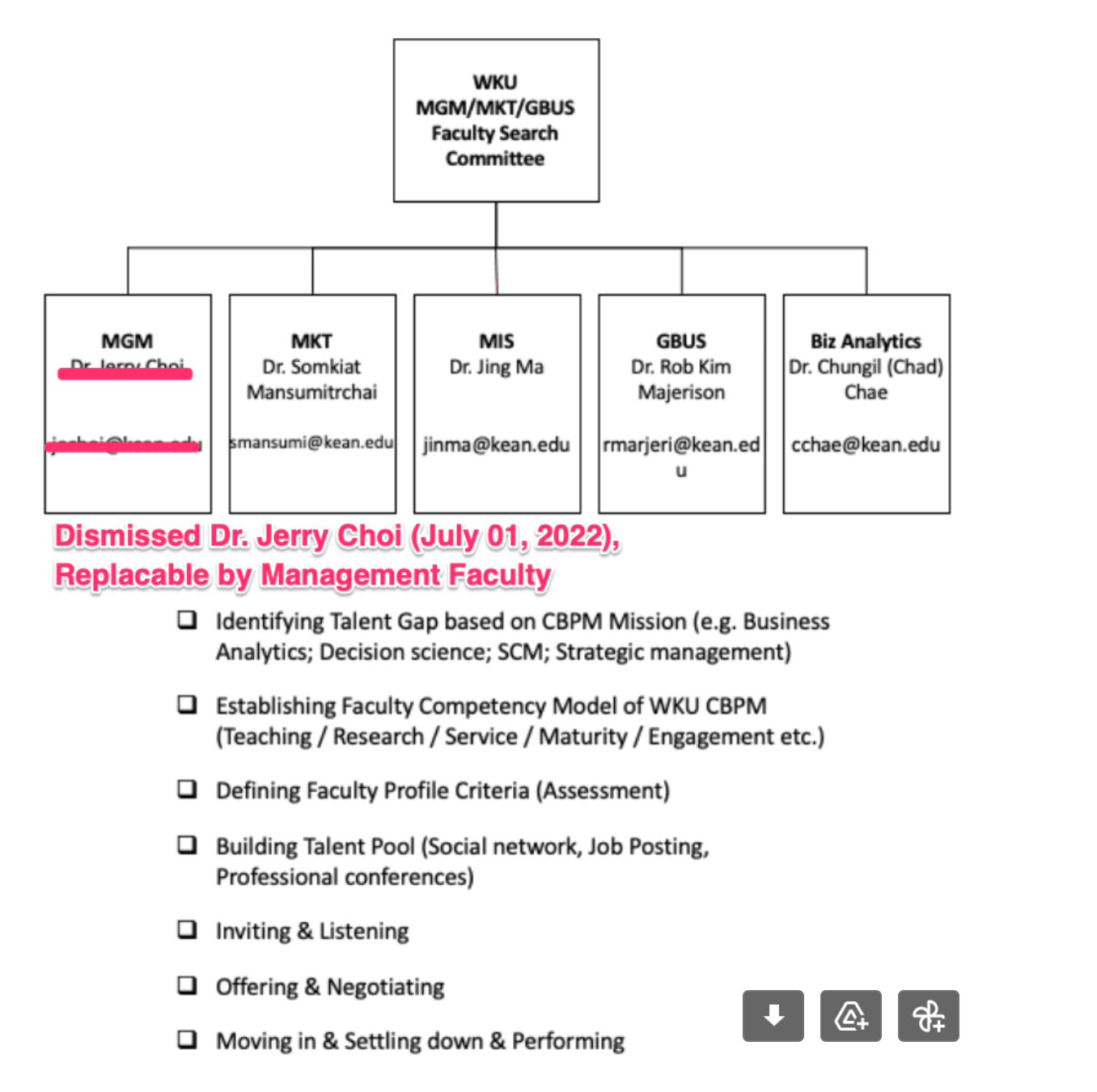 Dr. Choi recommend two potential management professors for the role (Dr. Margaret Chen or Dr. Sookyong Lee).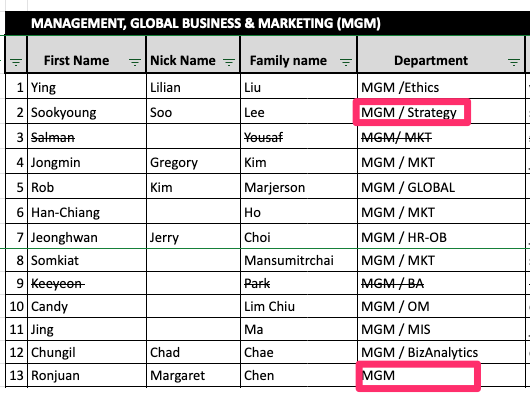 2022.07.19: Kean Federation of Teachers Agreement (Reference) of Personnel Committee Process (Only tenured faculty; No Admin allowed)
According to the Agreement (Setp. 11, 2018) between KFT and Kean USA Admin, ARTP Peer-Review Processes can be done by "Most Senior Tenured Faculty Member who shall serve as chair of these personnel committees". No managerial employee (such Executive Director or Associate Dean) sit on peer review committees or be involved directly in peer review processes.
WKU CBPM Associate Dean's Involvemand is totally unlawful according to the Kean Agreement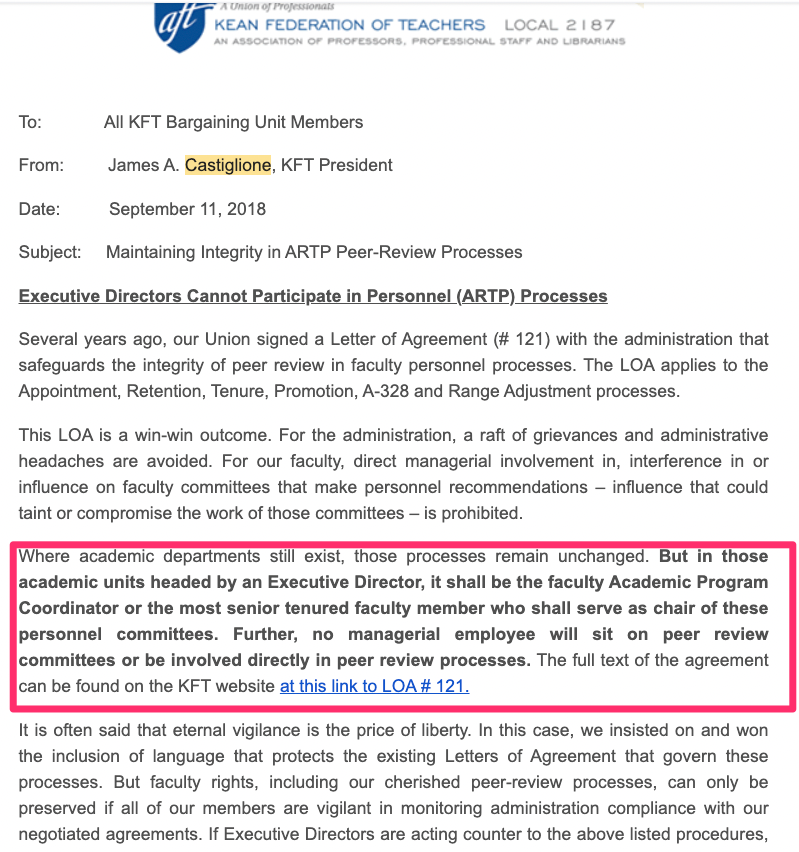 2022.09.13: KFT confirmed that Wenzhou campus faculty members are not Kean Federation of Teachers Members since July 01, 2019.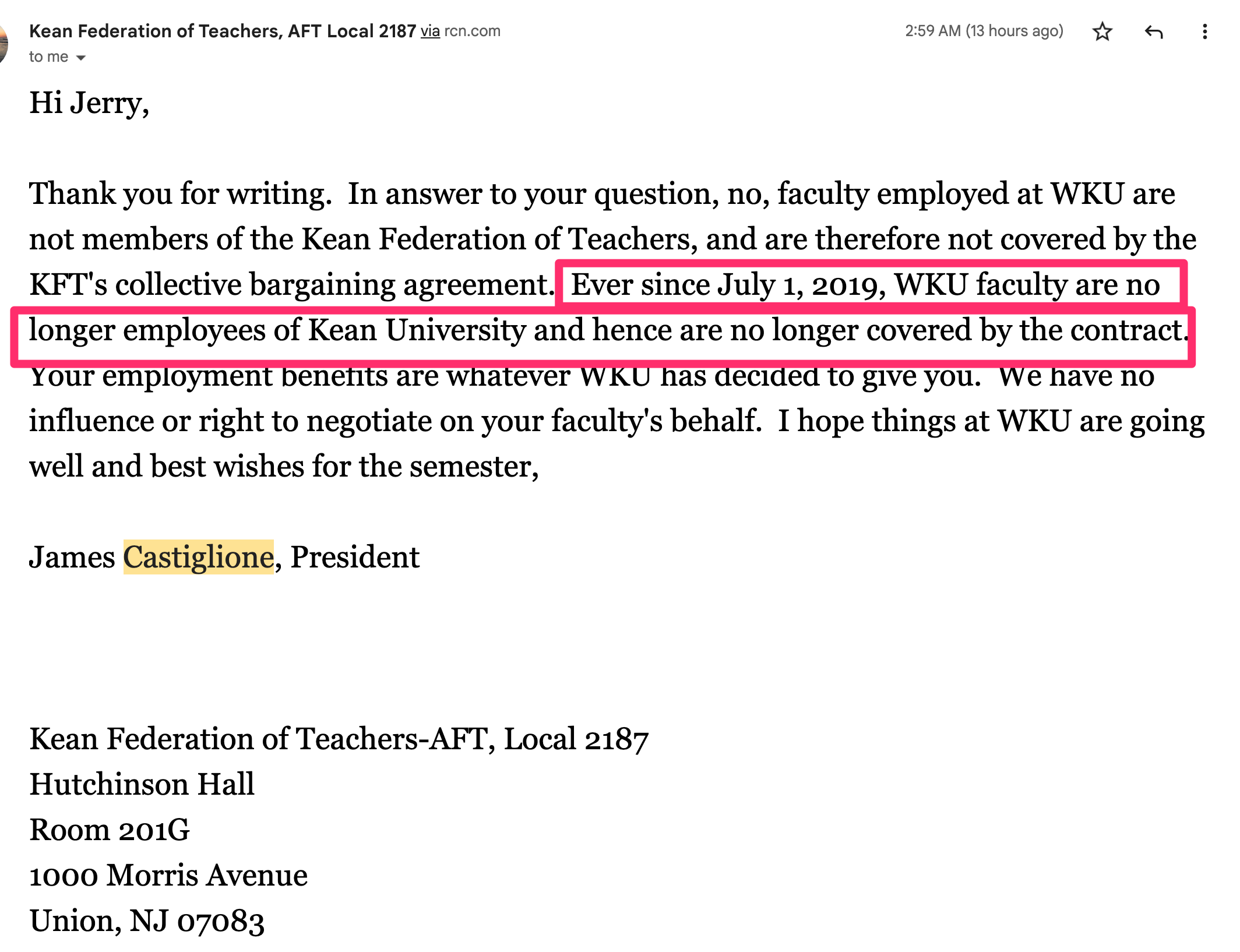 2022. Oct. 09: Unknown New Hire? (WKU CBPM MGM Search Committee did not participate in the hiring process).
Two new MGM new hired faculty members were not processed by MGM Faculty Search Committee.
(Ma Yulun ; Kahif Khan)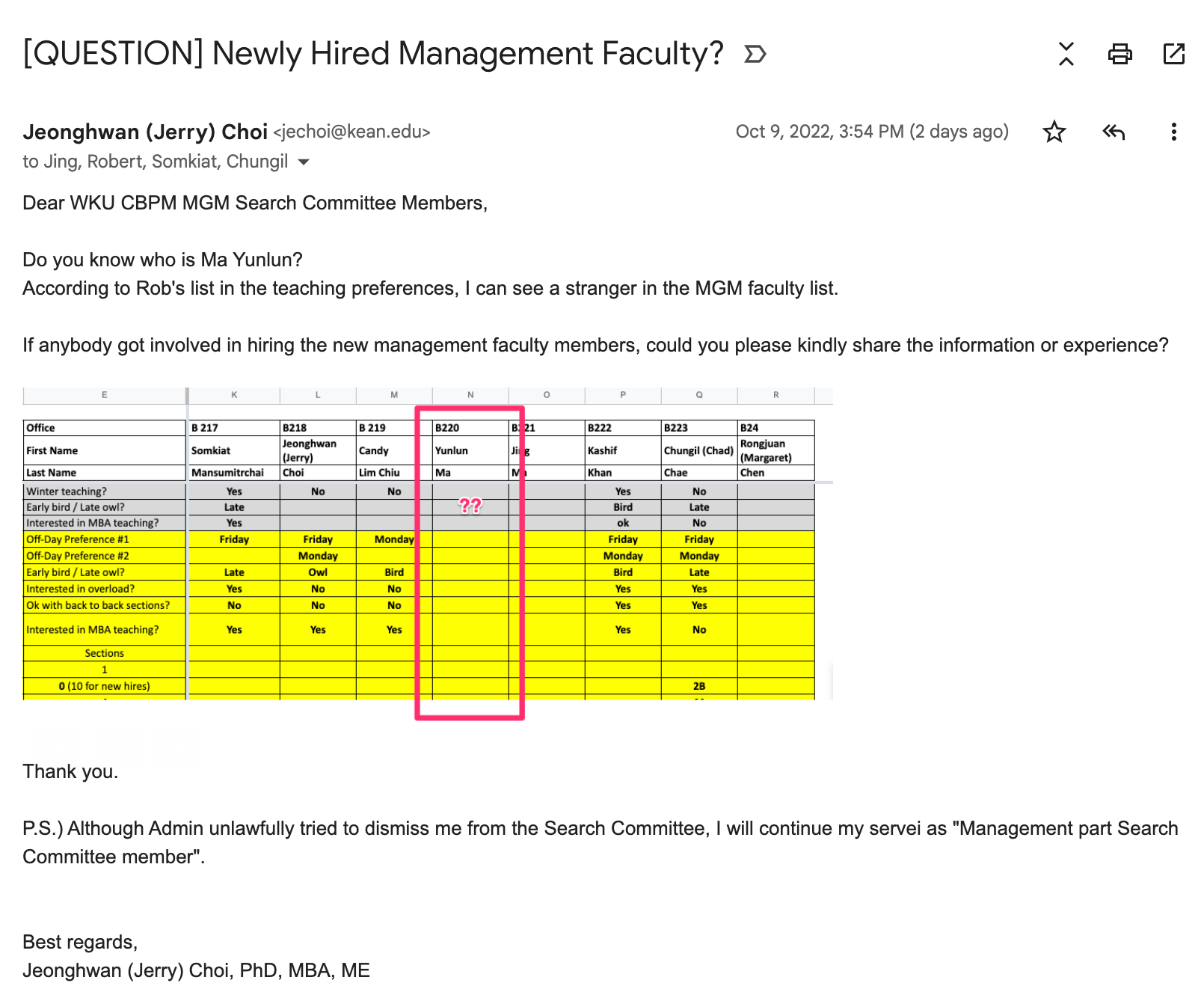 Job Posting appeared in Oct. 11, 2022.
MGM Faculty Search Committee did not get any information from Admin about the New Faculty Hiring.
This is a violation of Kean USA Hiring Practice and WKU's rule of faculty hiring.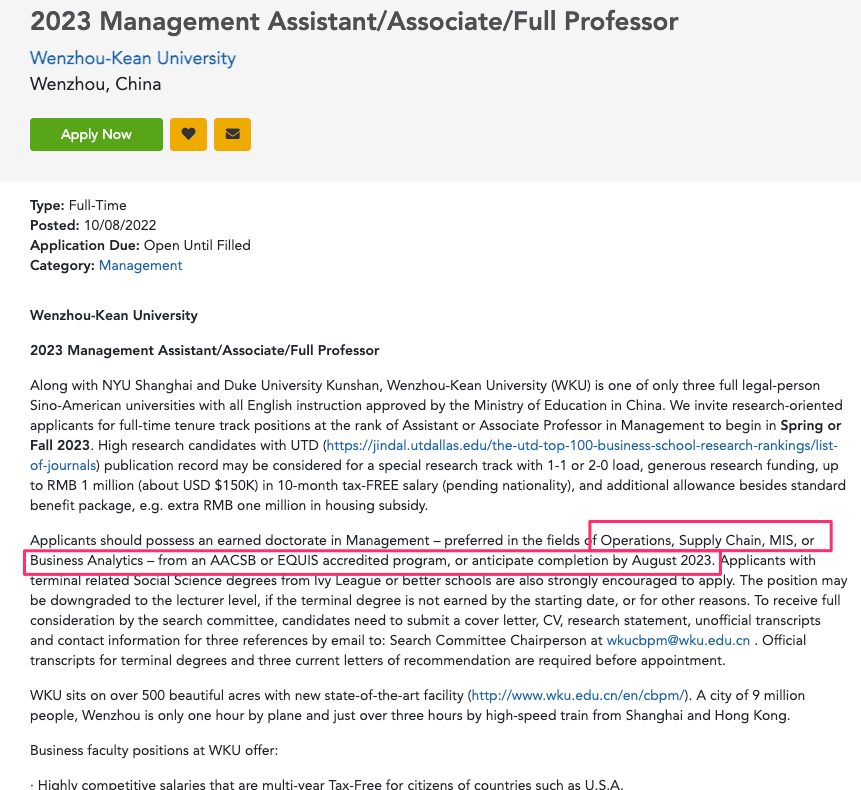 ======
2022.Oct.23: WKU CBPM's introduction at the Job Posting:
https://careerservices.aom.org/jobs/ja/17635410/&utm_source=BTI_JOB_ALERT&utm_medium=email&utm_campaign=BTI_JOB_ALERT
Wenzhou-Kean University
2023 Global Business Assistant Professor
Along with NYU Shanghai and Duke University Kunshan, Wenzhou-Kean University (WKU) is one of only three full legal-person Sino-American universities with all English instruction approved by the Ministry of Education in China. We invite applications for full-time positions at the rank of Assistant Professor (tenure track) in Global Business to begin in Spring or Fall 2023. The successful candidate will be able to teach IB and strategy related courses, as well as participate in the full range of faculty responsibilities, including scholarly research and service to the University. Applicants should possess an earned doctorate in field relevant to International Business - such as management, finance, business strategy - from an AACSB accredited program, or anticipate completion by July 2023. Applicants with terminal related Social Science degrees from Ivy League or better schools are also strongly encouraged to apply. The position may be downgraded to the lecturer level, if the terminal degree is not earned by the starting date, or for other reasons.
To receive full consideration by the search committee, candidates need to submit a cover letter, CV, research statement, unofficial transcripts and contact information for three references by email to: Search Committee Chairperson at wkucbpm@wku.edu.cn . Official transcripts for terminal degrees and three current letters of recommendation are required before appointment.
WKU sits on over 500 beautiful acres with new state-of-the-art facility (http://www.wku.edu.cn/en/cbpm/). A city of 9 million people, Wenzhou is only one hour by plane and just over three hours by high-speed train from Shanghai and Hong Kong.
Business faculty positions at WKU offer:
Extremely competitive salaries that are multi-year Tax-Free for citizens of countries such as U.S.A.
Generous home leave, housing, schooling, and relocation allowances, as well as 8% front-load retirement benefits with immediate vesting.
Substantial research funding, including a startup grant up to RMB80,000.
A collegial environment
The opportunity to teach high quality students with half of them admitted to the graduate schools at Top 50 Universities in the world.
About Wenzhou-Kean University
Wenzhou-Kean University is a Chinese-American jointly established higher education institution with Independent legal person status and limited liabilities. On November 16th 2011, the Ministry of Education of the People's Republic of China approved the application of preparation on establishing Wenzhou-Kean University that is cooperatively run by Wenzhou University and Kean University USA.
On December 16th 2013, the Ministry of Education Panel led by Prof. HUANG Wei the Academician from Chinese Academy of Sciences inspected and reviewed the application works for the establishment of the University.During the preparation stage, the University received friendly concerns from the Chinese Central leaderships and enormous attention from Party committees and People's governments at different levels.
On May 8th 2006, Mr. XI Jinping Secretary of CPC Zhejiang Province (at that time) visited Kean University in New Jersey and delivered a keynote speech in the Signing Ceremony of cooperation in establishing Wenzhou-Kean University. Whereas a province-state friendship cooperative project between Zhejiang and New Jersey, Ministry of Education regards the establishment of the University as one ofcritical projects that enlarges the scope of Education Open-up while enhancing education reform in return.Wenzhou-Kean University has been dedicated to the principle of "providing students with different ways of development" by introducing and referencing educational resources, critical missions and advanced patterns from prestigious universities in the US. Being well-knit with Chinese actual conditions and needs in developing regional economy and cultures, the University strives for excellence in building an international university with world-class education, which is fundamentally student-oriented, innovatively inclusive, diversely developmental and characteristically unique. With comprehensive and sophisticated practices, the University set up its pedagogical goal that aims to merge Chinese and American teaching methodologies in practice from a global context, and to cultivate students with global vision, mastering of international rules and conventions, and innovative creative and initiative competences. In terms of the strategic plan for university development, the University identified itself as a teaching university at the early stage. With the development of high-quality international cooperation in research, the University will find a balance between teaching and research in its transformation to become a research-leading teaching university with world-class education. In terms of value orientation, the University adheres to the public welfare principle of Chinese-Foreign cooperation in running as a non-profit organization.Wenzhou-Kean will develop about 5,000 on-campus students in the short term, while 8,500 students in midterm running. It primarily focuses on the development on undergraduate programs with relative elaboration in postgraduate education. The University is dedicated to the construction of specialty groups in Economics and Management, Technology and Mathematics, Arts Design, Education and Psychology, Health and Rehabilitation Sciences, etc.Covering an area of 494 acres in land planning, the campus of Wenzhou-Kean University is located in a beautiful township called Li'ao in Wenzhou. Wenzhou Municipal People's Government has earmarked 1.5 billion RMB for the first phase construction with international bidding. The style of Chinese layout and the element of American university are embodied in the campus buildings and facilities. The University strives for building a humanistic ecological intellectual and outreach campus with merged Chinese and American cultures, extensive interactions between teachers and students, and autonomous learning. For the moment, the first bidding section with 478,994 sq ft (44500m2) within the first phase of construction has been completed and put into regular running. A modernized a campus structure has been revealed along with the ongoing construction projects, which is intended with the completion by the end of 2016.In order to accelerate the process of Sino-US cooperation, and to accumulate experience in cooperatively running, the University offered three academic programs with 204 students respectively in Economics, English and Computer Science since 2012, as a trial by the name of Sino-US Cooperative Project in Wenzhou University approved by the Ministry of Education.
In April 2013, BA in International Business degree program was approved by Ministry of Education, which the number of student cohort in 2013 was enlarged to 240 only within the Tier 1 students in Zhejiang. Kean University USA is responsible for managing academic affairs for cooperatively running of this project, which they bring the American curriculum, full-time faculties, original American textbooks and small-size classroom activities into this new campus. With a wide range of achievements, the University has been highly recognized by governmental education departments and the society. With all the efforts, the University successfully completed the accreditation and assessment works from Middle States Commission on Higher Education.Wenzhou-Kean University employs advanced ideology and administration system for faculty management from those prestigious American higher education institutions with sophisticated appointment system, and attracts and recruits highly talented professionals in compliance with world-class standards. Concurrently, the University will develop a scientific evaluation scheme for management of faculty and research, in order to support all the professional development at campus.With active exploration in Chinese-Foreign cooperation in modernized higher education, the University is dedicated to the development of a unique institution with inclusive social interactions, autonomy in running, and implementation of scientific management. The Board of Directors is the highest local policy making authority, which is composed by both the Chinese and American parties. The University adopts such a governance structure where the Chancellor shall act as the executive officer, and serve at the pleasure of the Board of Directors. With persistence in academic autonomy and faculty-involved administration strategy, the University will build a precise, solid and effective internal administrative organization, as well as being with innovation and entrepreneurship.Wenzhou-Kean University will inherit the excellence from both parental universities. By complying with the aforementioned principle, Wenzhou-Kean, a world-class university will be built with first-class campus and facilities, professional faculty communities, academic research and maintenance services. It will undergo a complex process to achieve the final goal, but the University will strike for excellence in being an exceptional model for Sino-US cooperation in education with efforts from generation to generation.
2022.Nov. 15: Violation of Faculty Hiring Process Again.
(Email to KUSA ED)
XXX did not pass the initial Search Committee evaluation (Reference #1). In addition, there was "NO" Job Interview by the search committee. However, Mr. Ma is now onboarding by WKU CBPM admin.

According to the WKU faculty hiring process (Reference #2), WKU Admin could not involve in "Screening and Interview" Process. WKU admin would get a Faculty Search Committee report to go forward.

In addition, KU guides us that "No managerial employee will sit on ARTP processes" (Reference #3).

But, these hiring processes and rules are not respected by WKU CBPM Admin. WKU Admin "post, screen, and interview" candidate with ignoring the search committee. Currently, the WKU CBPM Management and Marketing Search Committee cannot properly perform for the unlawful interference from Admin side.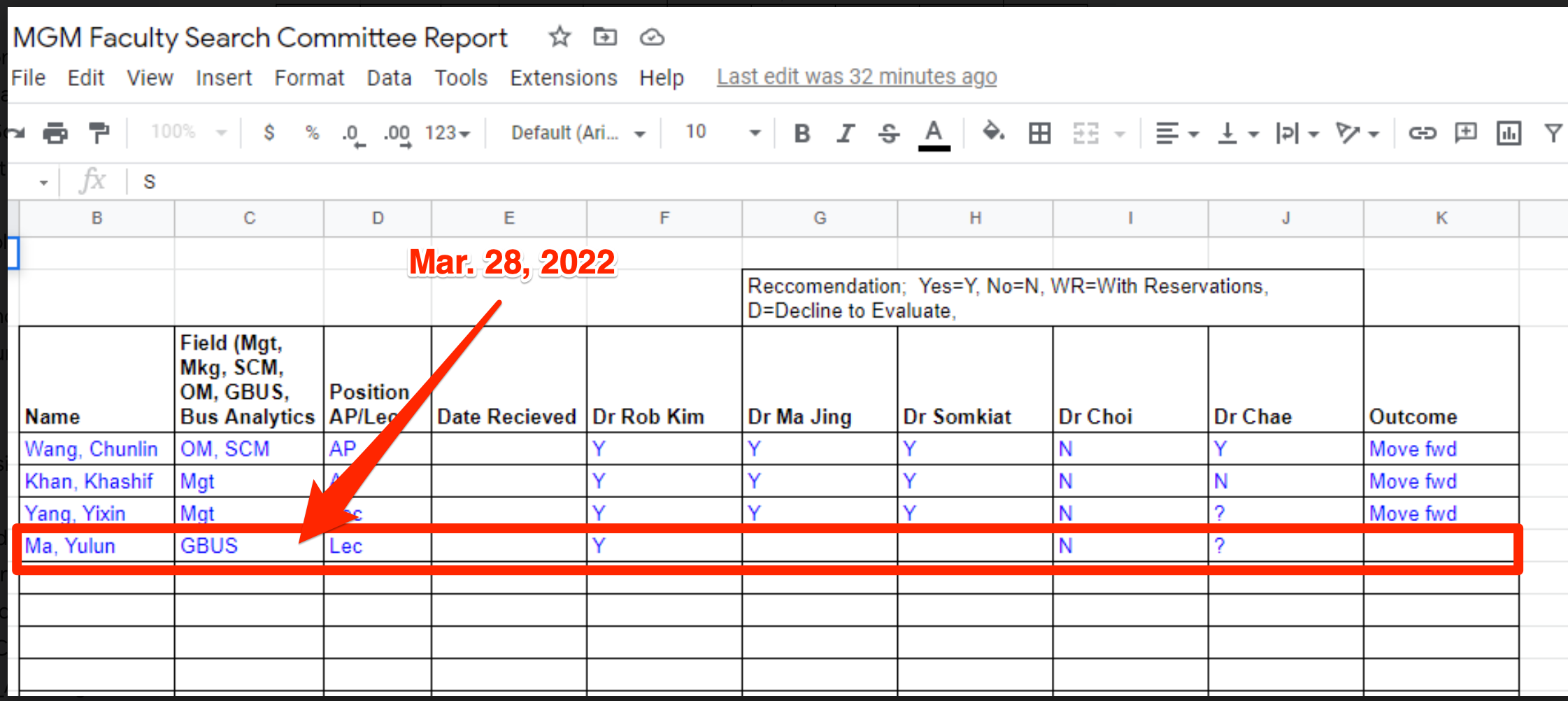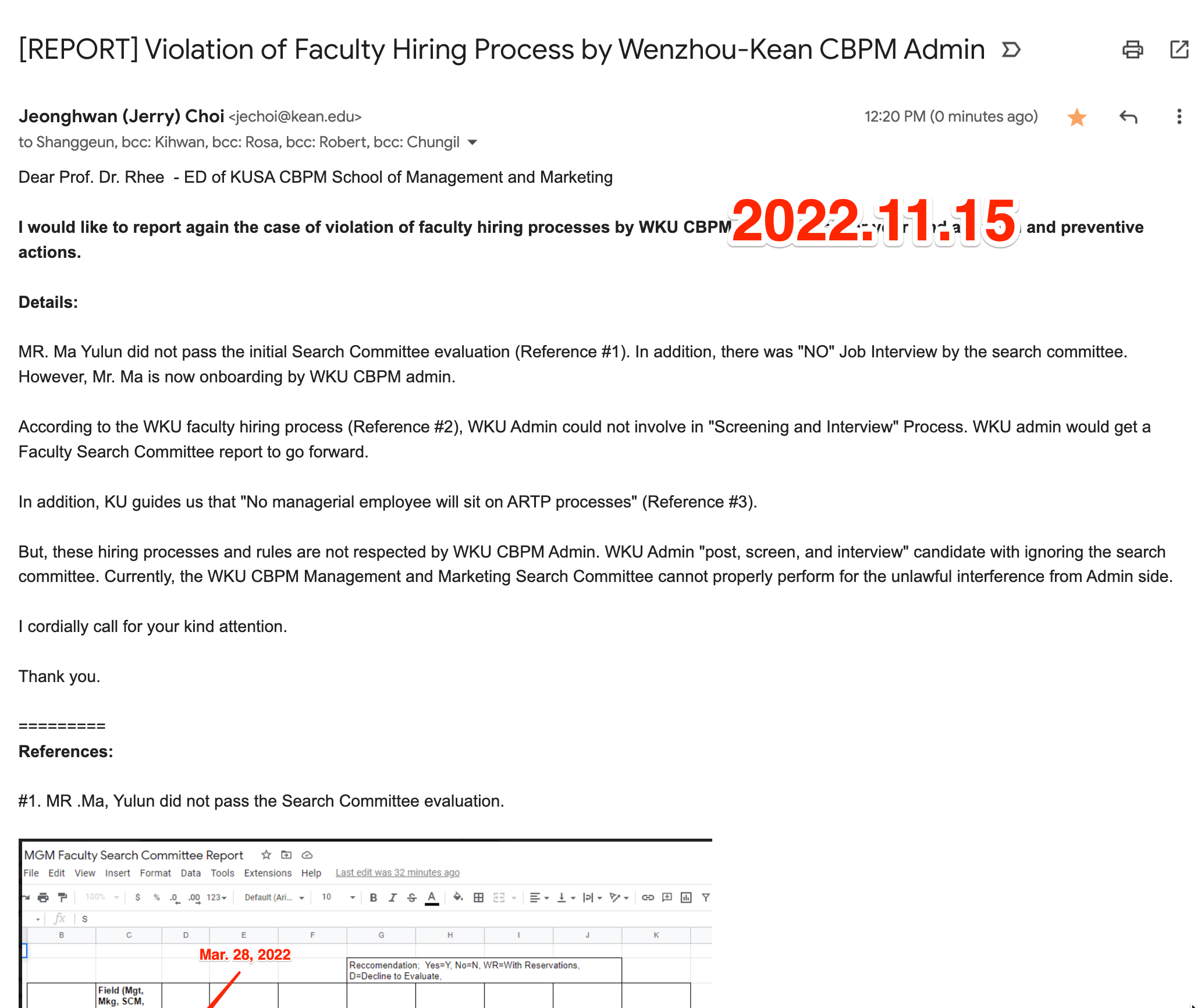 2022.Nov. 16: Requesting for WKU CBPM MGM Faculty Search Committee Meeting (for dismissal or new member)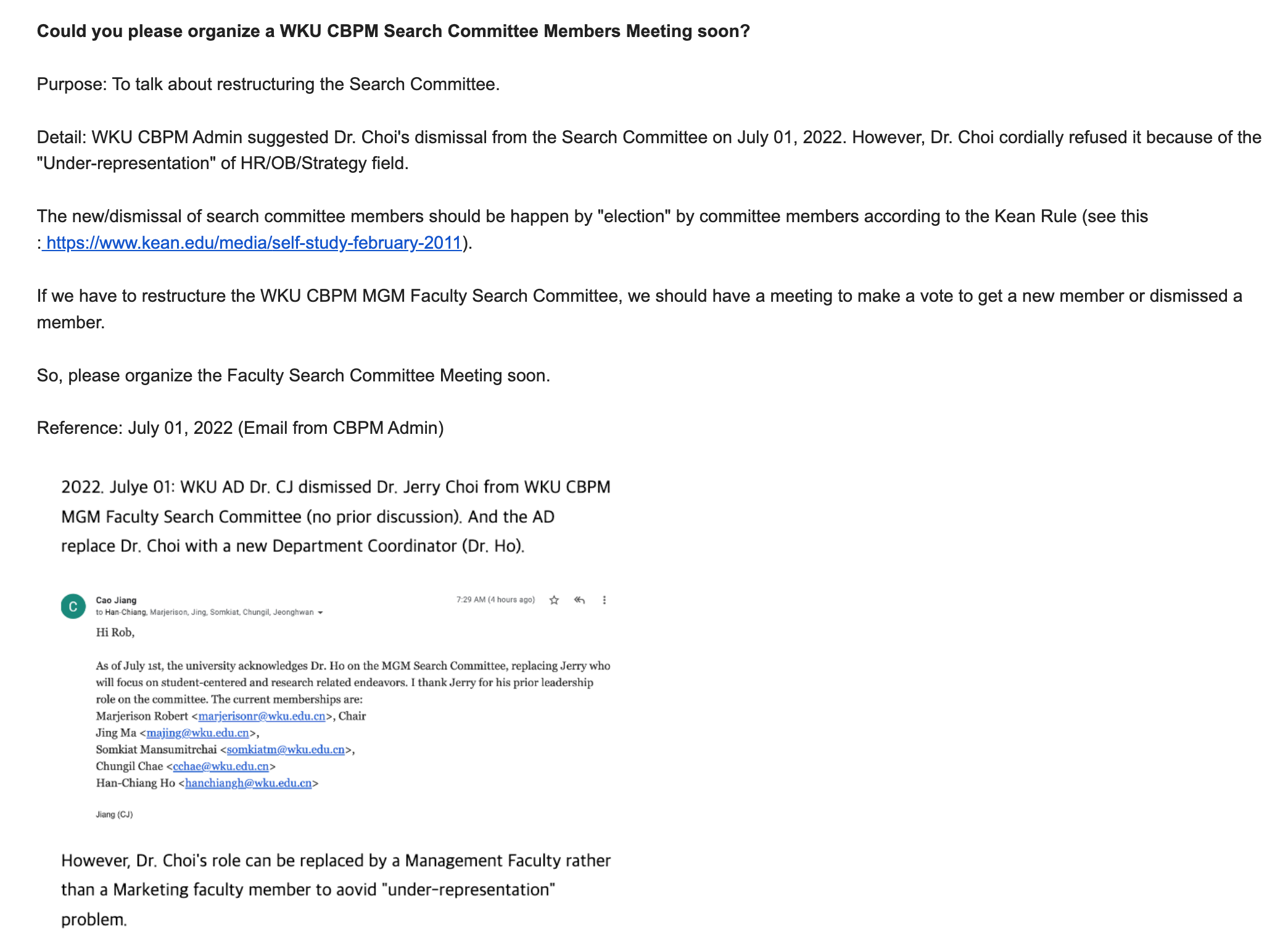 Kean USA Faculty Search Guideline
2022.Dec. 02: WKU CBPM MGM Faculty Search Committee meeting with Dr. Jerry Choi.
MGM Faculty Search Committee meeting happend without Dr. Jerry Choi - Representative of HR/OB/Strategy Division. The meeting was enforced by CBPM Admin (CJ) to hire another 'Marketing' candidate while there was no urgent 'Marketing' professor job.
==================
2022.Dec. 02: WKU CBPM MGM Faculty Search Committee meeting with Dr. Jerry Choi.
2022.Nov. 16: Requesting for WKU CBPM MGM Faculty Search Committee Meeting (for dismissal or new member)
2022.Nov. 15: Violation of Faculty Hiring Process Again.
2022.Oct.23: WKU CBPM's introduction at the Job Posting.
2022. Oct. 09: Unknown New Hire? (WKU CBPM MGM Search Committee did not participate in the hiring process).
2022.07.19: Kean Federation of Teachers confirmed the legal status of Wenzhou campus faculty members.
2022.07.19: Kean Federation of Teachers Agreement (Reference) of Personnel Committee Process (Only tenured faculty; No Admin allowed)
2022. July 01: WKU AD Dr. CJ dismissed Dr. Jerry Choi . And he refused it.
2022. March 01, 2022: WKU CBPM MGM Search Chair to Dr. Rob Marjerison.
2022. January, 13: WKU CBPM MGM Job Posting
2022. 01. 12: Updated Search Committee Guide and Procedure
2021.10.15: Search Committee and Office have a tentions by different valuation.
2021.10.11: Search Committee Activities Reported to WKU Academic Affairs (?)
2021. 08.18: Search Committee Structure is Updated.
2021. 07.31: Faculty Hiring Results of AY 2020-2021 updated.
2021. 07.11: Faculty Hiring Results of AY 2020-2021 updated.
2021. 04. 20: Faculty Hiring Results (2020 Sept. ~ 2021 April)
2021. 03. 21: WKU CBPM MGM Job Postings at AOM
2021.03.09: Updated Progress in WKU MGM Faculty Hiring.
2020. 08. 13: Added the "Involvement of WKU CBPM Student Advisory Council Members in the new faculty hiring 'Teaching Demo' and interview process".
2019. 10. 17: Document created by Dr. Jerry Choi