This is an example of office conflict.
(A Sino-American College) since 2021
- Violation of Personal Information Use (Privacy Policy of Kean System)
- Hazing Issue
- Violation of Professionalism
- Violation of School Policy
- Disrespect the Diversity
Violation of Personal Information use:
He used my personal picture at WeChat in public without my personal permission:
This action violate the 'Privacy Policy' of Kean System.
https://www.kean.edu/privacy-policy
Inappropriate words used: Personal humiliation, ridicule, or degrades the individual is defined as "Hazing".
Hazing is not acceptable by NJ State Criminal Statute 2C: 40 -3 Hazing and in Kean System.
https://www.kean.edu/offices/center-leadership-and-service/greek-life/hazing-education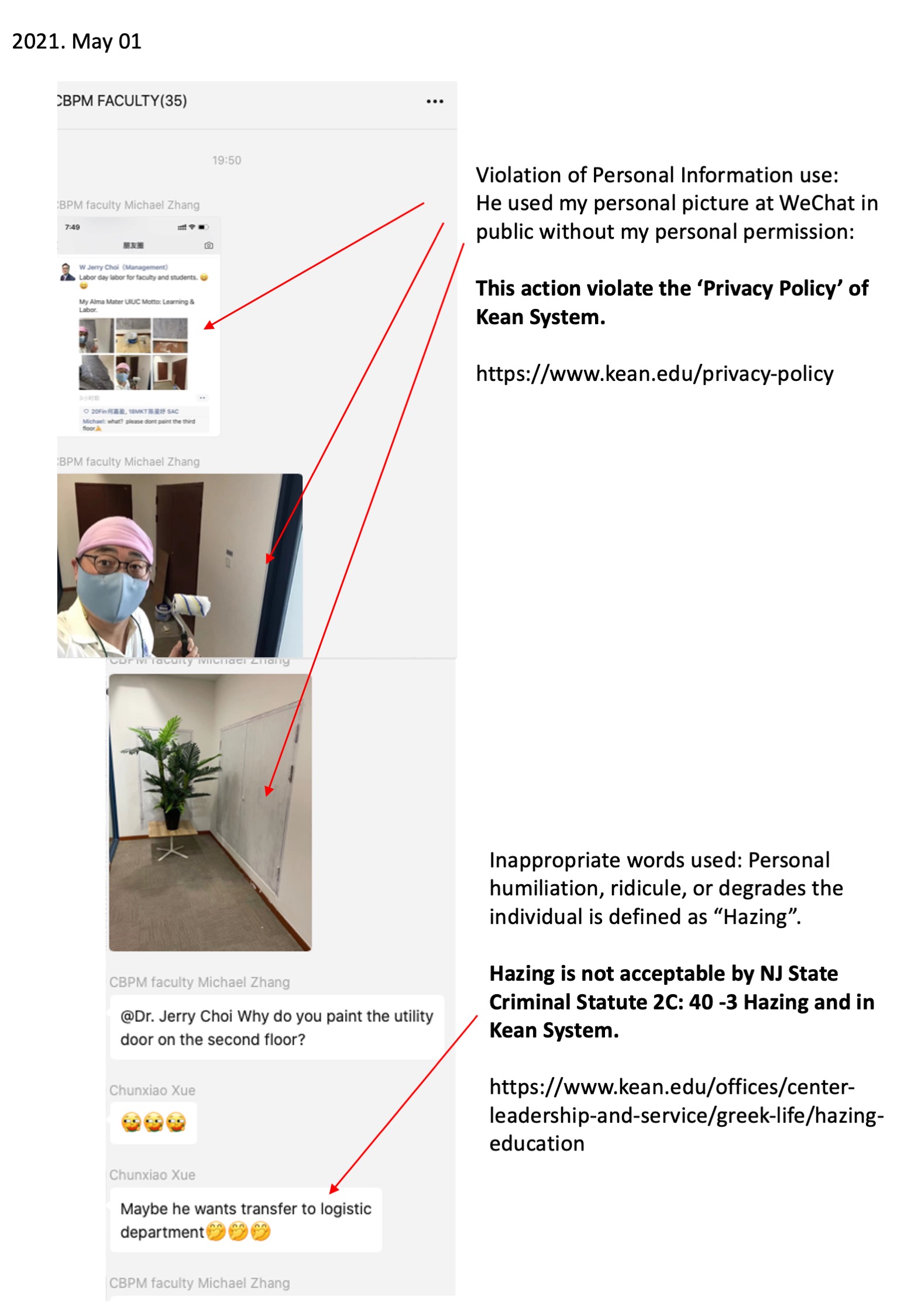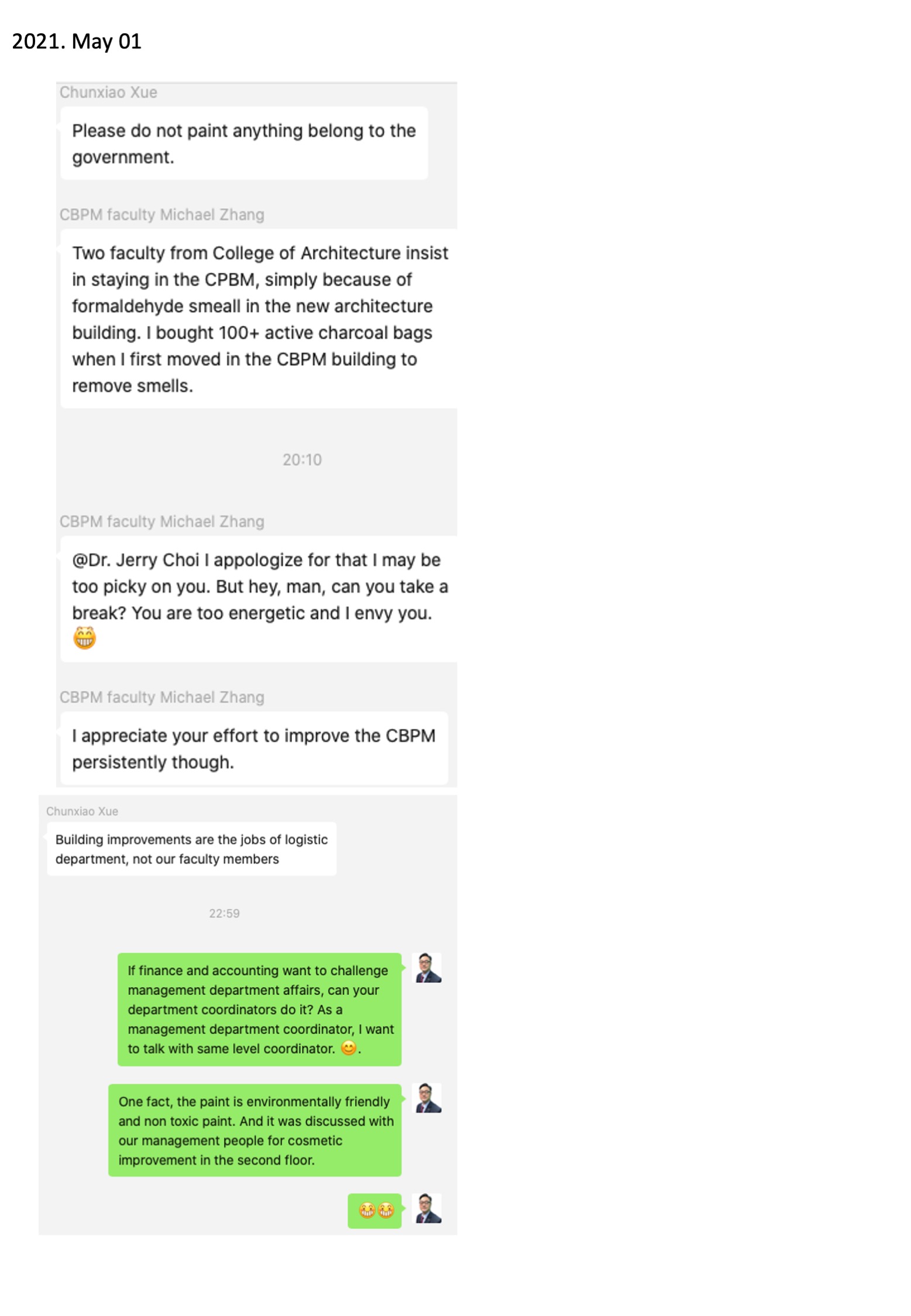 Inappropriate words used:
She is not a government officer, but she tried intimidating me with misusing the word.
Using intimidating worlds violate the "Hazing Policy" of Kean University.
https://www.kean.edu/offices/policies/hazing-policy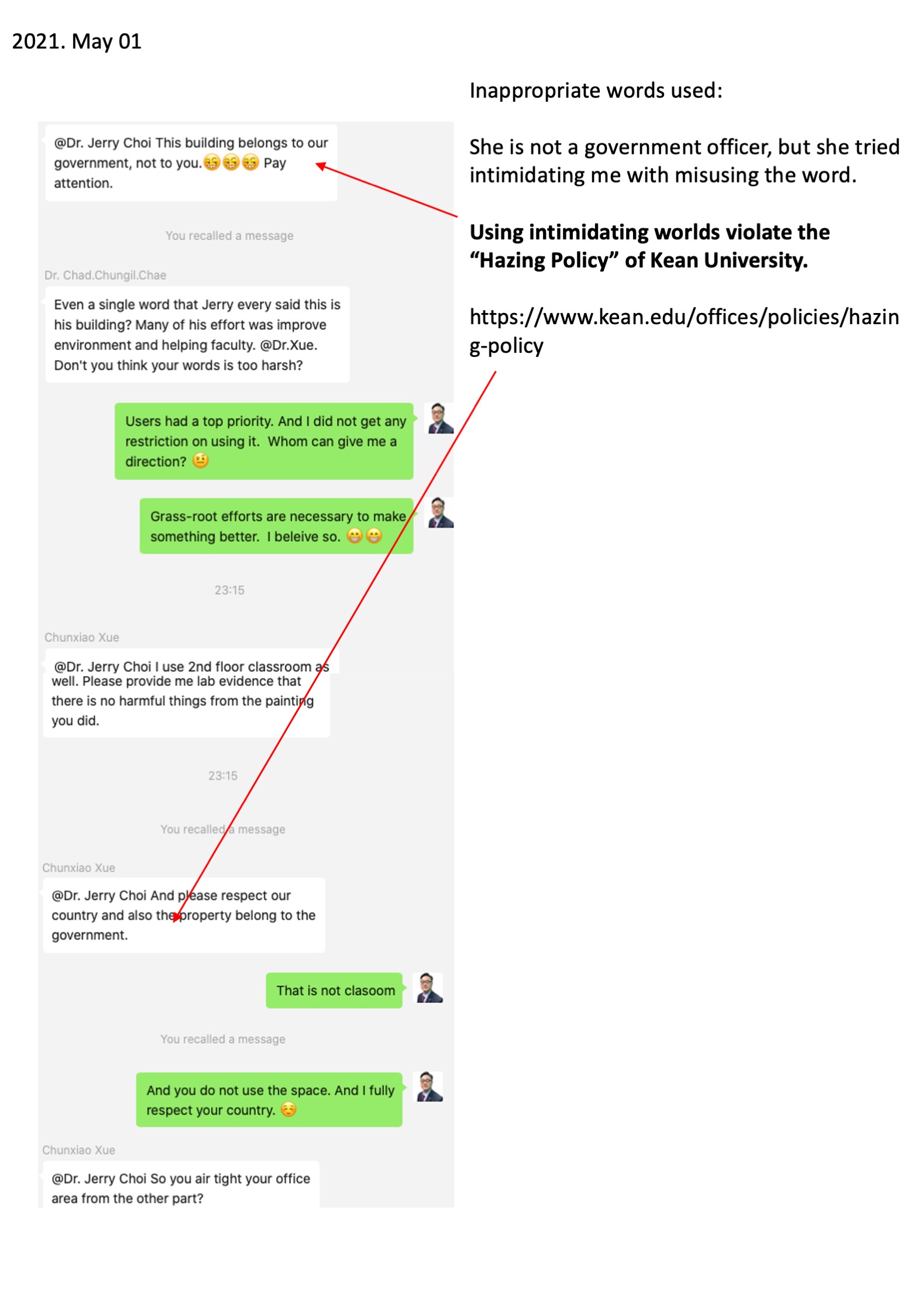 A reasonable suggestion of reconciliation was refused.
This is violation of professionalism.
Professional behaviors include, but are not limited to: collaboration with supervisor, responsibility for learning opportunities, ability to receive constructive criticism, positive interpersonal skills and respect for diversity. Upon completion of Level II fieldwork, students' performance in professional behaviors must "meet standards," which is defined as "consistent with entry-level practice."
https://www.kean.edu/media/2020-ot-student-manual
WE have a communication protol that we need to communicate with only approporate level and responsible persons.
This is violation of communication protocol.
And this is the violation of professionalism: "Collaboration with supervisor".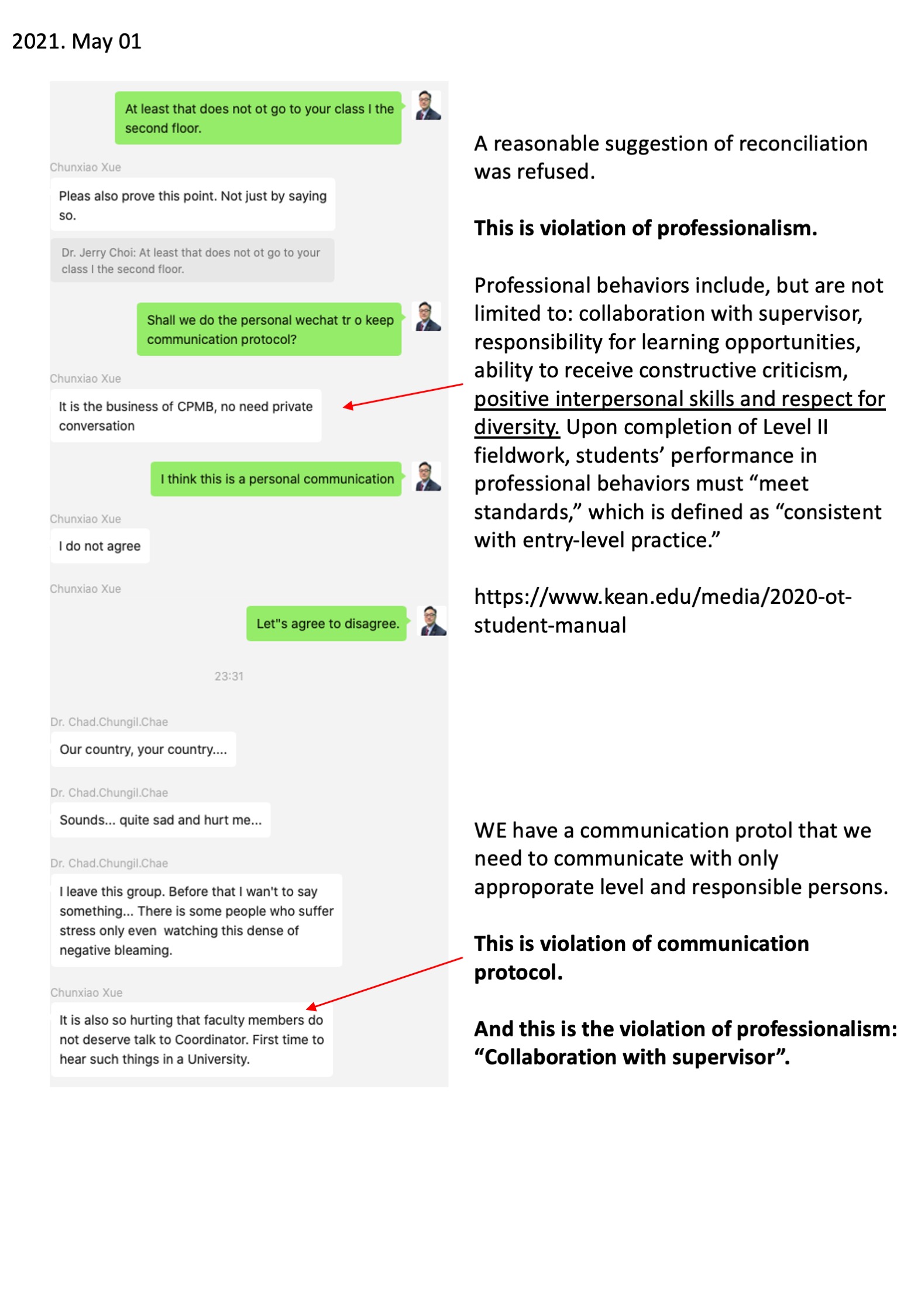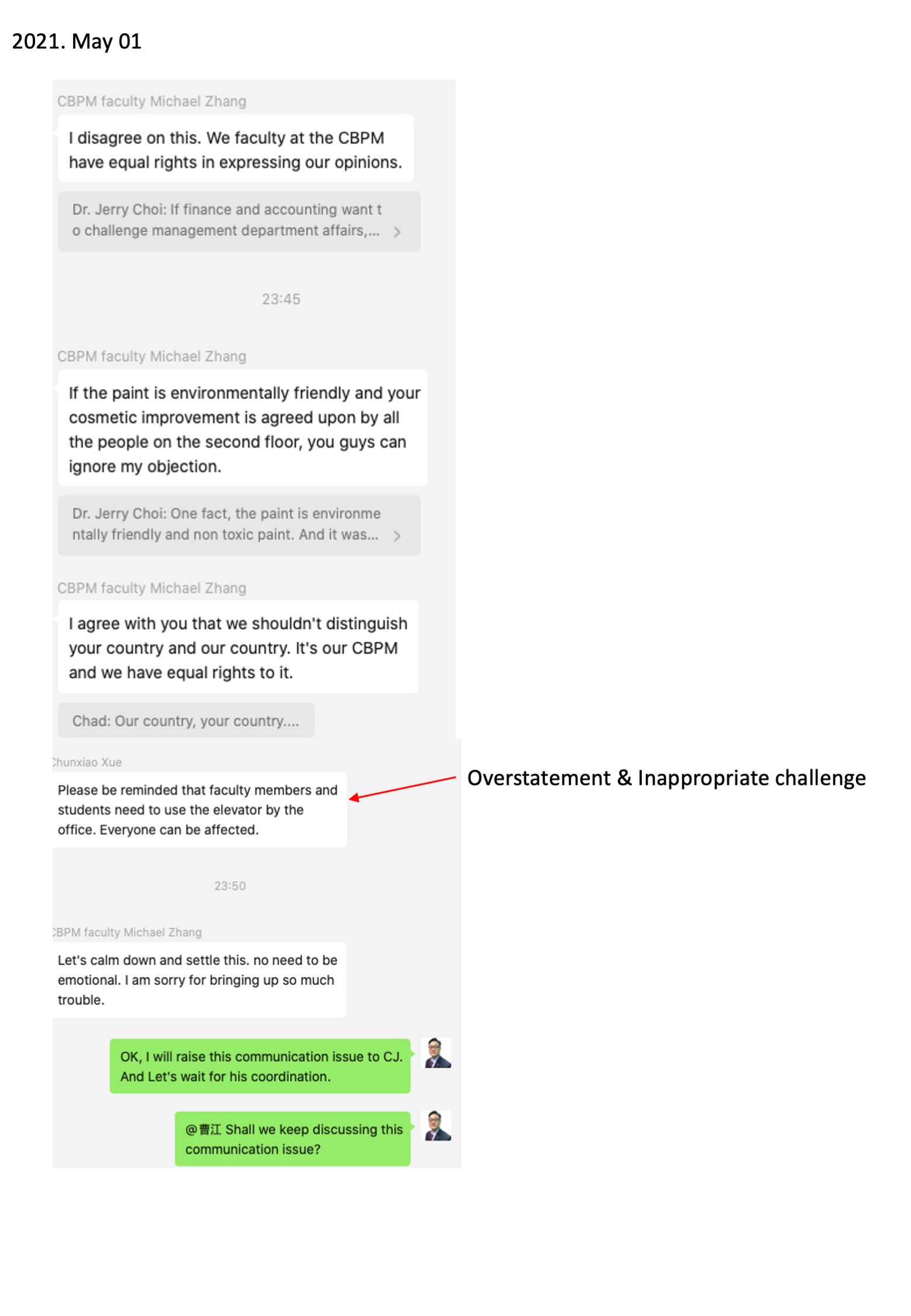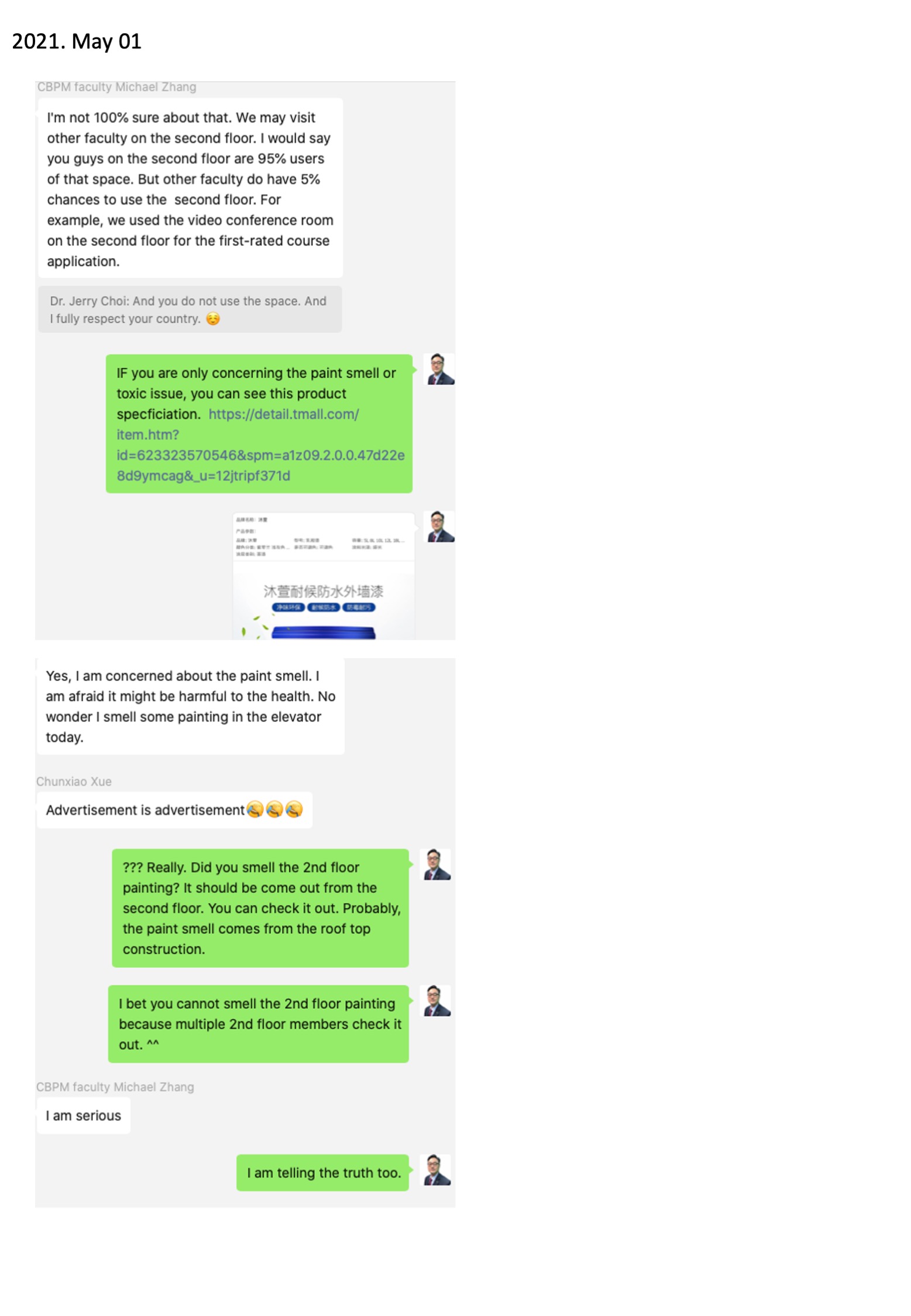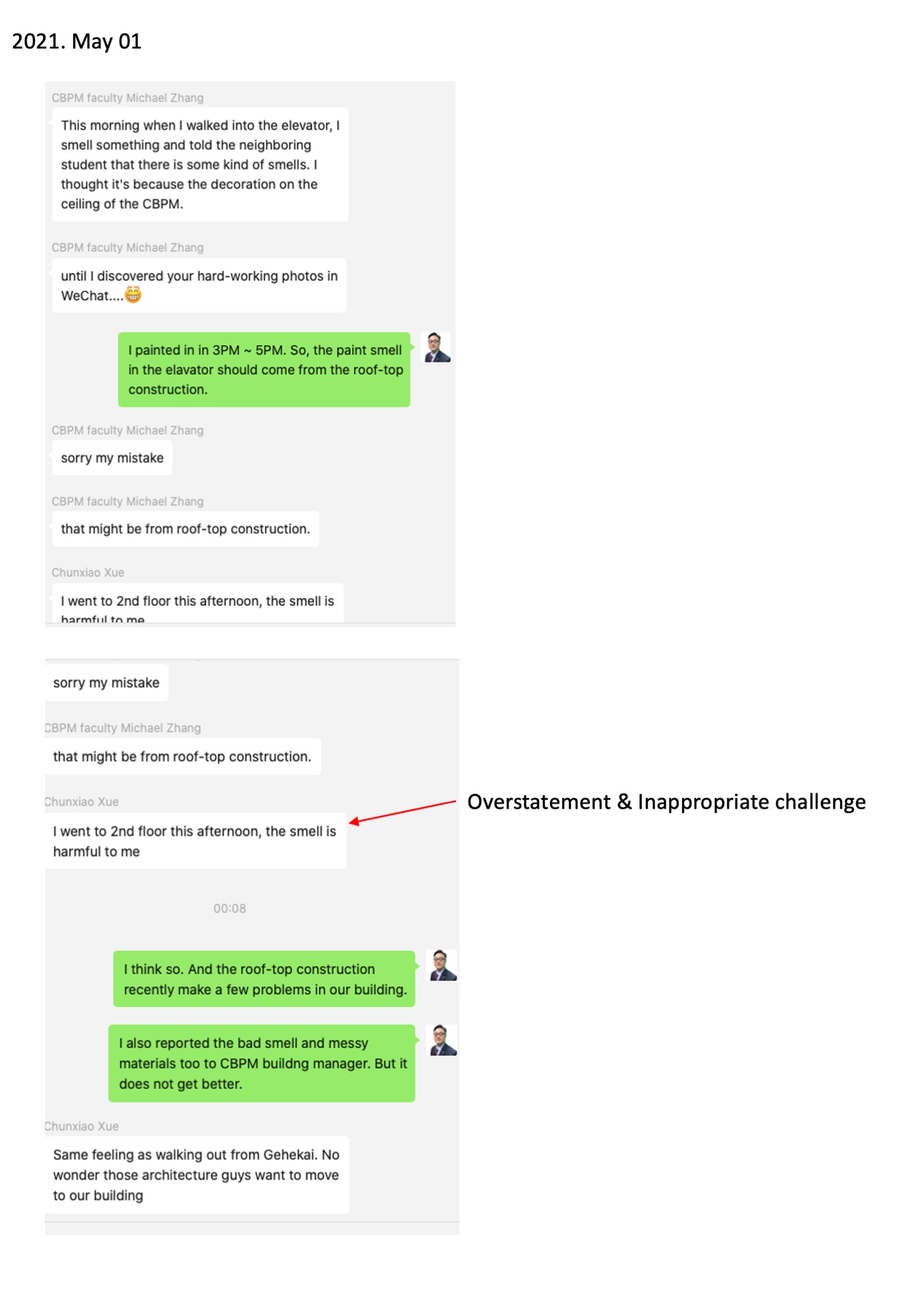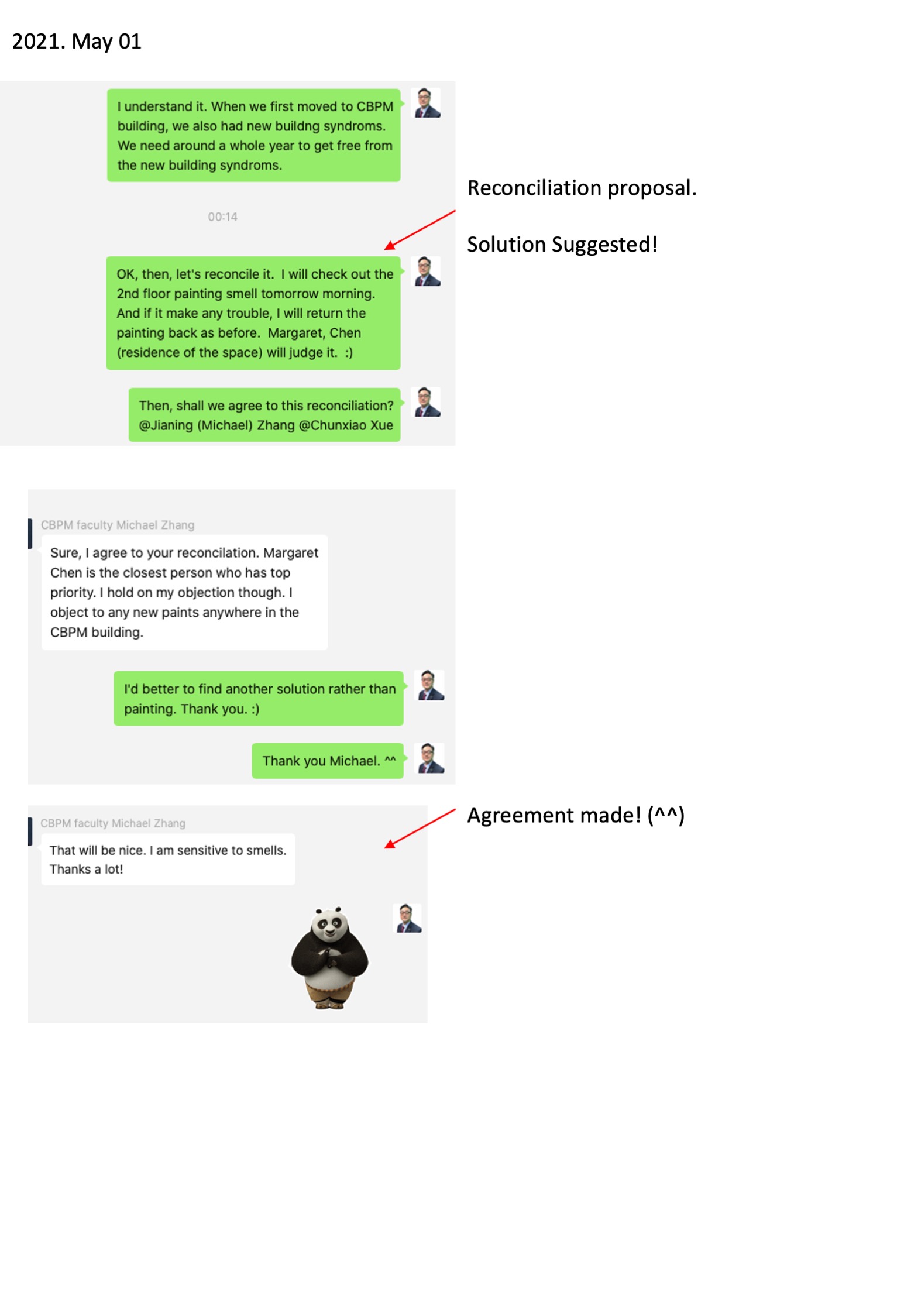 ---
The School suggested and practiced the Pass/Fail option for Remote Classes in order to accommodate the student's academic flexibility.
When students wants to apply for Pass/Fail option, academic advisors need to check and sign on the application forms from students, and advisors need to report it to Registra.
2021. June 10: Several Instructors suggested "unkind" and "school policy violation practices" in the public WeChat group.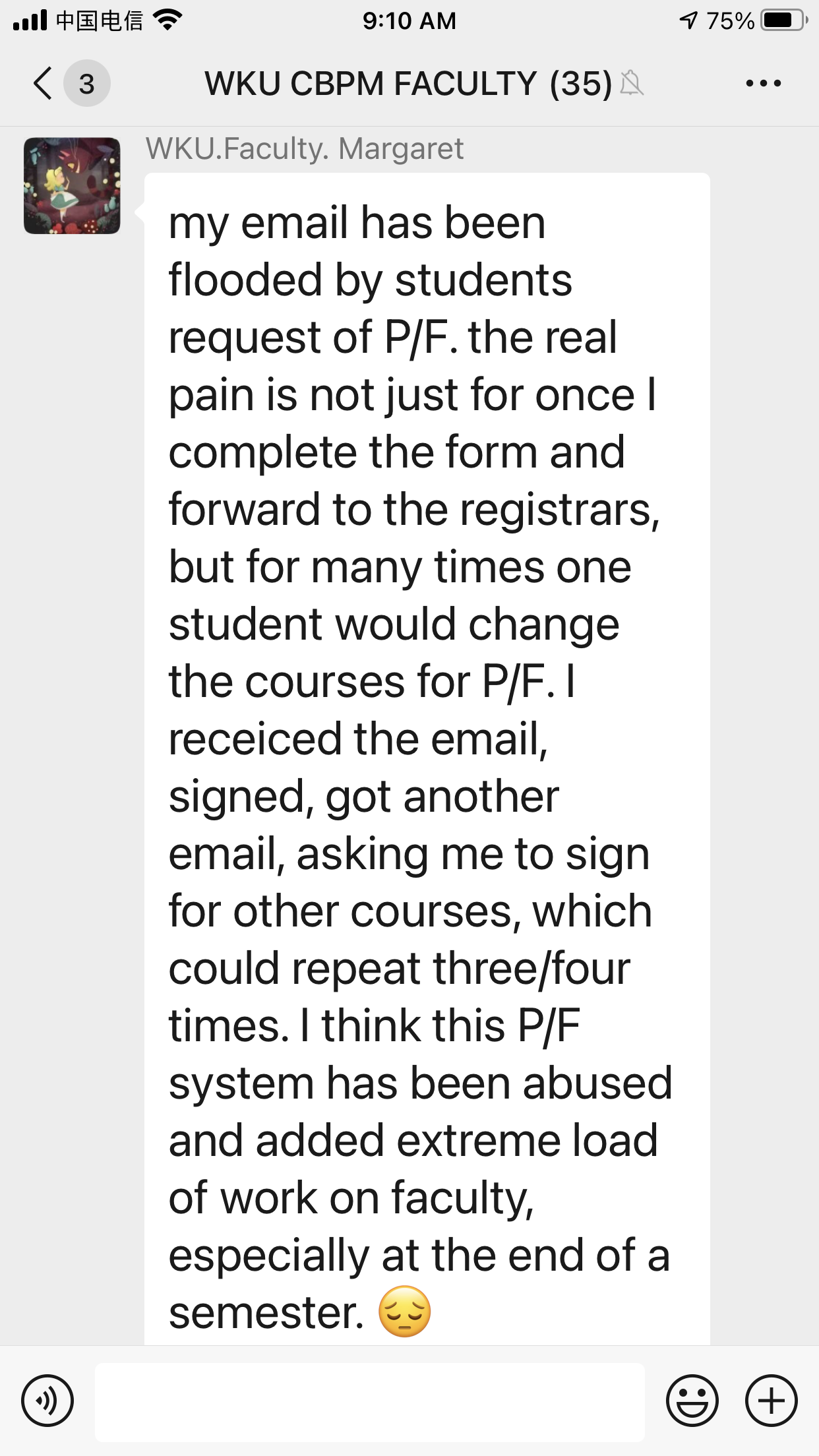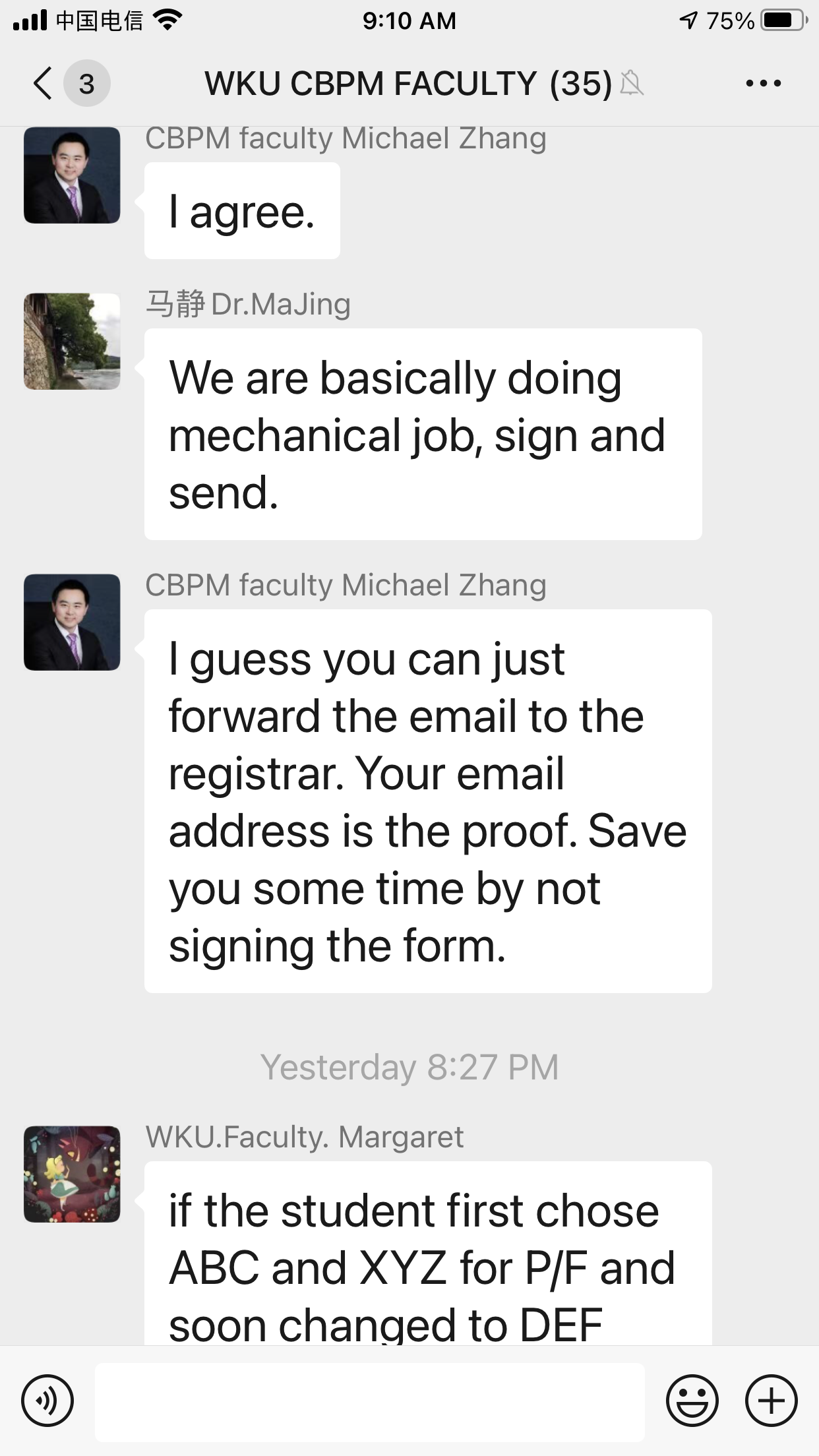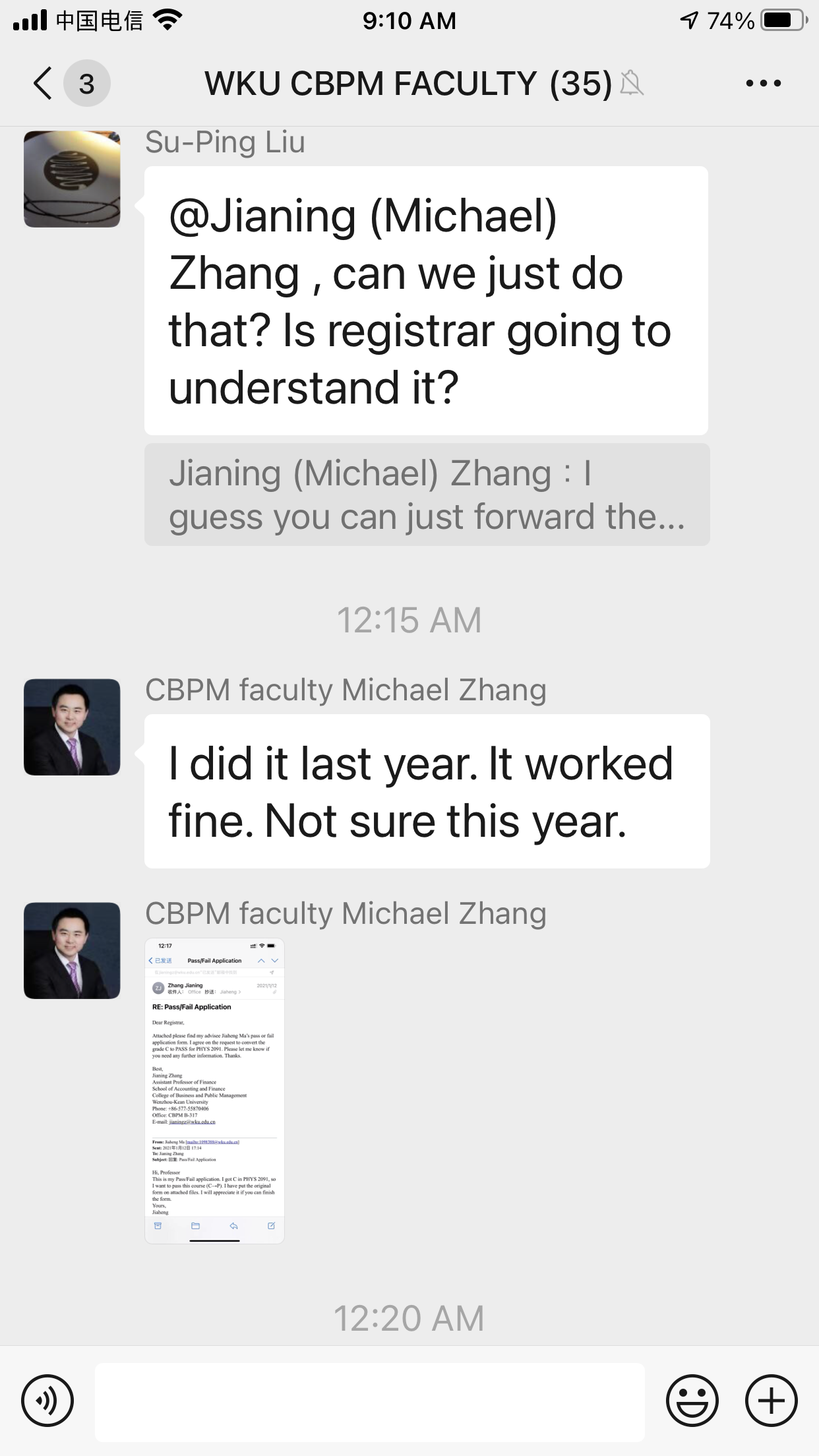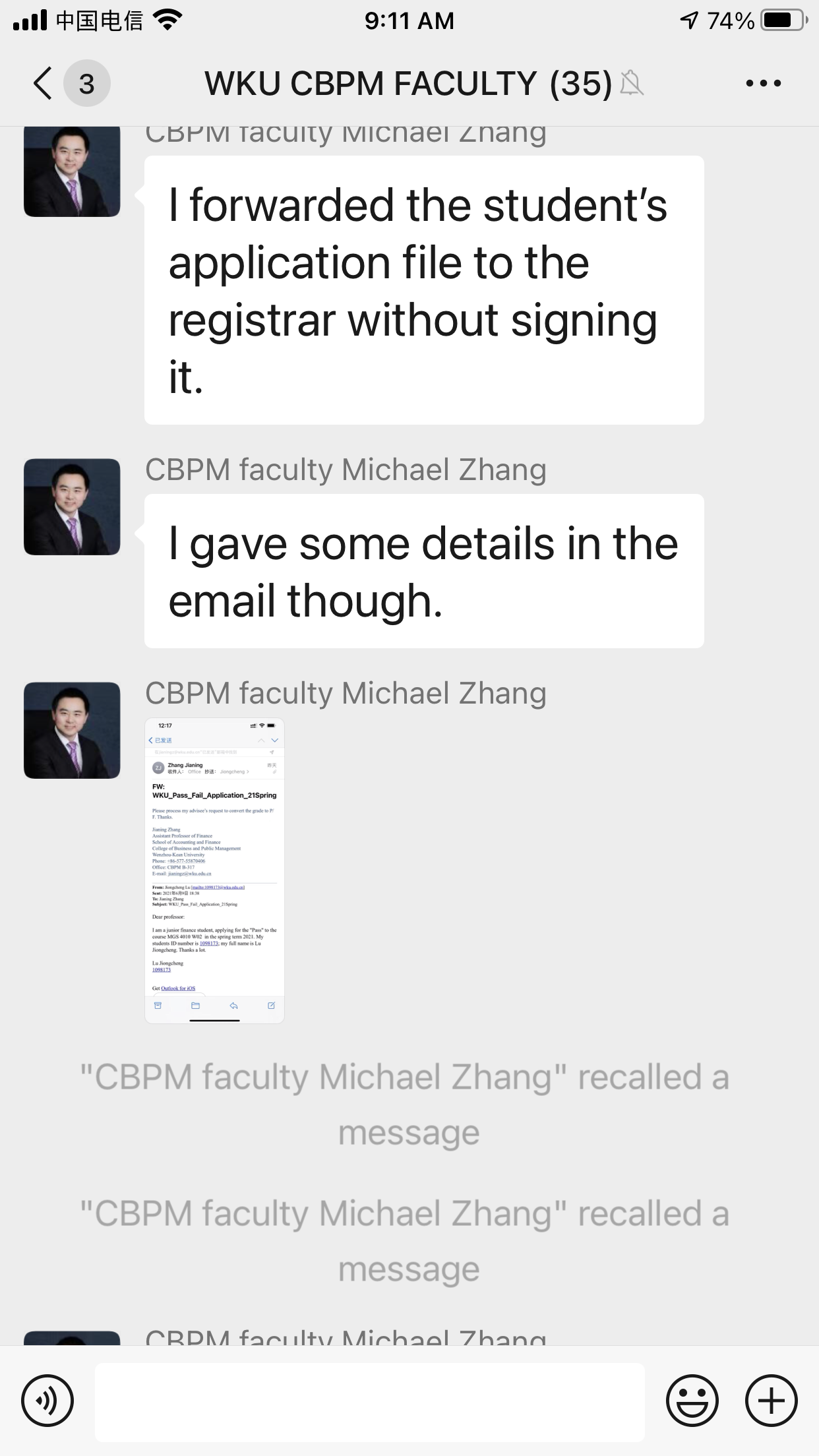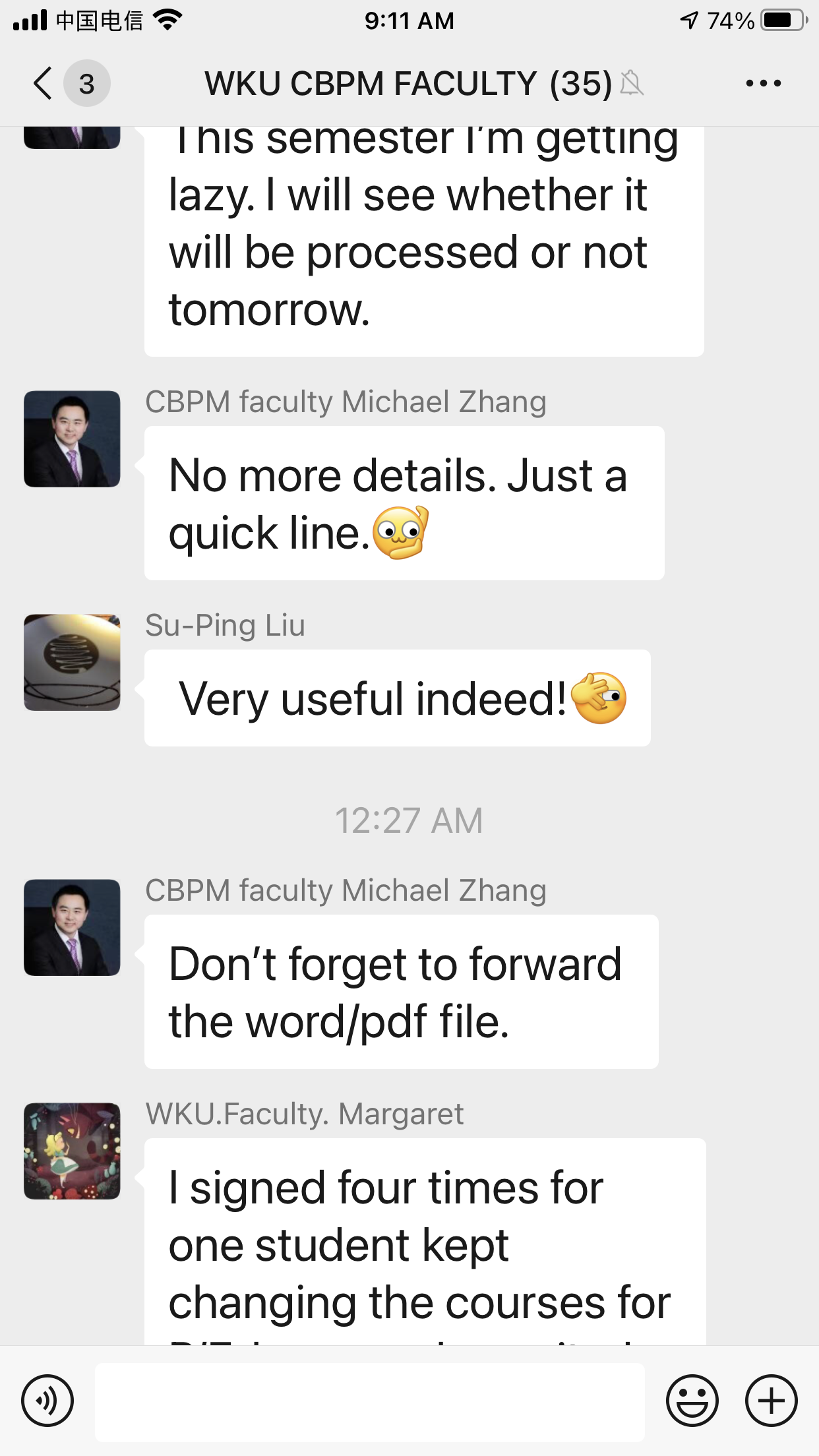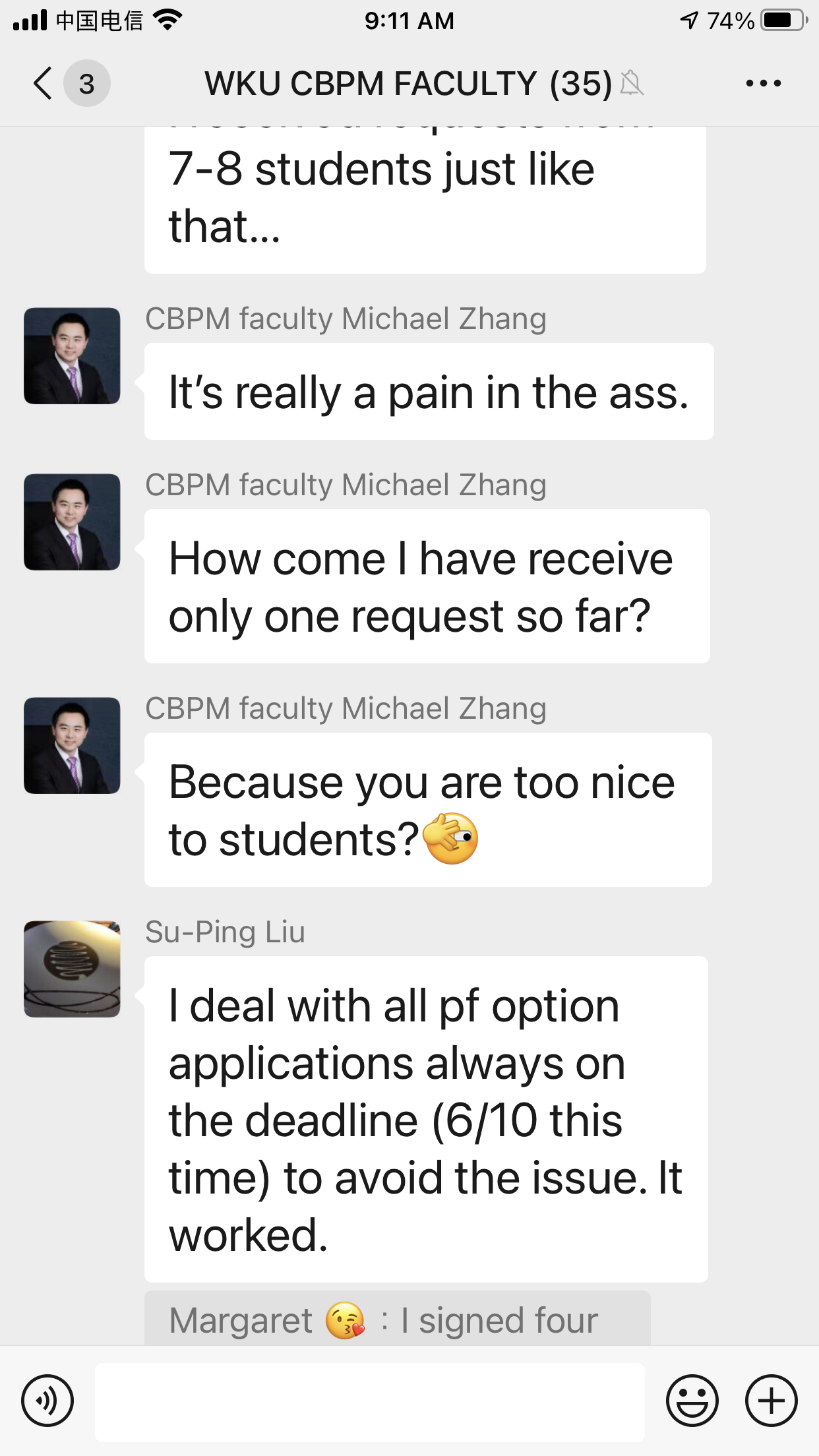 Irrelevant Message was delivered by Manager in the public Work Space.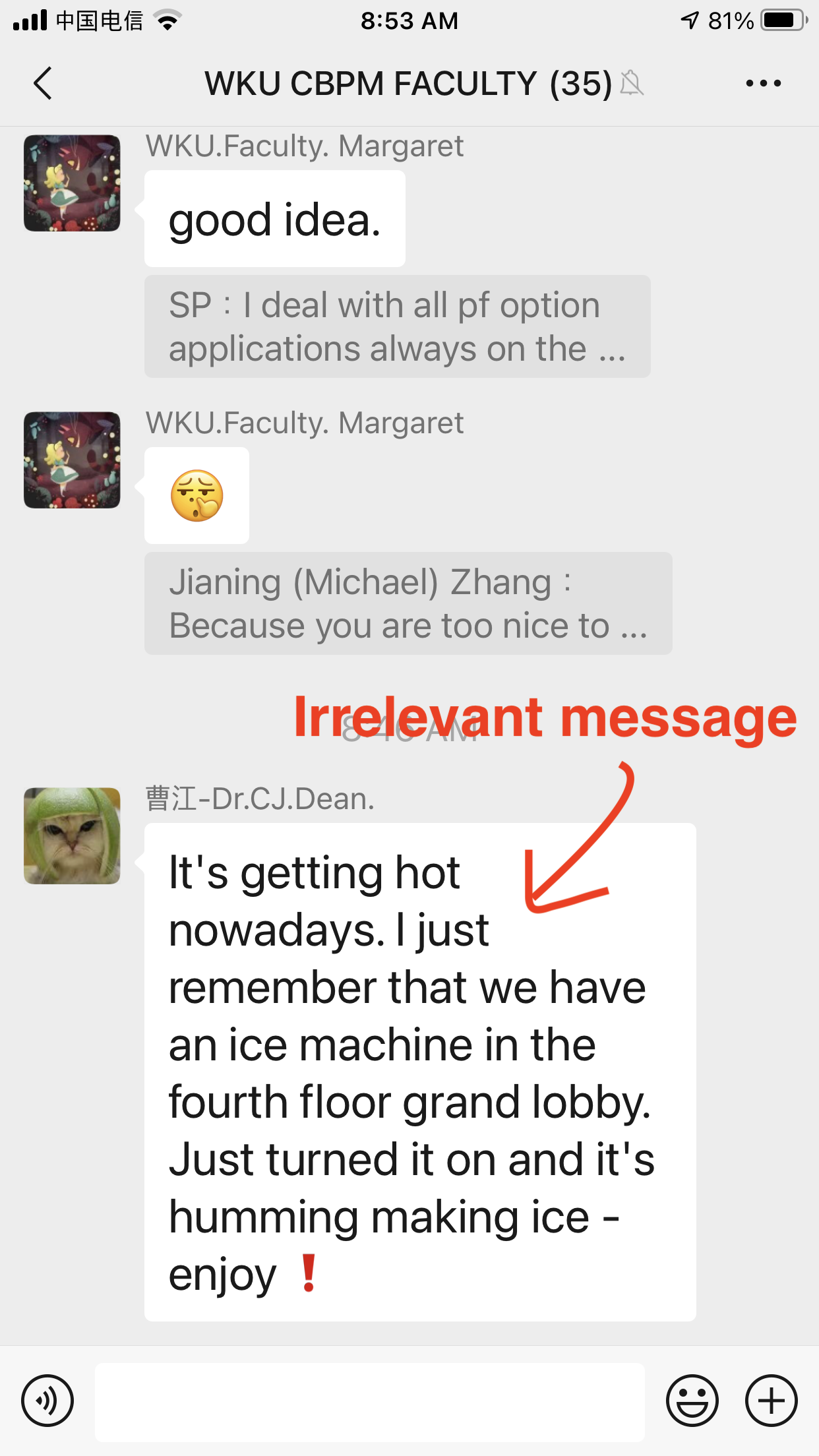 ===================================
2021. June 11: Faculty members were ignored at the Commencement Ceremony.
WKU admins pushed the outdoor ceremony under the high 'rain day' condition. And it rained on the Commencement day.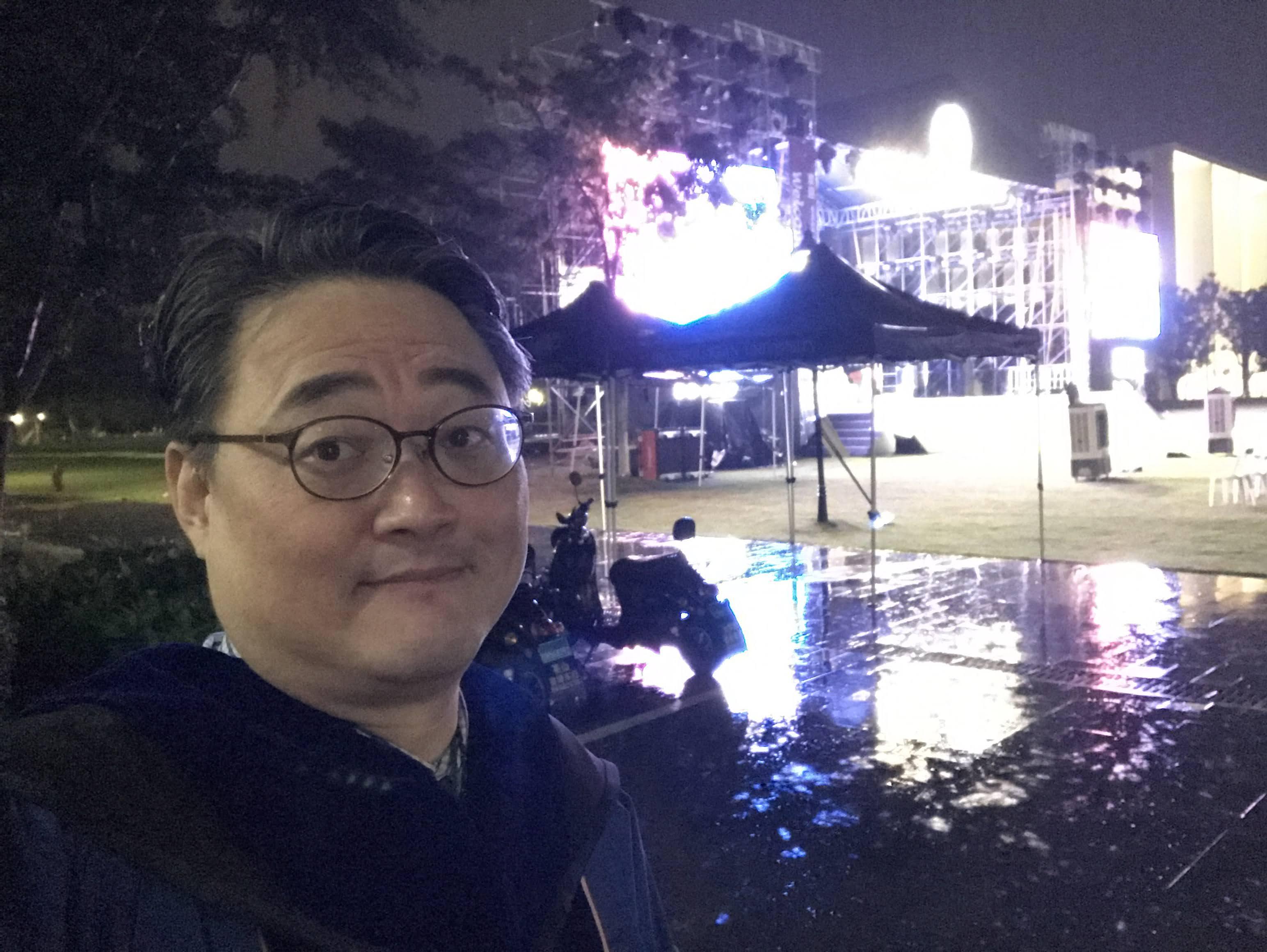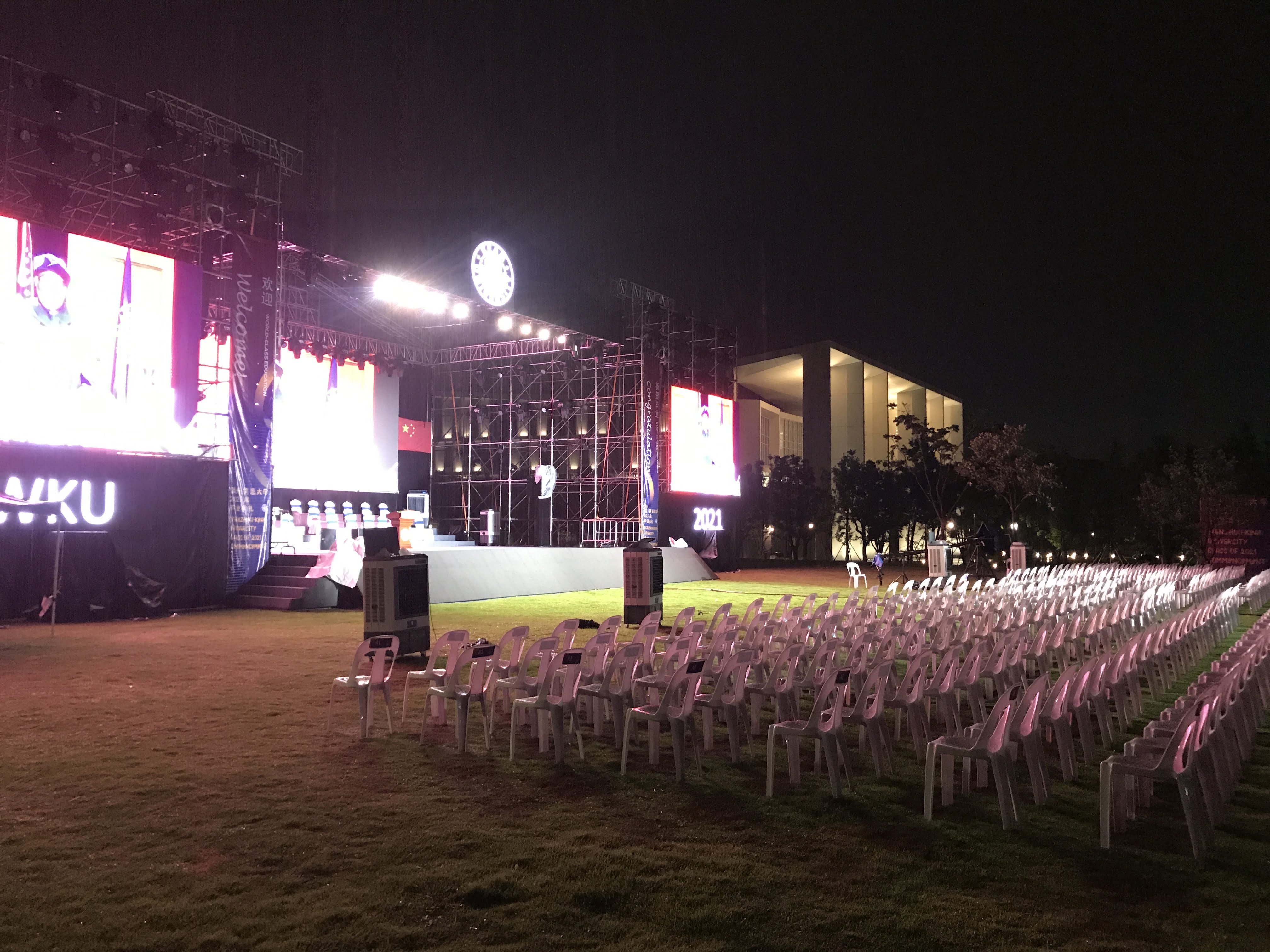 Students and participants moved to the CBPM building Auditorium, and Admins just invited Chinese leaders to the auditorium to perform Commencement while all foreign faculty members were stored in another building's large classroom with no guide and no participation in the ceremony. Even, foreign faculty members had no chance to take pictures with our lovely students.
This example showed the "Ignorance, Abusing" onto Foreign Faculty members by Admins!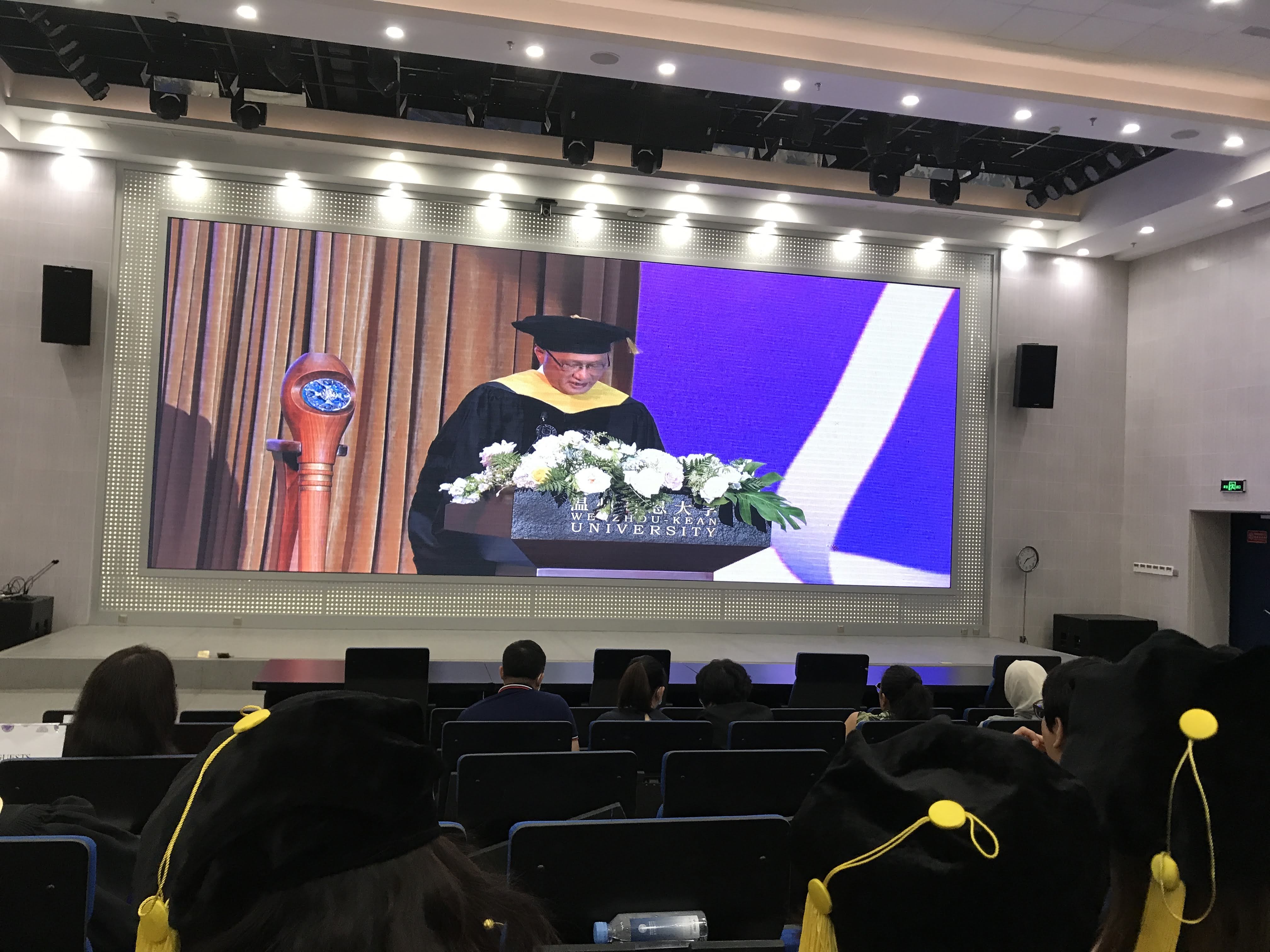 ===================================
2021. 08. 13: A Suggestion of Overarching Intervention to the Other Department from Dean.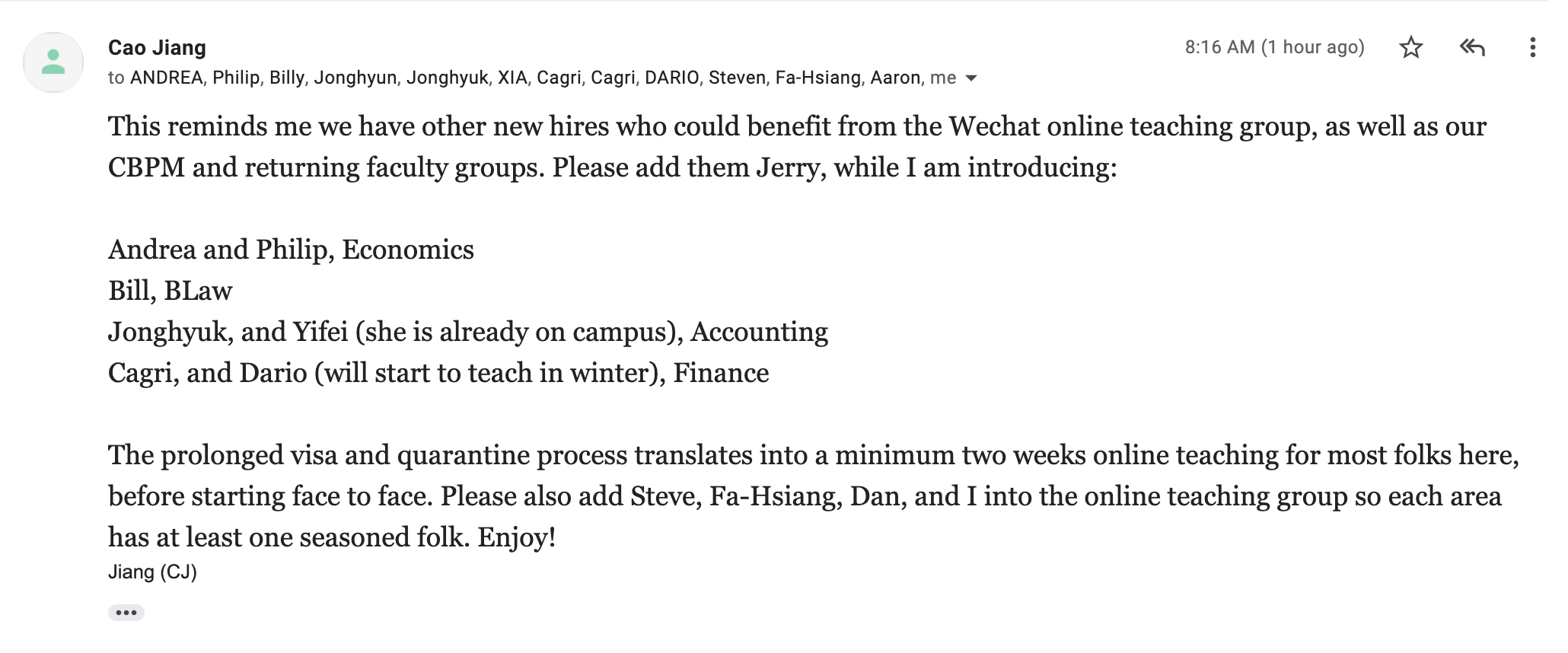 The reaction of Limiting Boundary!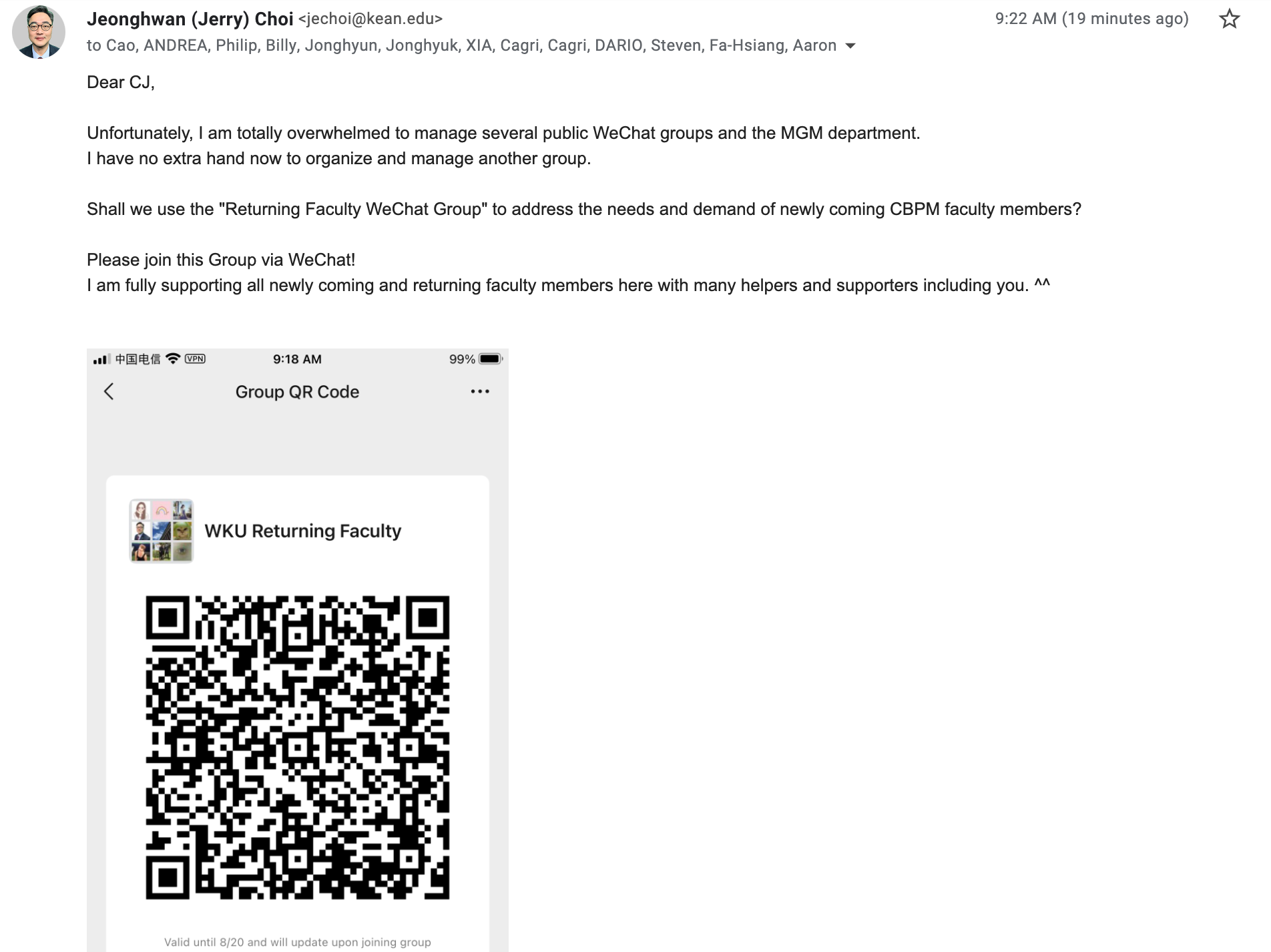 Explaining the Reason for Limiting Boundary.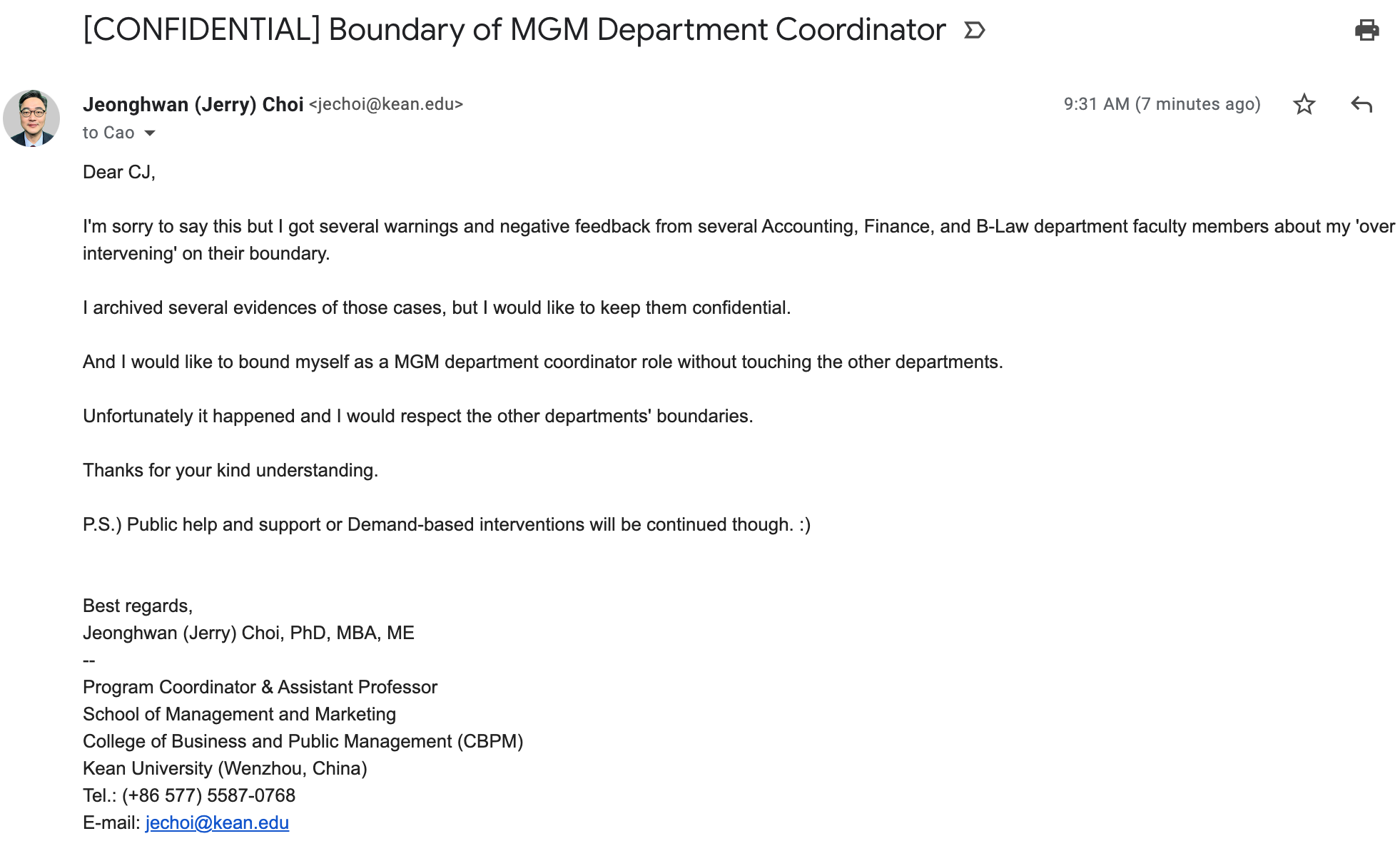 School Admins' Ignorance of Foreign Faculty Members:
2021. 08. 28. Ignoring the Returning Expense (Quarantine Cost) Reimbursement.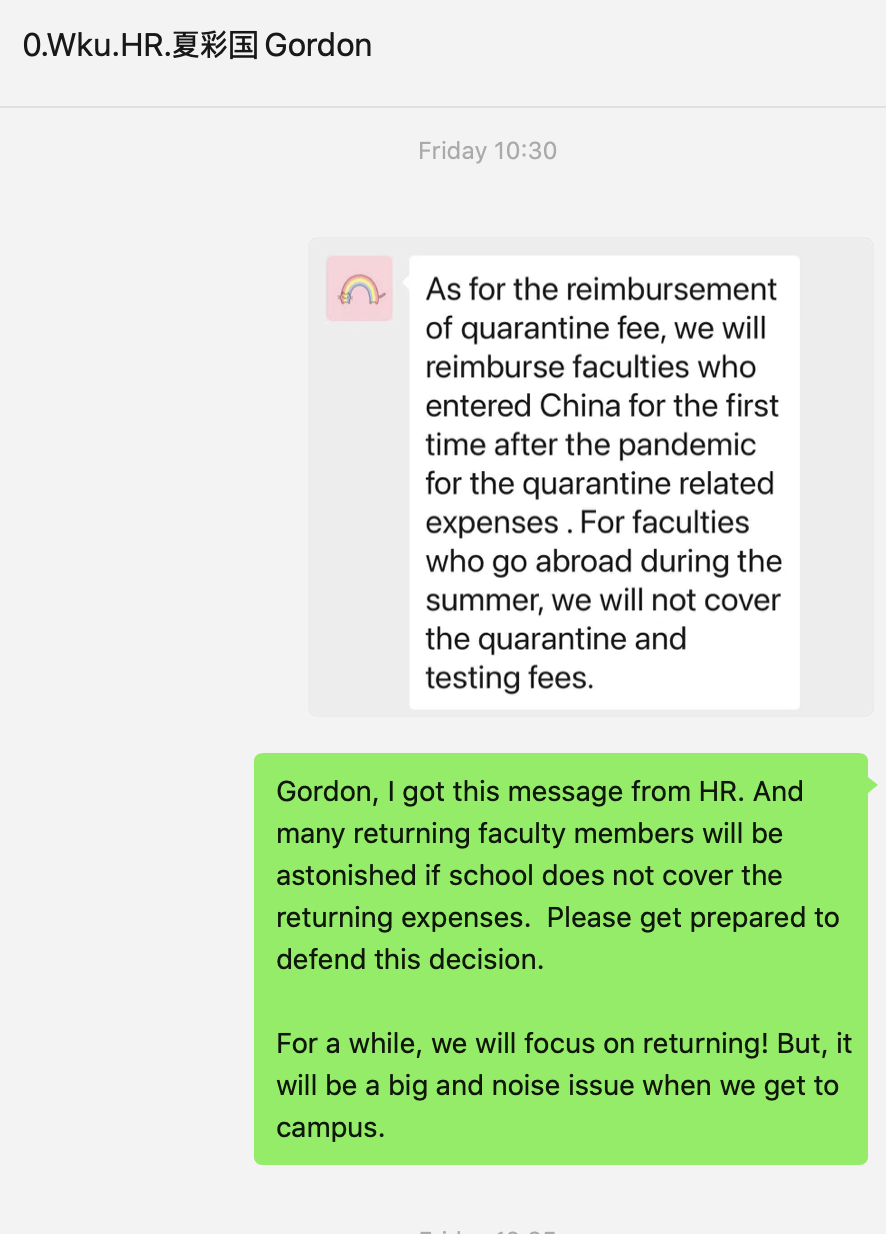 Wenzhou Authority ignores and enforced the 'unnecessary quarantine hours!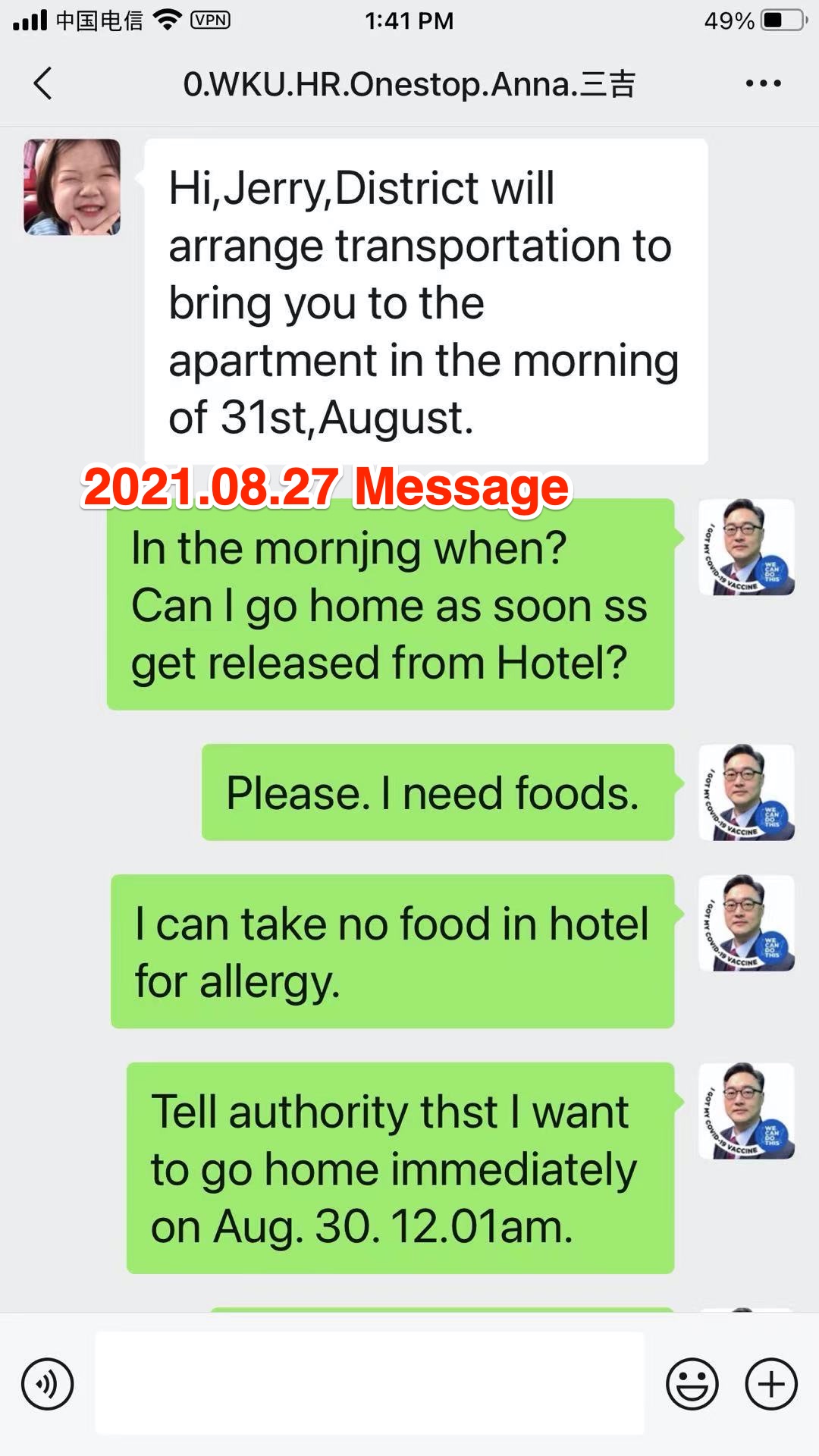 Food problem was not properly addressed in the Long quarantine period (5 weeks),
Aug. 10 ~ Sept. 14, 2021 ( 5 weeks = 35 days)
2 Weeks Mandatory Quarantine by Centra Governement
2 weeks Mandatory Quarantine by Local Government (?)
1 week Self-monitoring Quarantine by Education Bureau (?)
Total: Five (5) weeks = 35 days quarantine
The food allergy issue was not properly addressed with no solution
Food allergy: Chinese Cooking OIl, Cilantro, Fish !
Example of Quarantine Foods!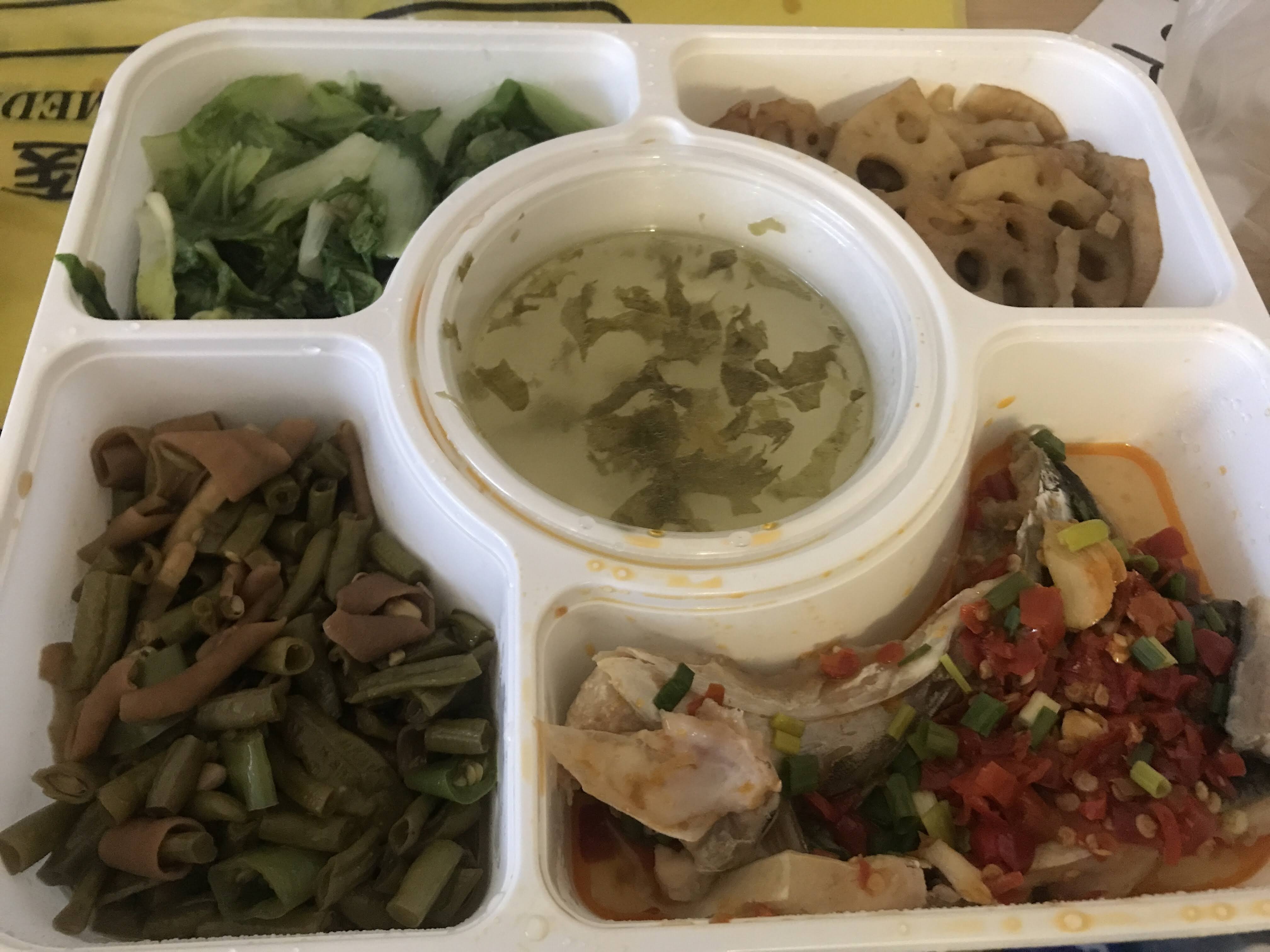 No Chinese cooking oil, No Cilantro foods are "Plain Mantou & Rice"!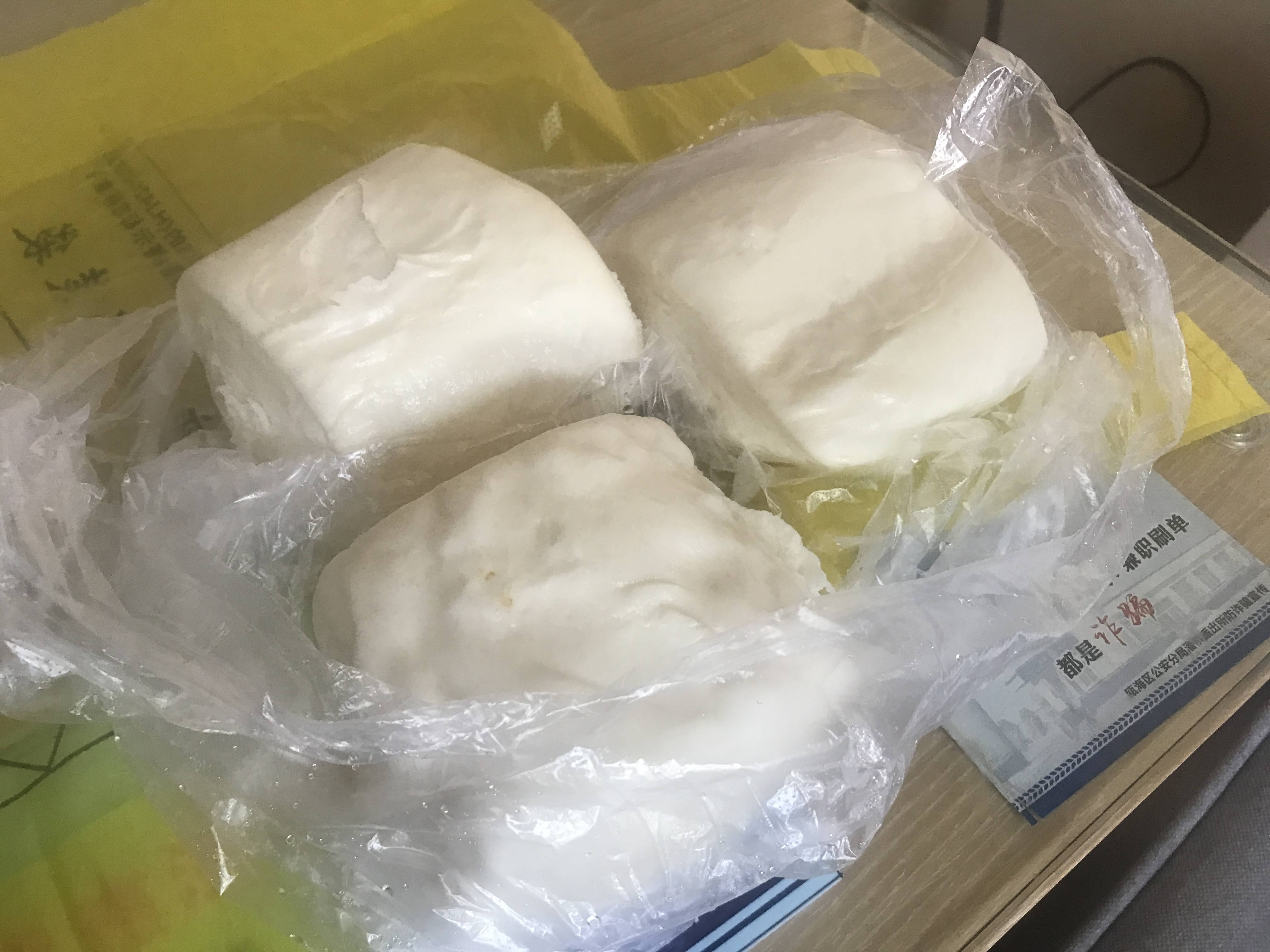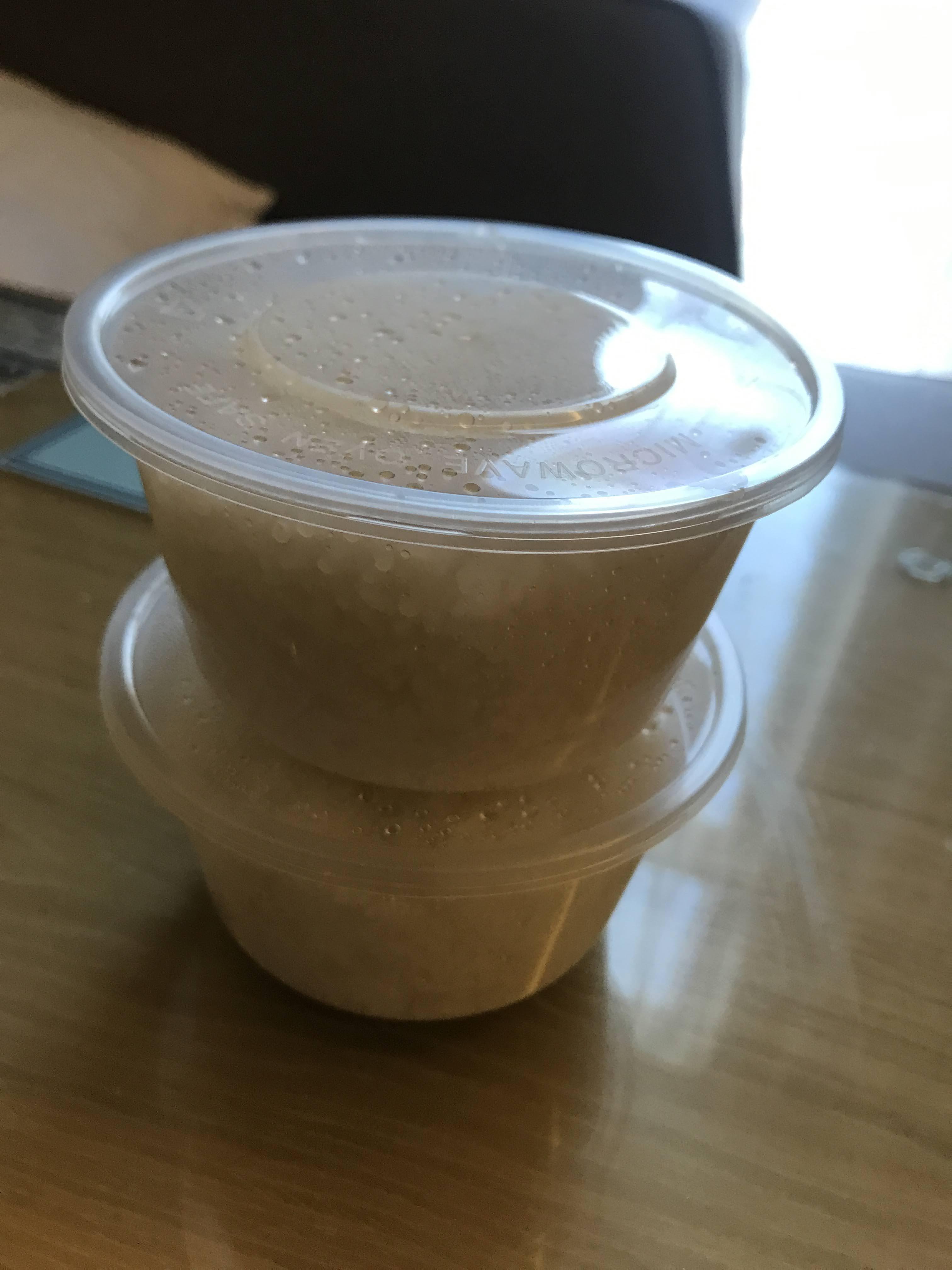 2021. 10. 11: A Faculty (Zhang Jianing - Michael) insulted another course (MGS2150) instructors:
As a teacher of FIN4998 (Thesis Writing), Zhang officially complained of "NOT TEACHING REGRESSION at Statistics course (MGS2150) make my teaching poor. Instructors of the course need to teach well" at the whole faculty meeting.
In responding to the challenge, MGS2150 teachers, three senior instructors of the course proposed two resolutions. Dean ordered 'covering' extra chapters.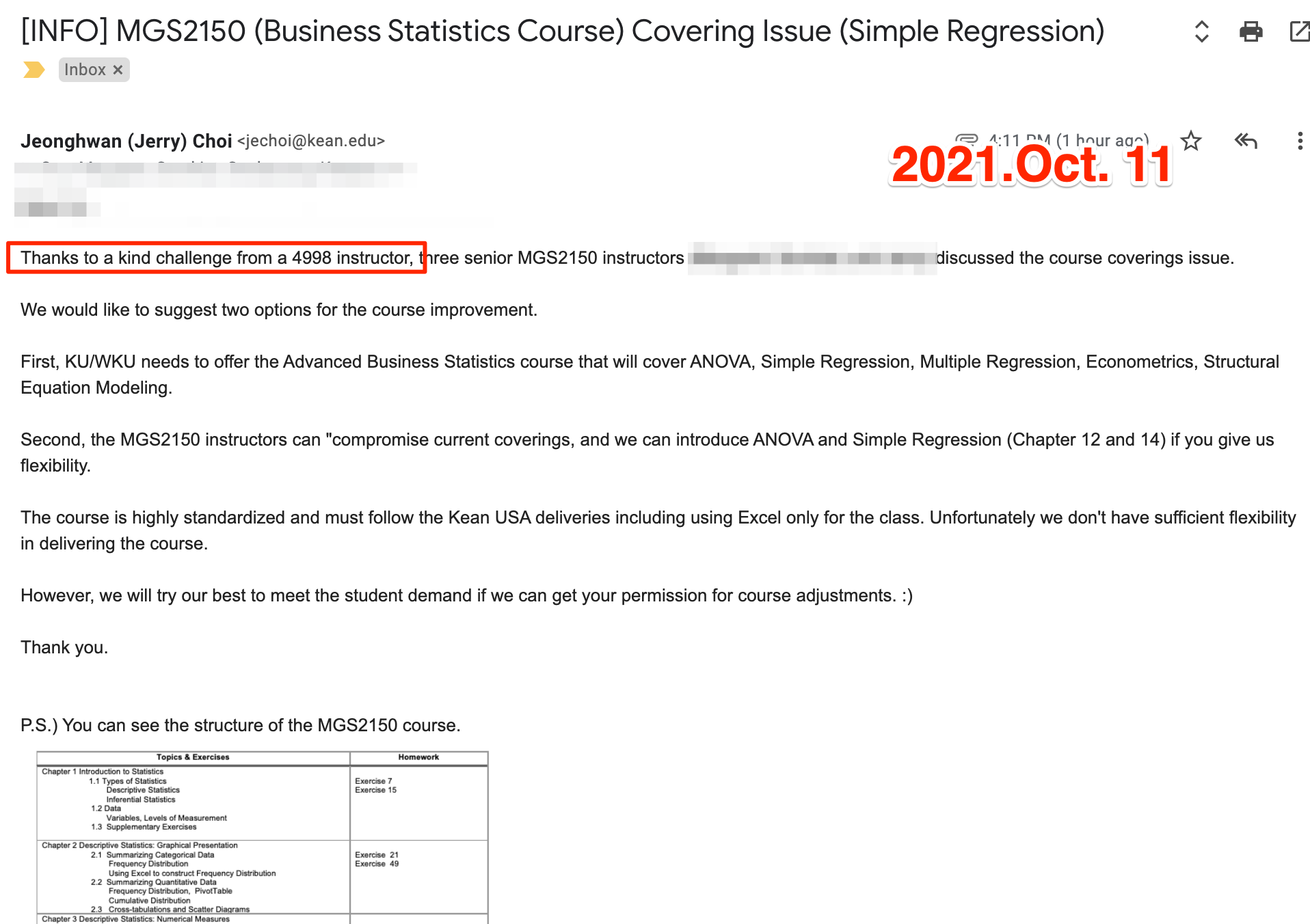 ====================
2021.10.11: Insulting another course instructor at the public faculty meeting.
2021.08.13: Limiting the Boundary of MGM Coordinator Role.
2021.06.11: Isolation from Commencement Ceremony
2021.05.01: Archives since May 2021