This is an archive of Examples of Workplace Conflicts (Hazing, Ignorance, Abusing, Gaslighting, and Disrespect Cases) at Kean University (Wenzhou campus) College of Business and Public Management toward Foreign Faculty Members since May 2021 (during the COVID-19 Pandemic situation).
The Toxic management of WKU CBPM Admin significantly destroys the fundamental value of Kean University and American Education.
This report aims to improve the Wenzhou management to align Wenzhou campus with Kean's mission and value.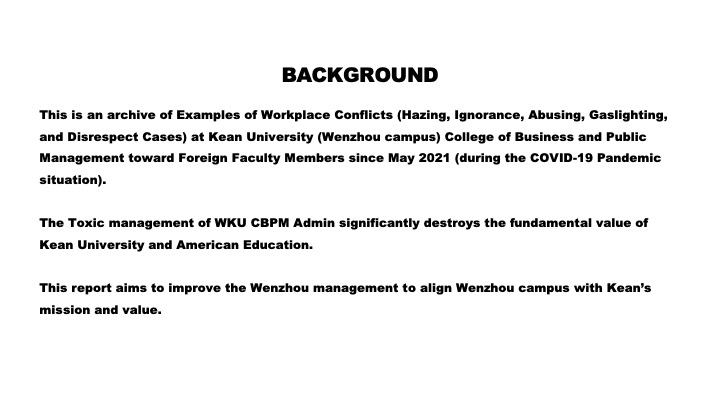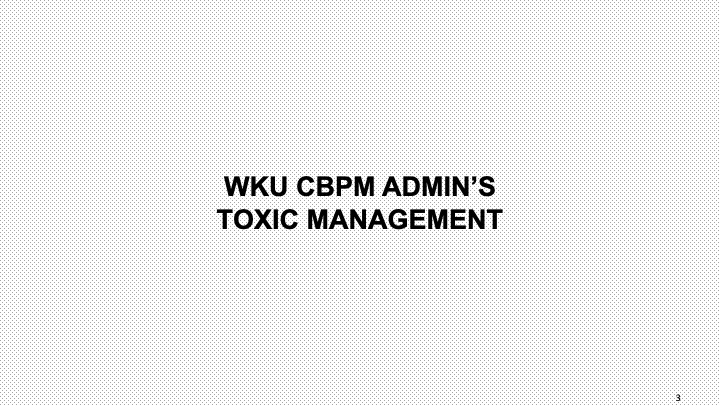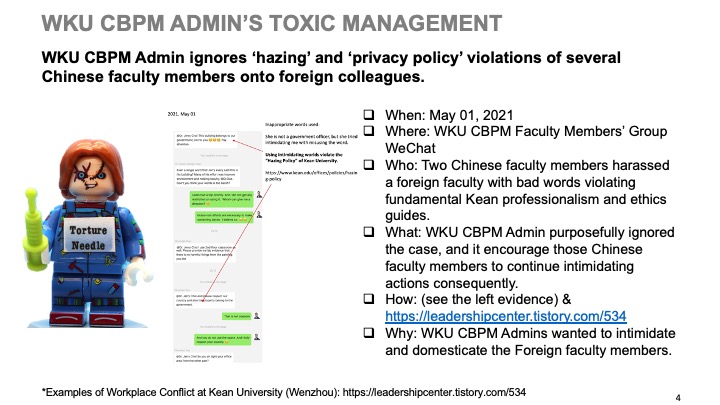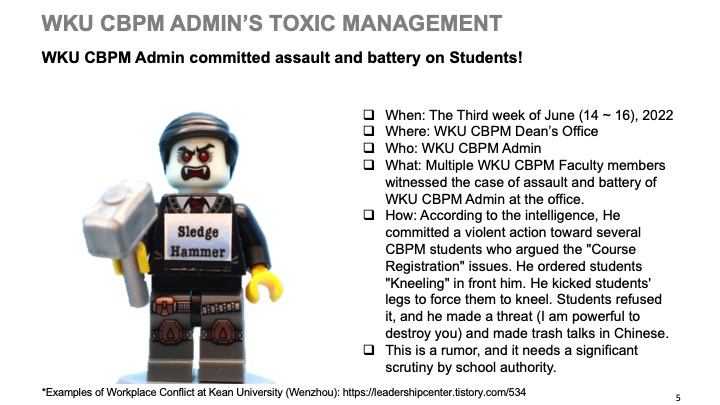 2022. June 20: [Rumour] WKU CBPM Associate Dean commited assult and battery on WKU CBPM Students (June 13 ~ 17) for registration issue.
Multiple WKU CBPM Faculty witnessed the case of assault and battery of Associate Deans' Assault and Battery that happend in the third week of June, 2022 (June 13 ~ 17).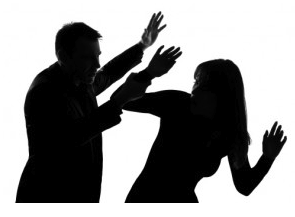 According to the intelligence, He committed a violent action toward several CBPM students who argued the "Course Regitration" issues. He ordered students "Kneeling" in front him. He kicked students' legs to force them to kneel. Students refused it, and he made a threat behind their back ('I am powerful to destroy you') and made trash talks in Chinese.
This is a rumor, and it needs a significant scrutiny by school authority.
더보기
[오늘 Wenzhou에 남아서 여름학기 하고 계시는 Management & Marketing 교수님들로부터 들은 충격적인 이야기가 있어 일단 정보 차원에서 전해드립니다.

WKU CBPM Associate Dean인 Dr. Cao Jiang (CJ) 이 지난 주, 몇몇 Business 학생들이 Registration 관련해서 요청사항이 있어서 Dean's Office에 가서 Argue 하는 중, CJ가 학생들에게 폭언과 폭력을 행사하여 무릎을 꿇게 하고, 이를 거부하고 나가자 학생들에게 심한 협박을 했다는 전언이 있습니다. 제가 Wenzhou에서 있지 않은 상황이라 자세한 전모는 더 파악해야 하겠습니다만, 복수의 교수님들로 부터 전해 들은 이야기 입니다.

이전에도 CJ가 학생들에게 친절하지는 않았고, 중국어로 험한말을 하는 것 같았고, 태도가 공격적인 것은 많이 보아 왔습니다만. 폭력과 협박까지 한 것을 전해들으니, 충분히 있을 거라 생각이 들긴 합니다.

코로나로 인해, New Jersey 쪽에서 관리 감독이 없는 상황에서 폭주하는 것 같습니다. 일단 이런 루머가 있다 정도로로만 판단해주십시오.]
Multiple Confirmations for the Violence Case at WKU CBPM Dean's Office (Third week of June, Probably June 15 ~ 17, 2022)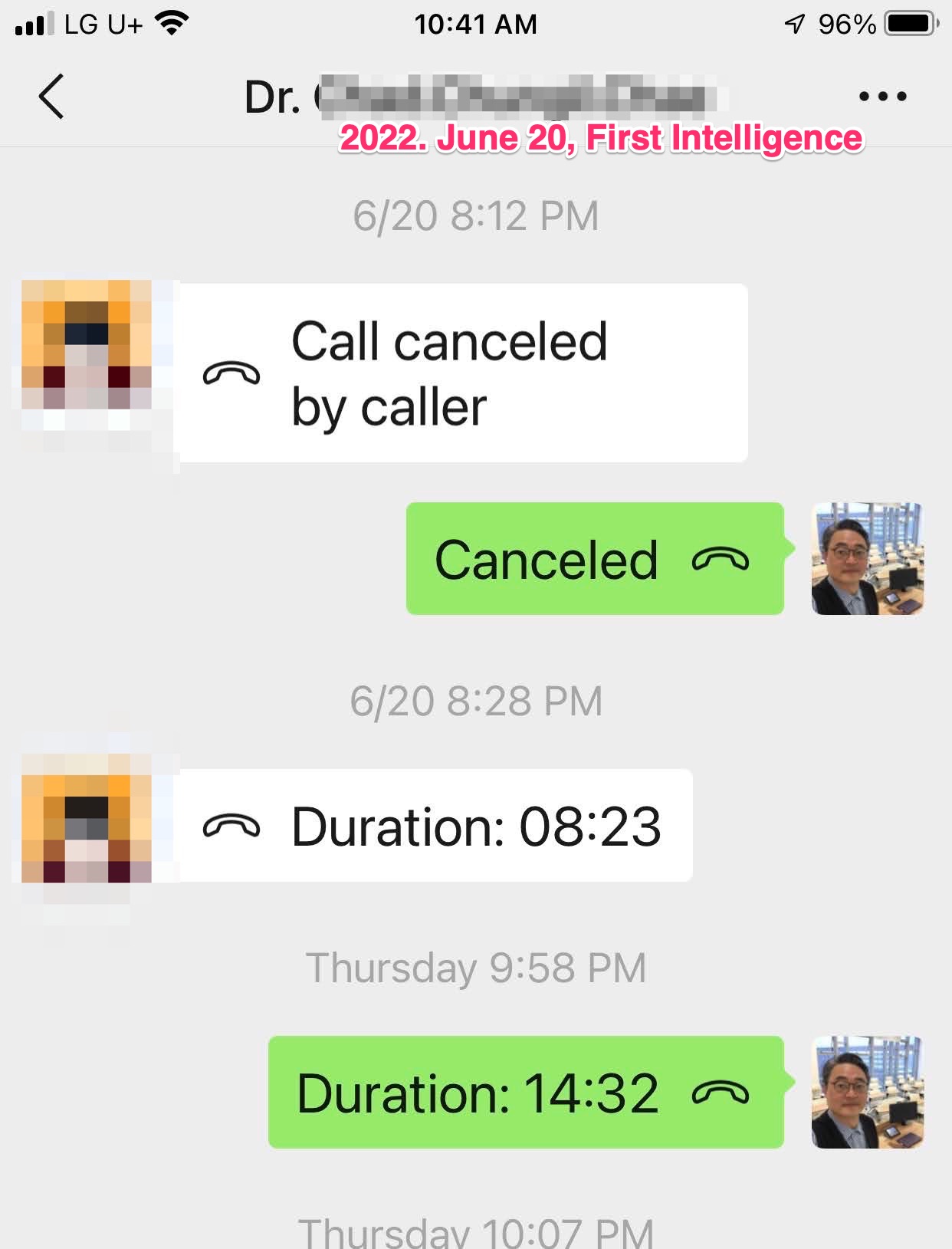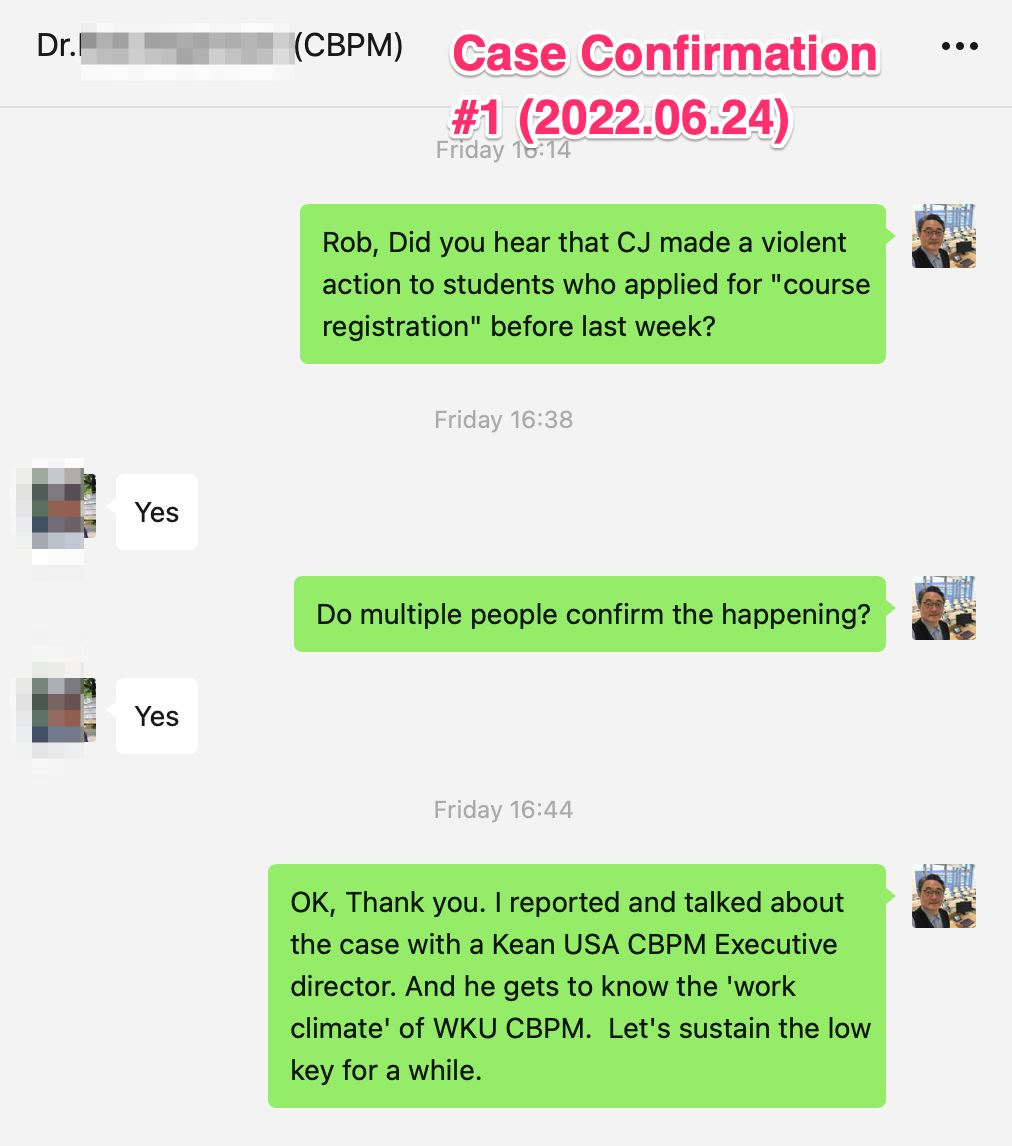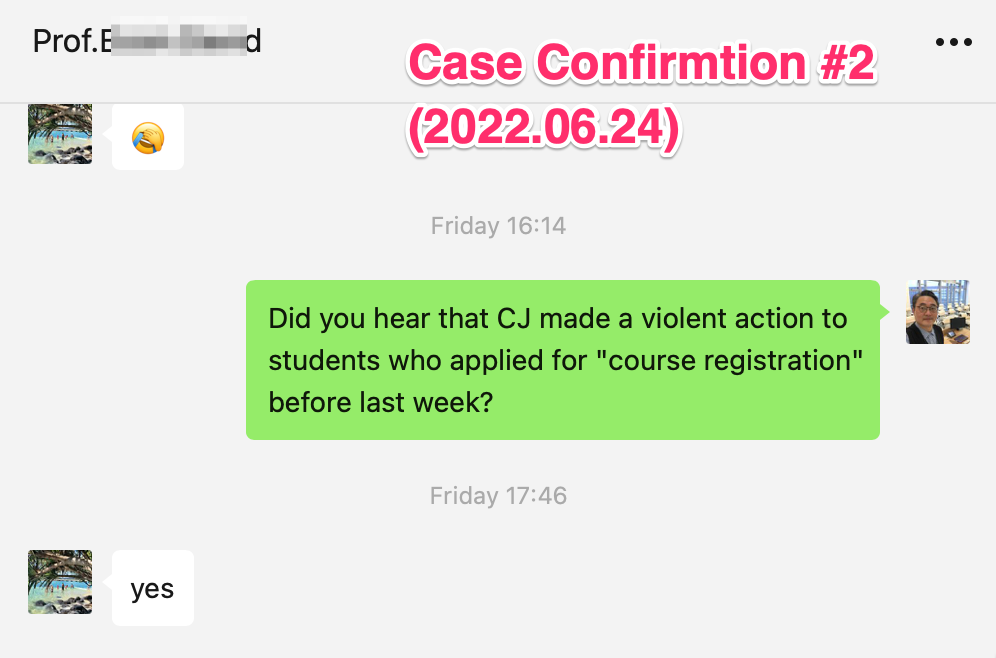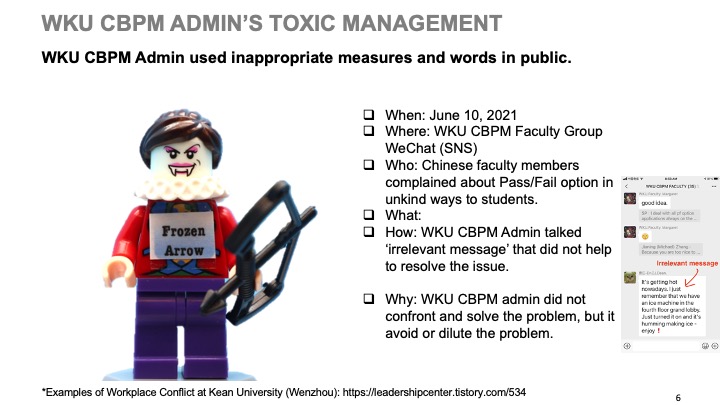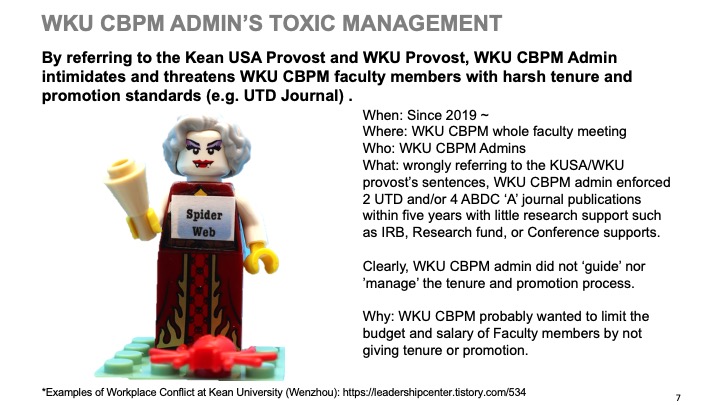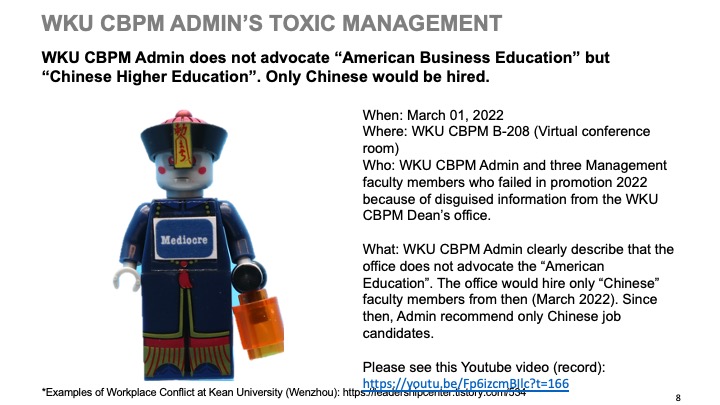 Recording: WKU CBPM Admin does not advocate "American Education" but "Chinese" something.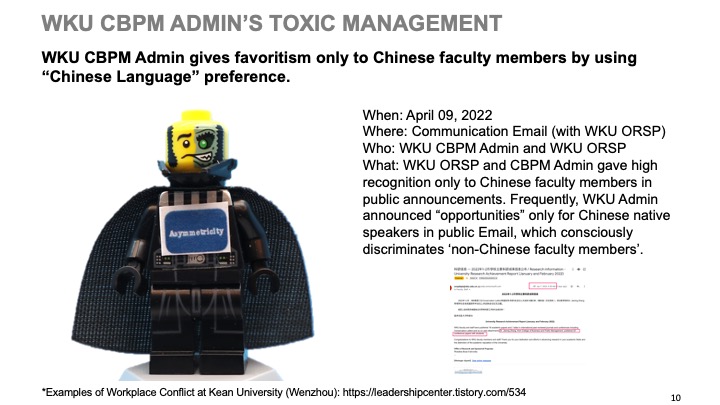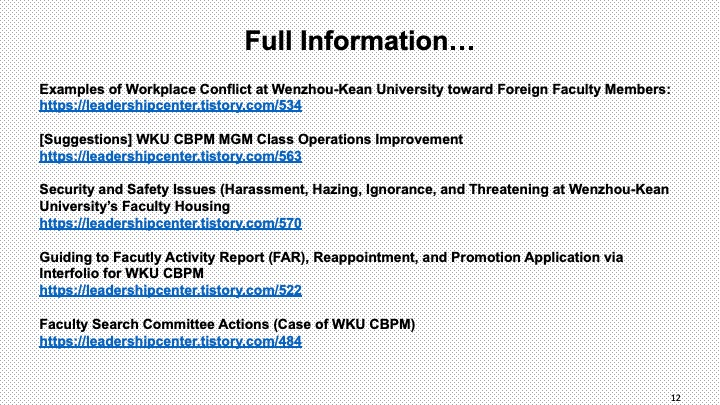 Examples of Workplace Conflict at Wenzhou-Kean University toward Foreign Faculty Members:
[Suggestions] WKU CBPM MGM Class Operations Improvement
Security and Safety Issues (Harassment, Hazing, Ignorance, and Threatening at Wenzhou-Kean University's Faculty Housing
Guiding to

Facutly

Activity Report (FAR), Reappointment, and Promotion Application via

Interfolio

for WKU CBPM
Faculty Search Committee Actions (Case of WKU CBPM)
======================
2022. JUNE 21: FIRST ARCHIVE (REPORTED TO DR. RHEE)