Kean Business Plan Competition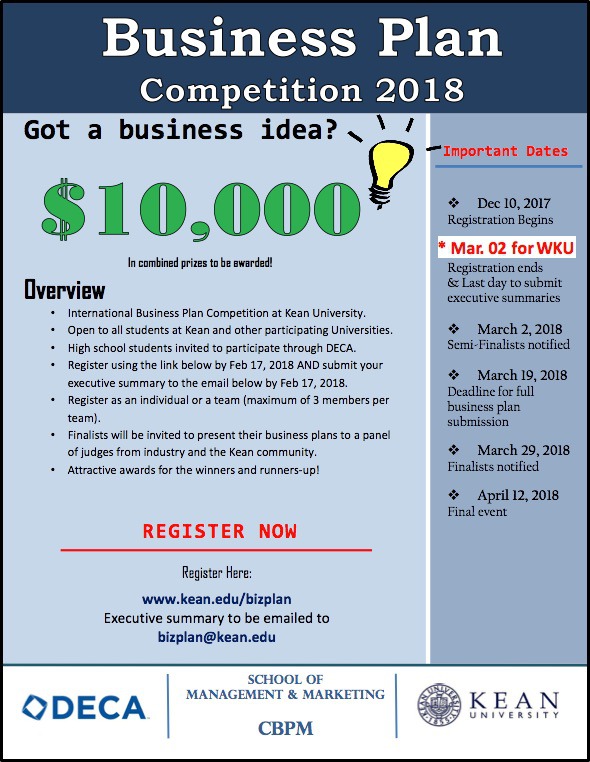 ---
First Round (Executive Summary Competition)
Please Complete an Executive Summary of Your New Business Idea, and Submit it to bizplan@kean.edu after registering yourself at www.kean.edu/bizplan.
Executive Summary Form is accessible at www.kean.edu/bizplan.
Executive Summary (1-2 pages single-spaced)
1. Company Name & Contact Information
• Company name and location:
• Your contact information (names, email addresses and phone numbers):
2. Opportunity/Problem
• Briefly describe the key problem or unmet need that you will address for your customers.
3. Solution
• What products or services will you offer to address the problem above to meet your customers' need(s)?
4. Competition and Competitive Advantage
• What other options do your customers currently have to address their needs, and what makes your solution better for them?
• What is your "crystal clear" competitive advantage? What are you most counting on to encourage potential customers to buy from you?
• If you have a common business, explain why customers need your particular business. Do you offer lower prices? More convenient hours? A better location or distribution method? A specialty that is not otherwise available in your area? Do you have a different way of promoting your business?
• If your company is doing something new and different, explain why the world needs your product or service innovation. What is it about existing businesses or situations that are subpar? Are you improving on a mediocre product or service category?
5. Target Market
• Who is your primary target market?
• What is the size of that market?
• What are the key trends affecting your industry that will make it an attractive market (e.g. competitive, economic, cultural, demographic, lifestyle, technological, political/legal, environmental sustainability, etc.)?
6. Why Us?
• What is it about your company — your skills, experience, subject-matter expertise, business acumen, team, innovations, industry connections, key advisors, and so on — that makes you (or your team)the right one(s) to take advantage of this market opportunity?
7. Forecast
• Summarize your financial goals. How much revenue do you expect to make in the first year of your business? What kind of revenue growth do you expect in the following years? When do you expect your business to be profitable, or do you have a strategic reason for running at a loss instead?
8. Financing Needed
• How much money will you need to raise and what will it be used for?
• How do you plan to fund your business? Will you need to seek outside financing or invest your own money to get it started?
The Submitted Business Plan will be evaluated in accordance with this evaluation rubic measurement. Please keep in mind this measuring factors when you write up the executive summary.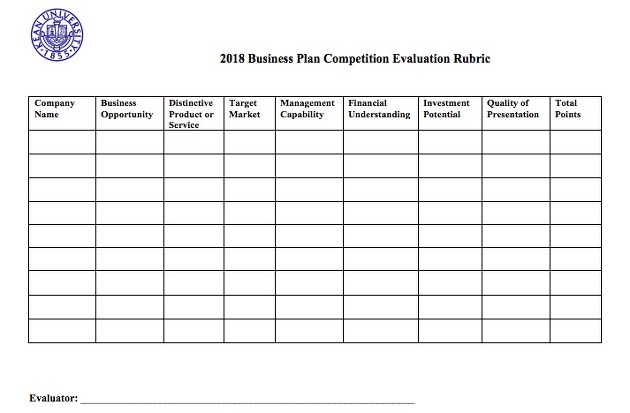 Definitions of Rubic
Business Opportunity
Presented the business opportunity and how the company will take advantage of that opportunity
Distinctive Product or Service
A unique/well-thought-out product and/or service that gives the company a competitive advantage
Target Market
Explained the target market, its need, its size and the customer usage trends
Management Capability
Discussed how the founder and his/her team will develop this company and handle the associated risks
Financial Understanding
Displayed a good understanding of the financial requirements and projections for the business
Investment Potential
Clear and compelling business idea, obvious investment potential
Quality of presentation
Presented business idea in a logical, persuasive manner, and answered questions convincingly. Visual materials effectively supported and enhanced the oral presentation.
• All ratings are on a 10-point scale, with 1 being poor and 10 being excellent.
Example of Business Plan Evaluation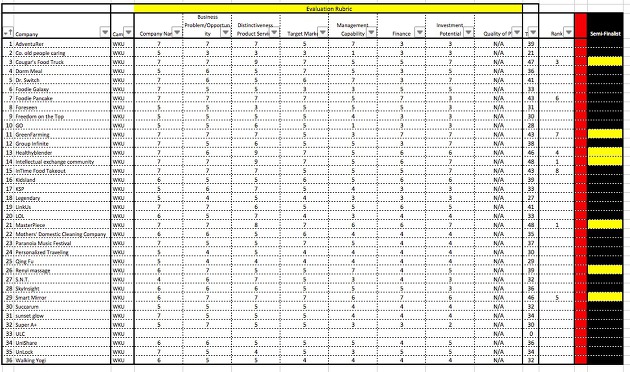 ---
Second Round (Full Business Plan, Due date: Tentatively Mar. 19, 2018)
Semi-Finalists are expected to develop a full business plan that describes each following items in detail.
1.Company Name & Contact Information
2.Opportunity/Problem
3.Solution
4.Competition and Competitive Advantage
5.Target Market
6.Why Us?
7.Forecast
8. Financing Needed
Please Complete a full business plan, and submit it to bizplan@kean.edu until the due date.
Here are several samples of Full Business Plans that won prizes in previous Kean BPC.
Full Business Plan Example: 2017 Kean BPC Prize Winners

Fly solo full business plan .pdf
- Home Style Furniture:

Homestyle Furniture-Full business Plan.pdf

WKU Leisure & Love Coffee Shop.pdf
You can also refer to the following website:
Guide to developing a full business plan:
https://articles.bplans.com/a-standard-business-plan-outline/
---
Finalist Notification (Mar. 29, 2018)
---
Final Event (Business Plan Presentation, April 12, 2018)
---
2017 Kean Business Plan Competition Winners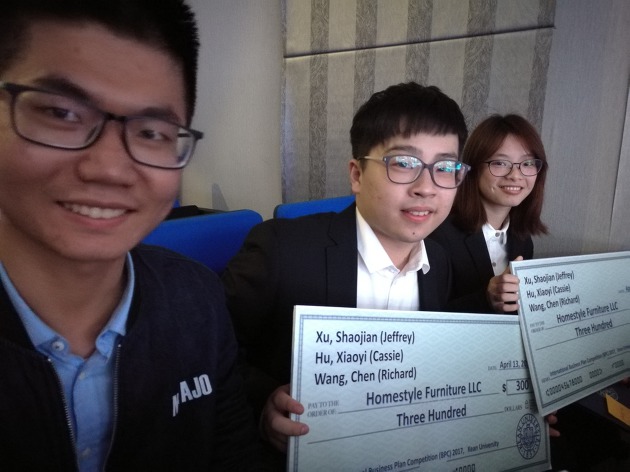 2017 Kean BPC Winner
2017 Kean BPC Winner
---
2017 Kean Business Plan Competition QR Code