Control Processes of COVID-19 without Lockdown or Shutdown (S. Korean Case)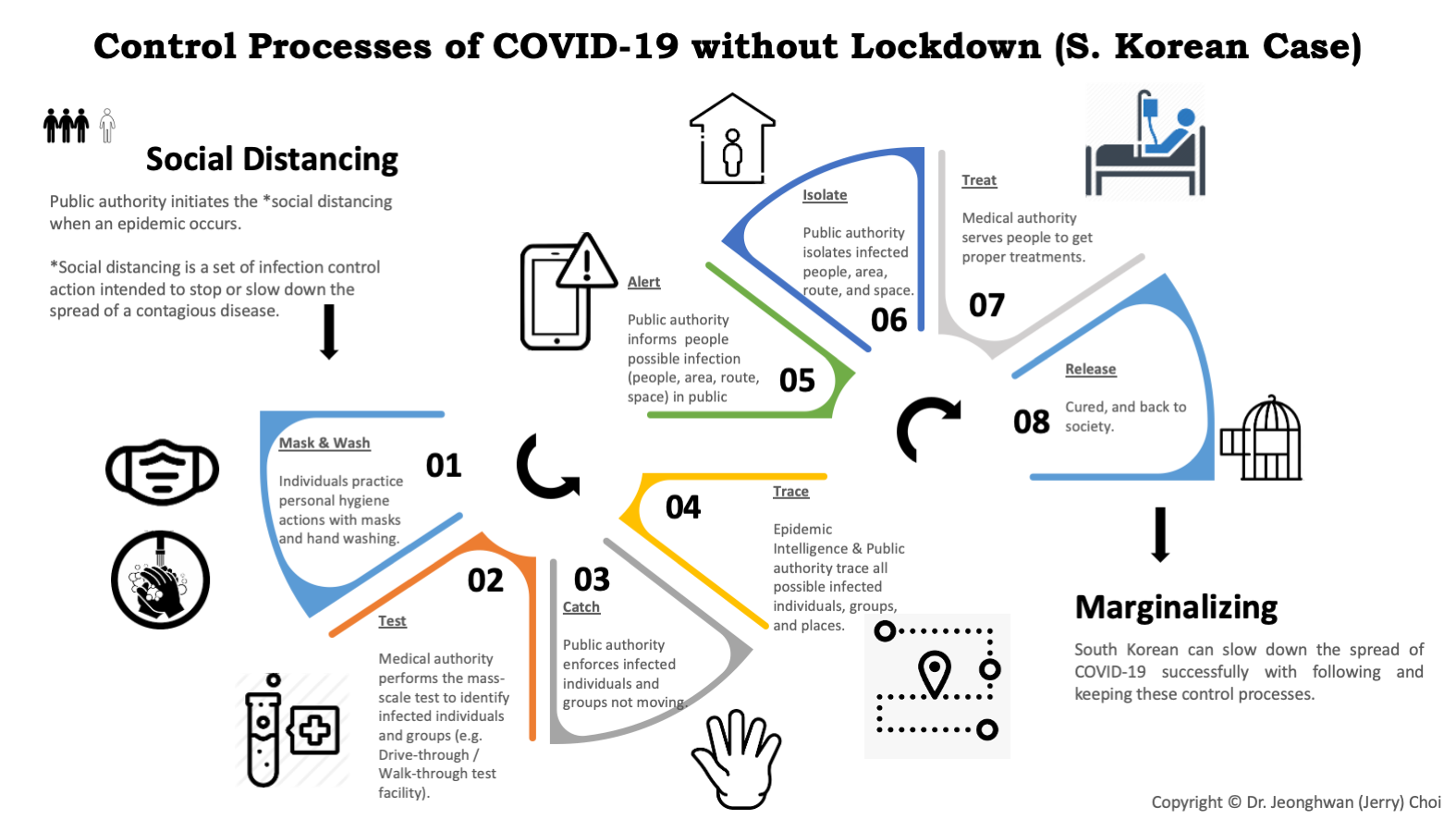 Public authority initiates the *social distancing when an epidemic occurs.
*Social distancing is a set of infection control action intended to stop or slow down the spread of a contagious disease.
1. Mask & Wash: Individuals practice personal hygiene actions with masks and hand washing.
2. Test: Medical authority performs the mass- scale test to identify infected individuals and groups (e.g. Drive-through / Walk-through test facility).
3. Catch: Public authority enforces infected individuals and groups not moving.
4. Trace: Epidemic Intelligence & Public authority trace all possible infected individuals, groups, and places.
5. Alert: Public authority informs people possible infection (people, area, route, space) in public
6. Isolate: Public authority isolates infected people, area, and route, and space.
7. Treat: Medical authority serves people to get proper treatments.
8. Release: Cured, and back to society.
South Korean can slow down the spread of COVID-19 successfully with following and keeping these control processes.
PPT file: Anybody can revise and update the PPT file for any purpose with proper citation.
Remarks: This document is summarized by Dr. Jeonghwan (Jerry) Choi based on his observation in South Korea (January ~ March 2020 when Coronavirus19 outbroke).
Adding to the article, This is the Management Process of Vote in COVID-19 pandemic in South Korea.
AFP graphic showing safety precautions that will be in place during parliamentary elections in South Korea