The Goals & Values of Kean University New Jersey (KUSA) / Wenzhou-Kean University (WKU) College of Business & Public Management (CBPM)'s Goals, Values, and Actions.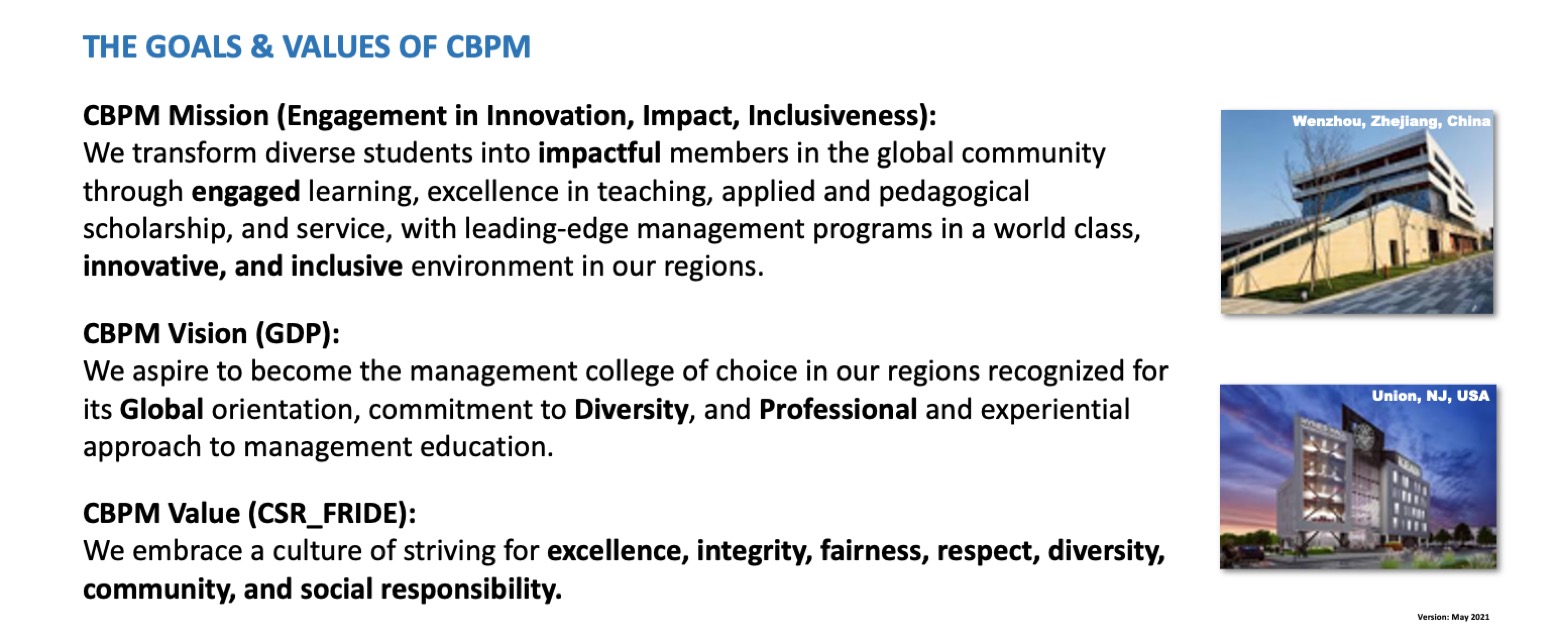 CBPM Mission (Engagement in Innovation, Impact, Inclusiveness):

We transform diverse students into impactful members in the global community through engaged learning, excellence in teaching, applied and pedagogical scholarship, and service, with leading-edge management programs in a world class, innovative, and inclusive environment in our regions.
CBPM Vision (GDP):
We aspire to become the management college of choice in our regions recognized for its Global orientation, commitment to Diversity, and Professional and experiential approach to management education.
CBPM Value (CSR_FRIDE):
We embrace a culture of striving for excellence, integrity, fairness, respect, diversity, community, and social responsibility.
WKU CBPM's Actions: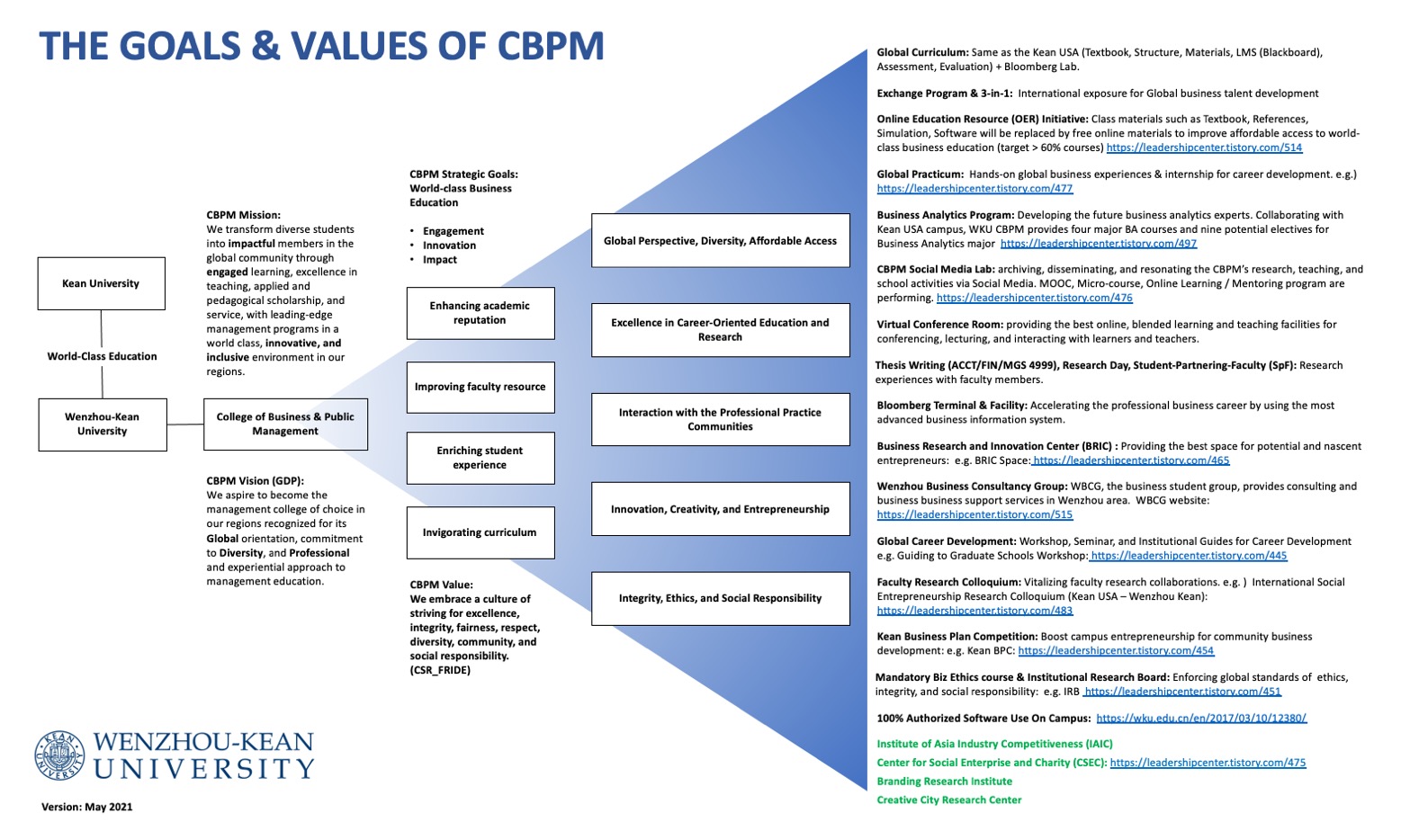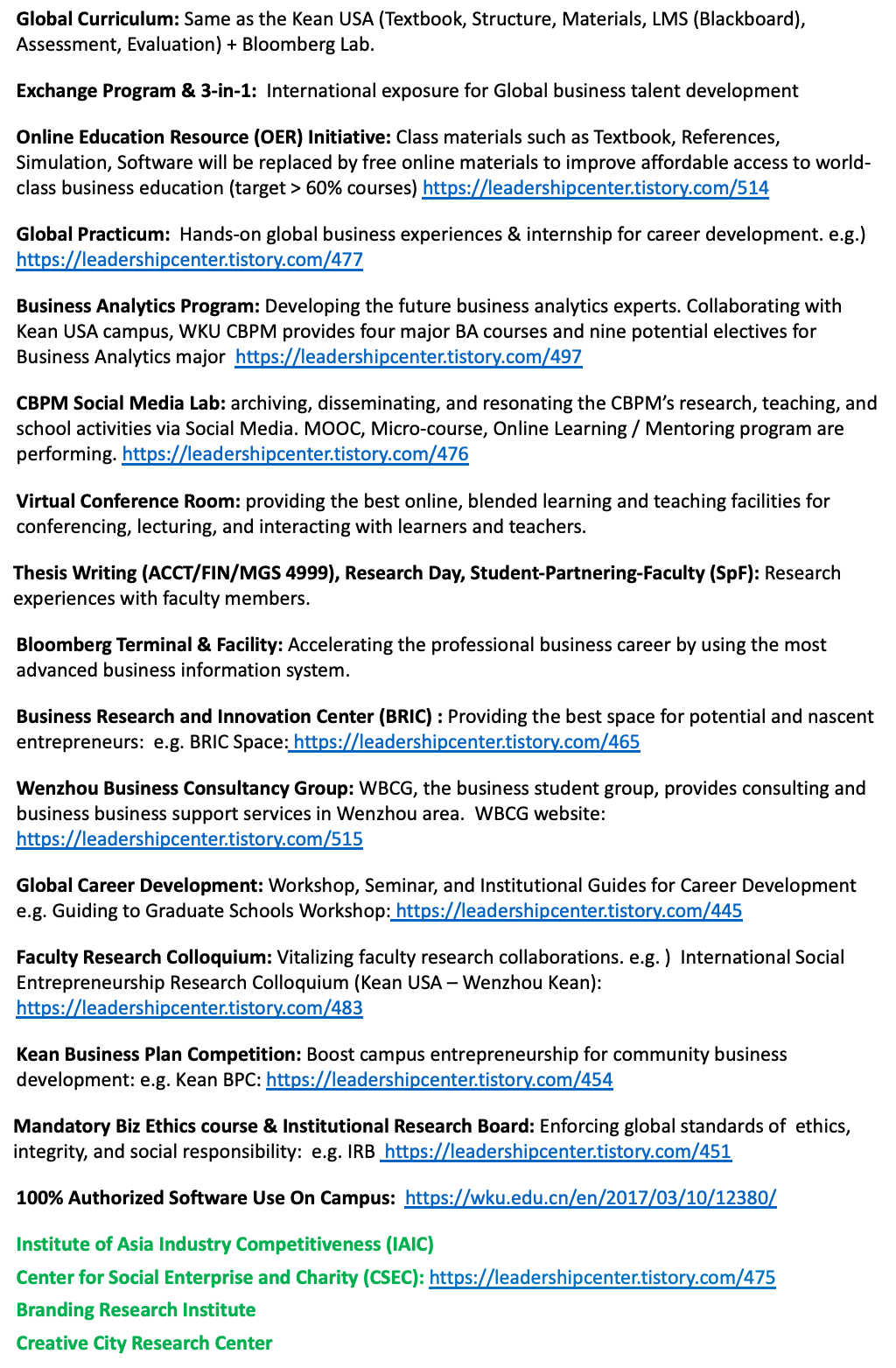 WKU CBPM PROFESSIONAL & SOCIAL NORMS FOR FACULTY: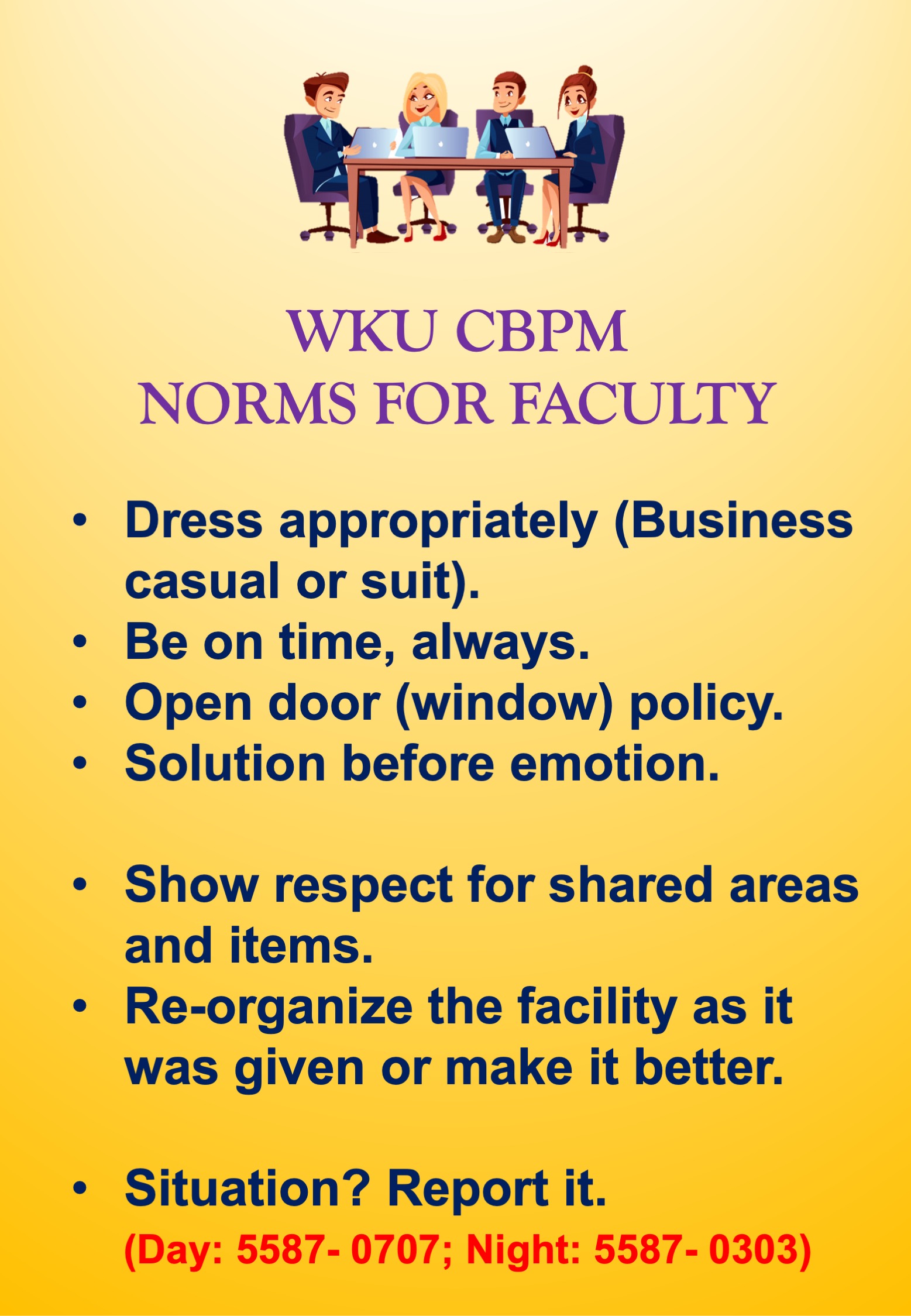 - Dress appropriately (Business Suit or Business Casual)
- Be On Time, Always
- Open Door Policy: Please open door to welcome people (especially during the office hours).
- Solution Before Emotion
- Show Respect For Shared Area and Items
- Re-organize the Facility as It Was Given Or Make it Be Better
- Communication Protocol: Talk with only relevant people in the appropriate level.
- Avoid Class / Time Interference: Fully use assigned "Class time" in order to avoid any class or exam interference
- Situation? Report It To School Immediately.
(Day: 0577) 5587-0707; Night 0577) 5587-0303)
---
Reference: WKU's Mission / Vision
Mission
WKU is an educational institution committed to preparing high-performing Chinese and international students to become innovative and entrepreneurial leaders in a knowledge-based economy. It will contribute to China's educational reform and serve as a model for other Chinese-American higher education initiatives.
Vision
As a leading World-Class Teaching University with a modern campus, WKU aspires to serve as an incubator for promoting technological and scientific progress in Zhejiang Province, and as a center for fostering cultural exchange between China and the United States.
================
2021. June 17: Added reference of WKU Mission / Vision
2021. May 24: Goal and Value Statement installed in the 2nd floor of WKU CBPM.
2021. May 24: Added WKU CBPM Norms for Faculty
2020. Oct. 14: Updating CBPM Vision, Mission, Objective,s and Stategy statement from Kean USA CBPM
2019. June 04: New Kean USA CBPM Dean Wang Jin got informed the updating CBPM Goals and Values.
2017.Sept. 23: Goals, Values of CBPM were tuned for AACSB accreditation purpose at Kean USA CBPM by Georfrey Mills following to the AACSB metnor's guide.