Since 2015, Kean University College of Business and Public Management has engaged in applying for AACSB Accreditation in order to transform the school into a prominent business school to serve our students, college, and community better.
2017 and 2019, Kean CBPM received several requests for significant improvement for accreditation from AACSB.
In 2019, the New Dean, Dr. Wang Jin's leadership, Kean CBPM, shifted the gear to the AACSB. And, we are heading to the Accreditation.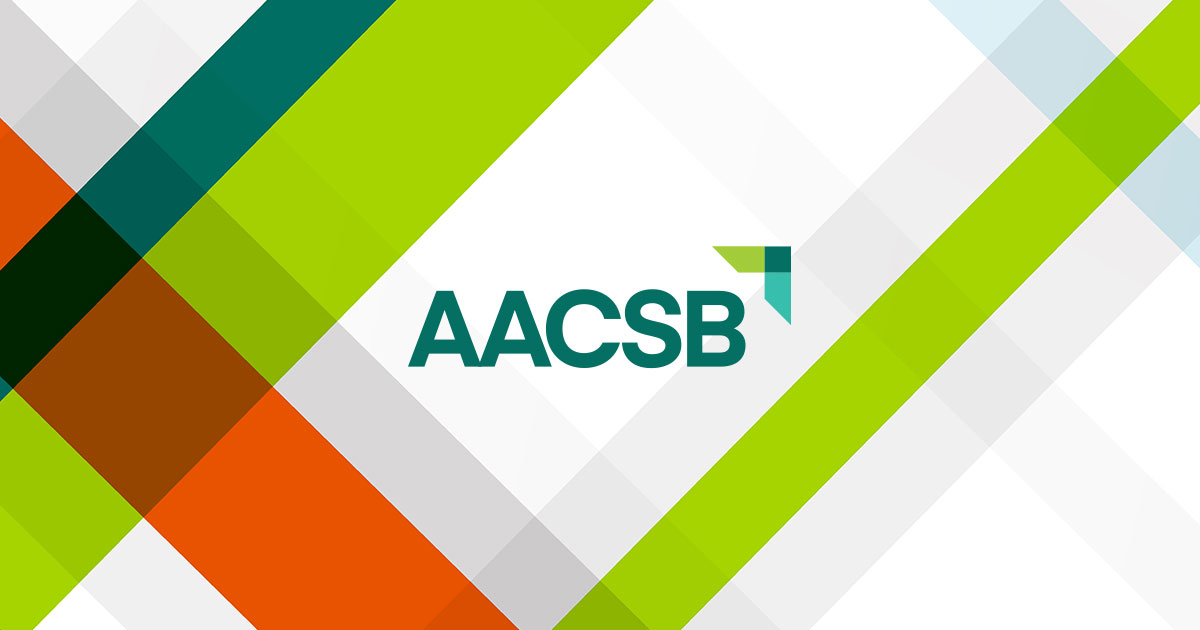 2017:
2021:
2021. Nov. 30: AACSB All Faculty Meeting
KU / WKU CBPM AACSB Goal Alignment (Version 3, 2021. 11. 25)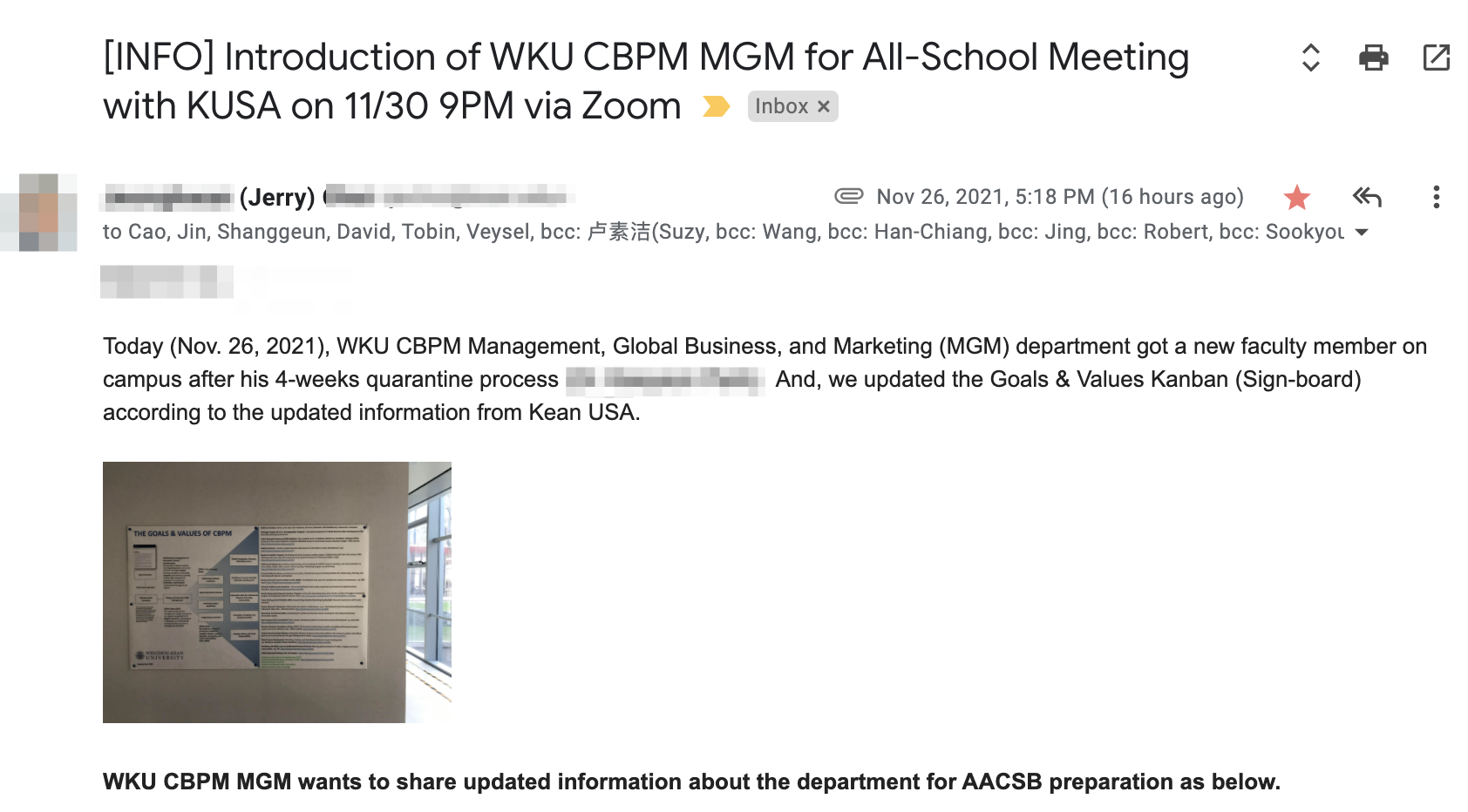 WKU CBPM MGM wants to share updated information about the department for AACSB preparation as below.

First, this short Video clip of QIFA initiative at the WKU CBPM Social Media Lab Youtube channel can show "How WKU CBPM aligns with KU/WKU CBPM's Mission, Vision, Value, and Strategic Objectives". In addition, we talk about how WKU CBPM MGM engages in the Wenzhou business community.


The WKU CBPM MGM's mission-based approach Kanban is attached as the first file.

Second, we share the whole 13 WKU CBPM MGM faculty members and five Research institutes list as the second attachment.

100% MGM faculty members are now working on campus and delivering "Face to Face" classes. All 13 MGM Faculty Members hold PhD degrees which means everybody is "Scholarly Academics (SA)" according to AACSB.

Third, MGM faculty members' services and our efforts for "Social Impact" and "Community Engagement" is summarized in the third file.

Thanks to your great support, MGM department is dedicated to multiple Project Based Learning Initiatives and Local Community Business Development Practices in the Wenzhou area. Those achievements were nicely disseminated, and it made great social impacts not only the Wenzhou area but also the Global society throughout multiple Social Media, research presentations, and mass-media exposures.

Fourth, You can see the general introduction of the MGM department in the fourth attachment. Especially, please give special attention to the "Career" section on page 11. Those four WKU CBPM MGM graduates achieved "Transformational Learning" within our campus and they are growing as World-class business leaders not only in China but also in the USA.

All WKU CBPM MGM Faculty members will be participating in the zoom conference on Tuesday (Nov. 30).
2021. Nov. 30: AACSB All Faculty Meeting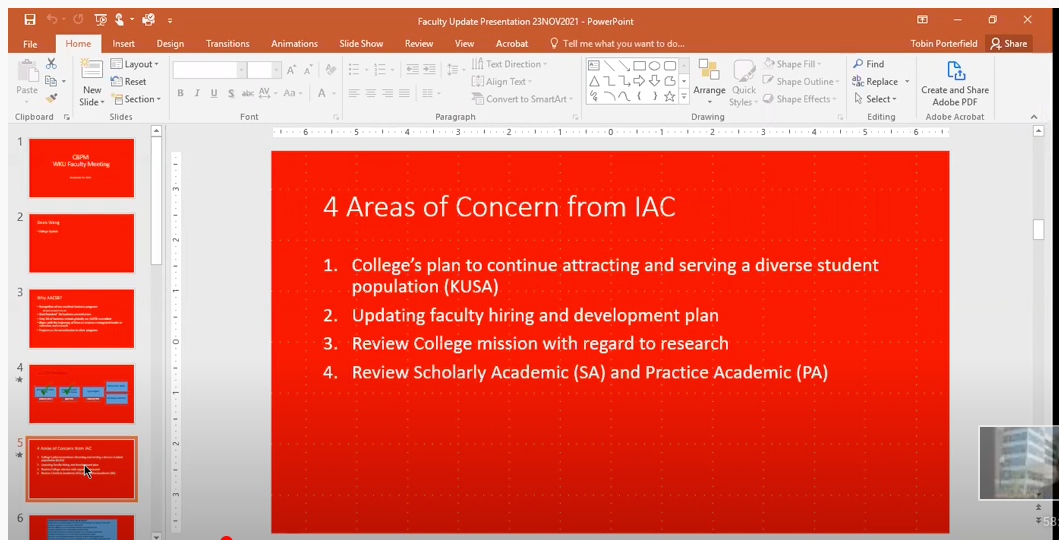 Meeting File:
New Provost Dr. David Birsell (Kean USA)
Provost' Goals:
1. Student Success
2. Faculty Success
3. Equity
4. (Social and Community) Responsibility
5. Scholarship (Quality over Quantity, No predatory journal)
KU/WKU CBPM Faculty Evaluation Criteria
(refer to the Initial Evaluation of WKU CBPM Faculty):
1. Mastery of Subject Matter
2. Teaching Effectiveness
3. Scholarship (Research output / outcome / pipeline) : ABDC list, SCIGoogle scholar, H-index, SSCI, SCOPUS, SJR, ABS list.
4. Service (For Academia, School, Community, and Society)
5. Growth Planning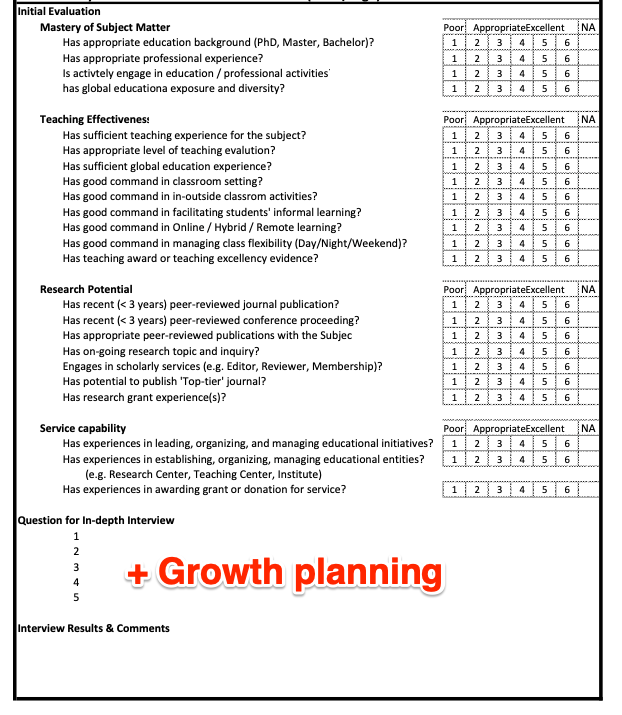 2022.09.23: AACSB Meeting (KUSA - WKU CBPM)
KUSA:
Dean Wang Jin,
Dr. Tobon Porterfield
Dr. Dave Farrokh
All WKU CBPM members
Action to be taken:
1. Update Interfolio -> Update
2. Complete Table 9-1.
A Short Summary of AACSB Meeting today (2022.09.23).
20220923 AACSB Meeting (Kean USA + WKU CBPM)
Tobin, Dave, and Dean Wang Jin talked about AACSB work in Kean USA CBPM and collaborations with WKU CBPM.
Request:
1) Updated CV and Faculty Activities input at Interfolio
2) Input necessary evidence at Table 9.1 (e.g. societal impact)
3) Standard 1, 3, 5 issues
- Alignment with Strategic Plan
- Faculty Resource issue (SA, PA, Faculty Qualification Issue)
- Student Learing (Continual Curriculum Improvement)
Schedule:
Nov. 03, 2022: Self-Evaluation report (by KUSA)
Jan. 2023: AACSB Evaluation Team Chair's site visit (KUSA)
April 02- 05: AACSB Evaluation Team' Site visit [KUSA and WKU (virtual)].
Peer Review Team (Site Visit)
Jacob Chacko (Clayton State University)
Madan Annavarjula (Bryant)
Terence
Table 9.1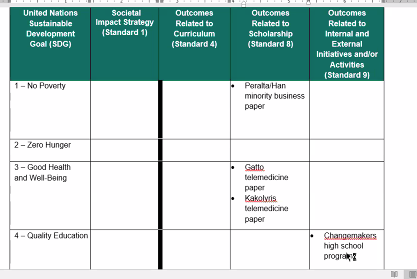 2022.09.23: Sent Goals and Values of CBPM MGM to Dr. Toby Portenfield.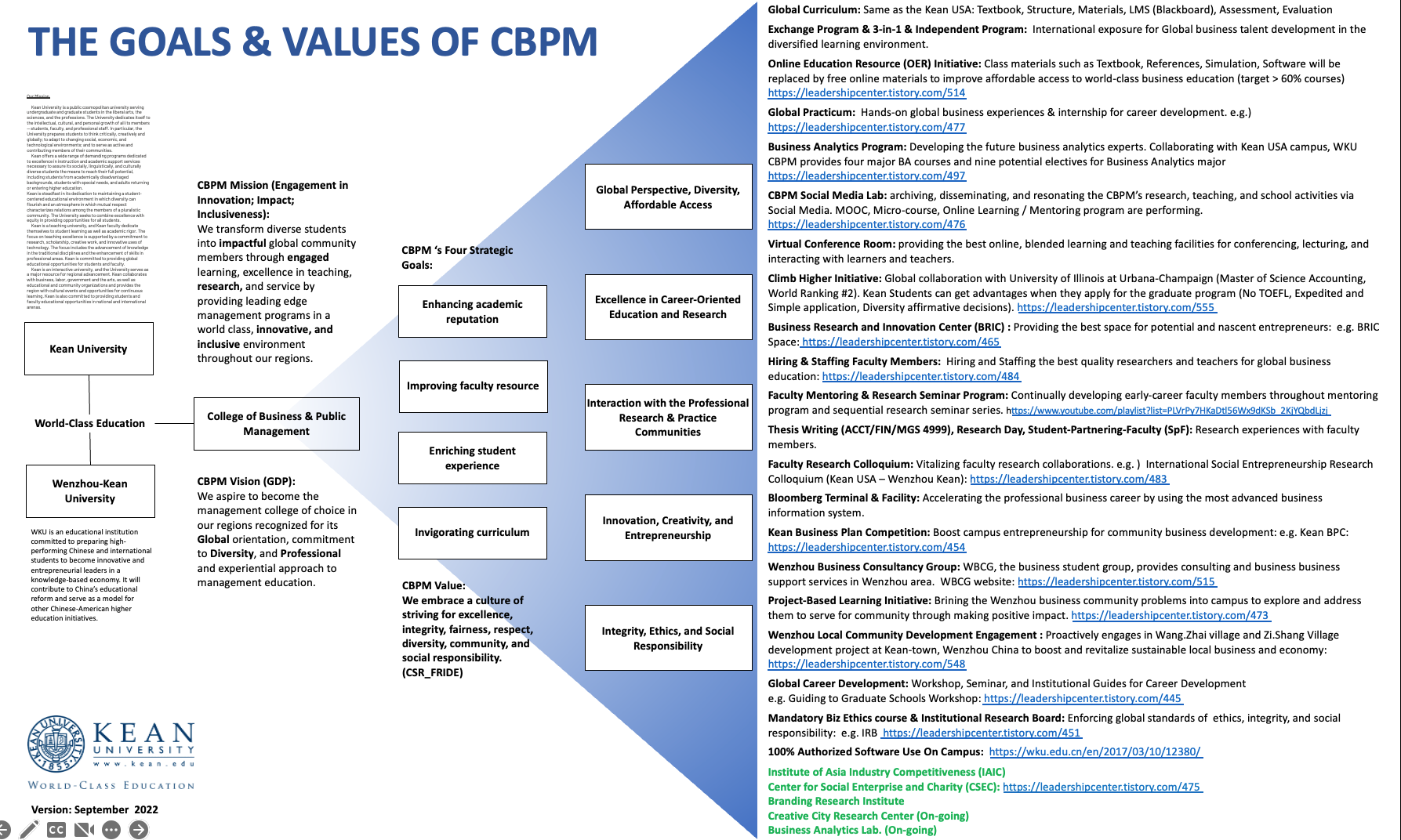 ==========
2022.09.23: AACSB 2nd Meeting (KUSA - WKU CBPM)
2021. Nov. 30: AACSB the first All Faculty Meeting (KUSA-WKU CBPM)