BOSCH & Wenzhou-Kean University Collaboration
Executive Summary:
This proposal outlines the BOSCH-Kean University (Wenzhou, a.k.a. WKU) collaboration for the "Global Innovation Talent Pipeline" initiative. The collaboration aims to create better opportunities for WKU students by leveraging the expertise of BOSCH. The focus will be on sustainability technologies, technology innovation, and talent development initiatives. By fostering mutual understanding and collaboration, we seek to enhance the global talent match and provide job opportunities for both BOSCH and WKU.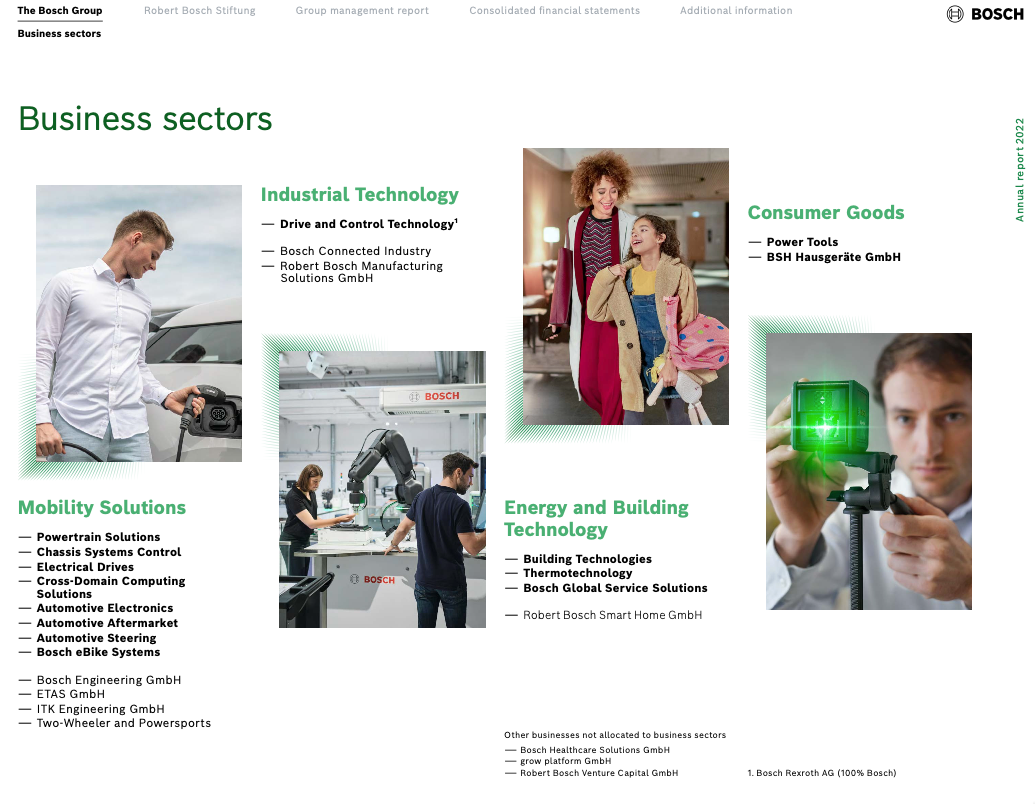 Background:
Sandy Xiang, a WKU graduate (2018, Business) now working at BOSCH, and Dr. Jerry Choi - a former BOSCH R&D engineer propose the collaboration to bridge the gap between BOSCH and WKU.
Sandy's previous visit to WKU in 2011 introduced BOSCH to the university community.
Purpose:
BOSCH aims to invite technical and business talent, and through collaboration with WKU, explore more opportunities for WKU students. BOSCH's dedication to developing breakthrough technologies, serving renowned global mobility companies, and transforming into a business sustainability solution provider aligns with WKU's interest in sustainability technologies and management.
People:
Four WKU faculty members (Dr. Jerry Choi, Dr. Candy, Dr. Sujatha from Computer Science, and Dr. Nasser) have joined as ad hoc founding members of the BOSCH-WKU Collaboration. The coordination of WKU's side will be handled by Jenny Dai MengMeng from WKU's Career Center. Sandy Xiang from BOSCH, along with the BOSCH HR team, will maintain ongoing communication regarding collaborative efforts.
Ideas:
Dr. Jerry Choi (CBPM): jechoi@kean.edu
Dr. Candy (CBPM): cchiu@kean.edu
Dr. Sujatha (Computer Science): krishnsu@kean.edu
Dr. Nasser (Computer Science): namustaf@kean.edu
WKU Career Development: Ms. Dai MengMeng: daimengmeng@wku.edu.cn
The collaboration will involve inviting BOSCH to the WKU campus or organizing visits of WKU faculty and students to BOSCH to foster mutual understanding. Collaborative ideas will be gradually developed, focusing on sustainability, technology innovation, and talent development initiatives. CS and Business students will team up to address BOSCH's key strategic initiatives such as developing sustainable business models in China, sustainability mobility supply chains for global logistics, and data/people analytics for sustainable community development.
See an Example of SDG17 Initiative at WKU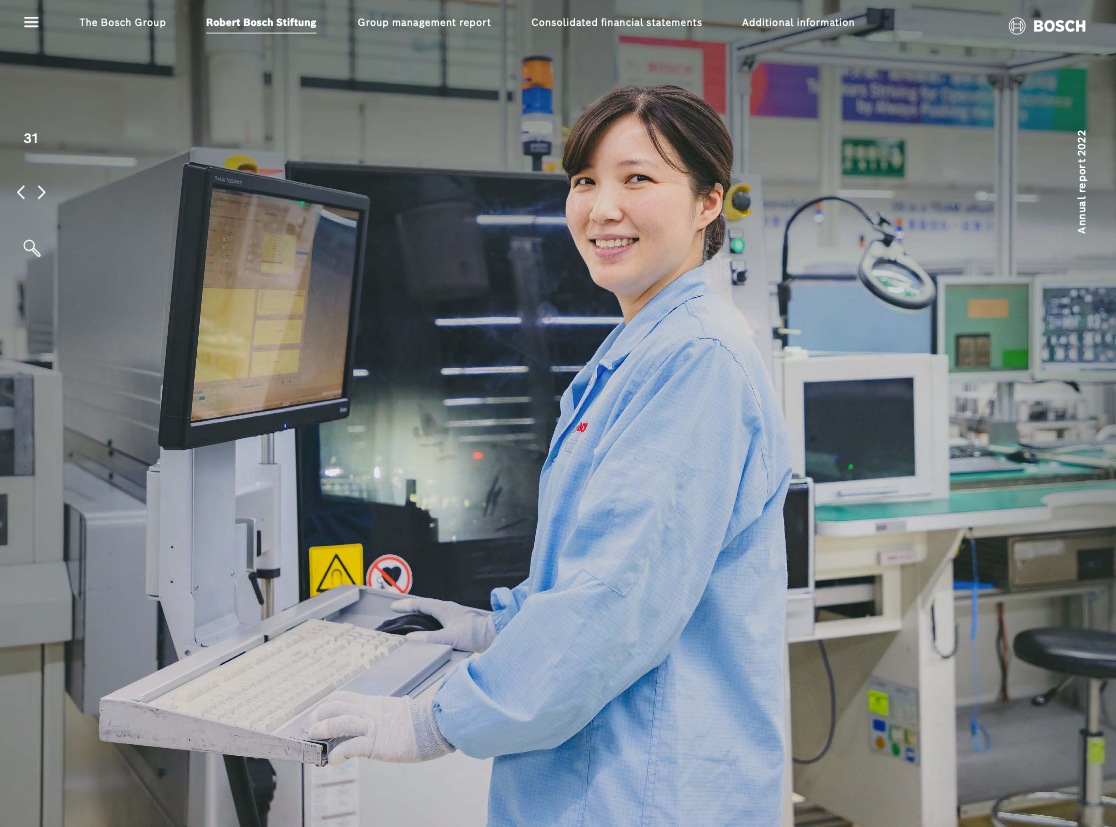 Proposal:
The proposal suggests that the resources of BOSCH and WKU be synergized to generate more ideas for global collaboration. WKU students will naturally grow as key talents for BOSCH and other global companies, increasing job opportunities for both BOSCH and WKU. WKU can establish itself as a sustainable talent pipeline for BOSCH, facilitating the best global talent match. The ongoing coordination between Sandy Xiang, BOSCH HR, and WKU will ensure effective collaboration and communication.
Proposal : PPT for BOSCH-WKU Collaboration
https://gamma.app/docs/BOSCH-WenzhouKean-University-Collaboration-iw33u8vxhbck76a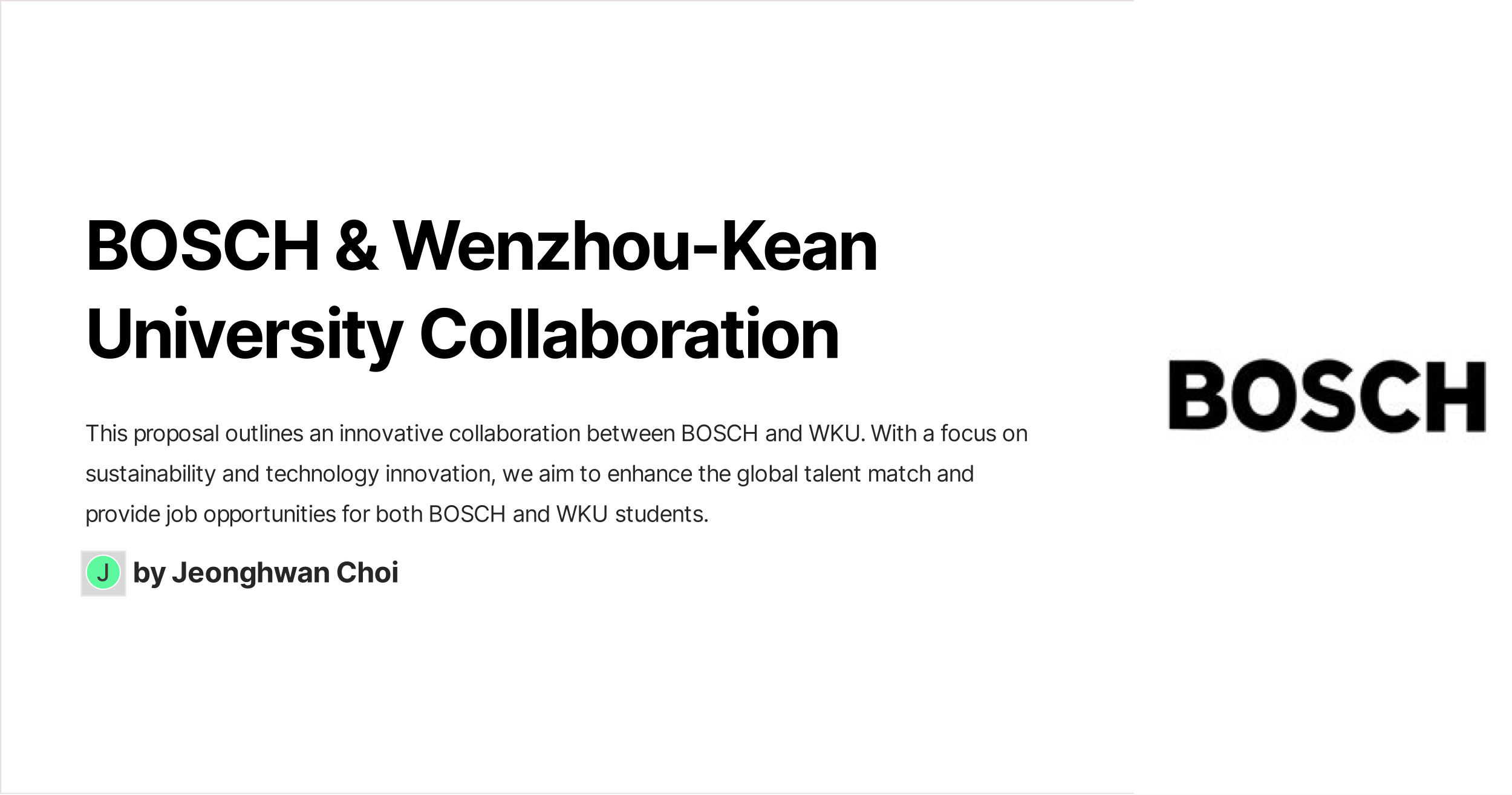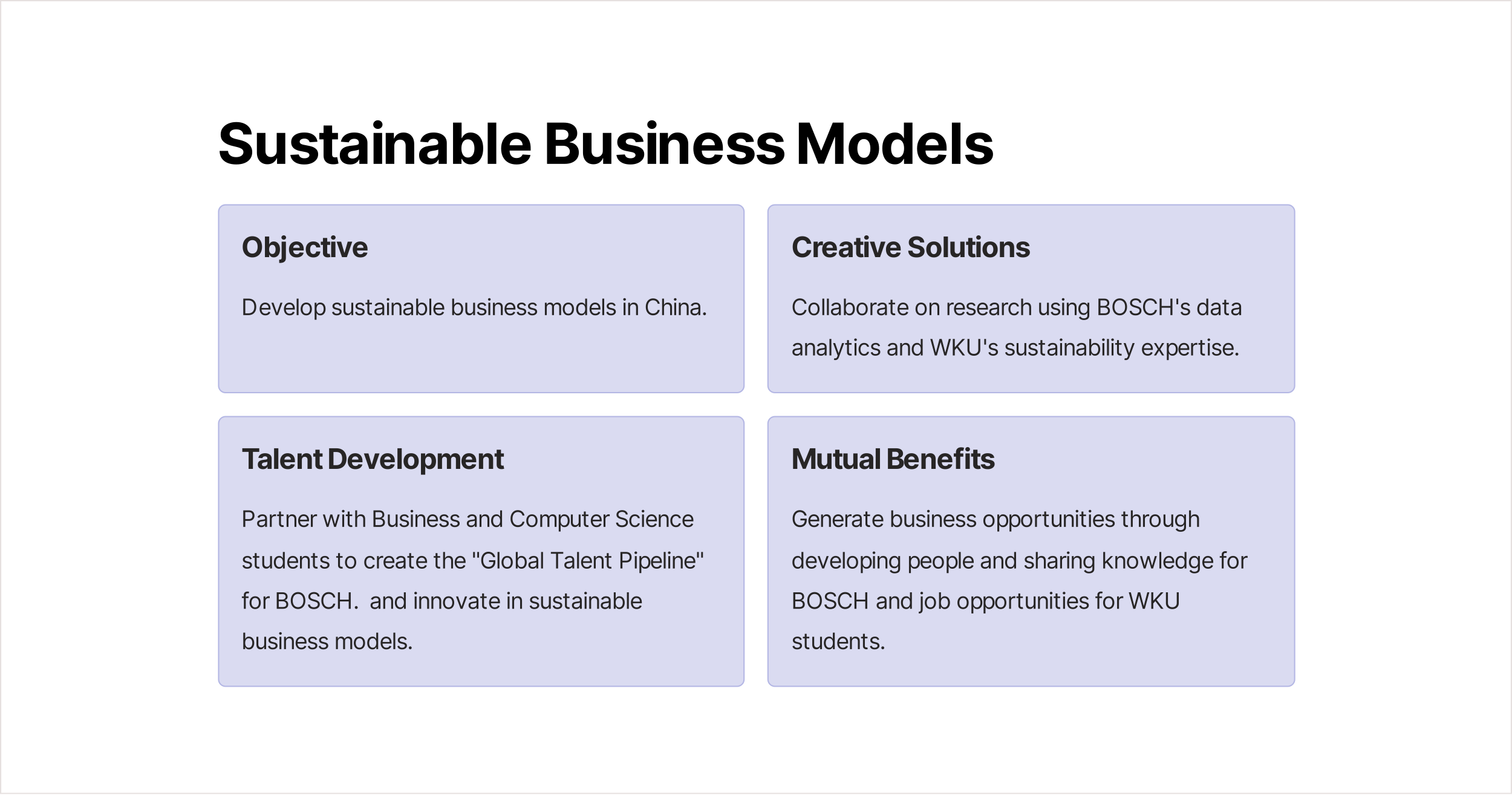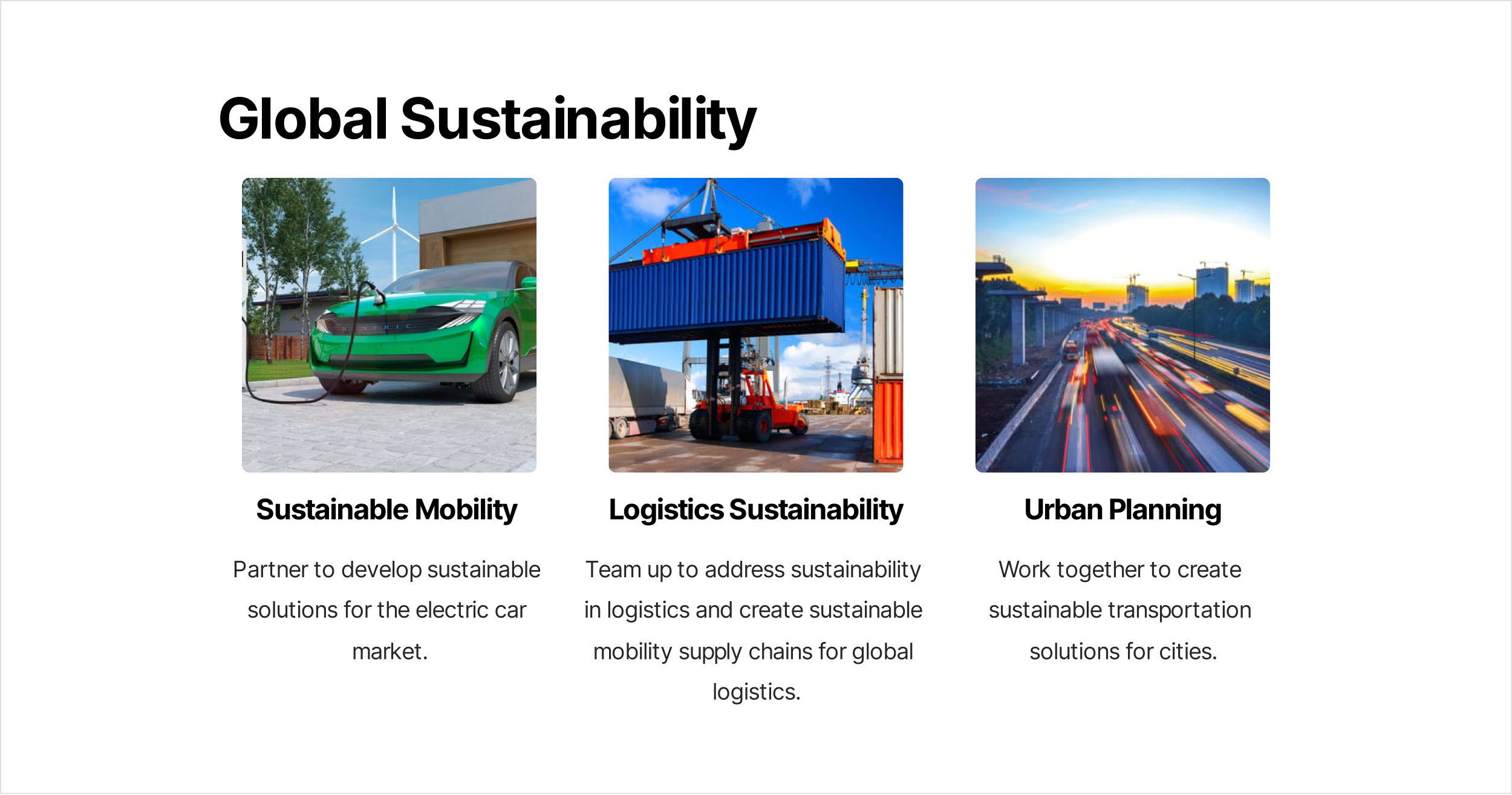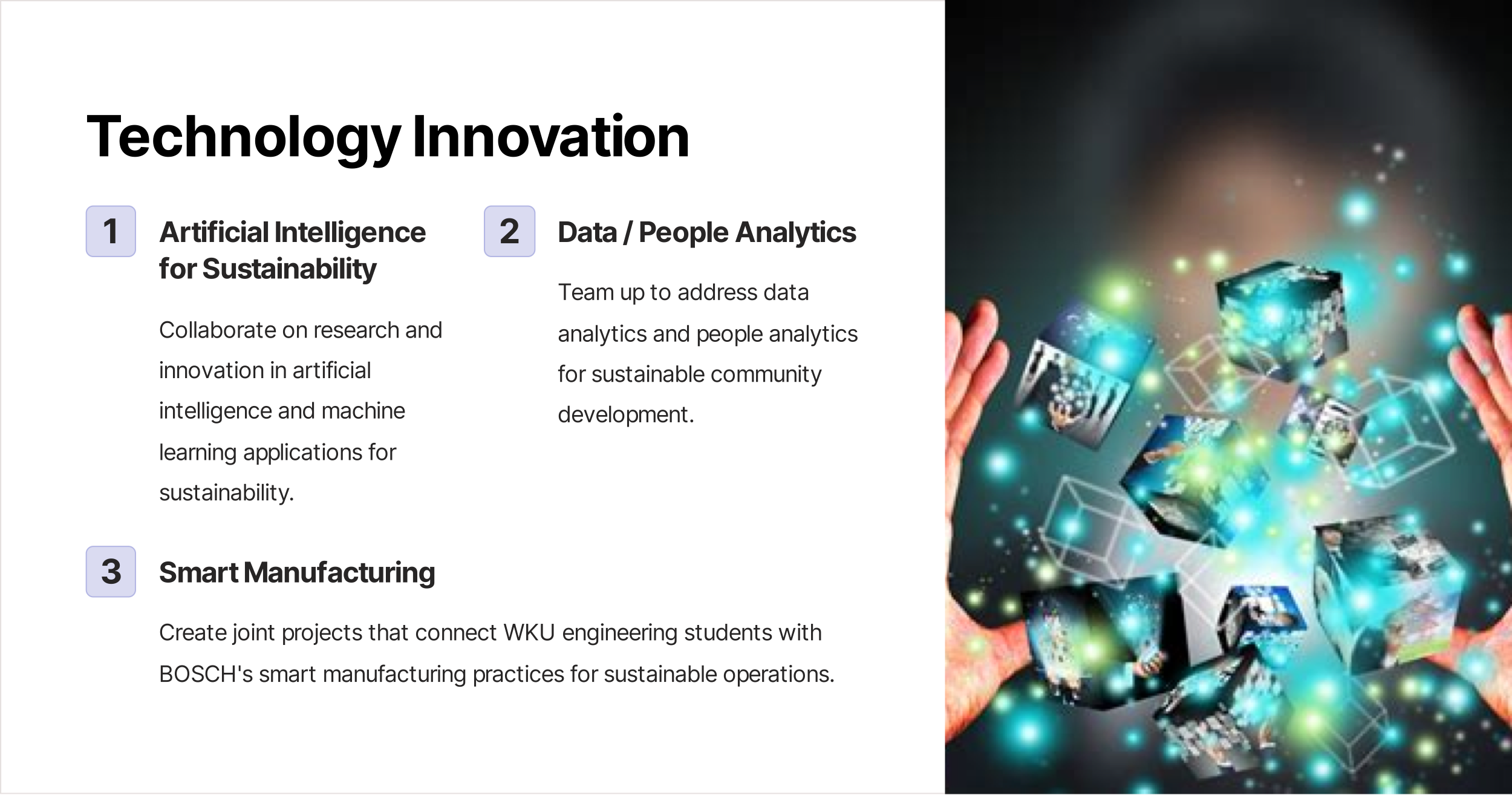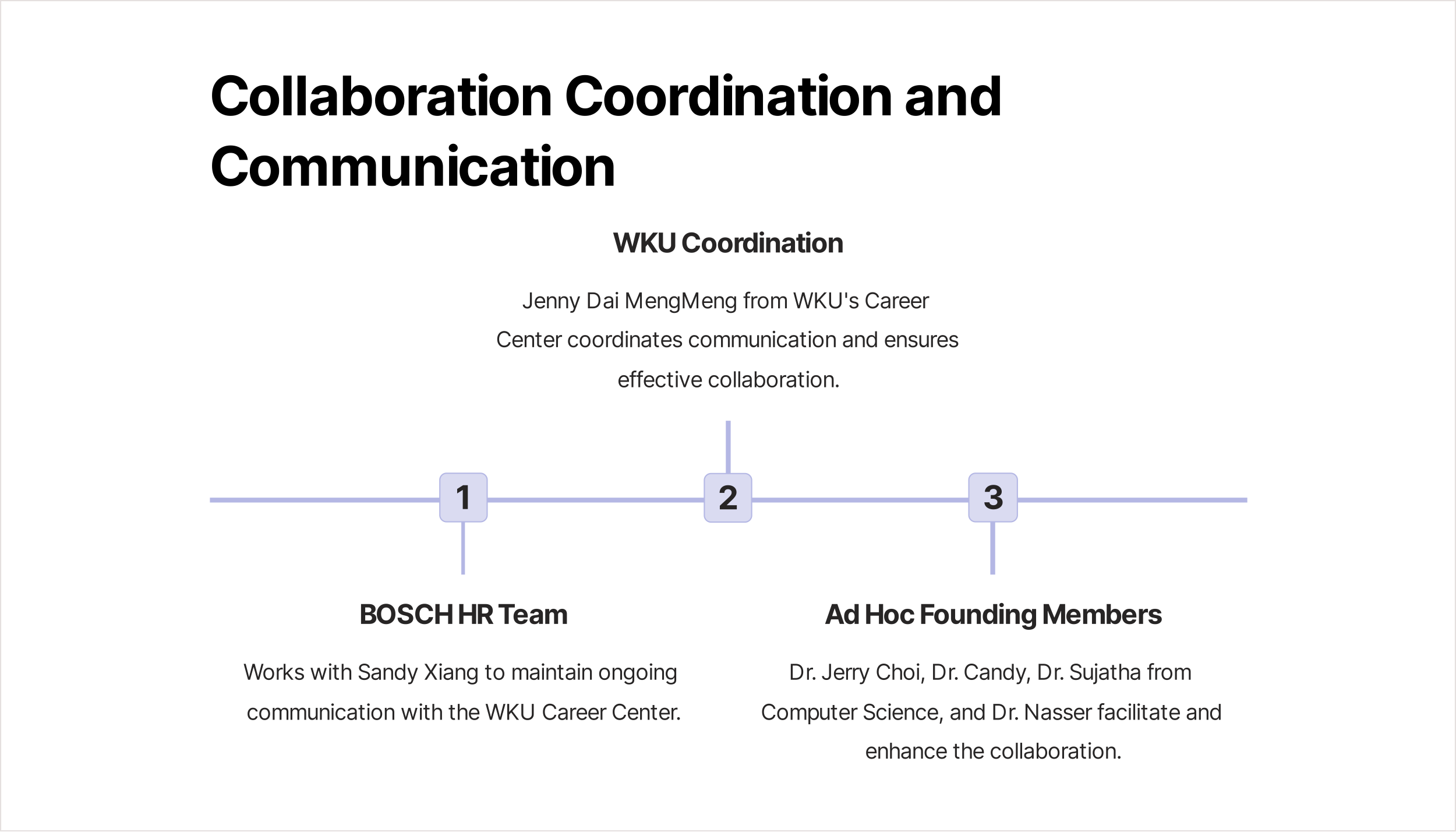 The first Meeting:
https://teams.microsoft.com/dl/launcher/launcher.html?url=%2F_%23%2Fl%2Fmeetup-join%2F19%3Ameeting_OGNhOWM1MDEtZTYzYS00Y2I4LTlkZTMtNjJjOGYwNzY3Y2U1%40thread.v2%2F0%3Fcontext%3D%257b%2522Tid%2522%253a%25220ae51e19-07c8-4e4b-bb6d-648ee58410f4%2522%252c%2522Oid%2522%253a%25229b2d5efd-5f3b-47e0-a0b1-26896ea5948a%2522%257d%26anon%3Dtrue&type=meetup-join&deeplinkId=64c4ad85-693c-404b-b644-ea25bf3f3cca&directDl=true&msLaunch=true&enableMobilePage=true&suppressPrompt=true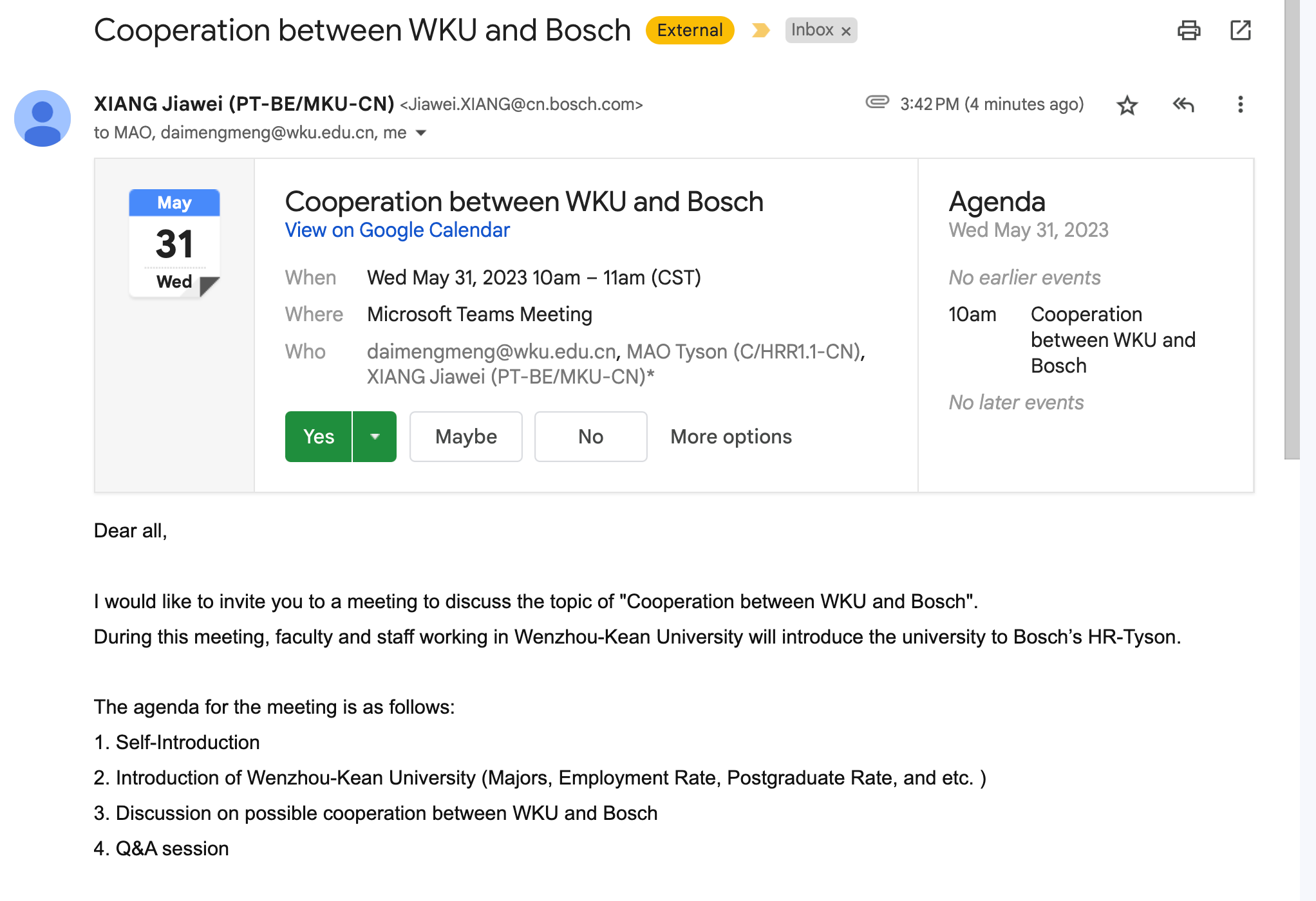 Introduction of WKU
Wenzhou-Kean University (WKU) is a joint venture between Zhejiang Province and New Jersey, USA. Approved by the Ministry of Education of China, it operates as an independent legal entity.
1. Wenzhou-Kean University is committed to building an international university with world-class education and focuses on providing students with different pathways for development.
2. The university received accreditation from the Middle States Commission on Higher Education in November 2013 and was authorized to confer bachelor degrees by the Department of Education of Zhejiang Province in March 2018.
3. Wenzhou-Kean University offers a variety of undergraduate and graduate programs, integrating Chinese and American teaching methodologies and aiming to cultivate students with a global vision and patriotic sentiment.
4. The university currently offers undergraduate programs in economics, science, engineering, literature, management, and art, with plans to gradually introduce more graduate programs.
Many programs offered by Wenzhou-Kean University have received recognition, including being listed as provincial first-class undergraduate programs and Zhejiang Provincial Higher Education Distinctive Programs.
5. The university boasts a diverse and globally recruited faculty, with a majority holding doctorate degrees and international teaching and study experience.
6. Wenzhou-Kean University has a growing student population, with students coming from various provinces and cities in China. It also maintains an active student exchange program with Kean University.
7. The university is dedicated to creating a humanistic, ecological, intellectual, and culturally blended campus, with ongoing construction projects and plans for further expansion.
The strategic plan for Wenzhou-Kean University includes increasing the number of on-campus students and faculty, expanding program offerings, and further developing the campus infrastructure to become a high-level international university with regional and global influence.
==============
2023. 05. 22: Establishing Working Group of BOSCH-WKU Collaboration

ChatGPT 3.5
Gamma.app
ChatPDF.com