On Nov. 24, 2020, Kean USA Office of the Provost / Vice President for Academic Affairs announced the "Faculty Activity Reporting: Initial Completion at Faculty180 - the Online Platform of Interfolio.
Click for the full message.
The PURPOSE of Faculty Activity Report at 'CLOUD' service.
Every year, Kean Faculty Members generally prepare more than 300 pages of Reappointment Application Packages that include Academic CV, Profile Information, Publications, and all relevant Faculty Activities. What if we can make the ARTP processes simple and easier at online with higher security? That is the idea of Kean's 'Going to Cloud' initiative of ARTP affairs.
Aligning with the transformation to Online Faculty Activity Report for Appointment, Reappointment, Promotion, Tenure, Promotion

(

ARTP

) and HR affairs

, WKU CBPM Management, Global Business, and Marketing (MGM) faculty members proactively complying with the movement.
WKU VPAA Office guided us to complete the FAR Initial completion by End of 2020 Fall Semester ( December . 18, 2020) based on the communication with Kean USA.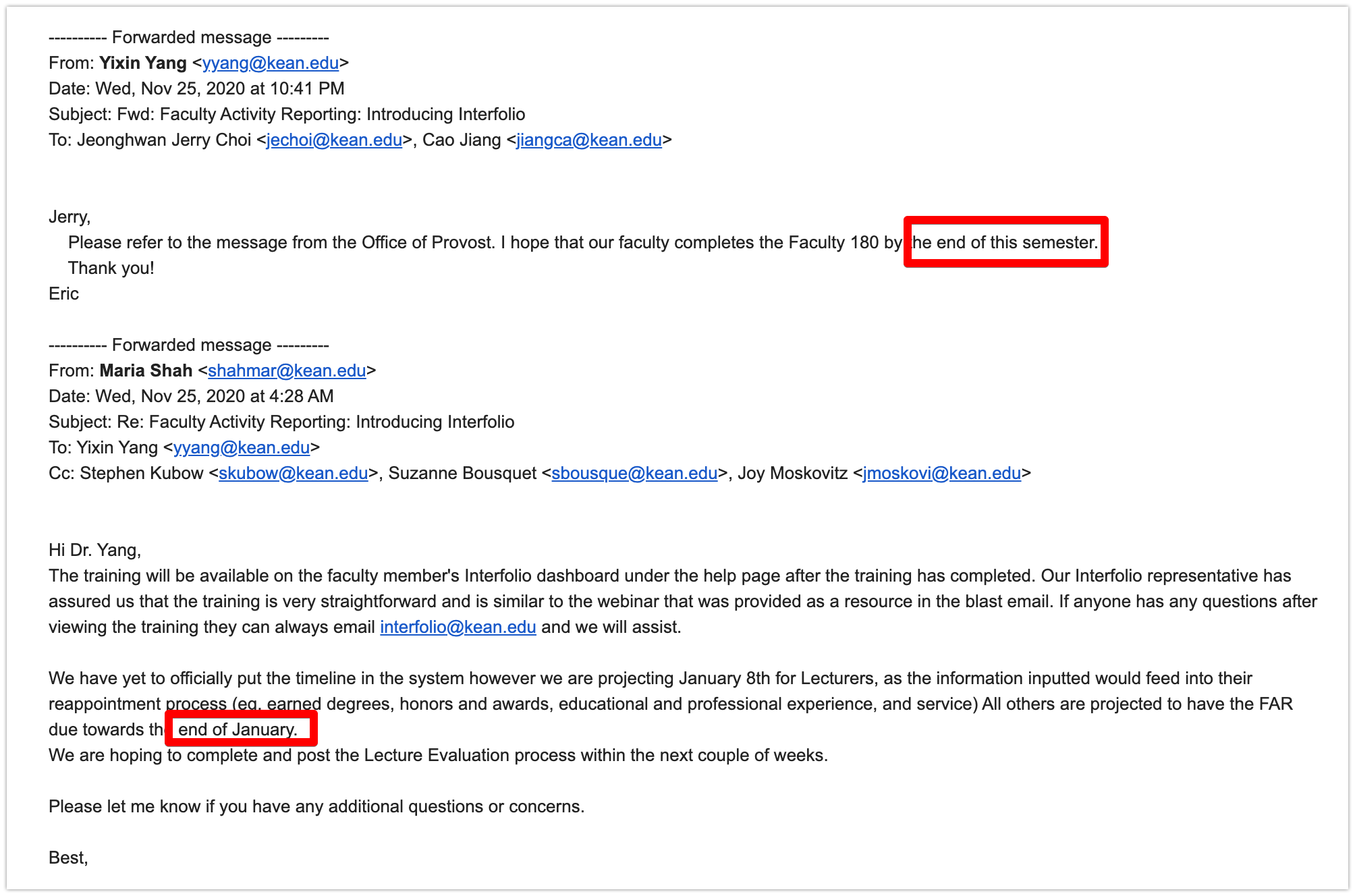 WKU CBPM MGM faculty members try to complete the initial inputs of FAR via Interfolio Faculty 180 platform by Dec. 18, 2020.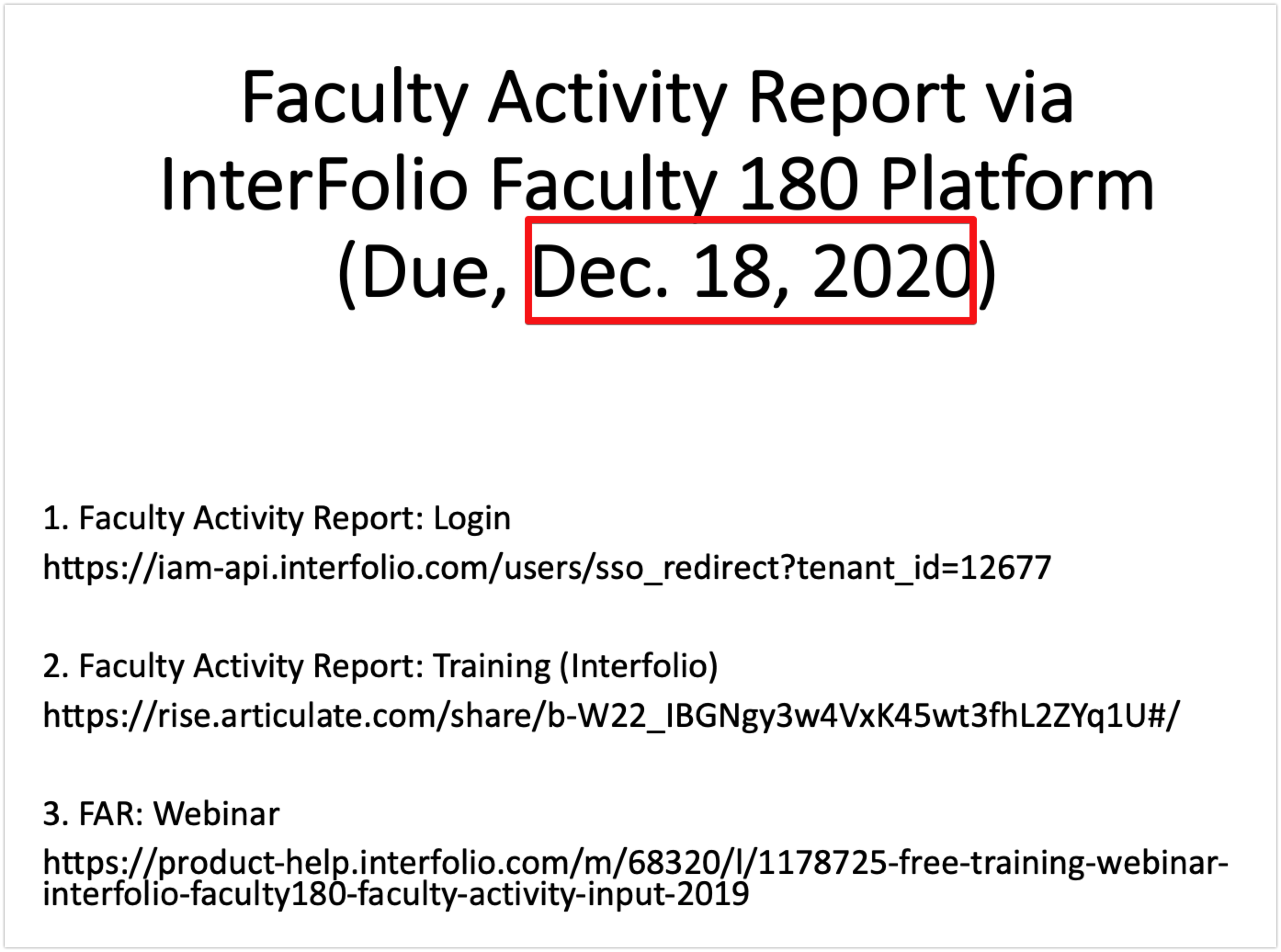 Faculty Activity Report via InterFolio Faculty 180 Platform
(Due, Dec. 18, 2020)
But the Due date for CBPM faculty members was postponed until the end of December 2020 at the CBPM faculty meeting on Dec. 08 because of time pressure of final grading.
1. Faculty Activity Report: Login
2. Faculty Activity Report: Training (Interfolio)
3. FAR: Webinar
---
Guide of Faculty Activity Report 180
1. Please login to the Faculty 180 by using your Kean ID/PWD.
Faculty Activity Report: Login
Please choose "Kean" (not Interfolio).
2. Mainly, you need to complete Profile and Activities.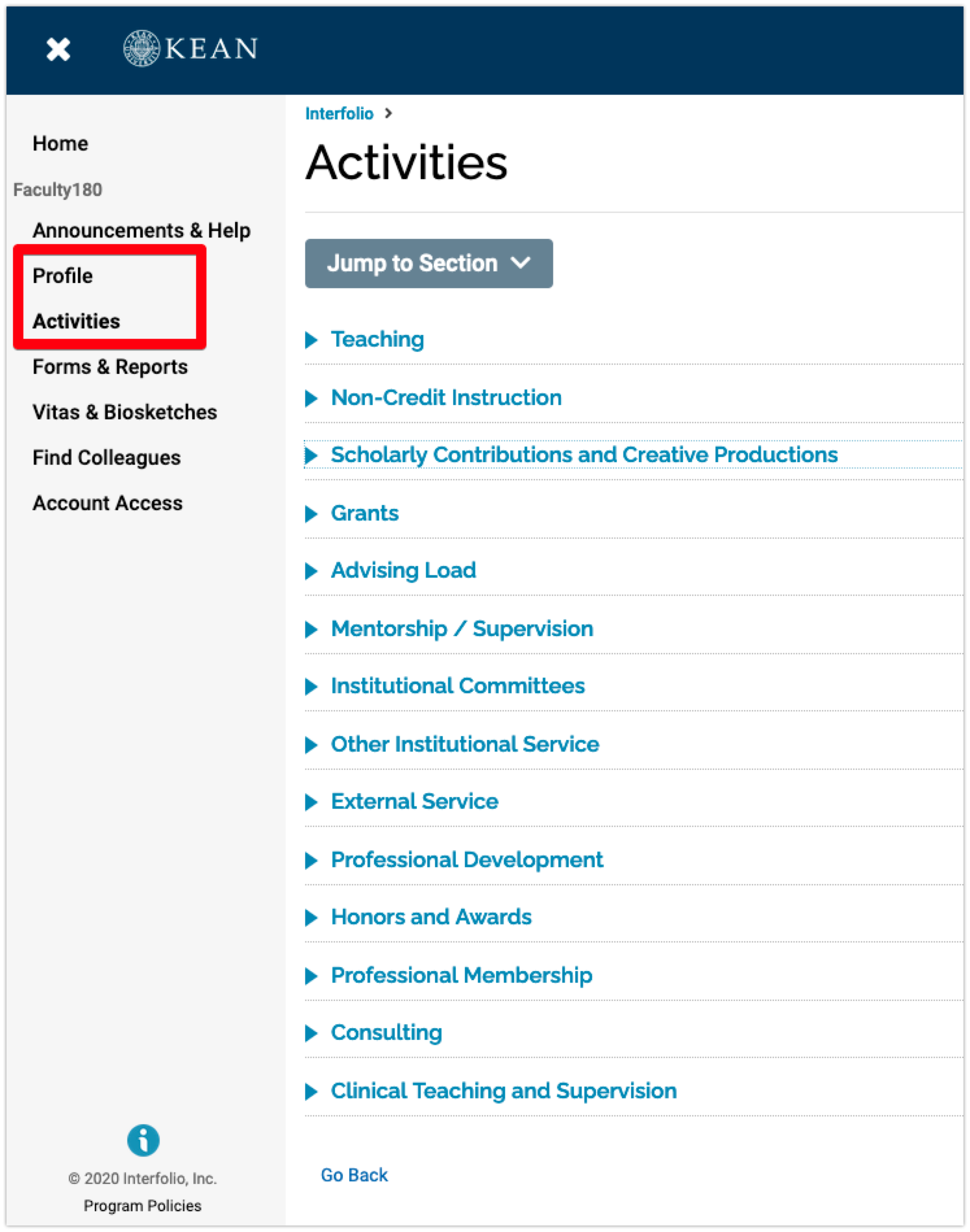 2020.12.19: Faculty Activity Report (or Faculty 180) Online Course Completion
Faculty Activity Report: Training (Interfolio)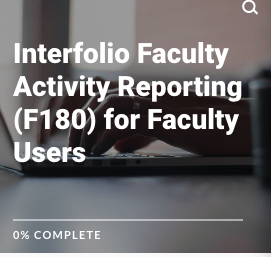 Key Terms:
---
Profile Input:
Please input all your personal profile information.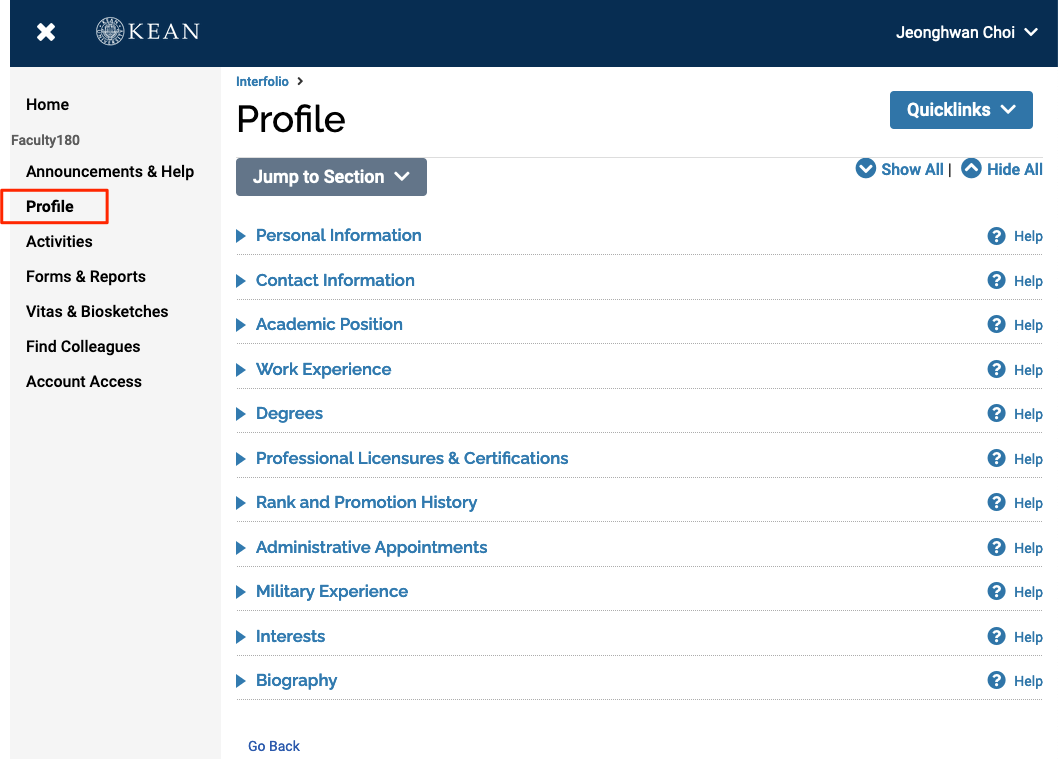 (Profile example #1) Personal Information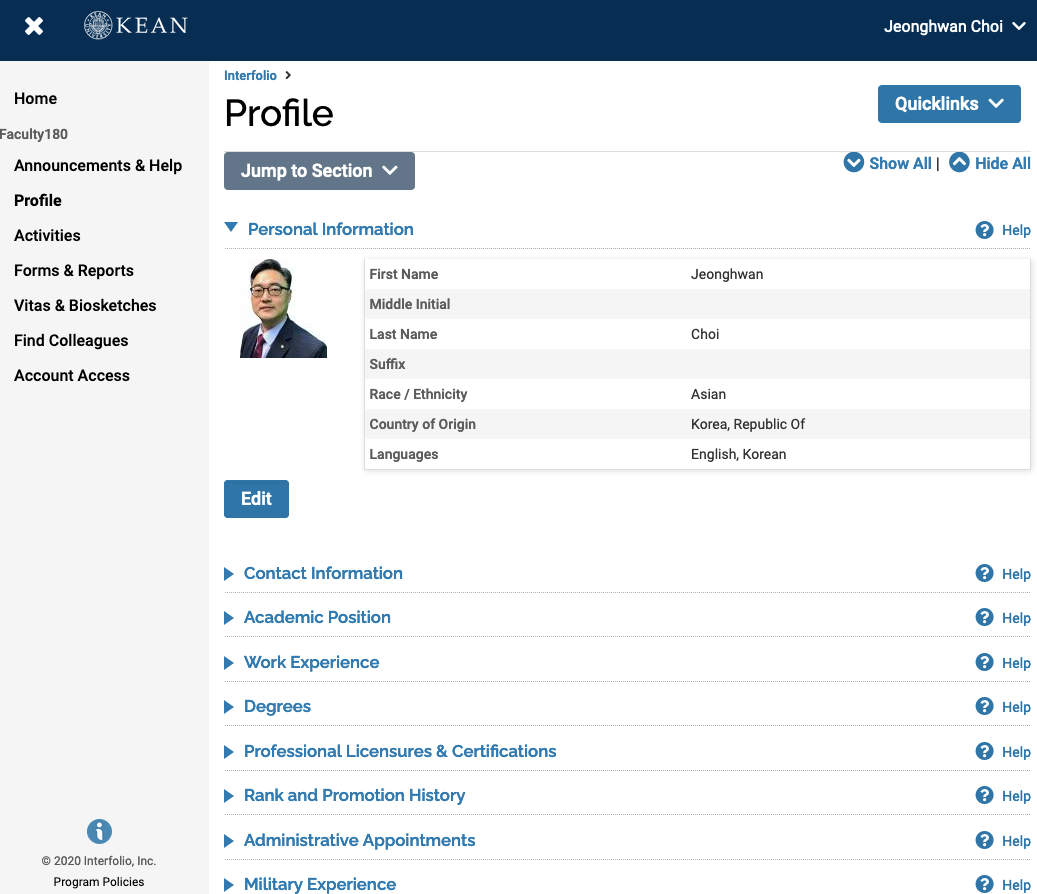 (Profile example #2) Work Experience; Degrees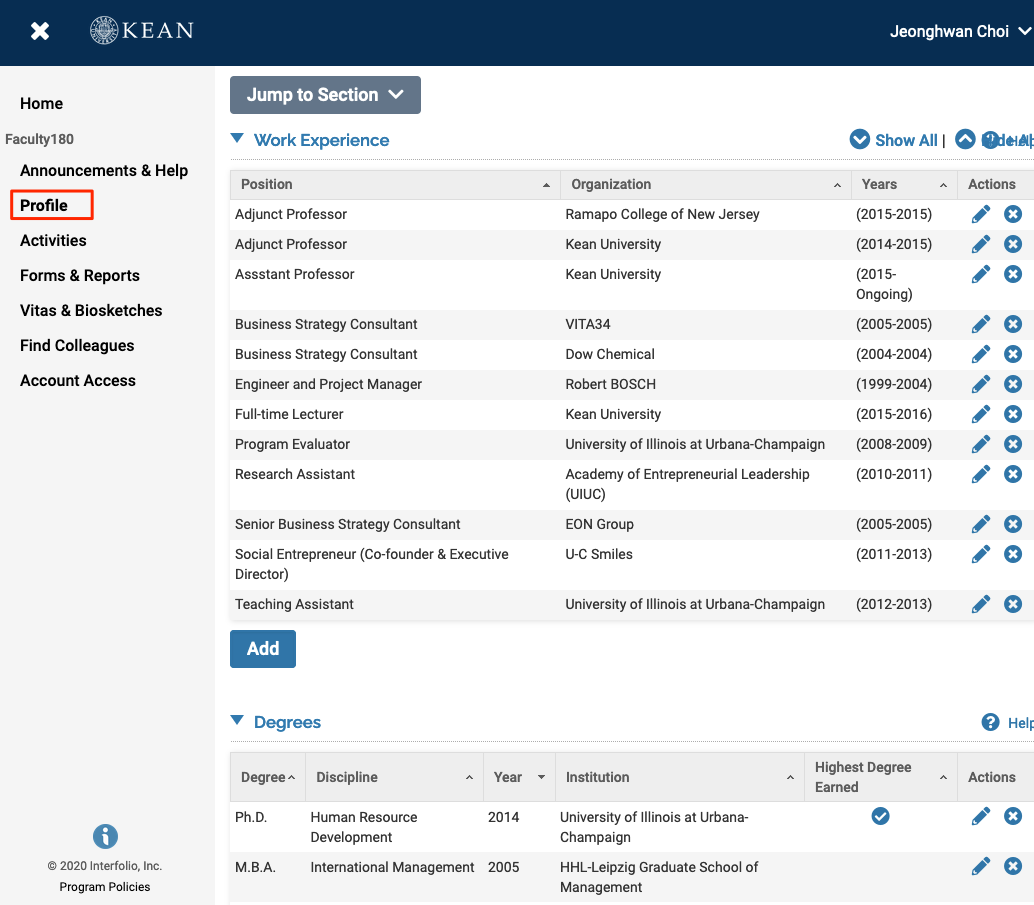 ---
Activity Input:
Please input all your school and/or professional activities in each section: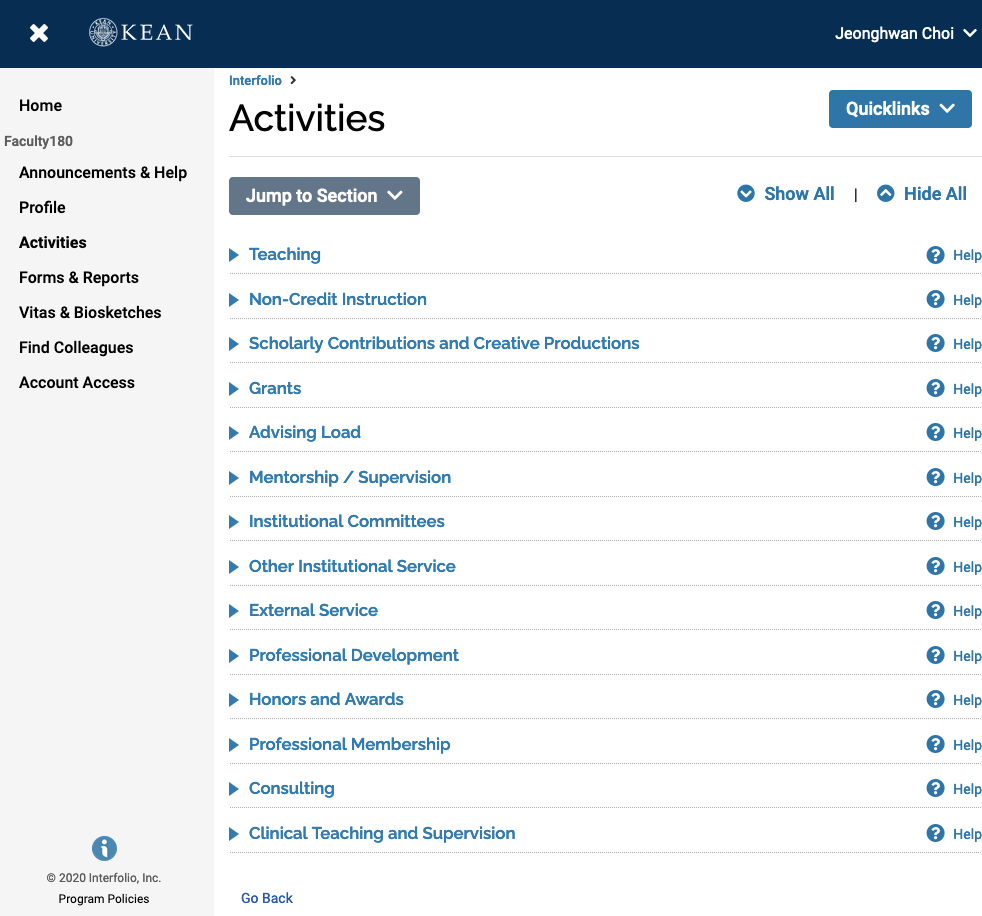 (Activity example #1) Teaching
Refresh your teaching tenure period, and input all course evaluation results in each item.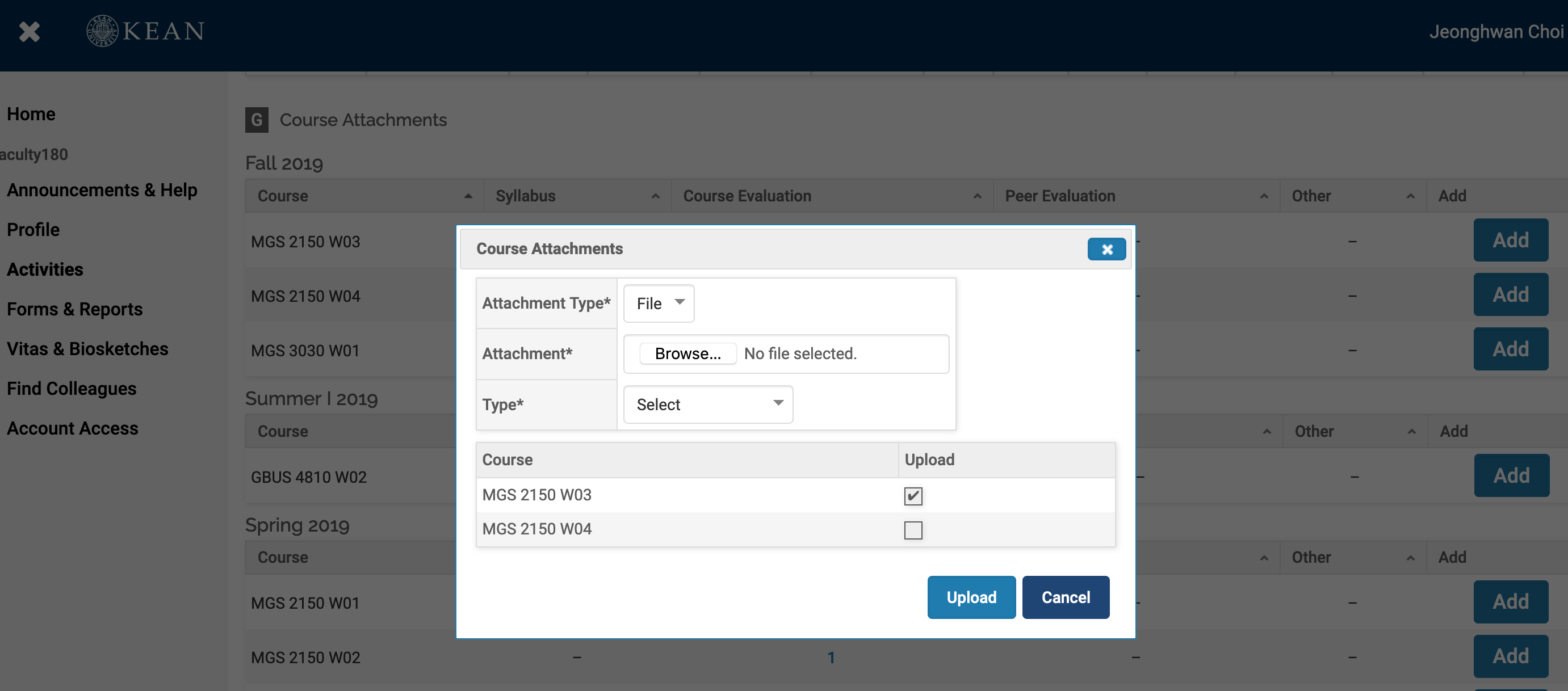 (Activity example #2) Scholarly Contributions and Creative ProductionsTeaching
Input all your publications, presentations, and conference activities. You can input your publications by hands, RIS or BibText importing.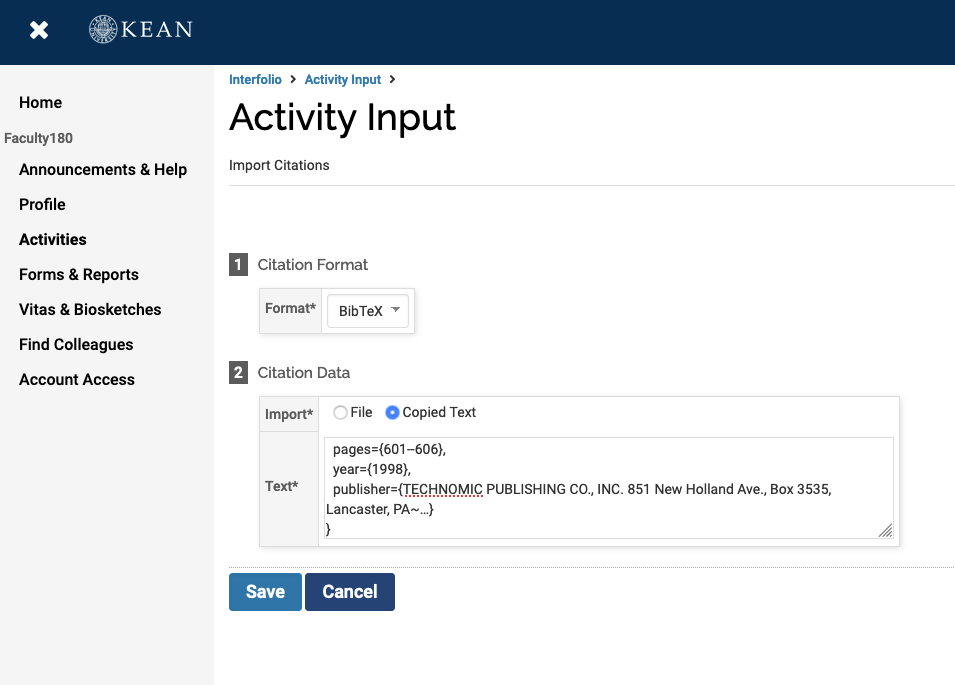 ---
Creating Vitas & Biosketches
Once you input all your necessary information, you can create and report your Academic CV or Resume for Annual Review:
(CV Example #1) Annual Report for Annual Reappointment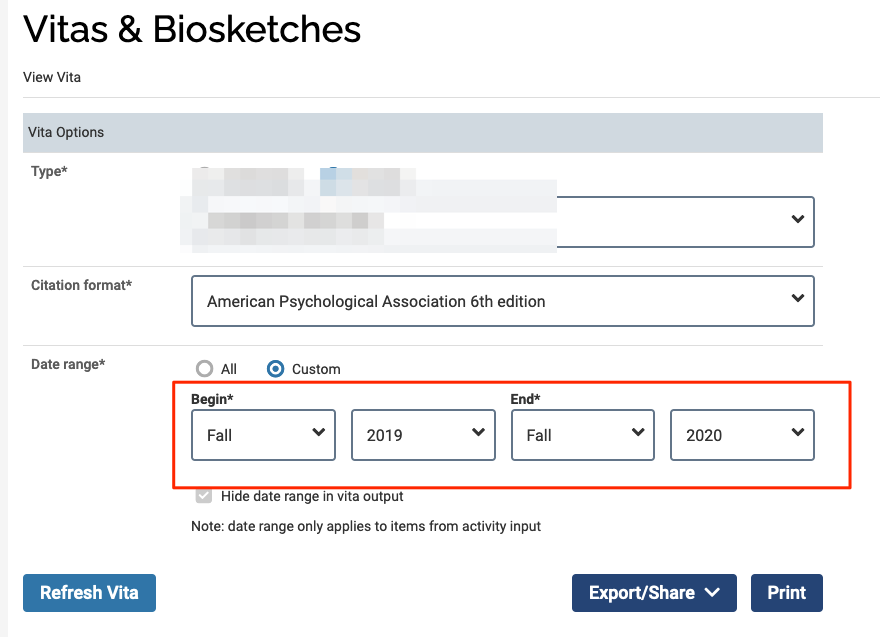 Only annual activities will be summarized in the newly created CV.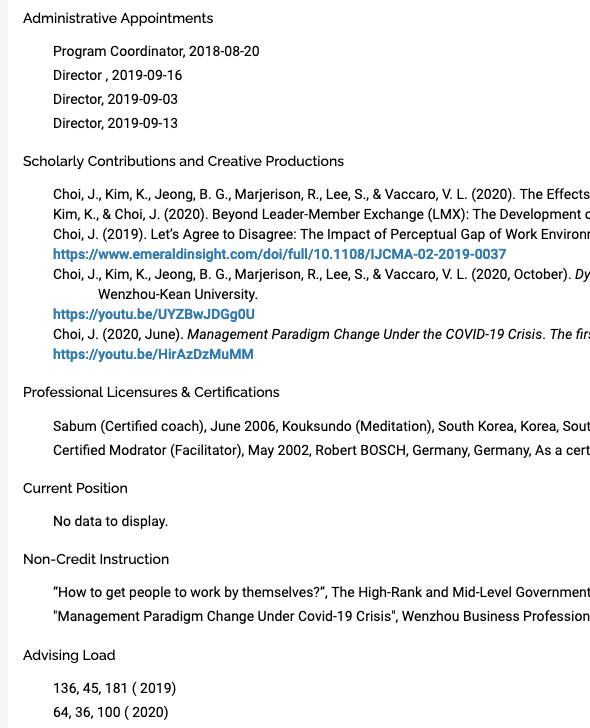 Full Year Report can be created for Tenure application.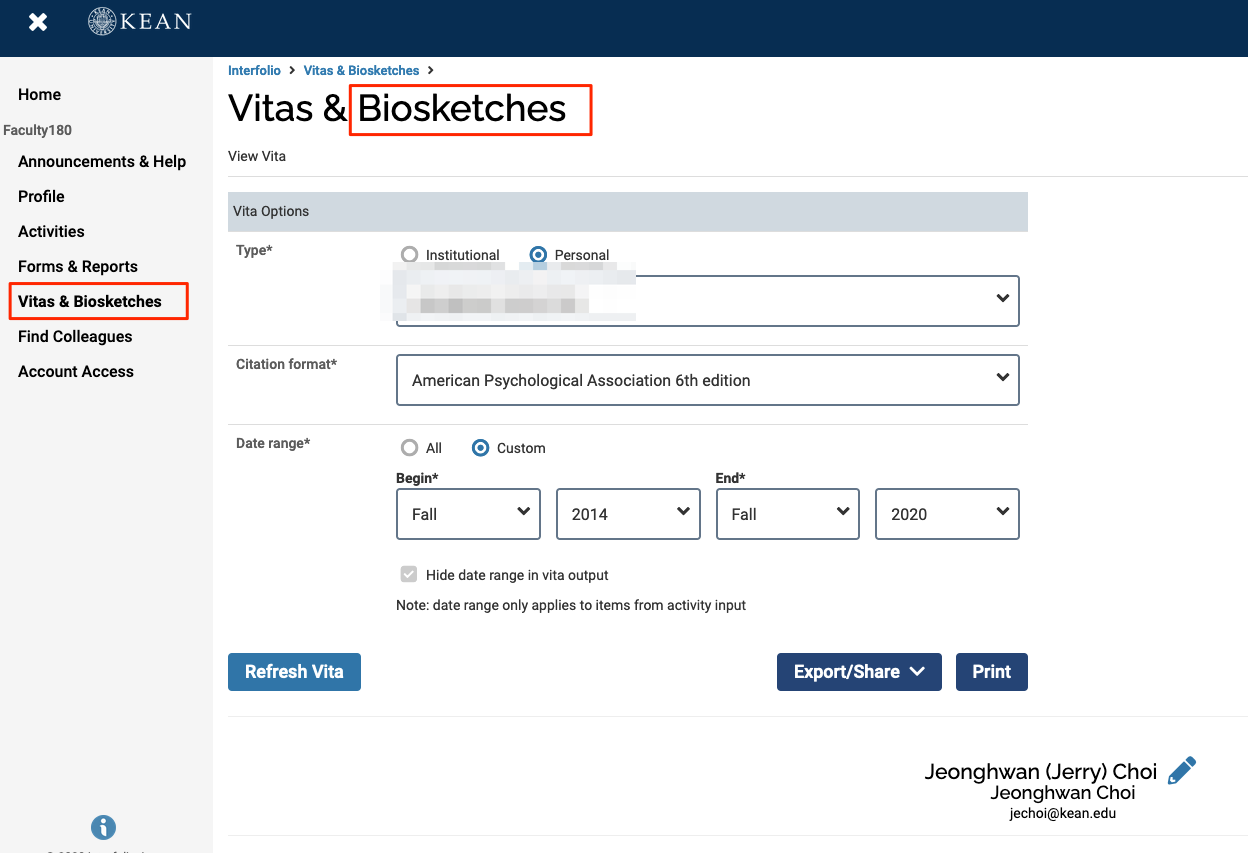 Forms and Reports are not accessible up to now (Dec. 20, 2020)
Dec. 28 ~ Dec. 31, 2020 (Maintenance)

Extension of the due date of initial input of FAR was requested (until Jan. 08, 2021).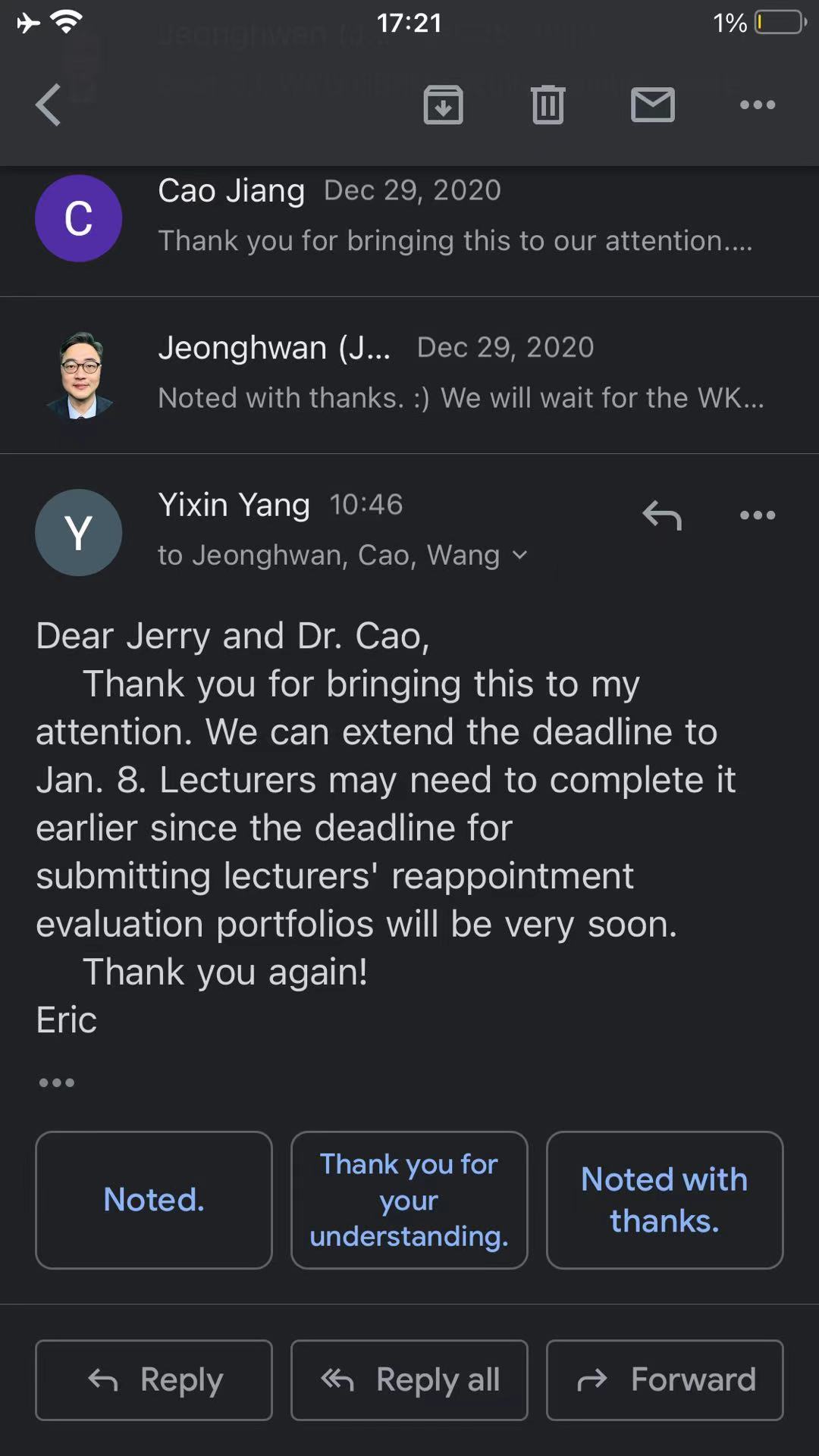 Jan. 15, 2021: two weeks extension of Lecturer Packet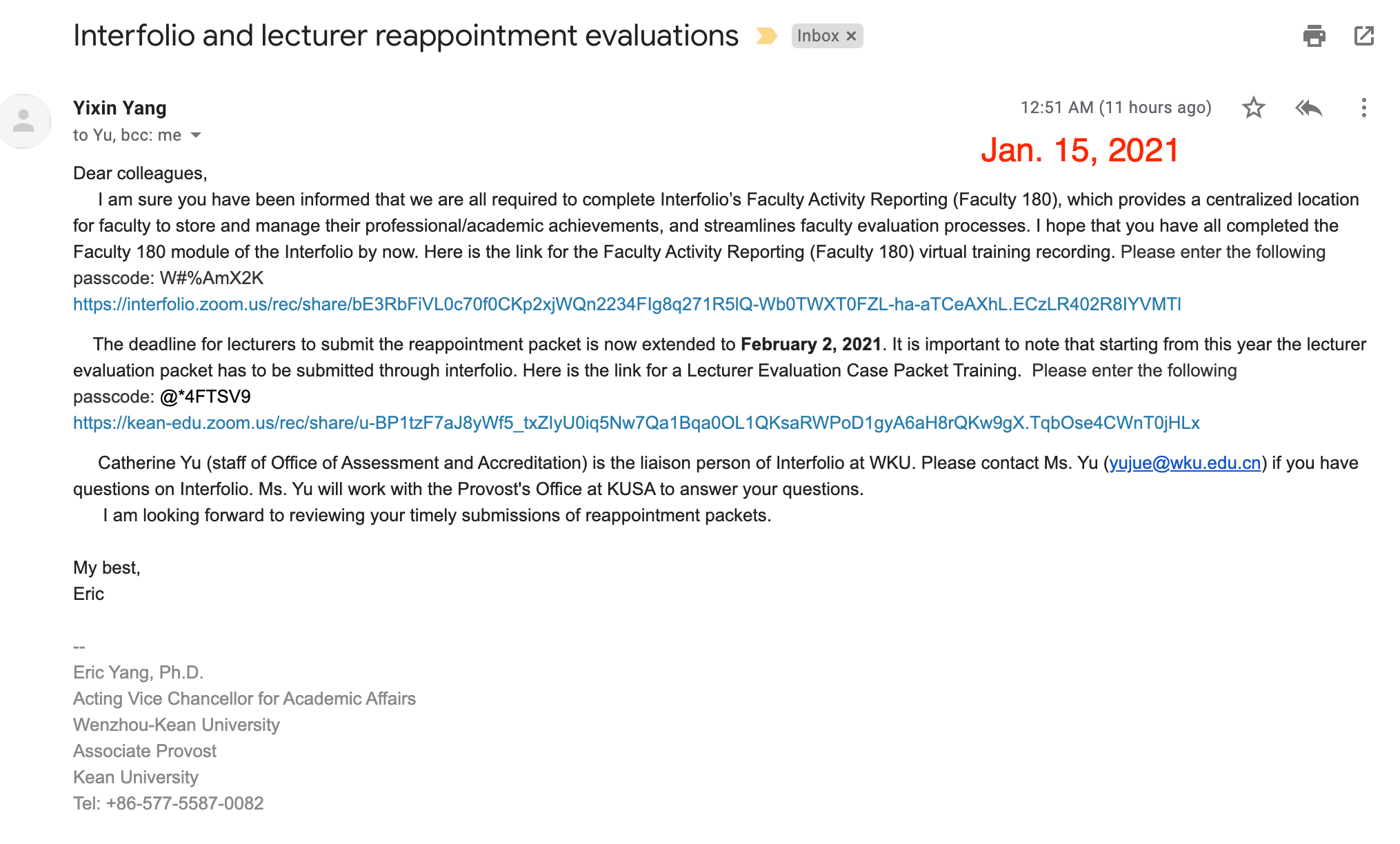 ==================================
Jan. 15, 2021: FAR Extention by Feb. 02 for Lectuere.
Jan. 05, 2021: FAR Extention by Jan. 08 for Tenure-Track, Jan. 06 for Lecturer; Added "The purpose of FAR at Cloud".
Dec. 29, 2020: FAR extension (Jan. 06, 2021) requested.
Dec. 19, 2020: FAR INPUT Examples
Dec. 02, 2020: FAR Guide documentation started.