Click for the full message.
The PURPOSE of Faculty Activity Report at 'CLOUD' service.
Every year, Kean Faculty Members generally prepare more than 300 pages of Reappointment Application Packages that include Academic CV, Profile Information, Publications, and all relevant Faculty Activities. What if we can make the ARTP processes simple and easier at online with higher security? That is the idea of Kean's 'Going to Cloud' initiative of ARTP affairs.
Aligning with the transformation to Online Faculty Activity Report for Appointment, Reappointment, Promotion, Tenure, Promotion

(

ARTP

) and HR affairs

, WKU CBPM Management, Global Business, and Marketing (MGM) faculty members proactively complying with the movement.
WKU VPAA Office guided us to complete the FAR Initial completion by End of 2020 Fall Semester ( December . 18, 2020) based on the communication with Kean USA.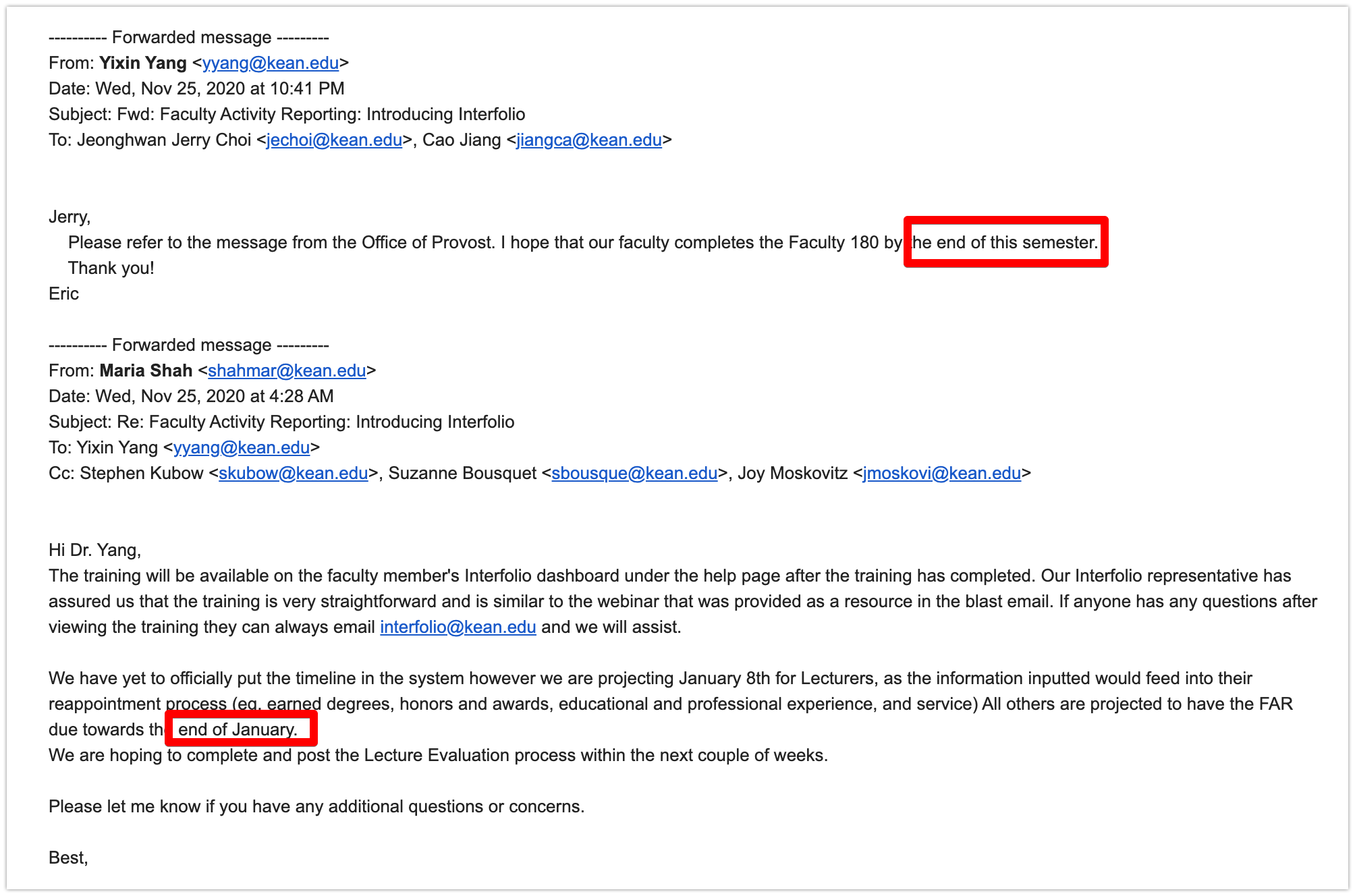 WKU CBPM MGM faculty members try to complete the initial inputs of FAR via Interfolio Faculty 180 platform by Dec. 18, 2020.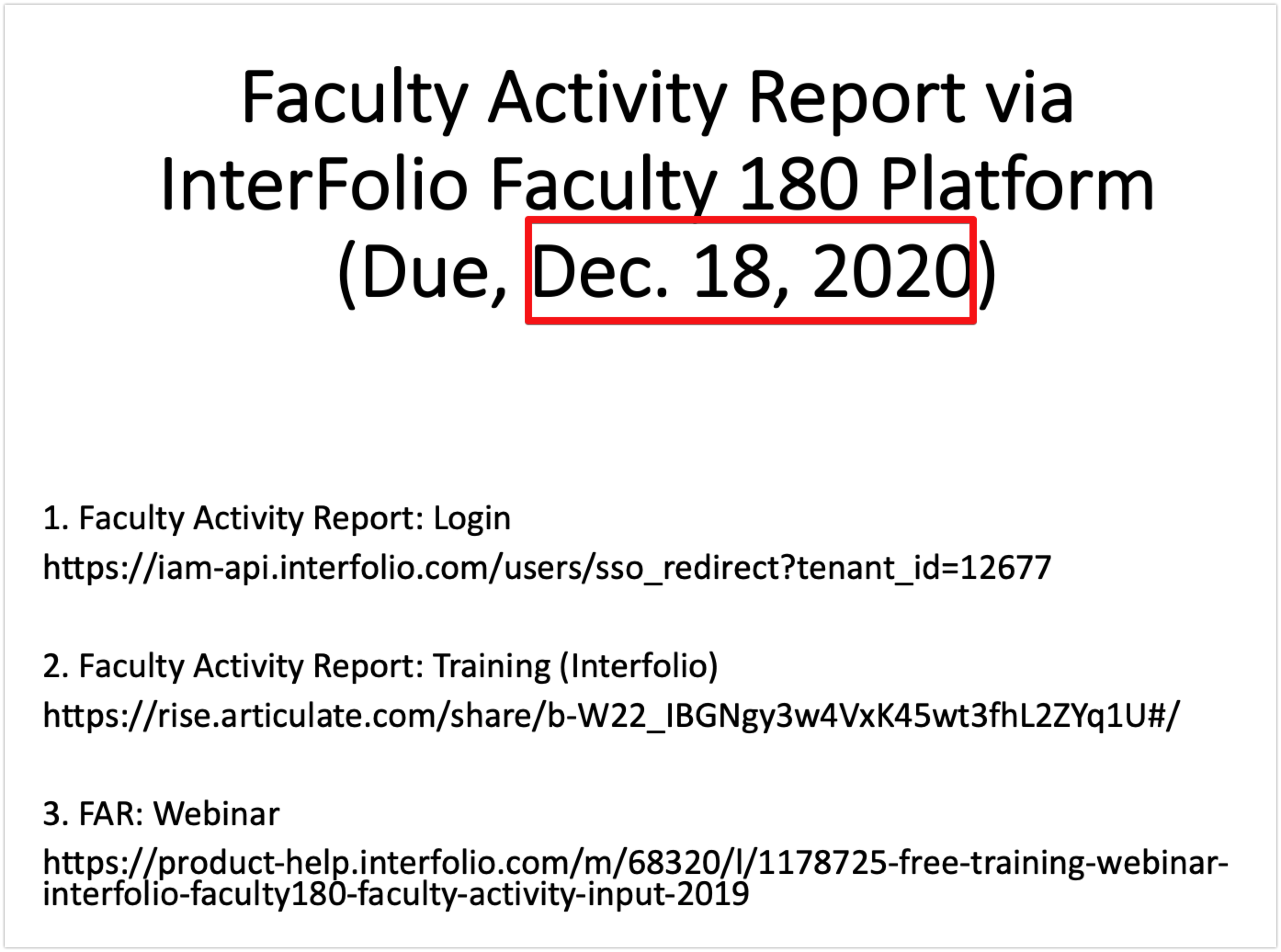 Faculty Activity Report via InterFolio Faculty 180 Platform
(Due, Dec. 18, 2020)
But the Due date for CBPM faculty members was postponed until the end of December 2020 at the CBPM faculty meeting on Dec. 08 because of time pressure of final grading.
1. Faculty Activity Report: Login
2. Faculty Activity Report: Training (Interfolio)
3. FAR: Webinar
---
Guide of Faculty Activity Report 180
1. Please login to the Faculty 180 by using your Kean ID/PWD.
Faculty Activity Report: Login
Please choose "Kean" (not Interfolio).
2. Mainly, you need to complete Profile and Activities.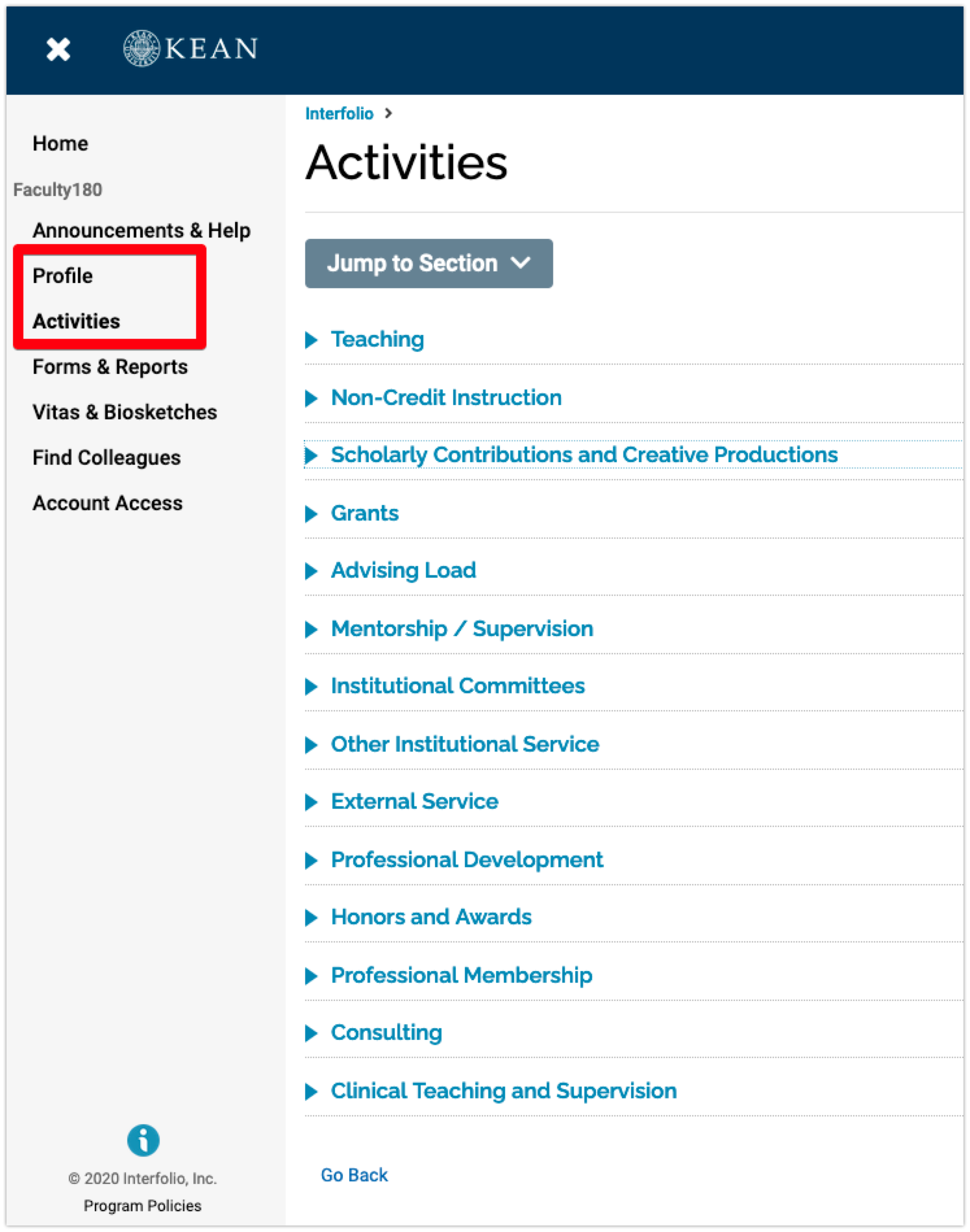 2020.12.19: Faculty Activity Report (or Faculty 180) Online Course Completion
Faculty Activity Report: Training (Interfolio)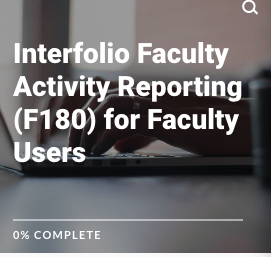 Key Terms:
---
Profile Input:
Please input all your personal profile information.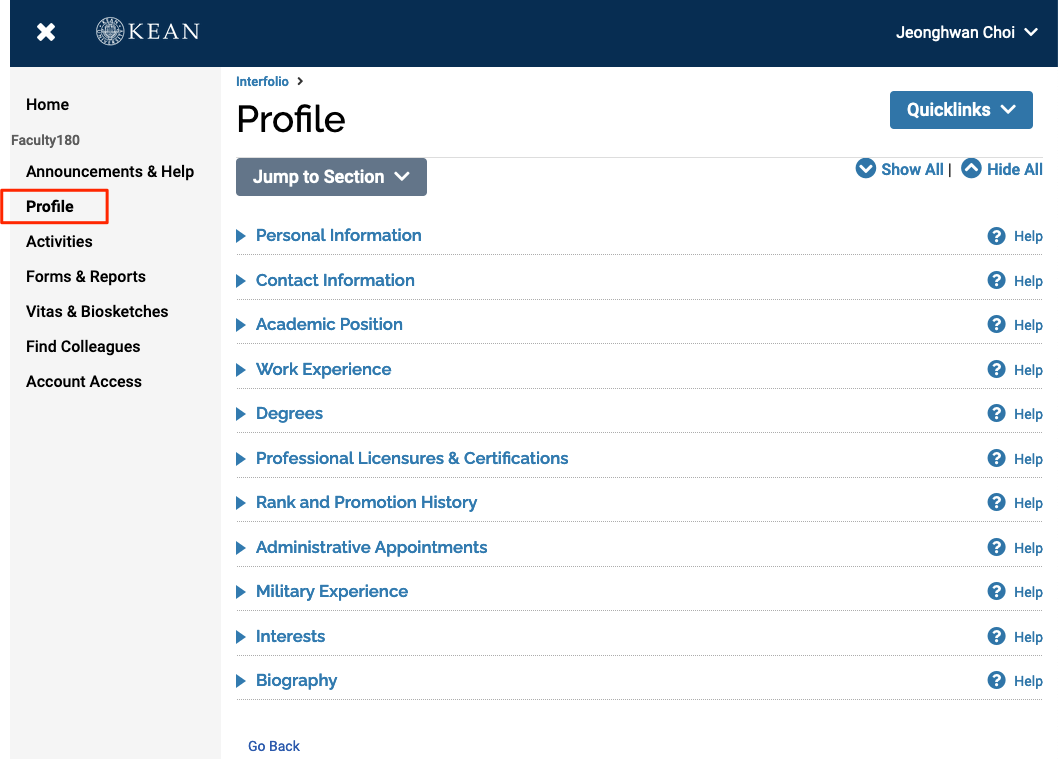 (Profile example #1) Personal Information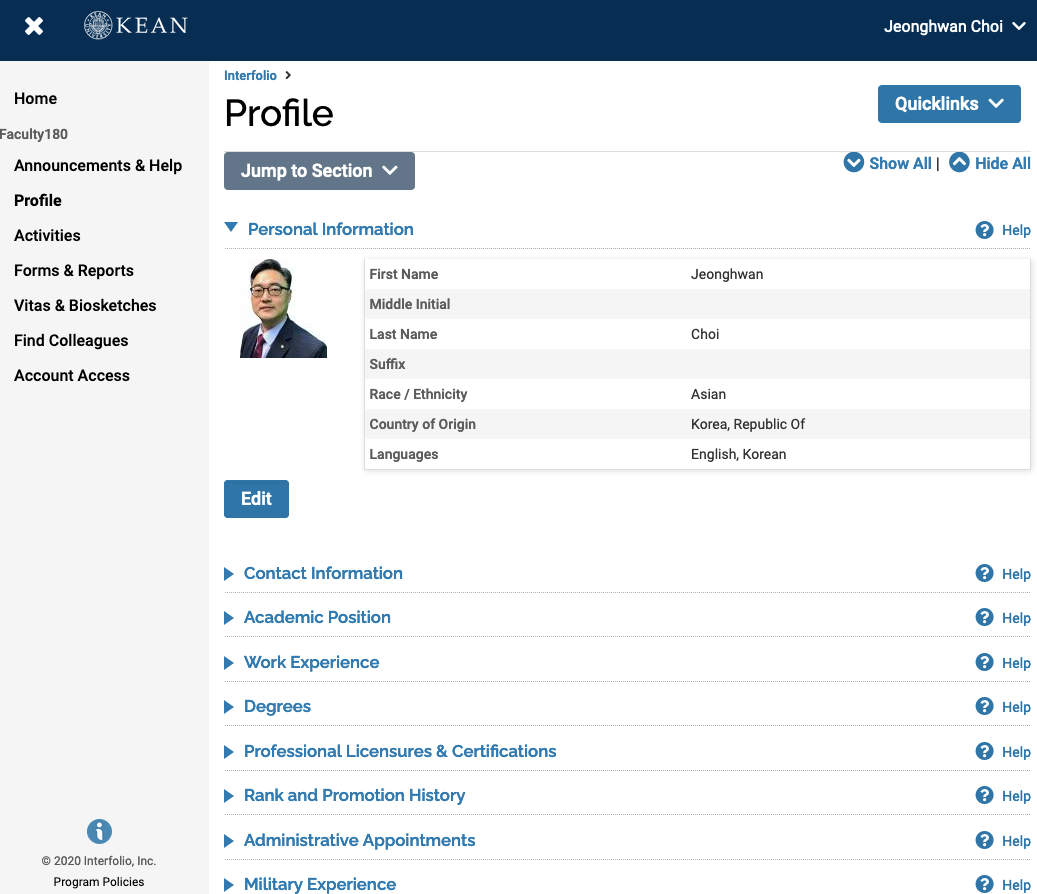 (Profile example #2) Work Experience; Degrees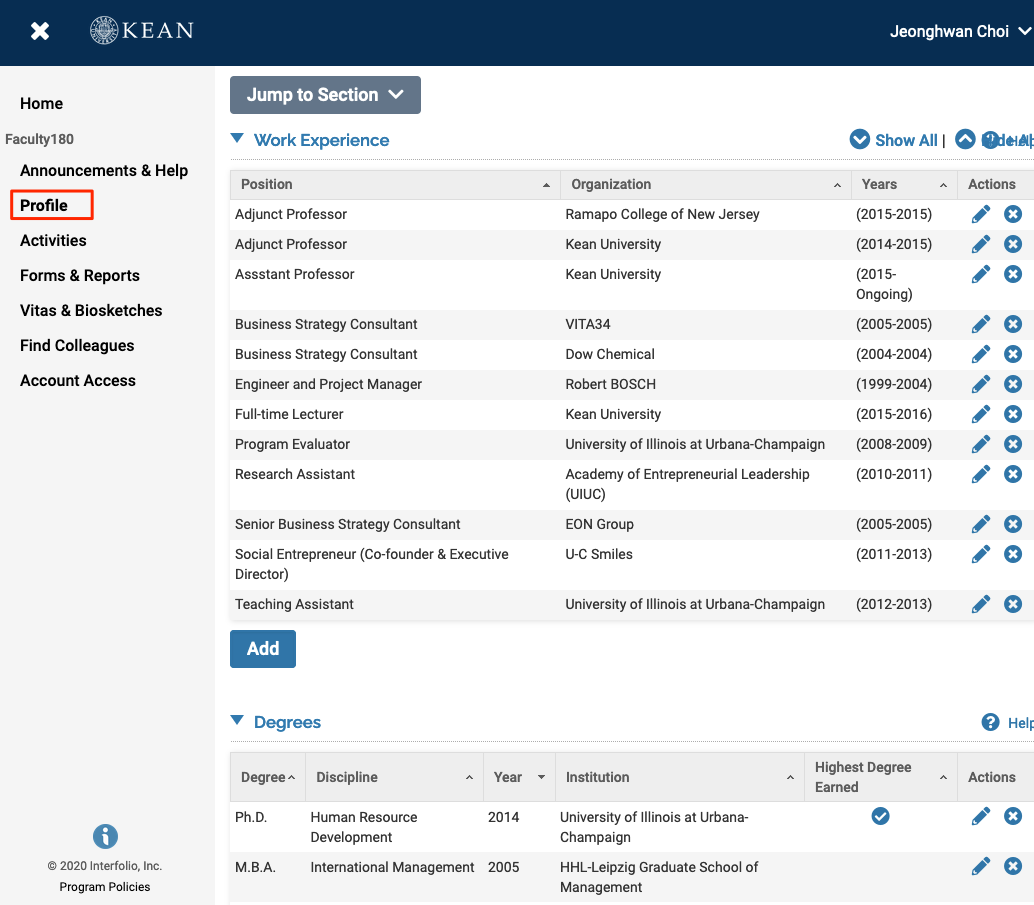 ---
Activity Input:
Please input all your school and/or professional activities in each section: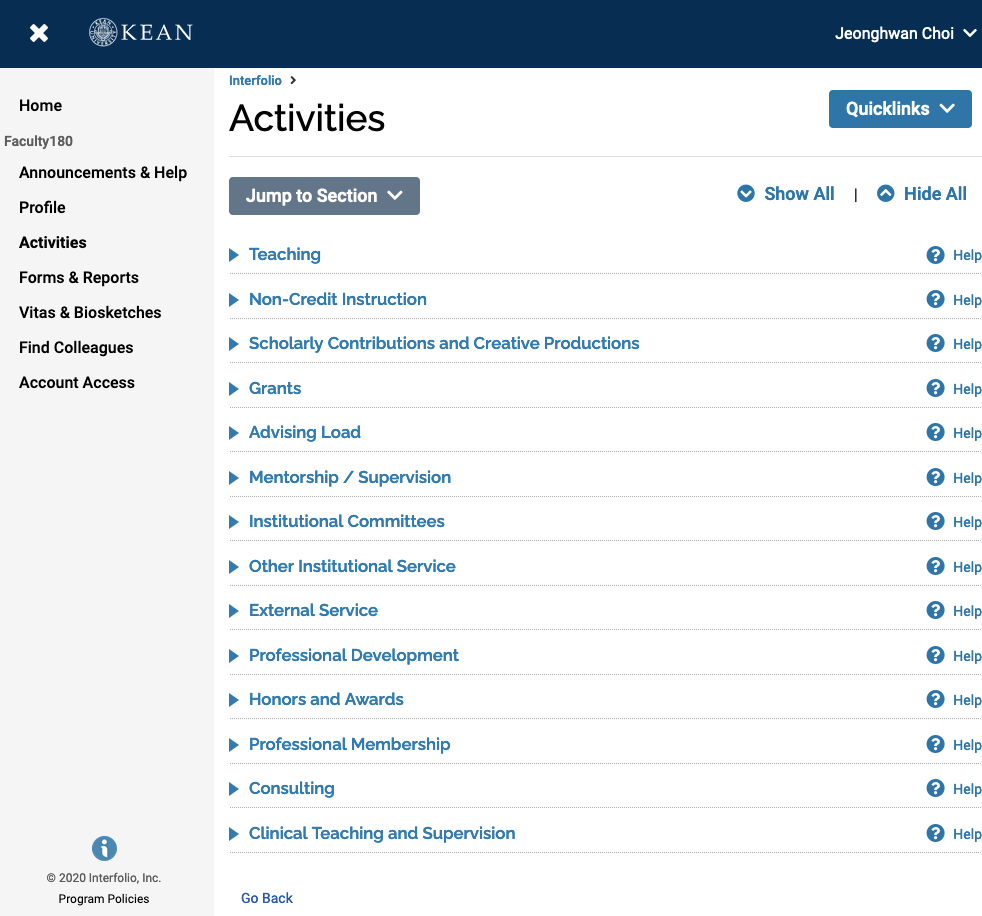 (Activity example #1) Teaching
Refresh your teaching tenure period, and input all course evaluation results in each item.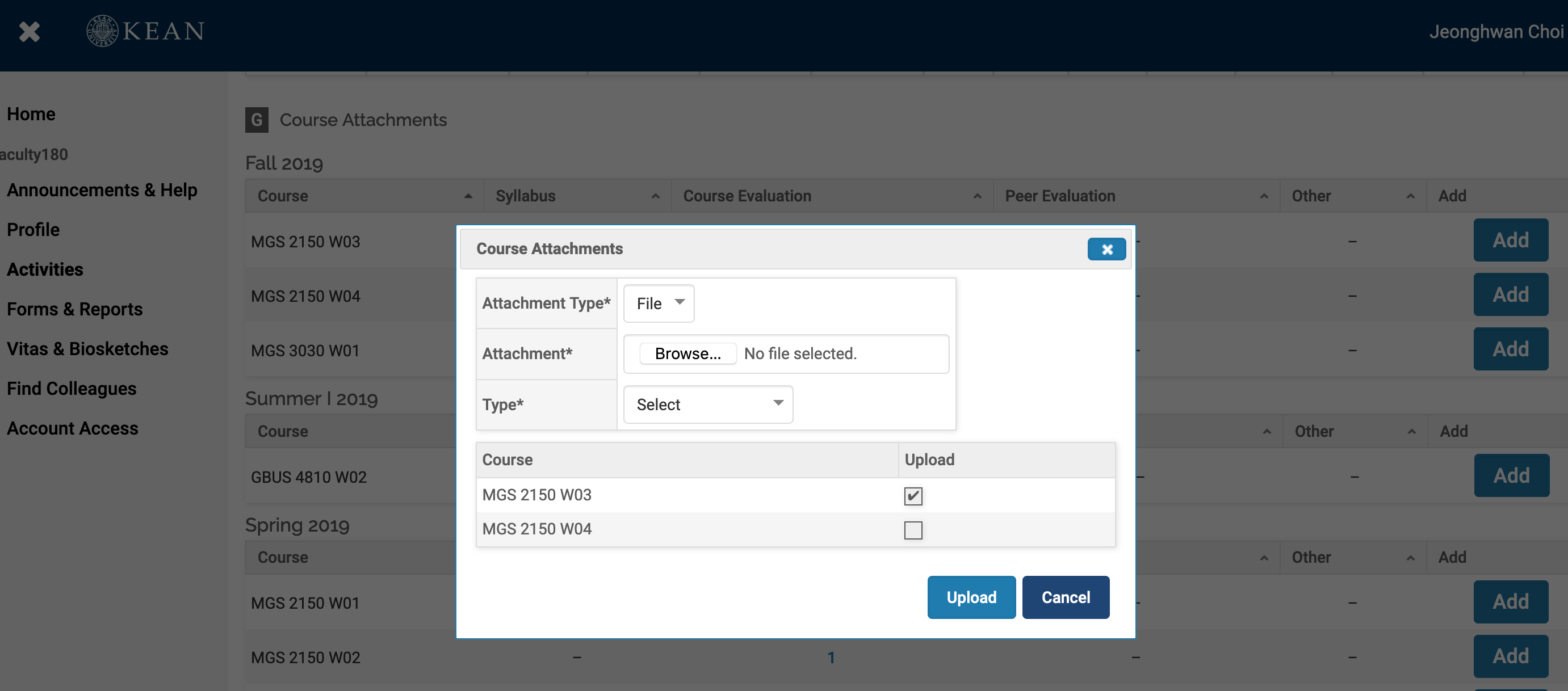 (Activity example #2) Scholarly Contributions and Creative ProductionsTeaching
Input all your publications, presentations, and conference activities. You can input your publications by hands, RIS or BibText importing.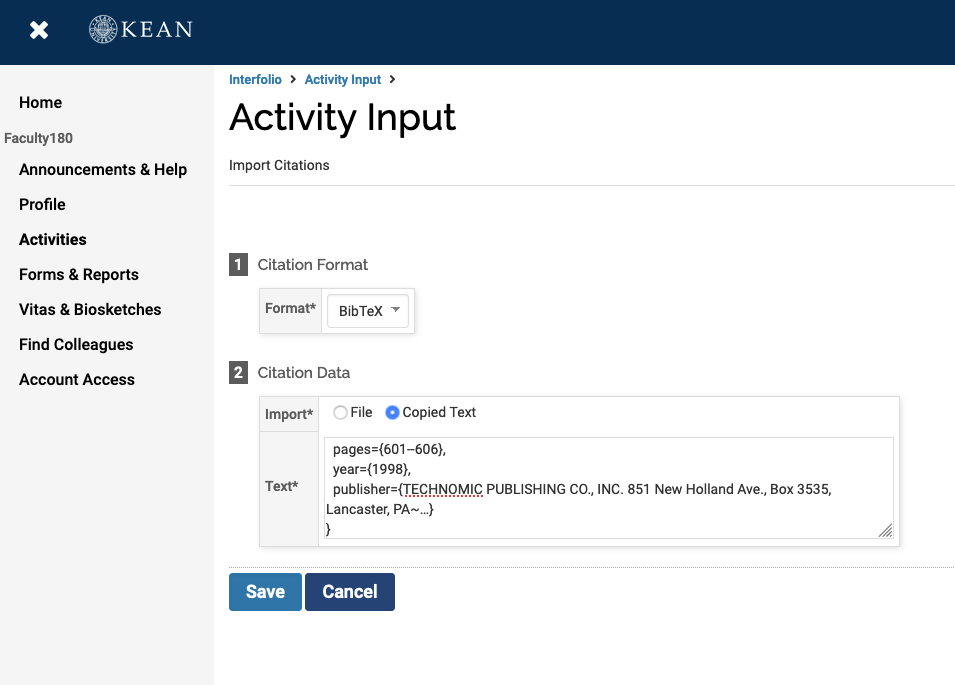 ---
Creating Vitas & Biosketches
Once you input all your necessary information, you can create and report your Academic CV or Resume for Annual Review:
(CV Example #1) Annual Report for Annual Reappointment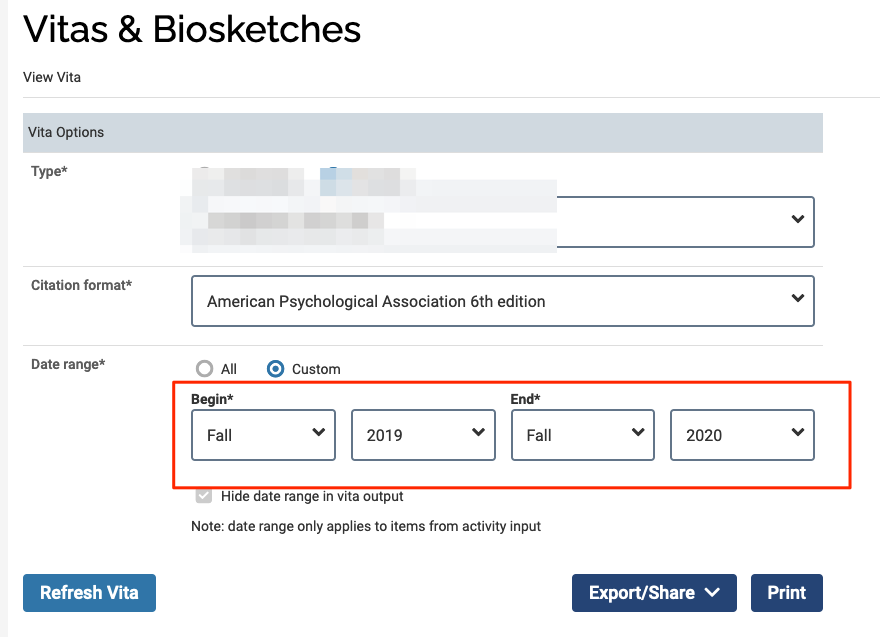 Only annual activities will be summarized in the newly created CV.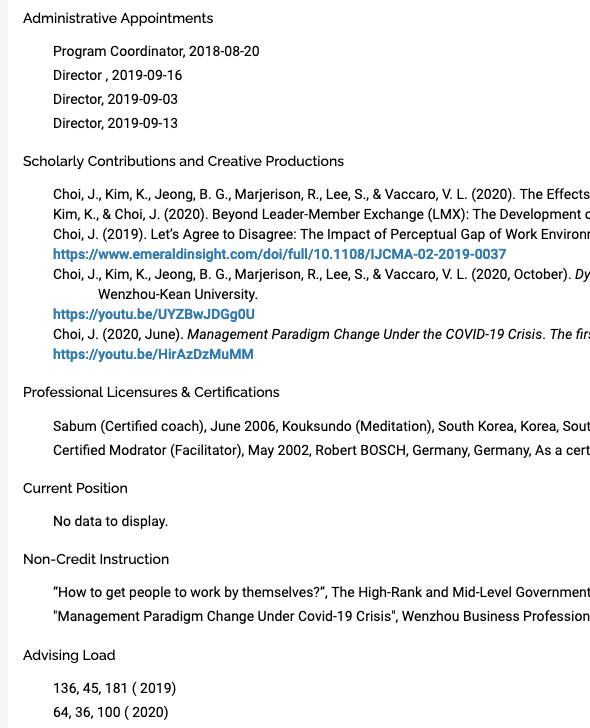 Full Year Report can be created for Tenure application.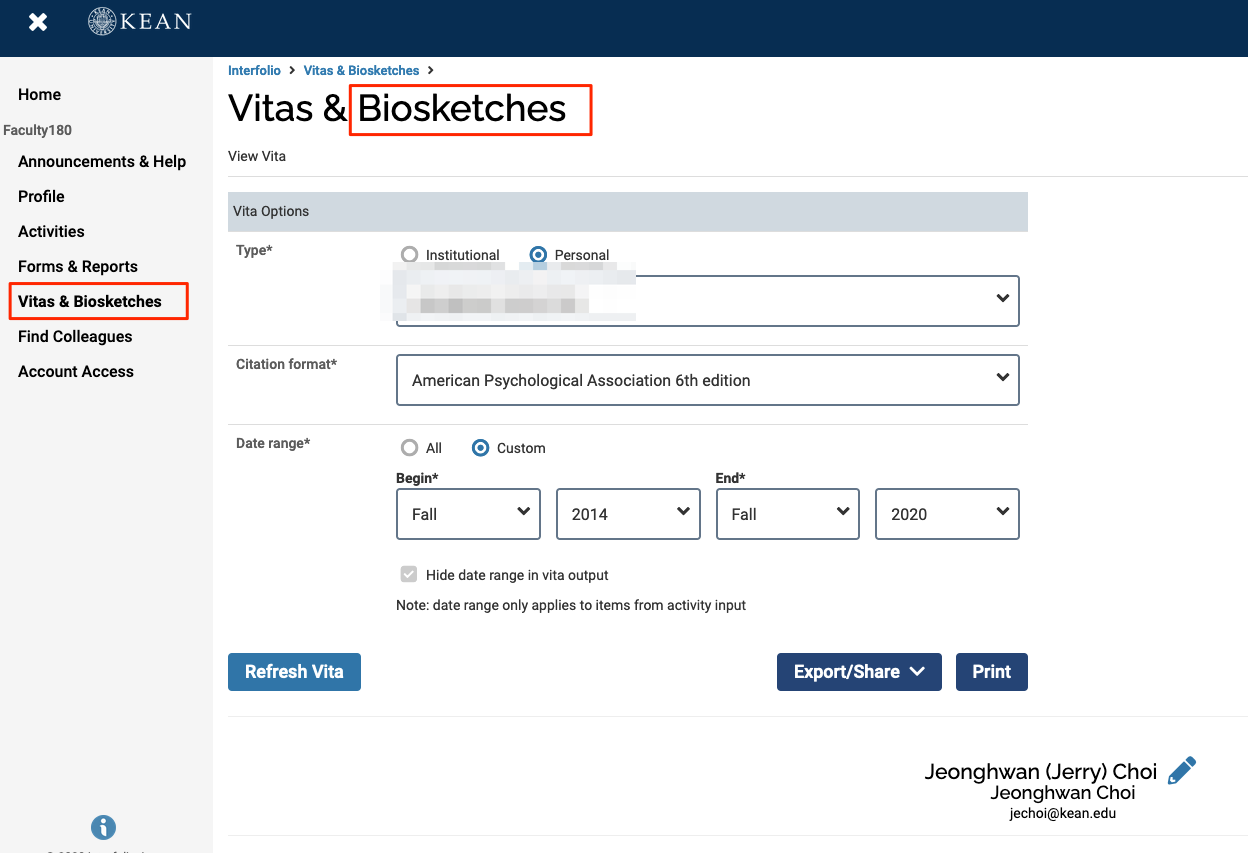 Forms and Reports are not accessible up to now (Dec. 20, 2020)
Dec. 28 ~ Dec. 31, 2020 (Maintenance)

Extension of the due date of initial input of FAR was requested (until Jan. 08, 2021).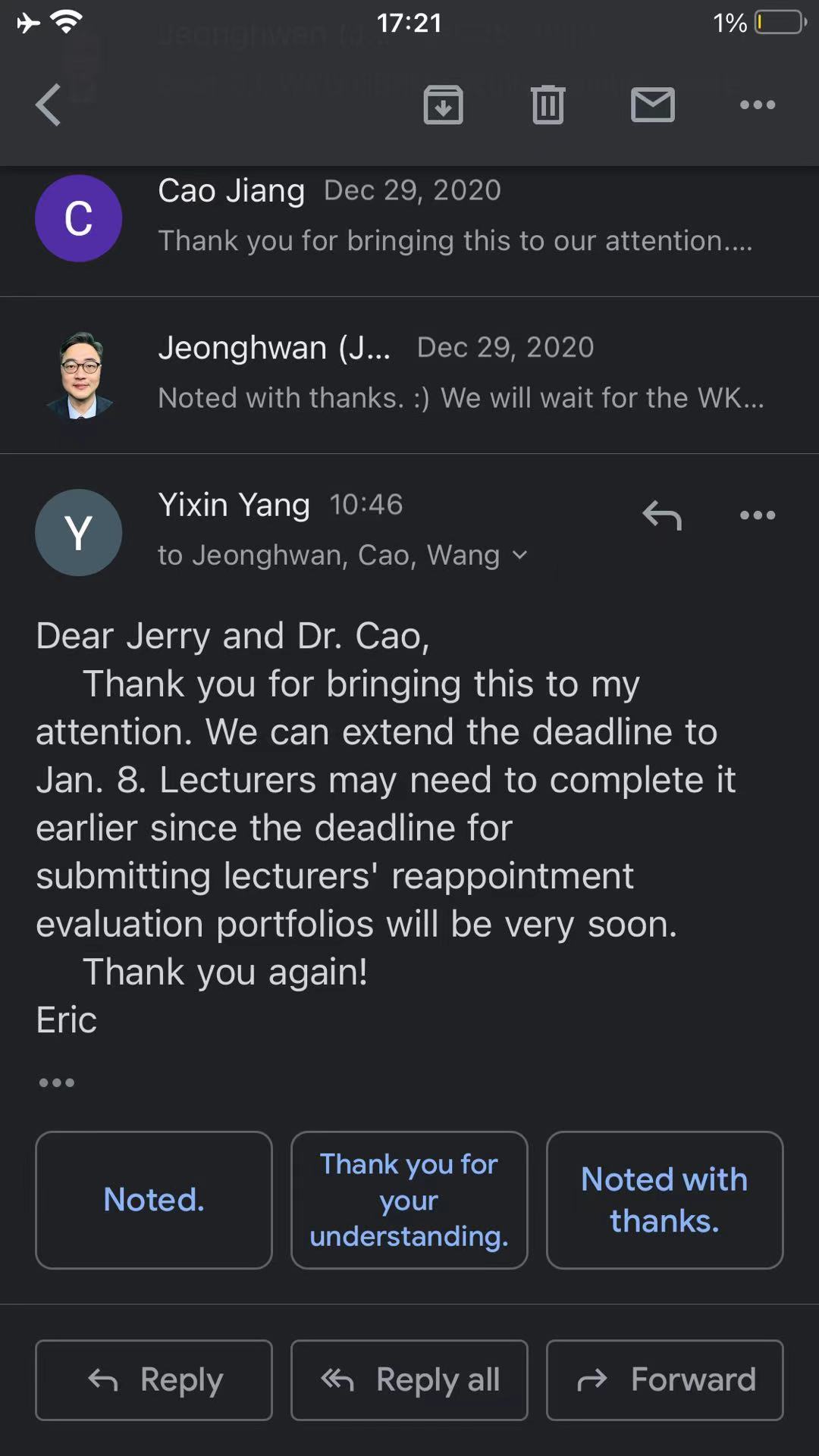 Jan. 15, 2021: two weeks extension of Lecturer Packet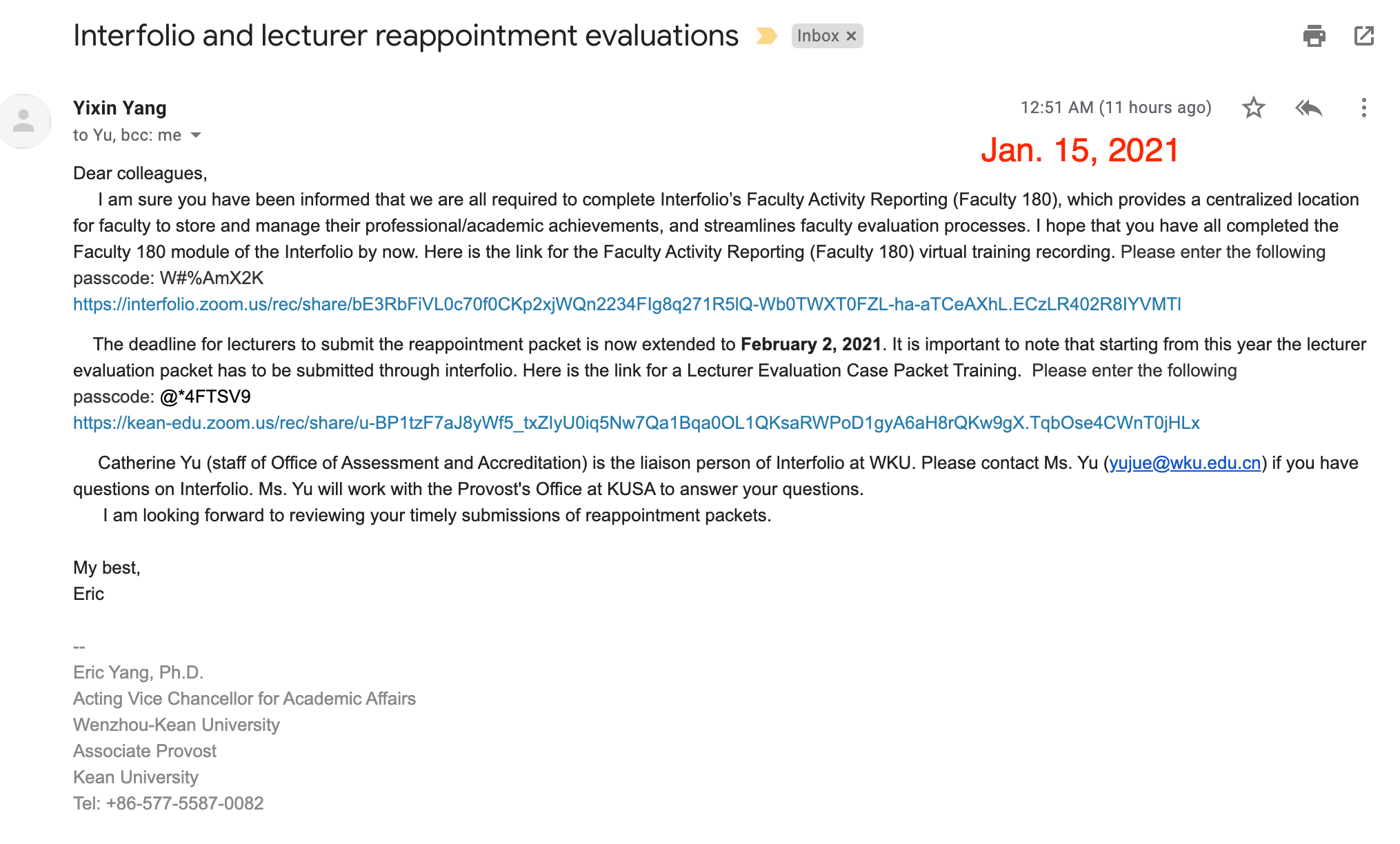 ---
2021. 06. 15: 2-6 Year Reappointment Case Open
Kean 2-6 year Reappointment Interfolio Guilde Video:
Guide Video:
Kean Interfolio send a Kean Viwe Case Email. Click and Login with your Kean ID/PWD.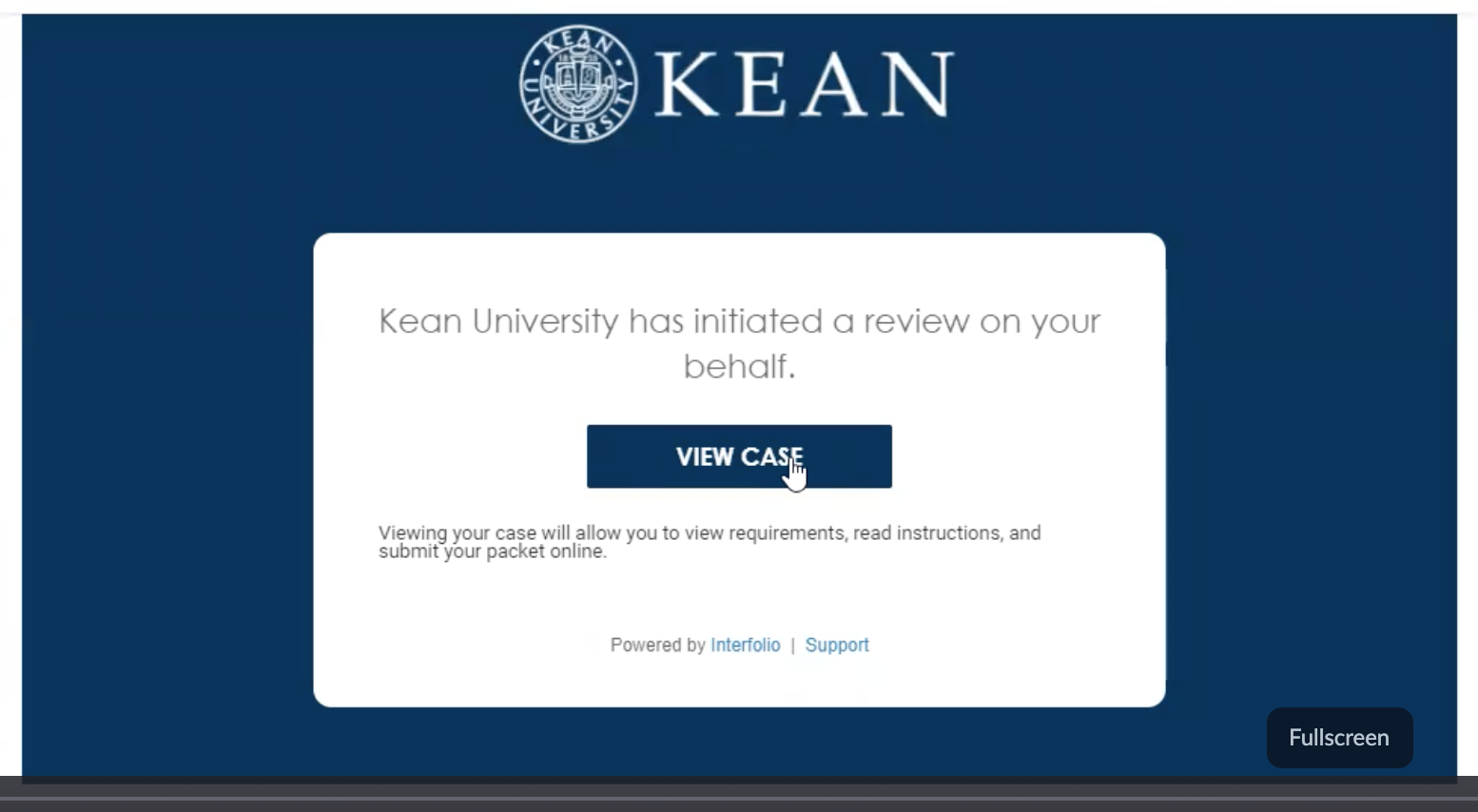 Individuals would have different "personalized" preview packet.
1. Check Overview, and Check your Interfolio Packet. If you input your information, you must have all necessary data.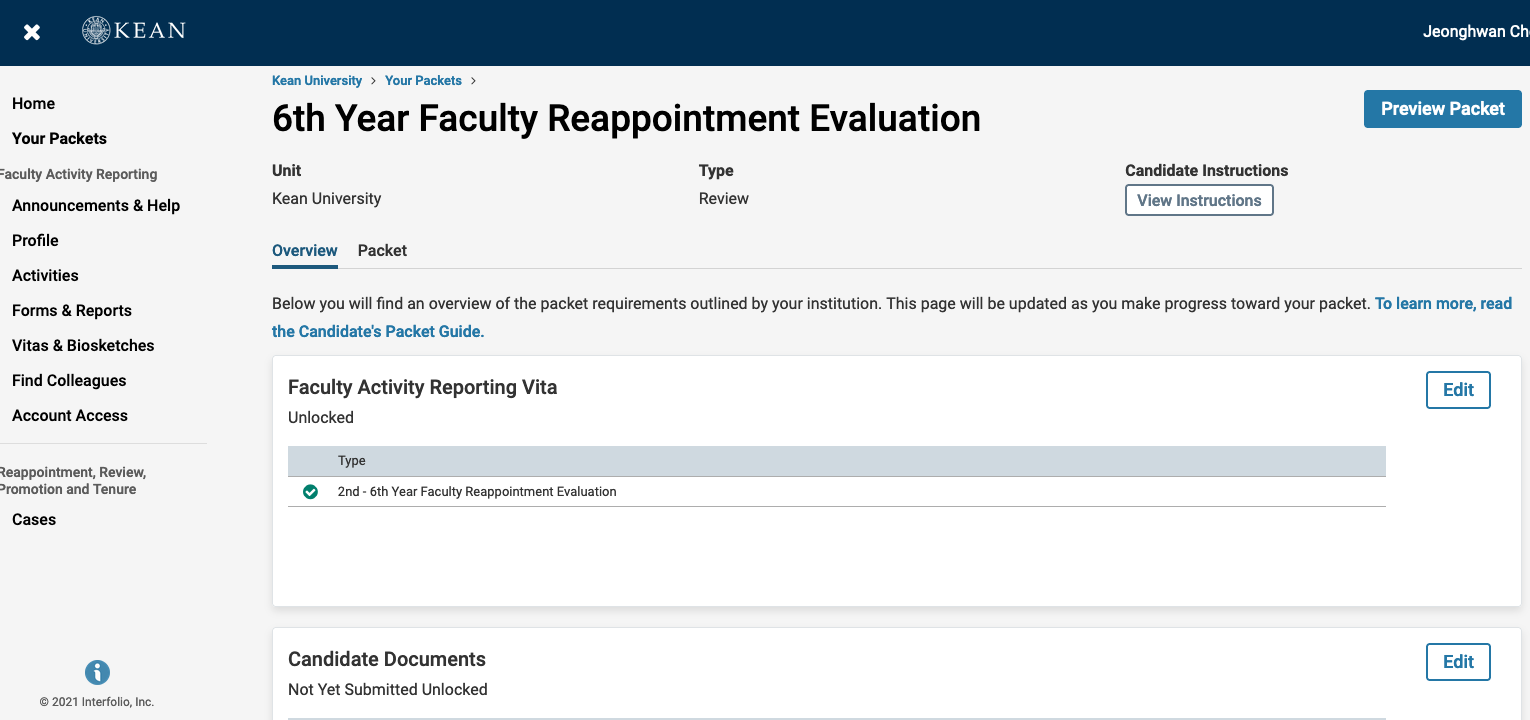 2. Click the Packet button, and we will mainly work on it!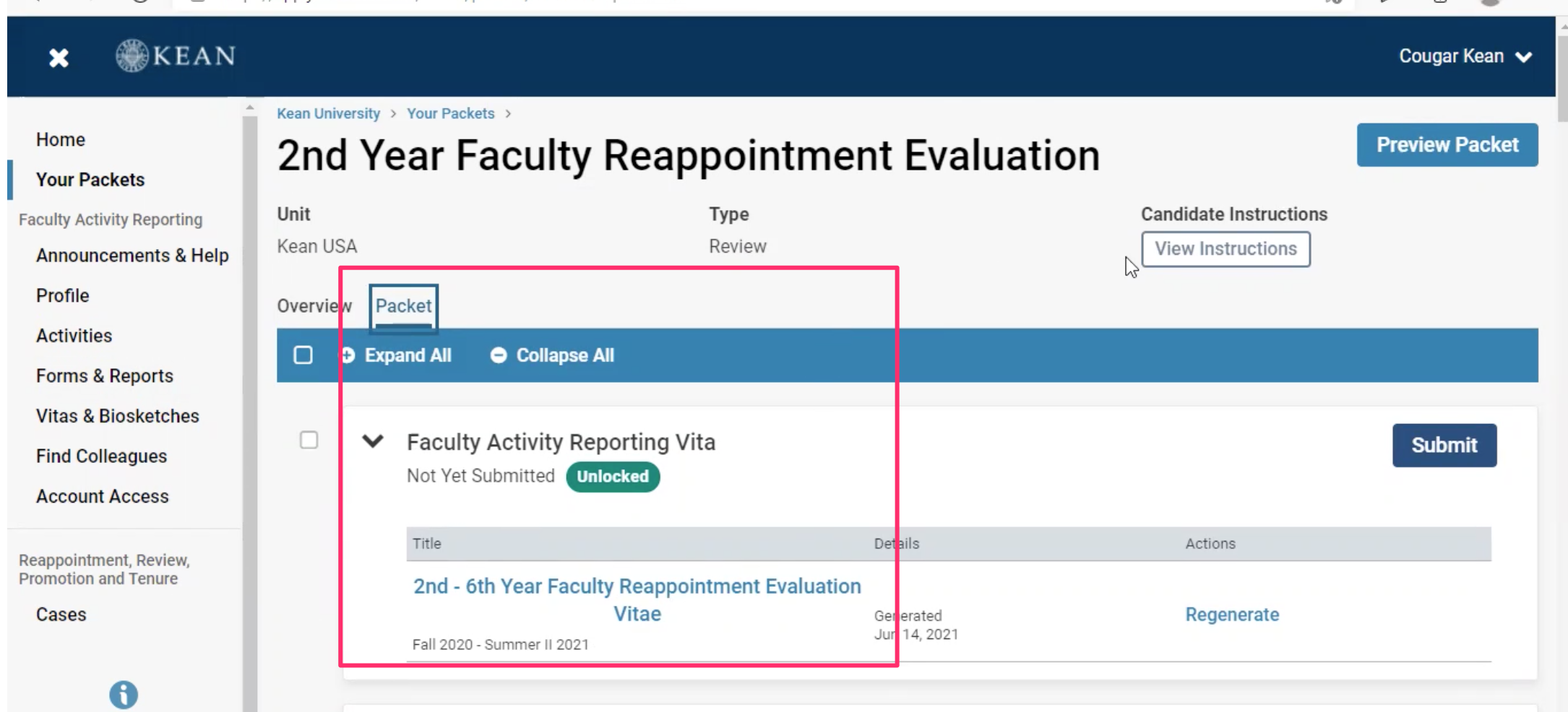 3. Click the "View Instructions", and you can get information of "Reappointment Points".
Candidate Instruction here: Click ->
4. We must submit two things for reappointment: 1). FAR Vita ; 2) Candidate Document.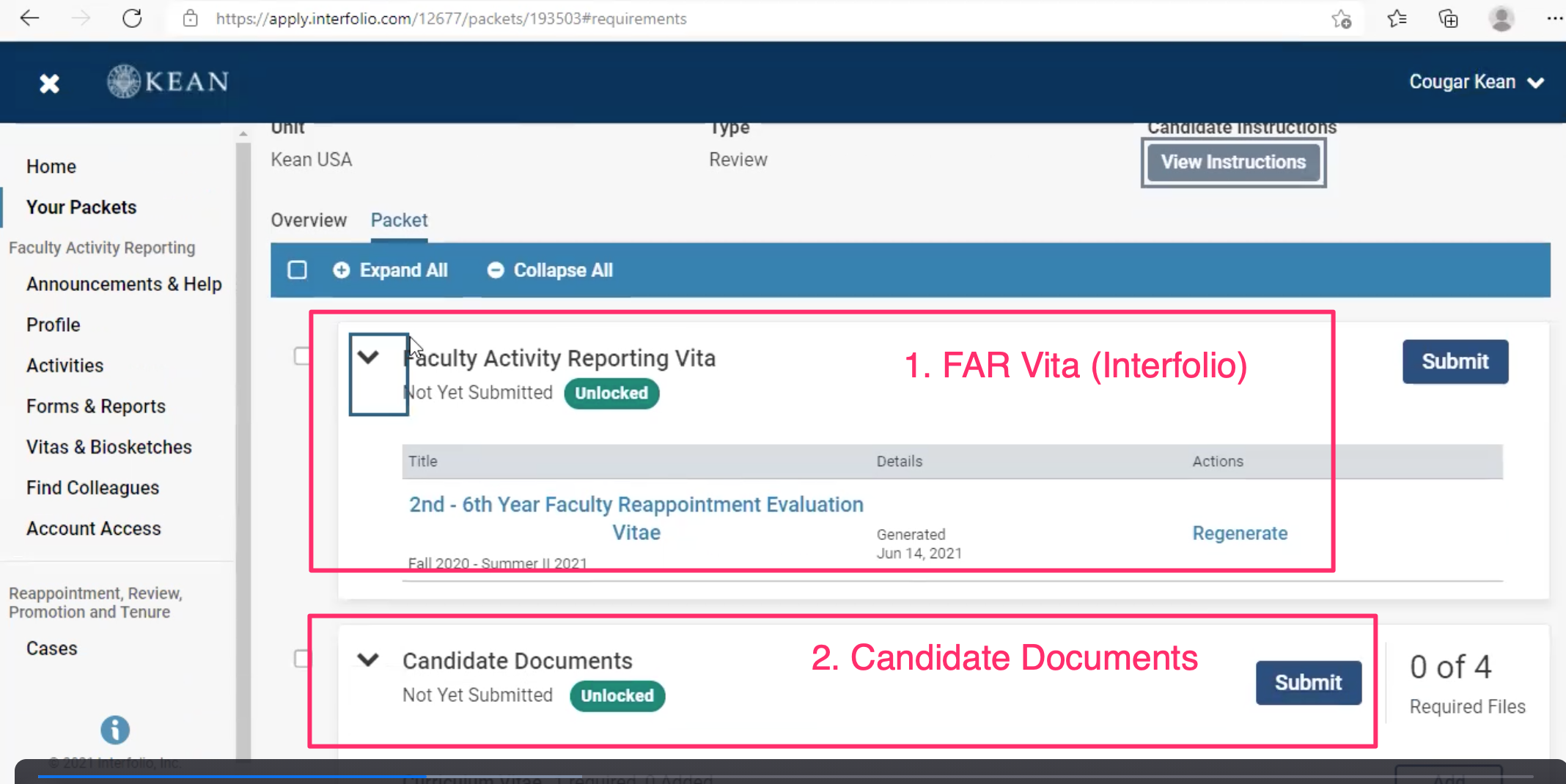 4-1) Information you entered in the Faculty Activity Reporting Profile and Activity section will be generated into your 2nd - 6th Year Faculty Reappointment Evaluation Vitae which will eliminate duplication efforts.
*Update & Regenerate if you input new information!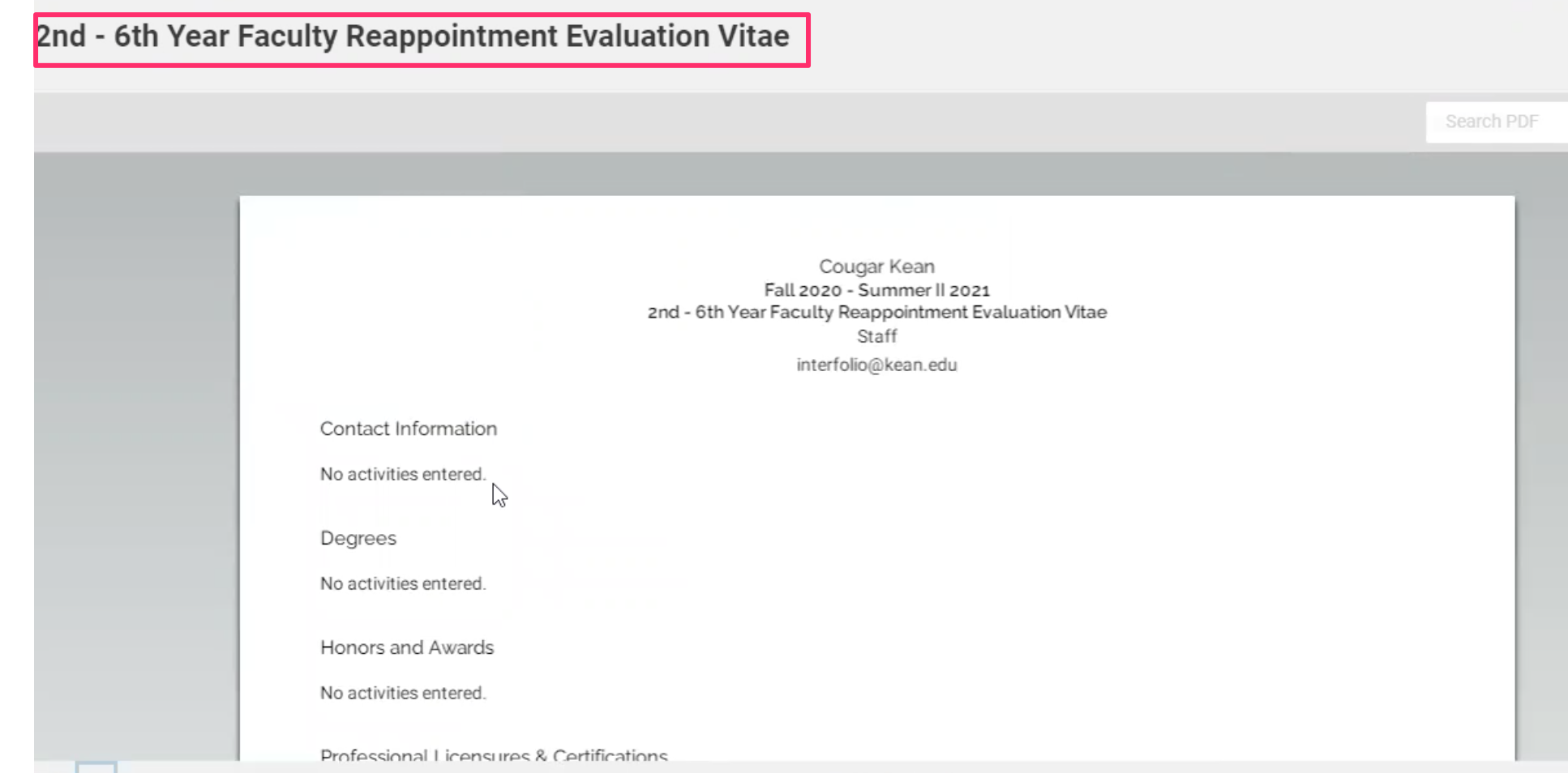 4-2) The Candidate Documents sections will allow you to upload your statement (Word Document or PDF) and allow you to amplify or expand upon any information that was generated into your 2nd - 6th Year Faculty Reappointment Evaluation Vitae.
Four sections can be added and supported with "customized Candidate Documents".
Especially, Section 2 should be carefully addressed (Teaching Video; Exra detail in publication; Teaching Innovation;
Section 1: we don't need to add this section if the information is not new to the FAR Document.
1A: Eidence For Mastery of Subject Matter: Earned Degree
1B: Evidence for Mastery of Subect Matter: Honors, Awards, and Distinguished Achievement
1C: Evidence for Mastery of Subject Matter: Educational and Professional Experiences
Section 2: Evidence for Effectivness of Teaching: Faculty Observation (Required)
At least three (3) Observation, including one from the Departmental ARTP committee Chairperson, must be uploaded!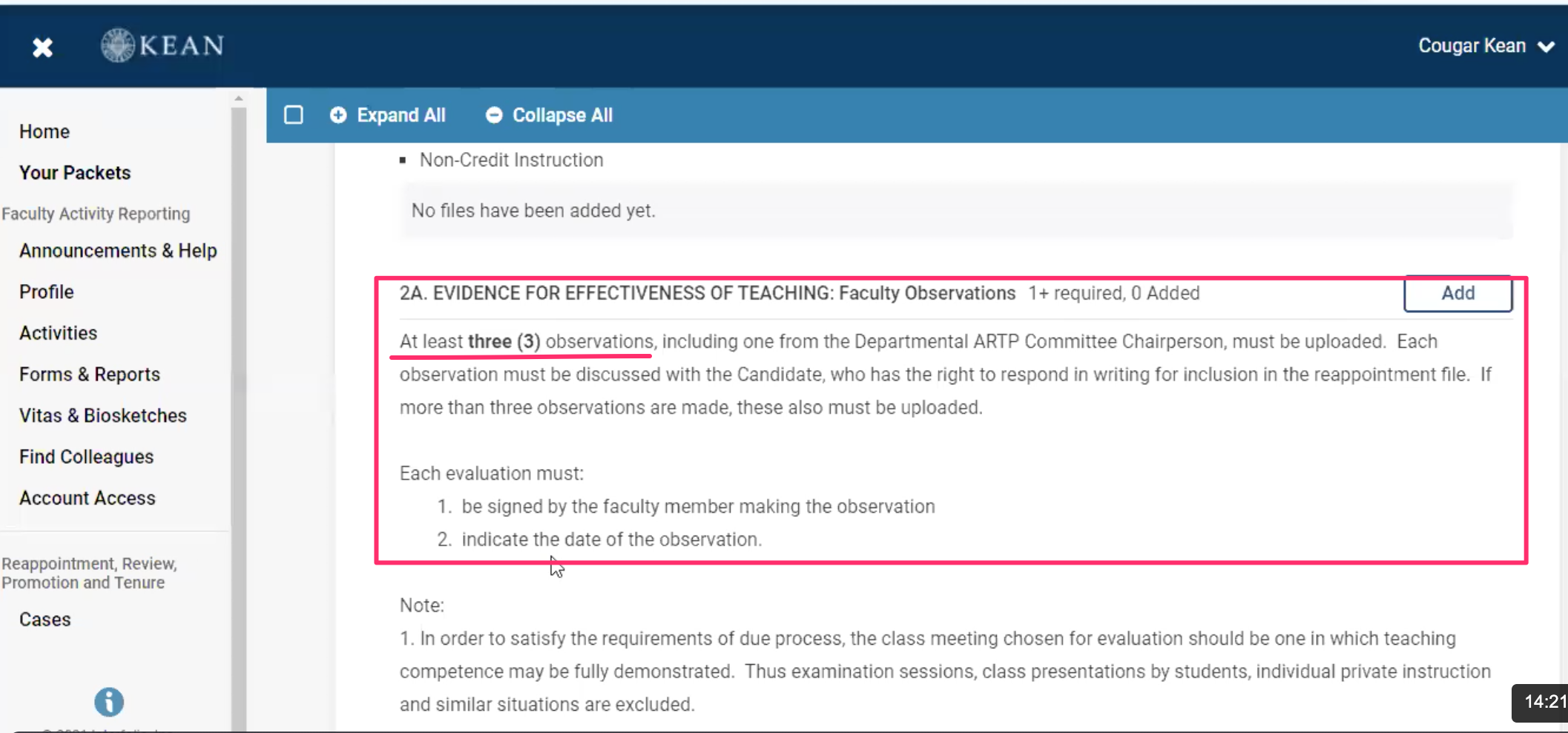 2A: Faculty Observation: Add three class observation videos:
2B: Student Evaluation: In case, the Vita does not include the course evluation result, please add student evaluation report here:
2C: Teaching Innovation: When you apply new pedagogical innovations in teaching, please descried it (Media Production maybe included such as Hperlinks, Website, Videos, and any other multimdeia contents).
3A: Evicences for Scholarly and/or Creative Abilitie: Publications! : Elaborate your publications
3B: Evicences for Scholarly and/or Creative Abilitie:Profesional / ACaddmic Membership
4A. Evidence for Effectivness inf University and Community Service: Non-Teaching Respoinsbility: External Service; Institutional Committees
5. Evidence Suggesting Continuing Growth:
6. Evidence Supporting Attainment of Additional Departmental Criteria (No Need in WKU CBPM Management, Marketing, and Global Business)
7. Optional Statement
5. Acknowledgement & Verification! (Sign & Submit): WE must check out all inputs, and we must acknowledge and verify our sumbission.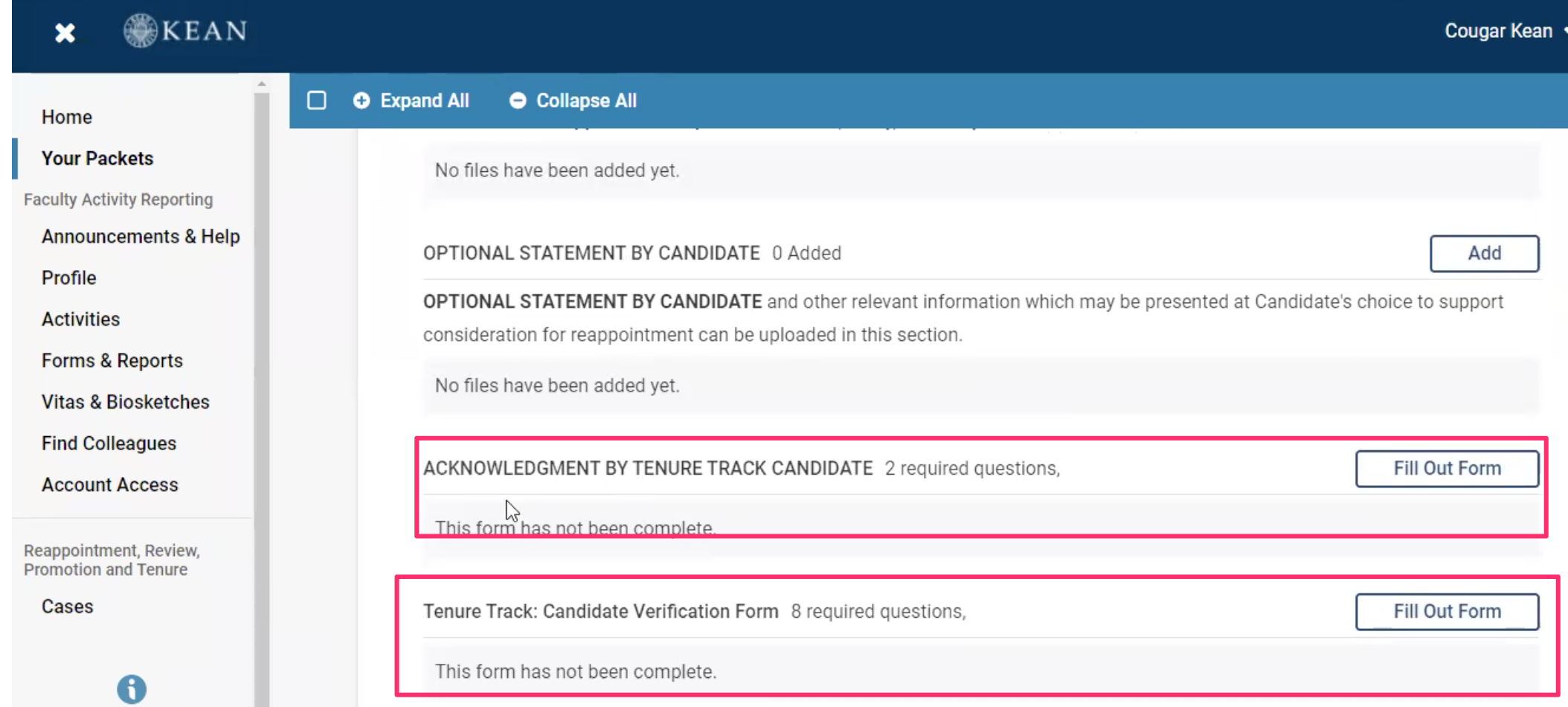 Acknowledgement: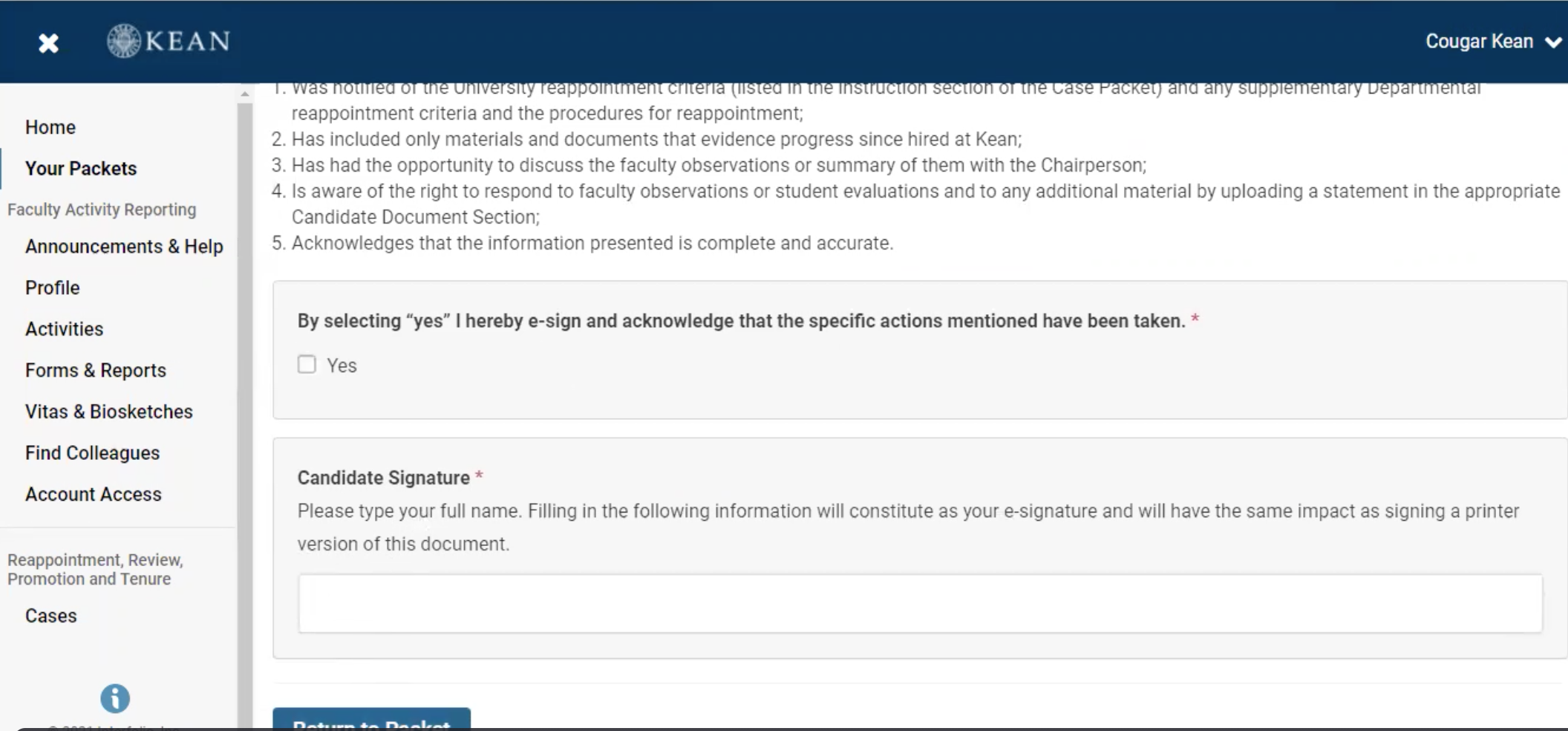 Verification:
Please Confirm your Acknowledgement and Verification: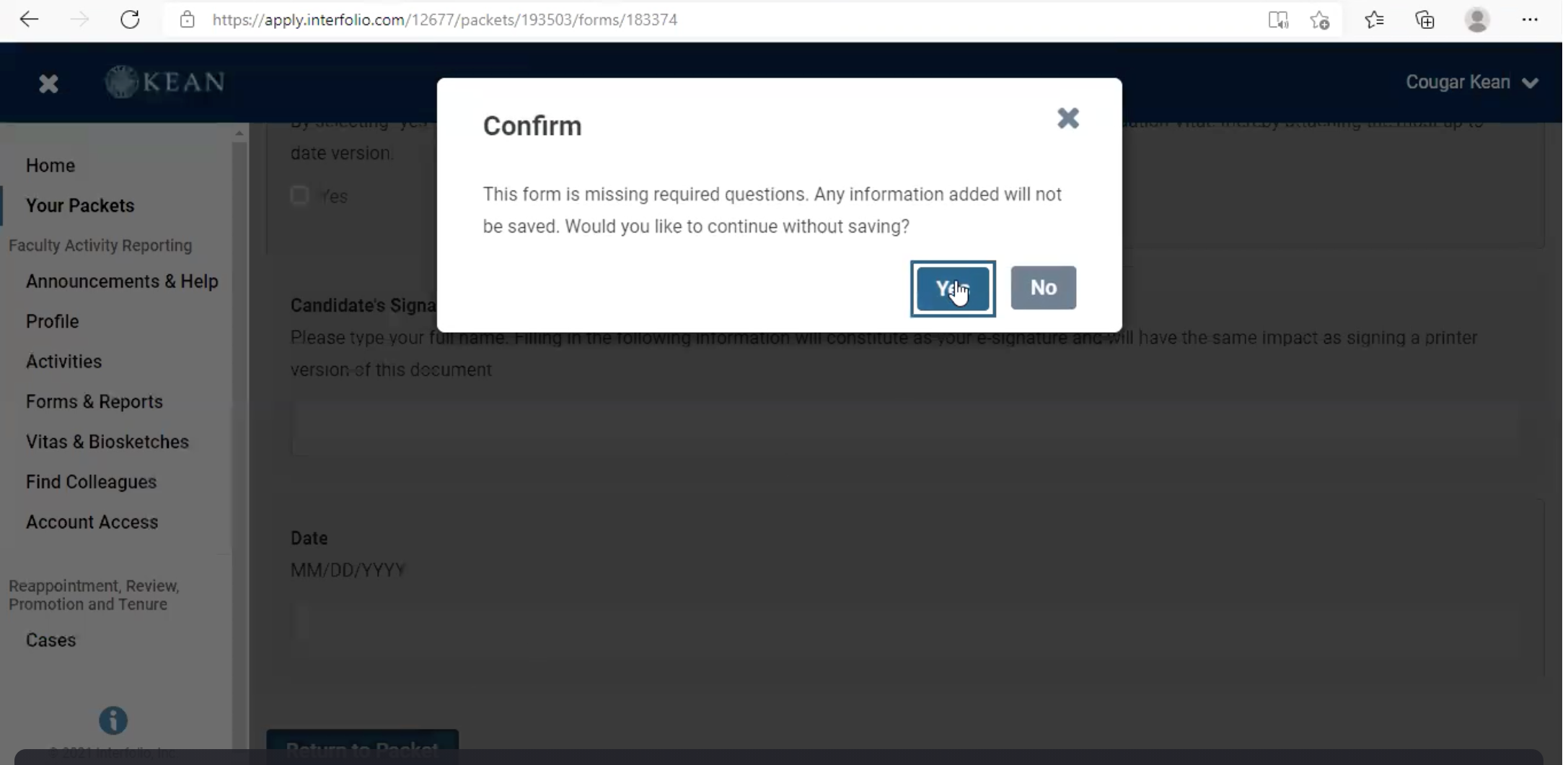 6. Preview Packet and Submission: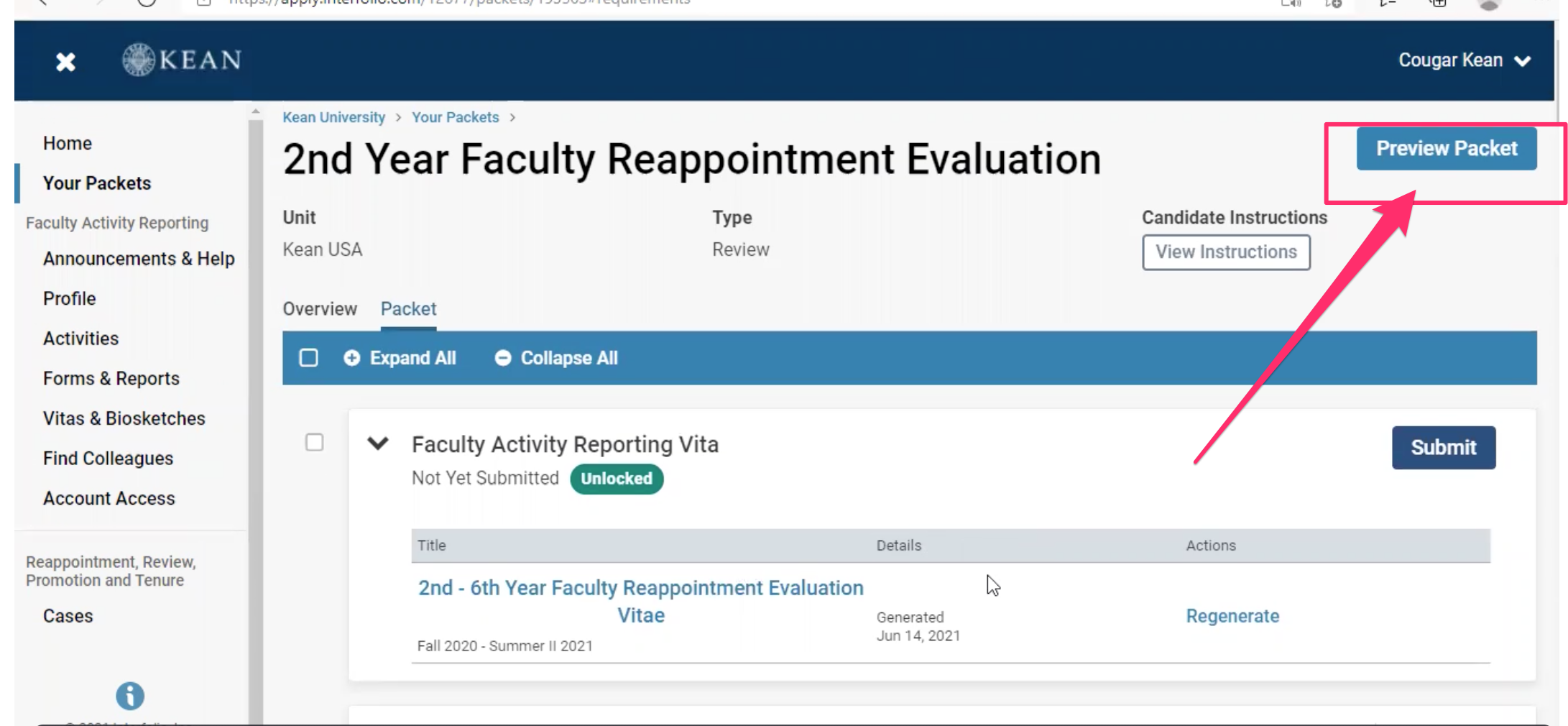 Make sure that all necessary information are in the 2nd-6year reappoinment Evaluation Vitae and Candidate Documents: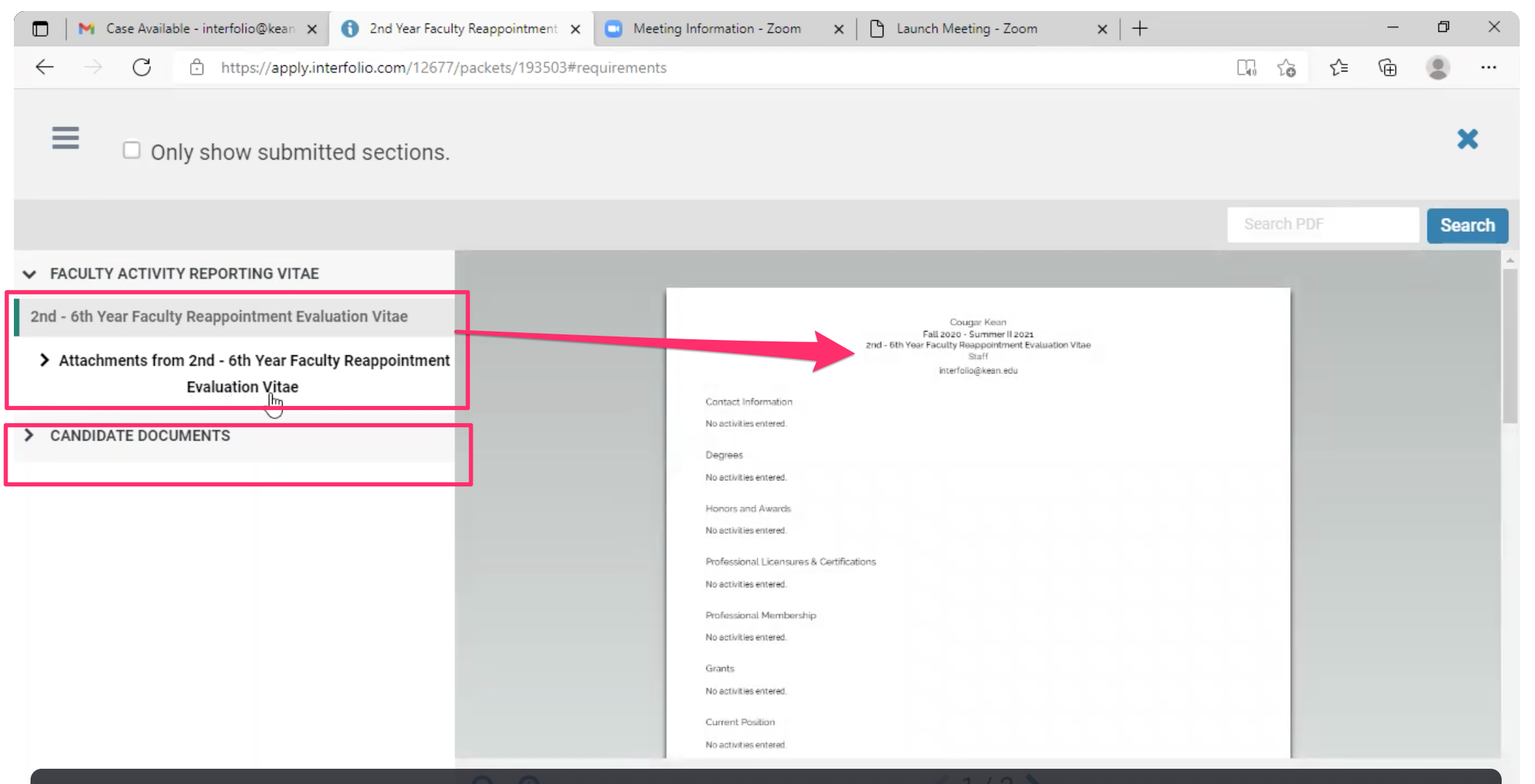 7. Confirm your submission of your 2-6 year reappointment evaluation !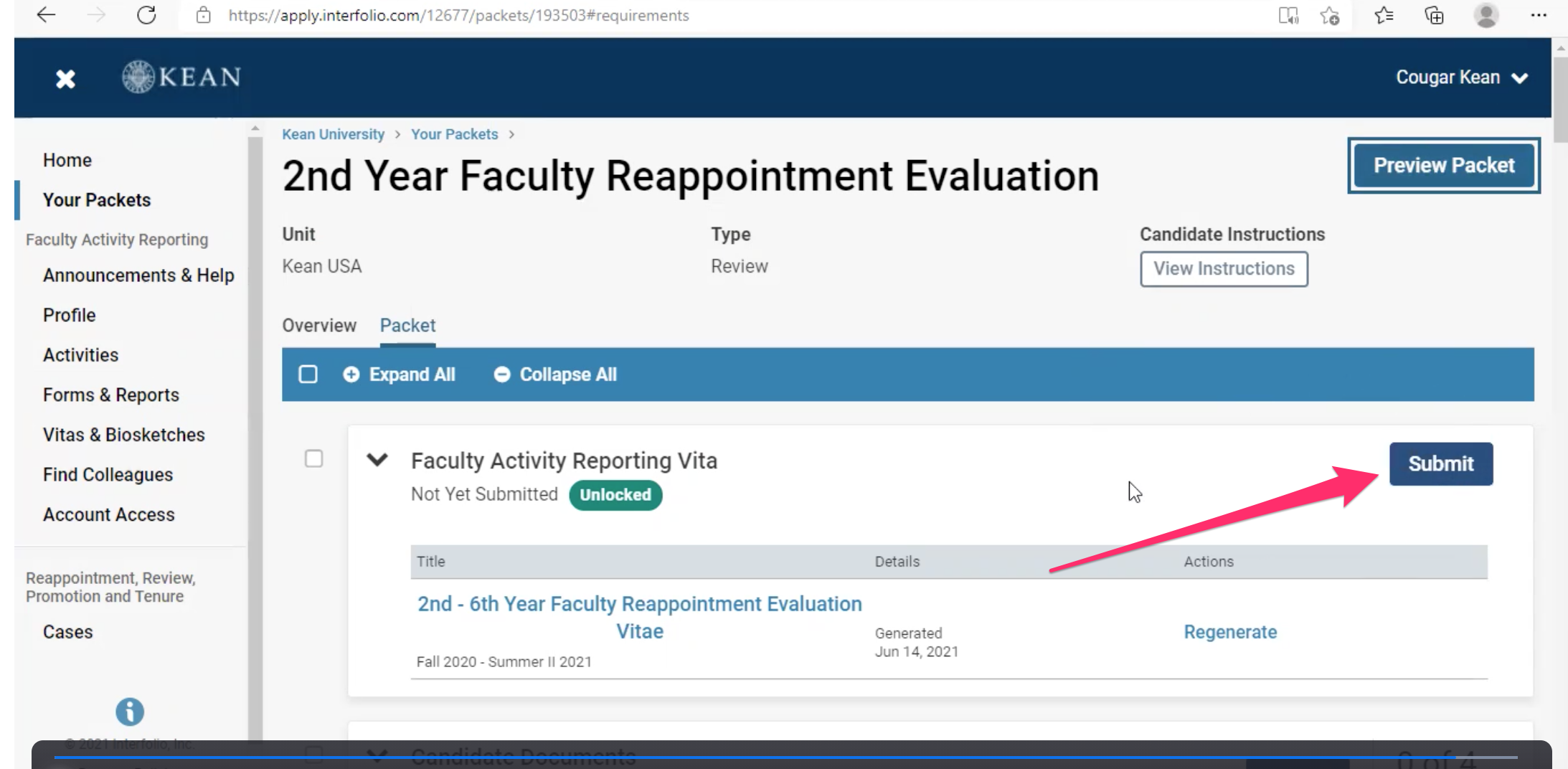 Warming: Once you submit, your status will be changed to "Locked" - no change can be made!
==================================
June 16, 2021: Kean 2-6 year reappointment case open: Guide updated
Jan. 15, 2021: FAR Extention by Feb. 02 for Lectuere.
Jan. 05, 2021: FAR Extention by Jan. 08 for Tenure-Track, Jan. 06 for Lecturer; Added "The purpose of FAR at Cloud".
Dec. 29, 2020: FAR extension (Jan. 06, 2021) requested.
Dec. 19, 2020: FAR INPUT Examples
Dec. 02, 2020: FAR Guide documentation started.