WHITE PAPER: How Did WKU CBPM React to COVID-19 (Coronavirus) Pandemic? (since Jan, 21, 2020 ~)
Jan. 21, 2020,
A business professor (Dr. Jeonghwan Jerry Choi) at WKU CBPM got a strange message from his friend at the University of Kansas (USA) via Facebook. The message told that a strange virus outbroke in Wuhan, China. And the situation was highly incremental. The professor prepared 100 medical masks to bring back when he returned to school in Feb. 07, 2020.
Jan. 27, 2020,
WKU HR announced that 2020 Spring Semester would be postponed until Feb. 22, 2020 because of 2019 Nobel Coronavirus epidemic in Wuhan, China.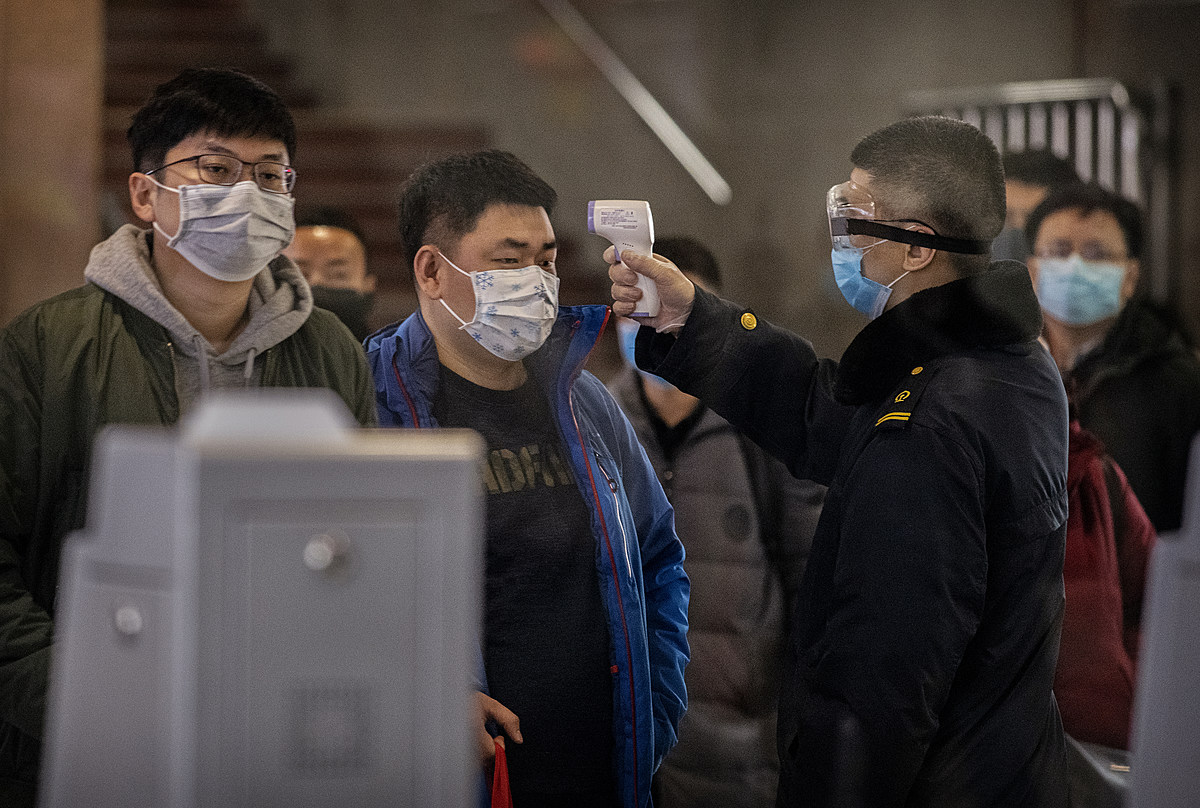 Jan. 31, 2020: Donation for Wenzhou, China from International Faculty Members
WKU CBPM's international faculty members donate Medical Masks, Protecting Cloths, Medical Gloves, and Medical Goggles to Wenzhou City and Wenzhou-Kean University from South Korea (Dr. Choi), Philippines (Dr. Candy Chiu), Thailand (Dr. Somkiat) to show the global solidarity. These global donation activities are coordinated by Wenzhou-Kean Foundation (Mr. Meng Jun and Ms. Jennifer Lu) and WKU CBPM Office (Ms. Wang Yang).
https://mp.weixin.qq.com/s/uMyRUSSWEMmCrn0LaPECHQ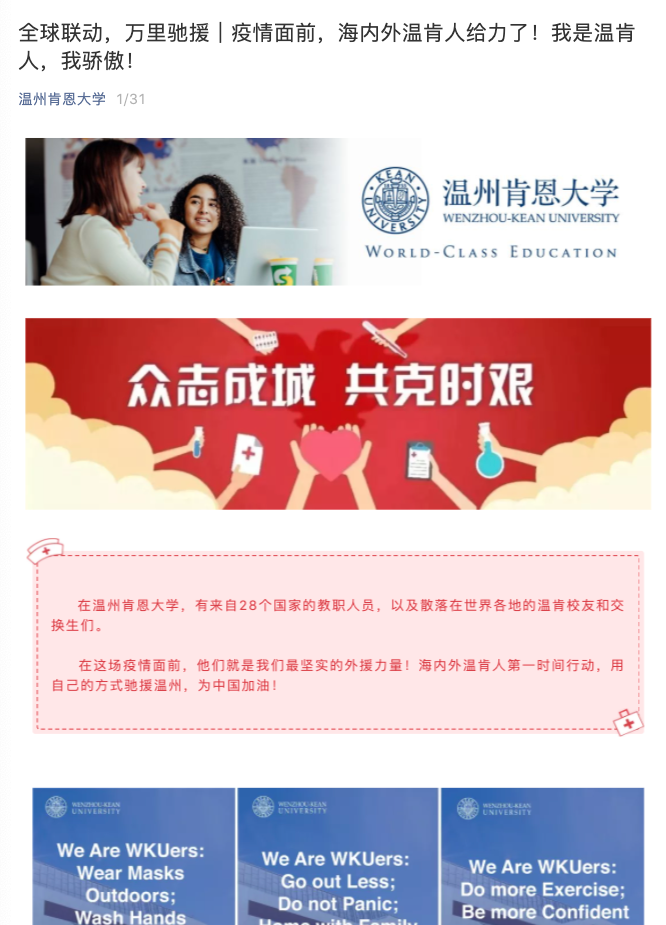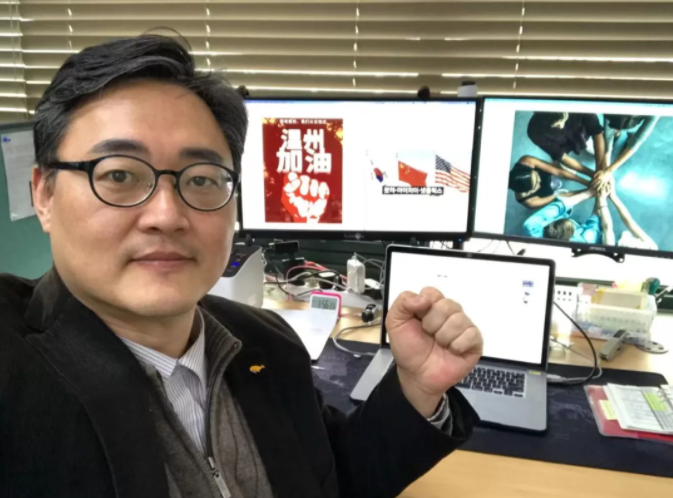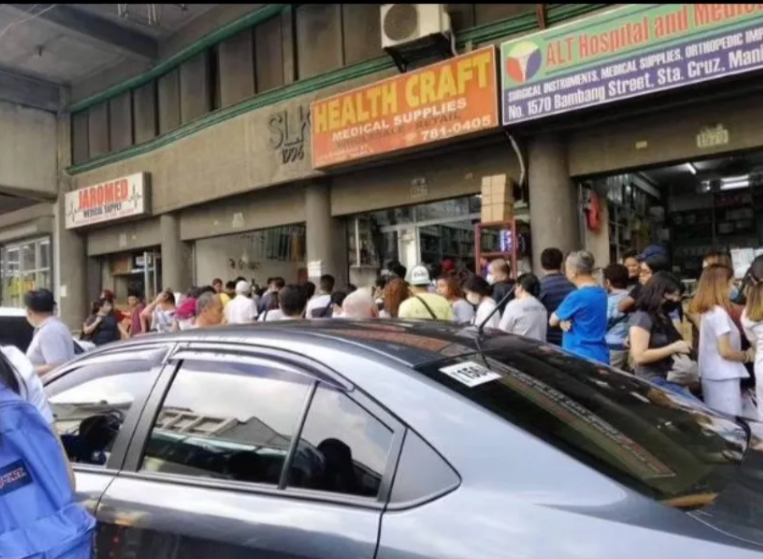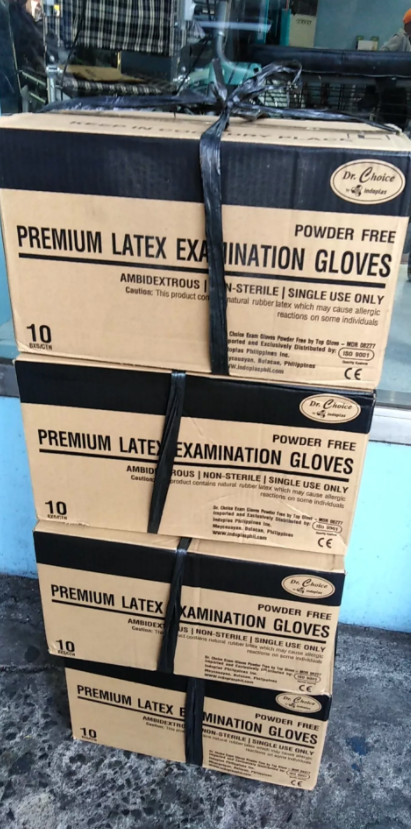 Jan. 31, 2020. Recognition of International Donations from the World (Korea, Phillpean).
Dr. Jeonghwan (Jerry) Choi and his Nephews (Yoon, Yejun and Yoon Seojun) from Korea
Dr. Candy Chiu from Philepean.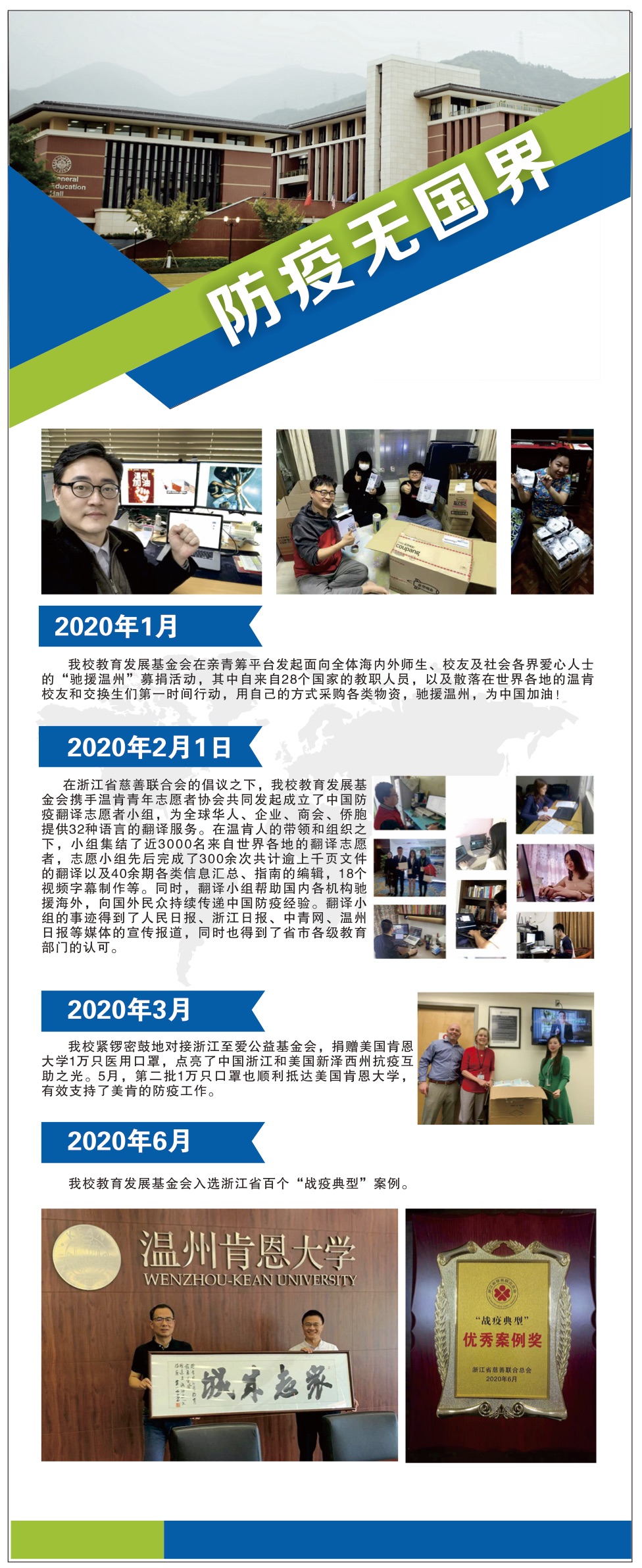 Feb, 02, 2020
WKU HR announced that "Please DO NOT return to Wenzhou before March 01, 2020" because of the incremental situation of the Coronavirus in Wenzhou, Zhejiang area.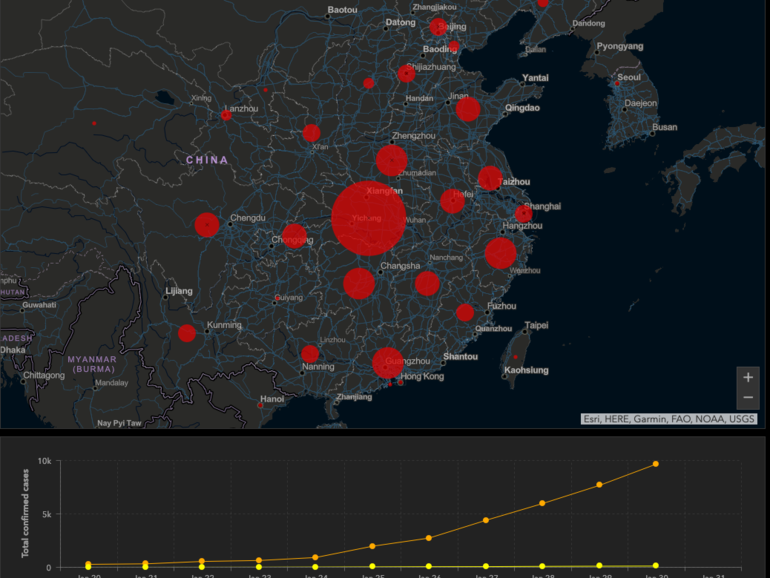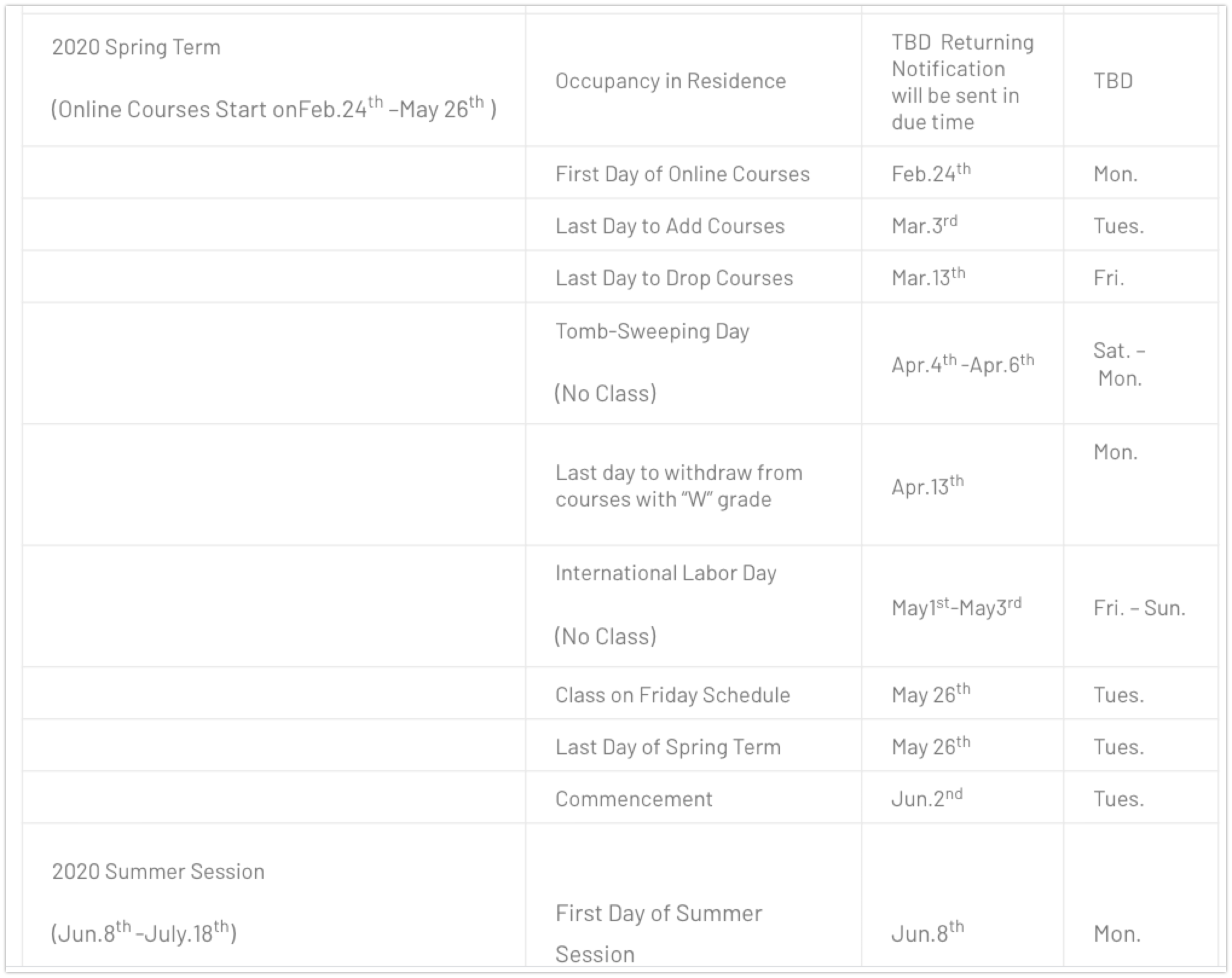 Feb. 04, 2020
In responding to the situation, Kean USA and WKU setup several principles. (Feb. 04, 2020: Brief from WKU CBPM Dean Dr. Cao Jiang)
1. Student and faculty health and security come first. Currently, we have a government mandate not to start the spring semester by 3/1. The actual start will be determined by Kean USA pending the virus situation.
2. At the meantime we must serve our students, particularly graduating seniors who need to start to work or attend graduate school in June.
3. As such we must prepare to start online delivery on Feb 24, and ready to deliver 5 weeks' worth of content (Mar. 27, 2020) in the next three weeks, and hope the epidemic is under control so we can resume in-classroom teaching at the earliest possible time. Otherwise, we have to be ready for full-semester online delivery.
4. Many business courses already have Blackboard (BB) online modules ready to go, while others need to be developed as we go. All faculty will receive extensive BB training.
5. At the meantime, please do NOT send students traditional syllabi until future communications from Eric, because of their difference with online version syllabi.
Feb. 10, 2020
Kean Online Team organized the "Kick-off meeting" Monday, Feb. 10th @ 8AM (EST) to help Online course developers to initiate online course development to ensure world-class education in the epidemic situation in WKU.
Online Course Developer's Guide Orientation (course)
https://blackboard.kean.edu/courses/1/2020SU_ODC_WKU16/content/_1227133_1/index_lms_html5.html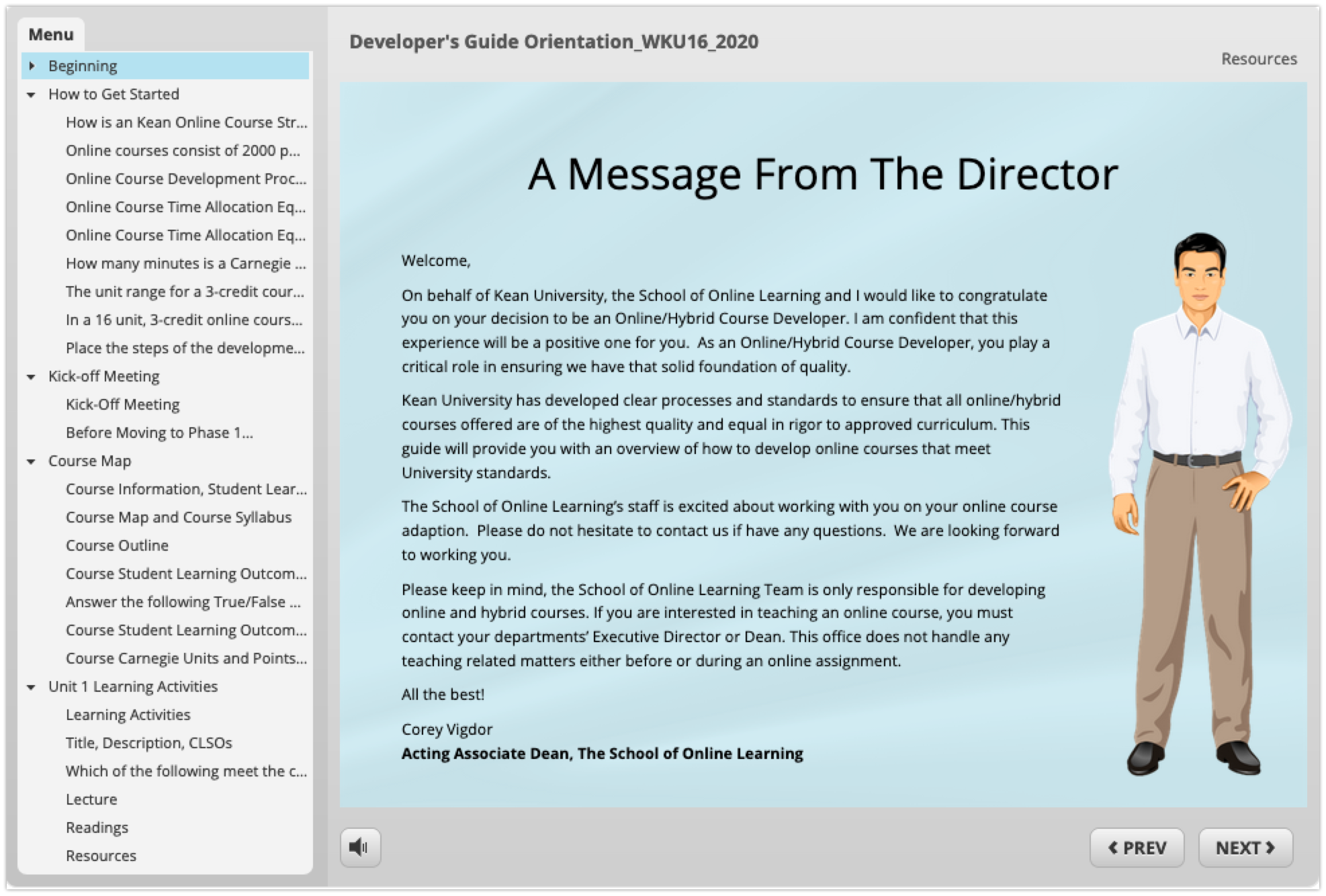 Course Structure of Kean Online Course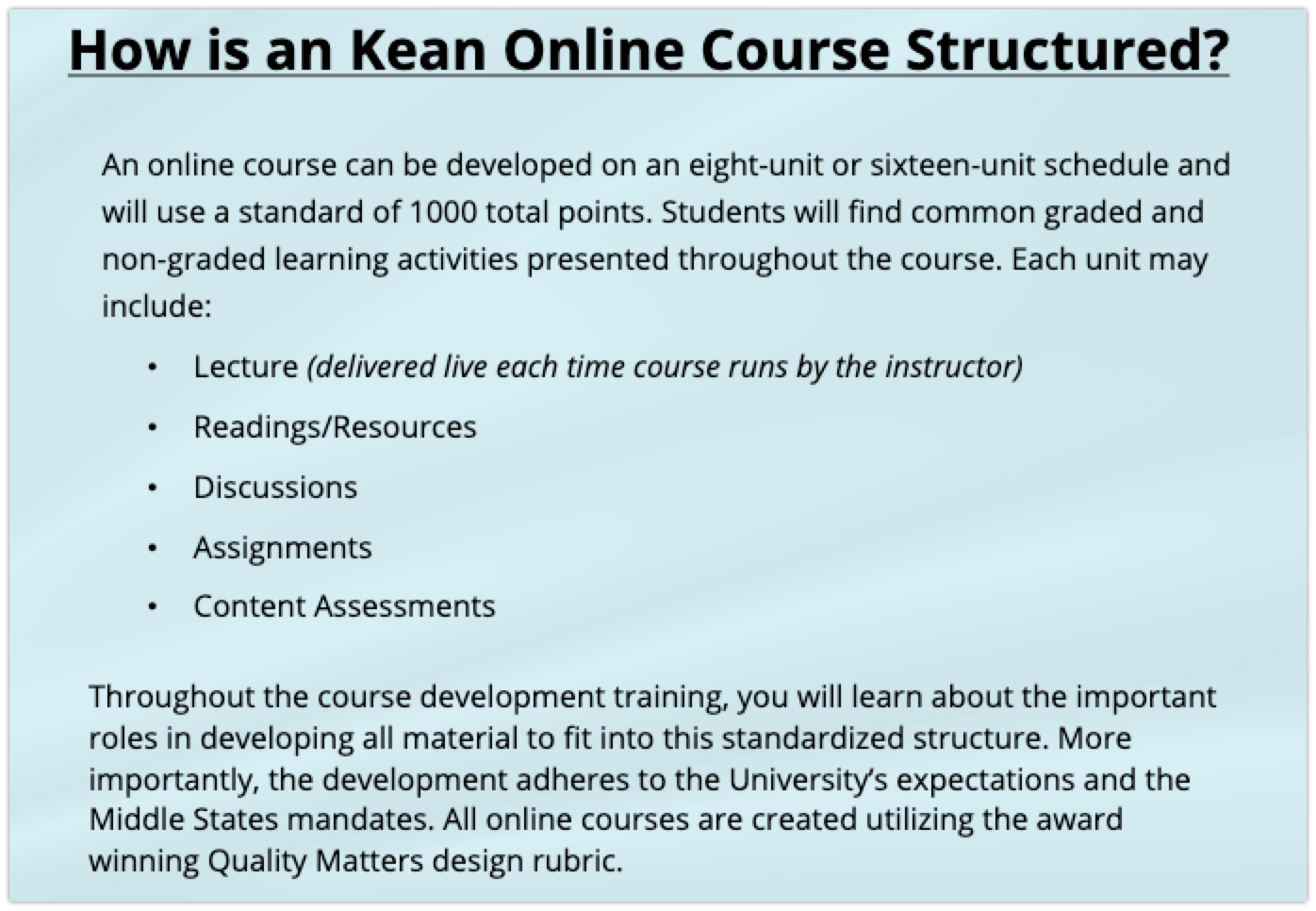 Unit 1: Design (Sample of Learning Activities)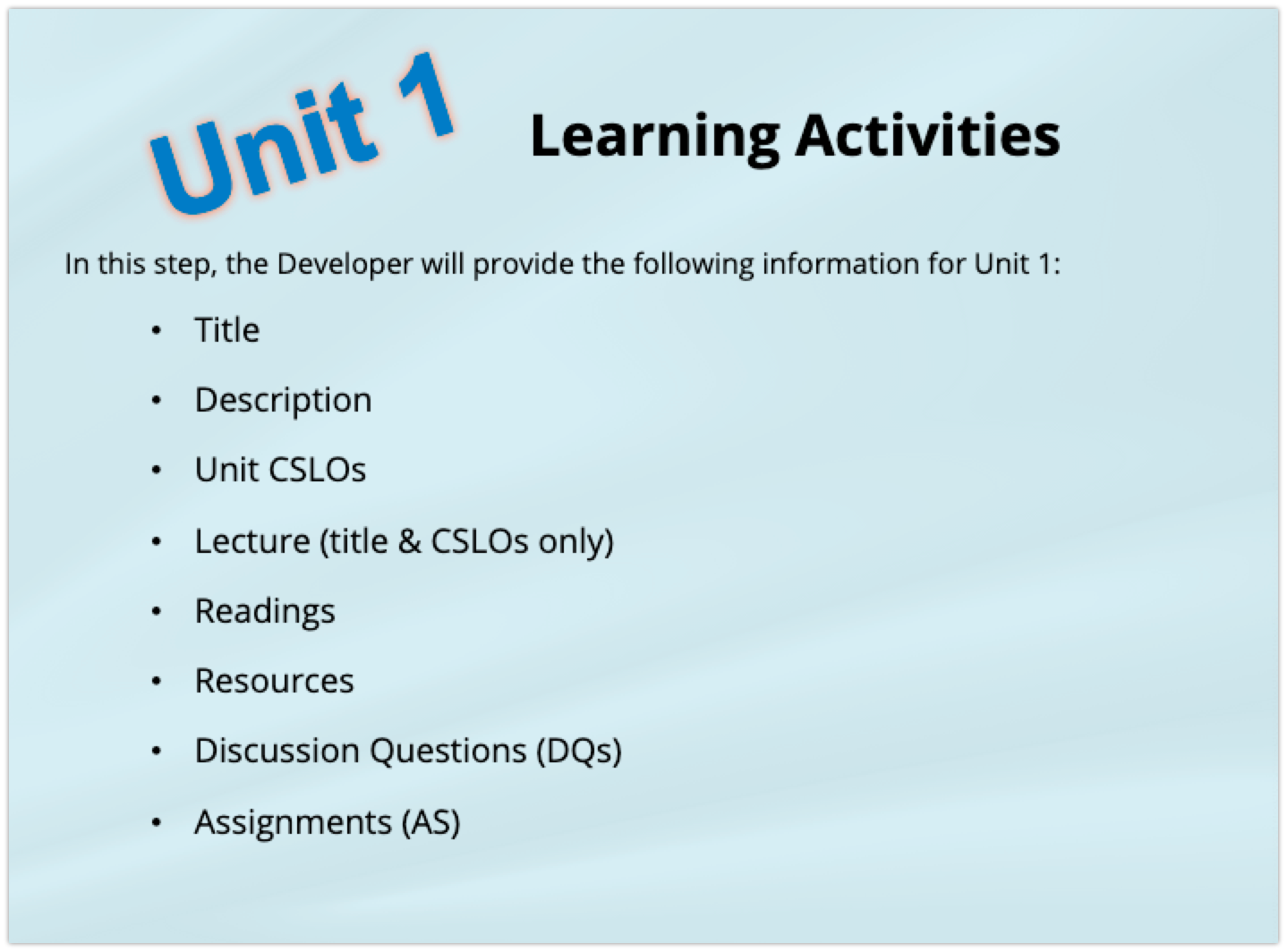 Please complete the "Online Course Developer" Guide Orientation Online course!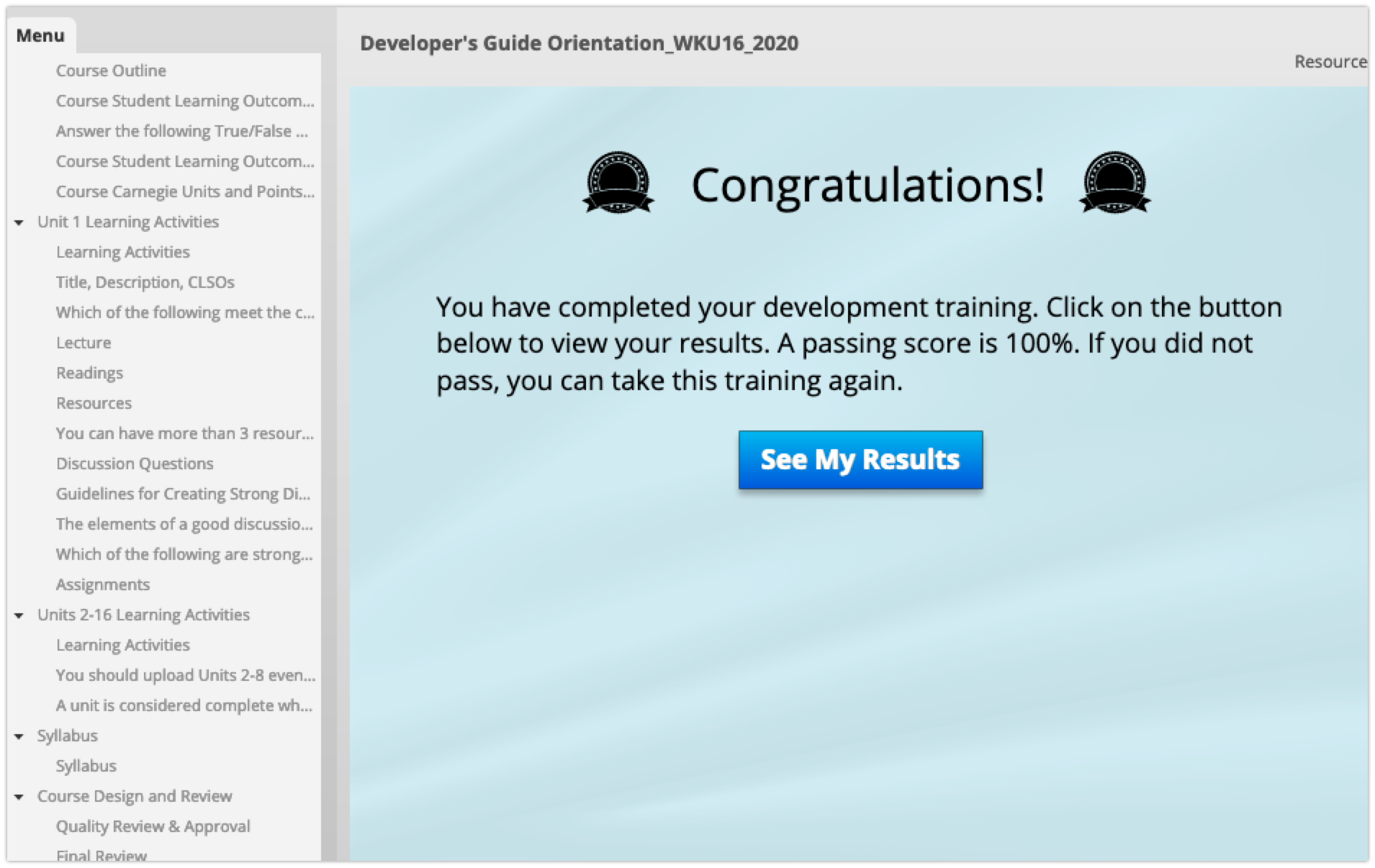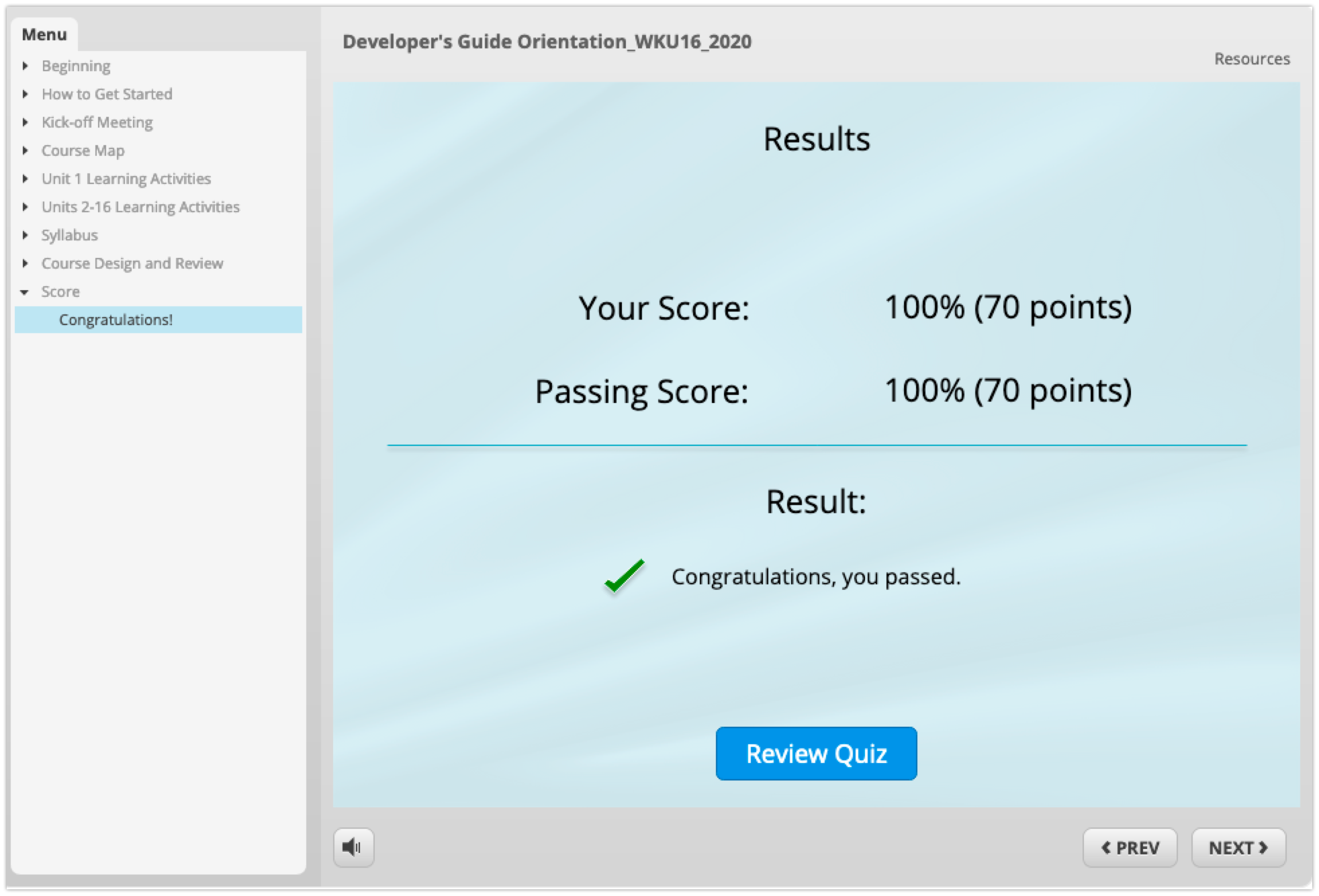 Go to Developer Resources: You can get almost all necessary templates and resources to develop an online course.
You may complete five documents and Upload them to the relevant Blackboard folders:
1. Course Map (Feb. 10)
2. Unit 1 Map (Feb. 12)
3. Unit 2-8 Map (Feb. 14)
4. Unit 9-16 Map (Feb. 16)
3. Syllabus (Feb. 16)
---
Templates are here: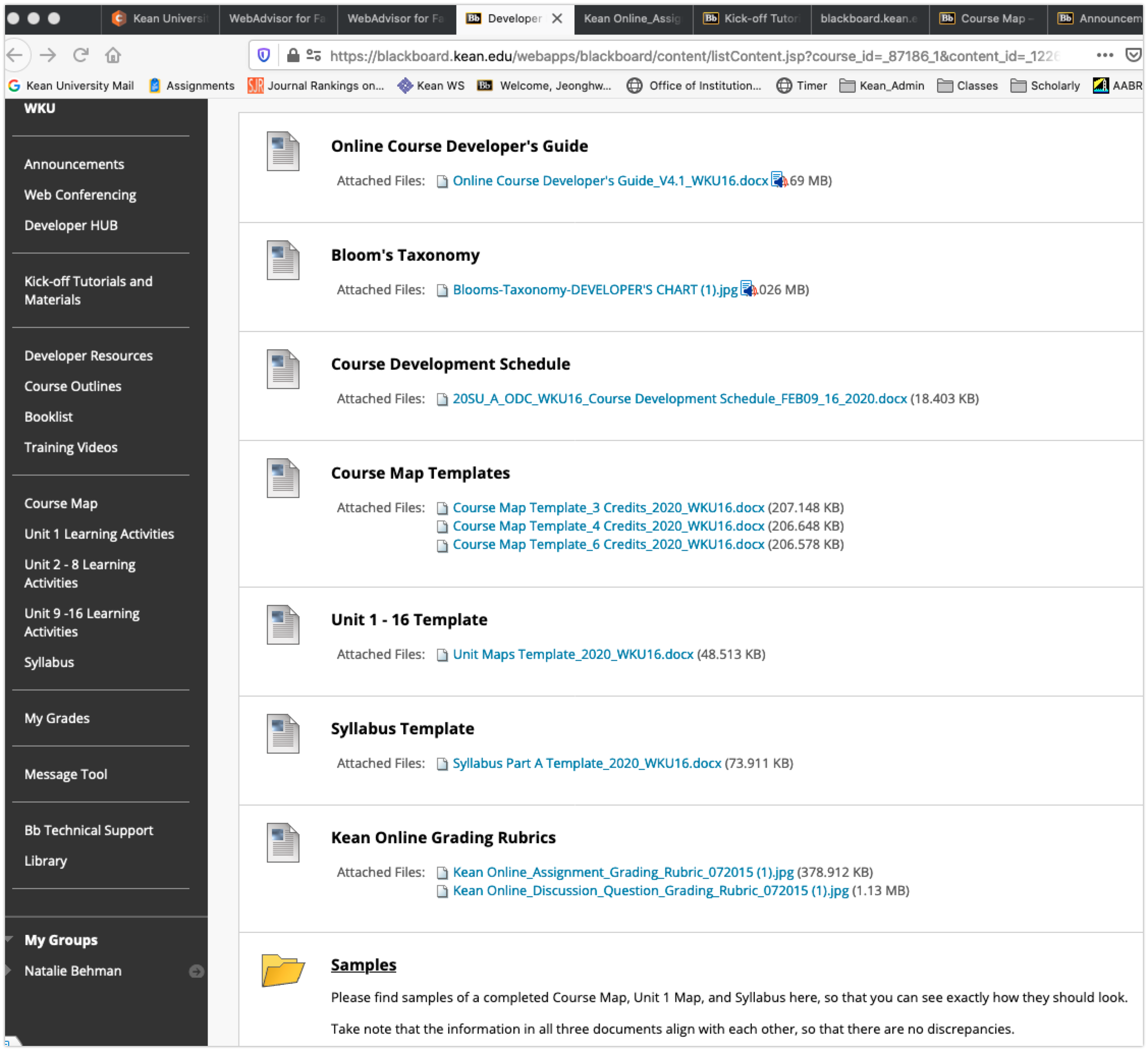 Feb. 11, 2020 (Business Courses to be Developed)
MGM/MKT/GBUS Courses to be developed for Online courses.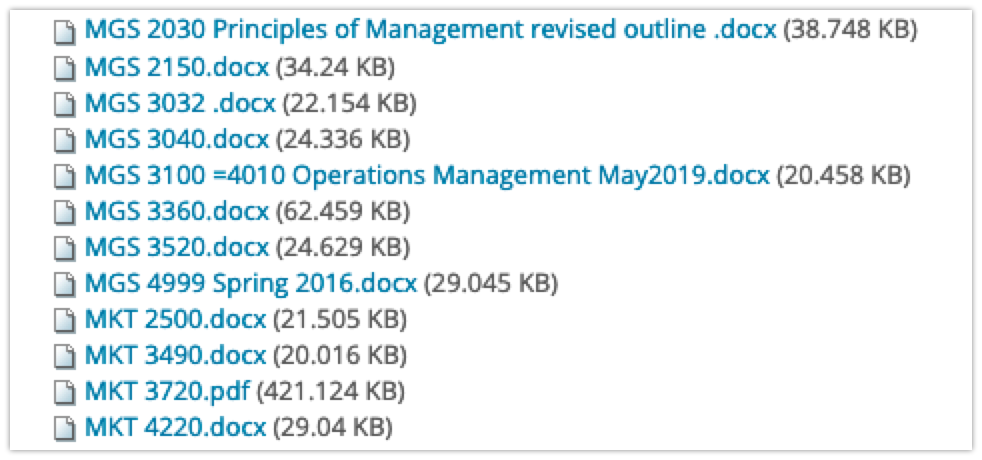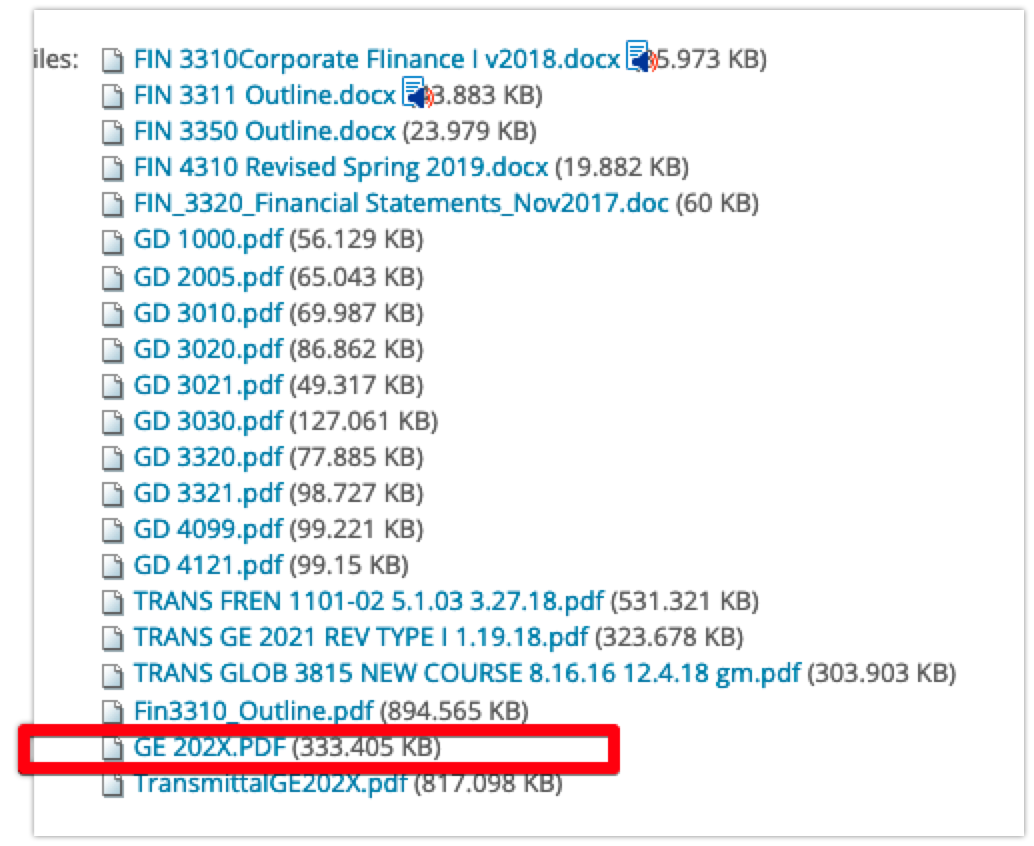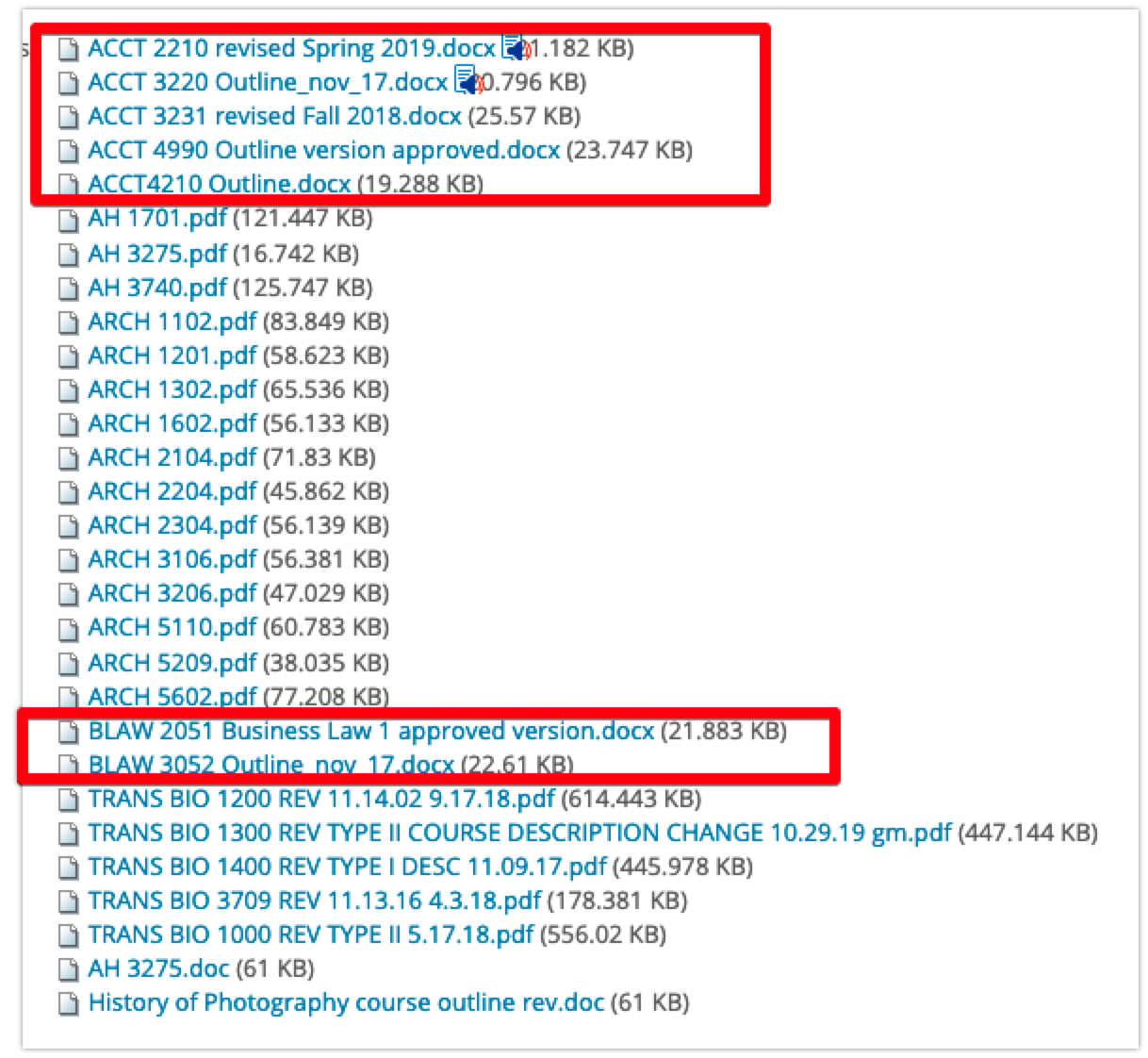 Feb. 11, 2020 (Course Map Development)
Course Map Completion: All course developers of WKU CBPM worked on providing the course map of each course by Feb. 10, 2020 (EST)
Sample: MGS3032: Organizational Behavior Course Map.
At WeChat (Chinese Social Media) Group, all WKU CBPM faculty members (except Dr. Sven Dahms for the technical problem) were working together to build online courses.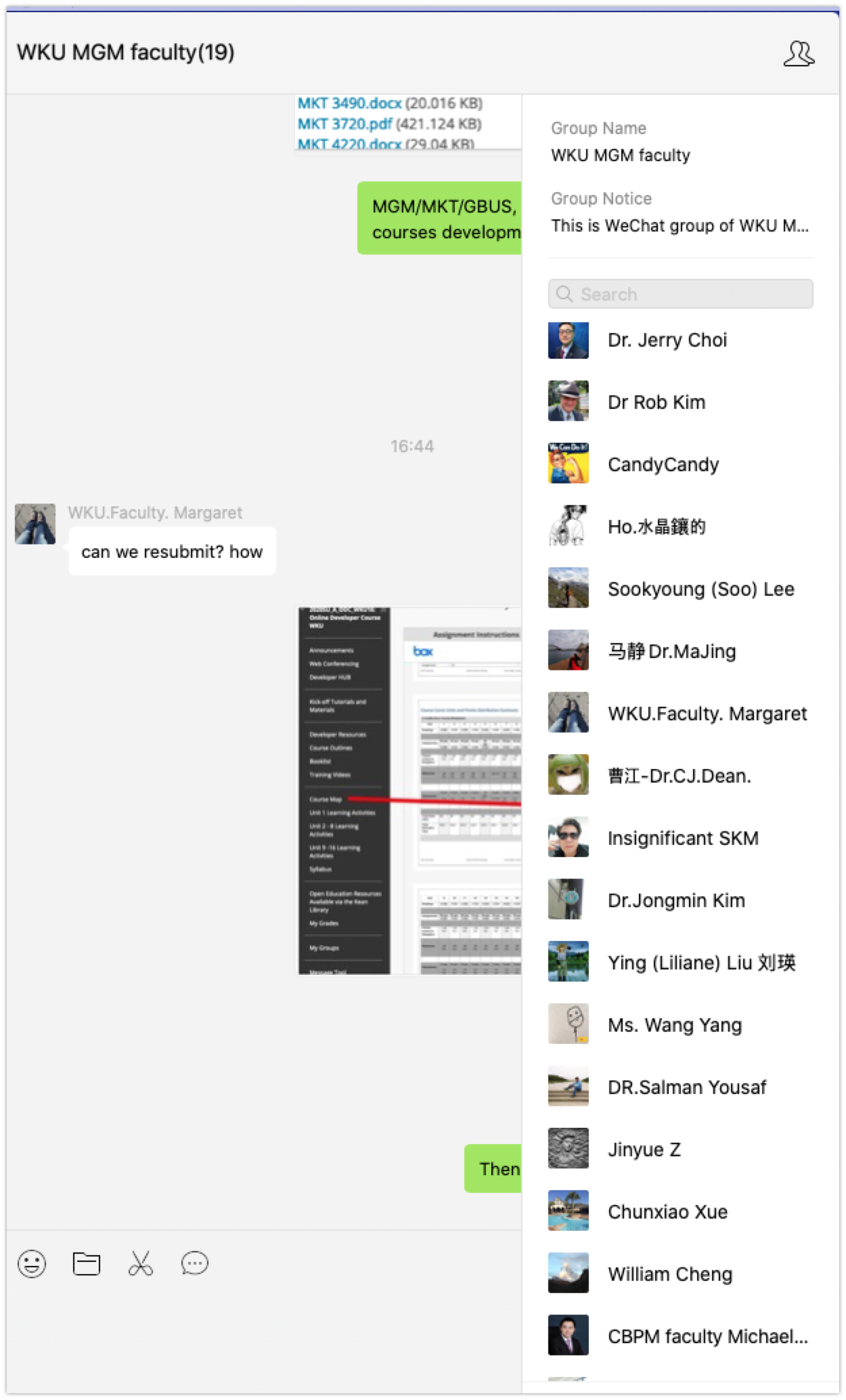 Feb. 12, 2020 (Unit 1 Development)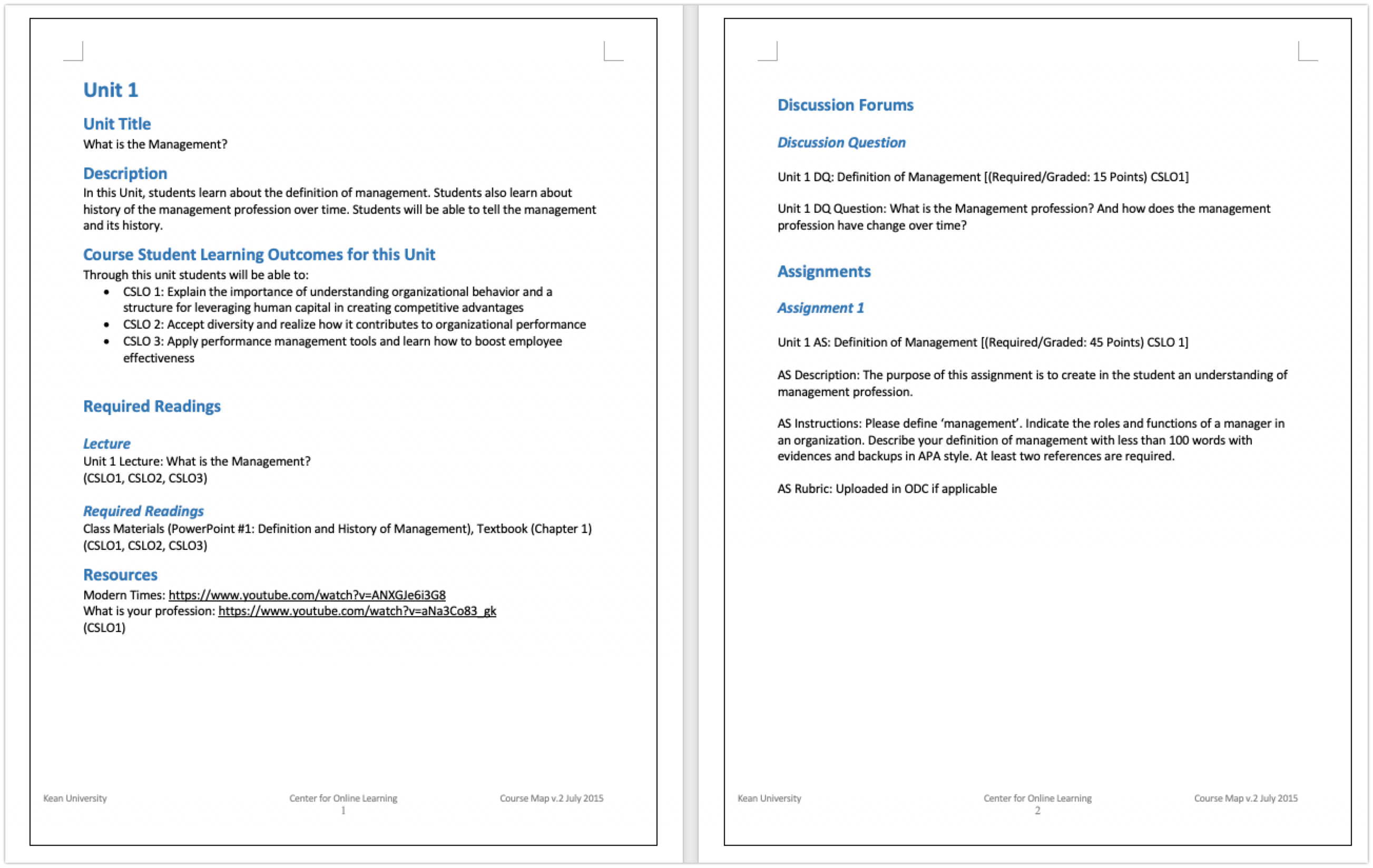 Unit 1 sample.
Feb. 14, 2020 (Unit 2-8 Development)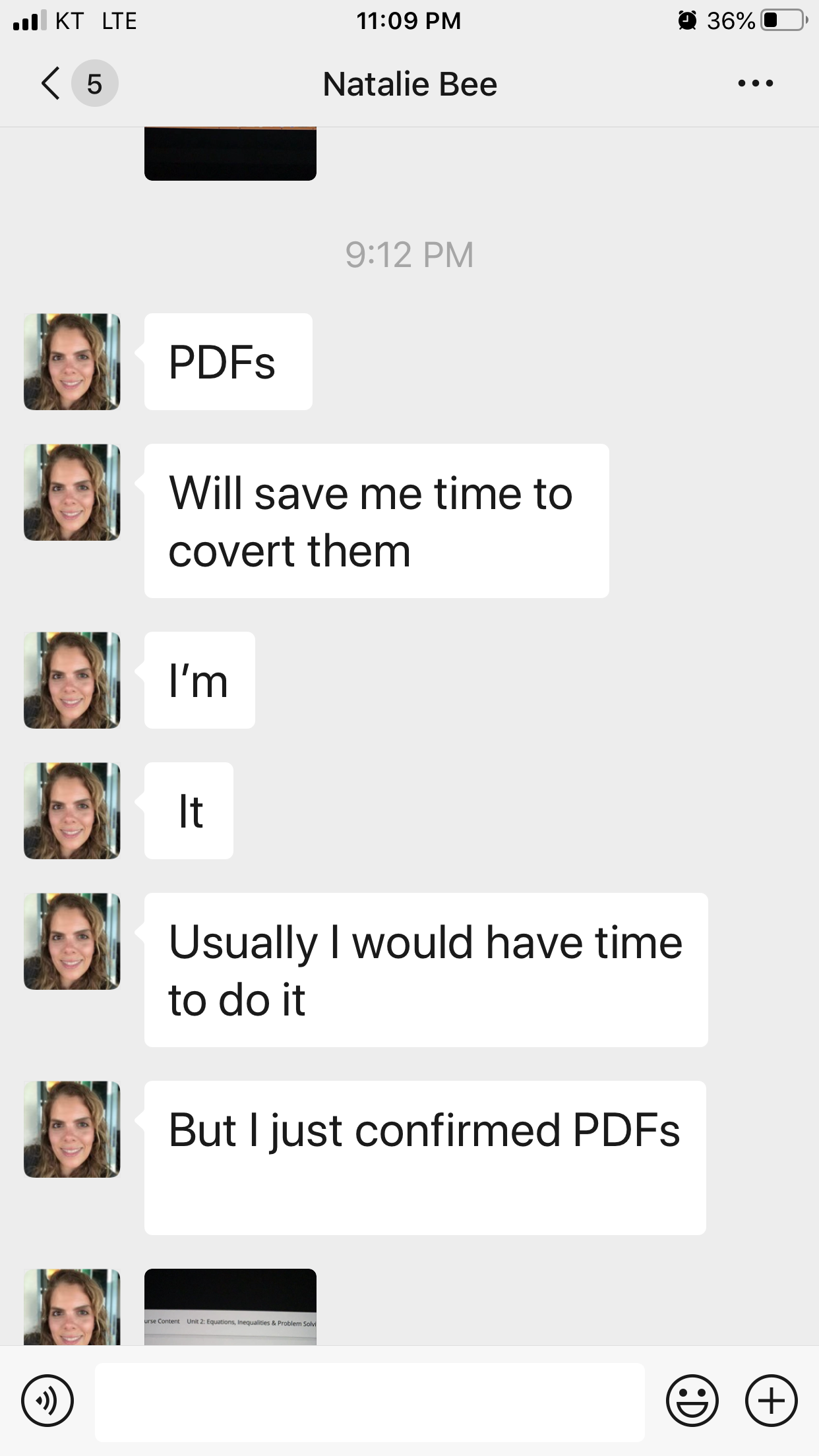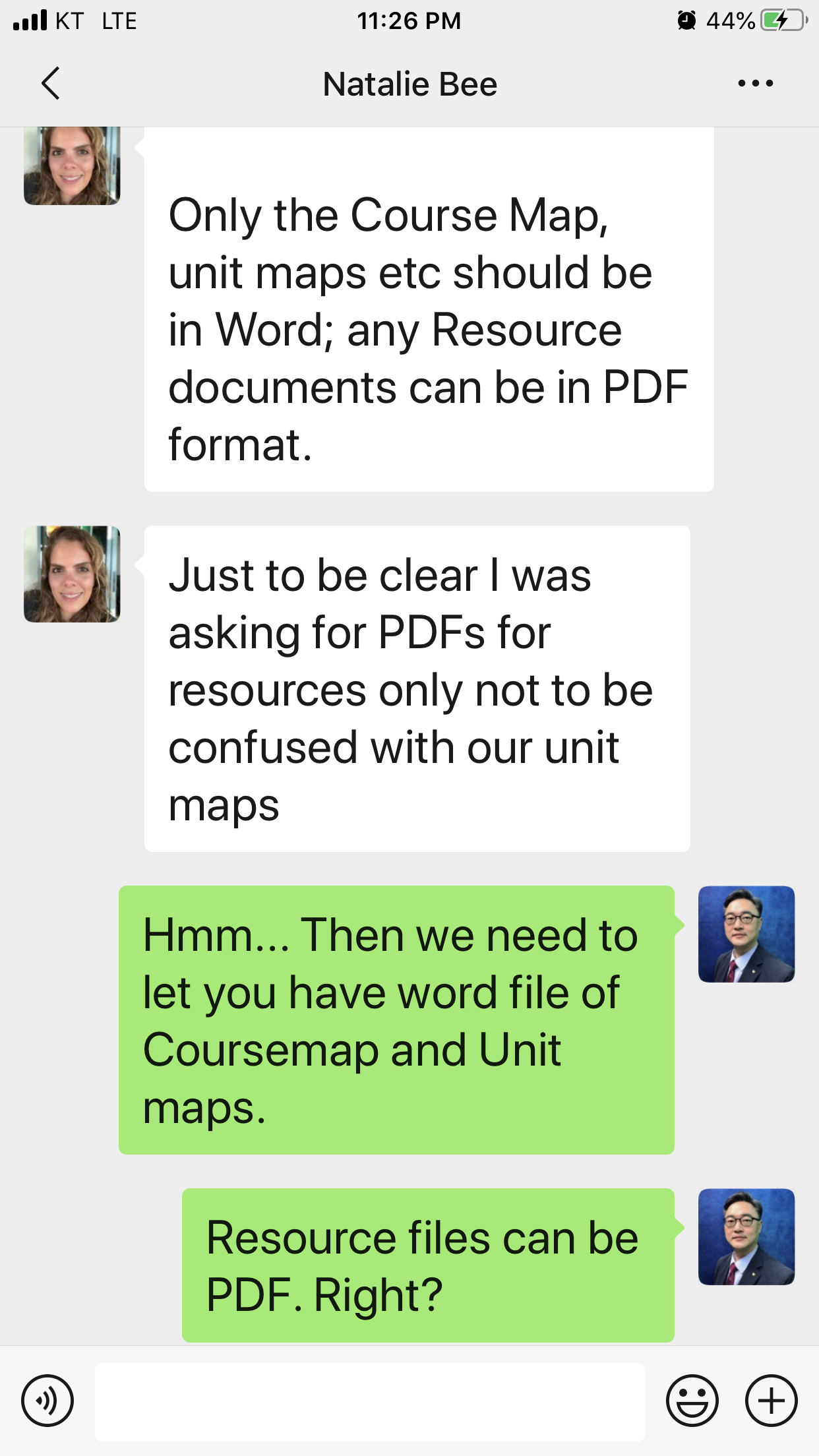 21 WKU CBPM Faculty Members, Dean of WKU CBPM, and a Staff (Ms. Wang Yang) are organized as a Group at WeChat (Chinese Social Network Service) for collaboration of Online course development.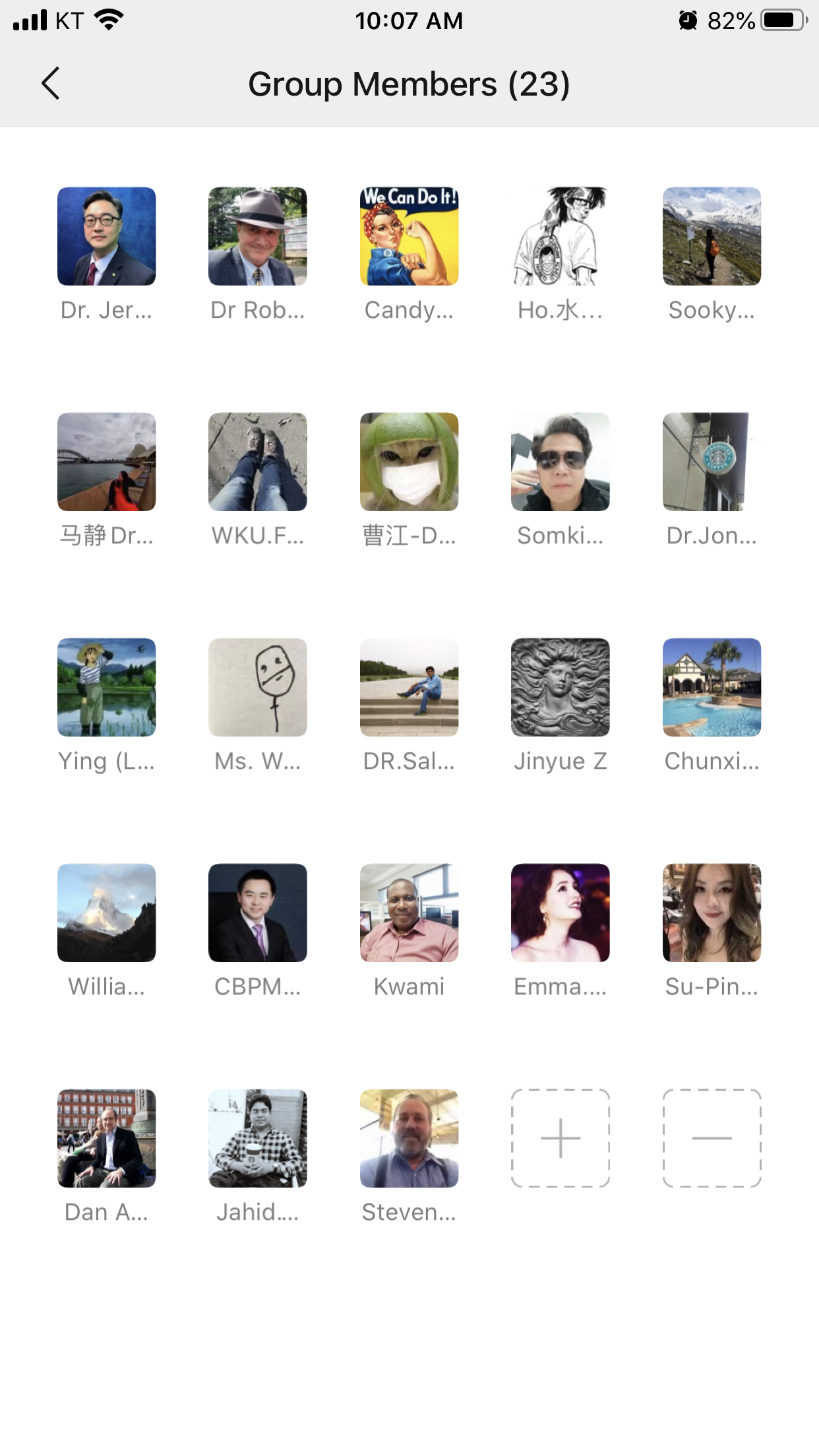 Feb. 16, 2020 (Unit 2-8 Development)
Uni 9-16
Sample of Dr. Rob Majerison (MGS4010, Operations Management)
Feb. 16, 2020 (Online Course Syllabus Development)
Online Course Syllabus Development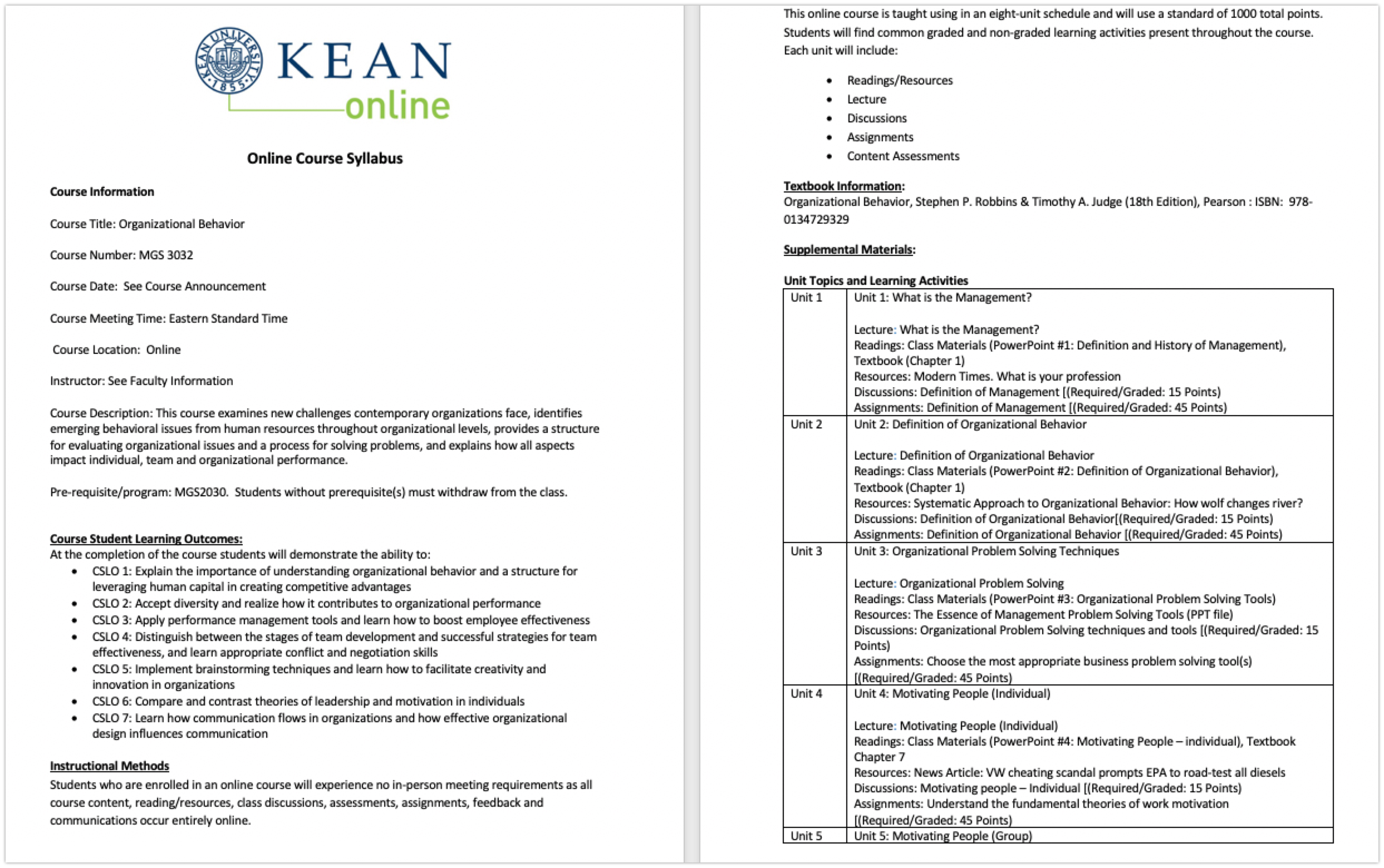 Please be sure that all grades are marked in a proper way.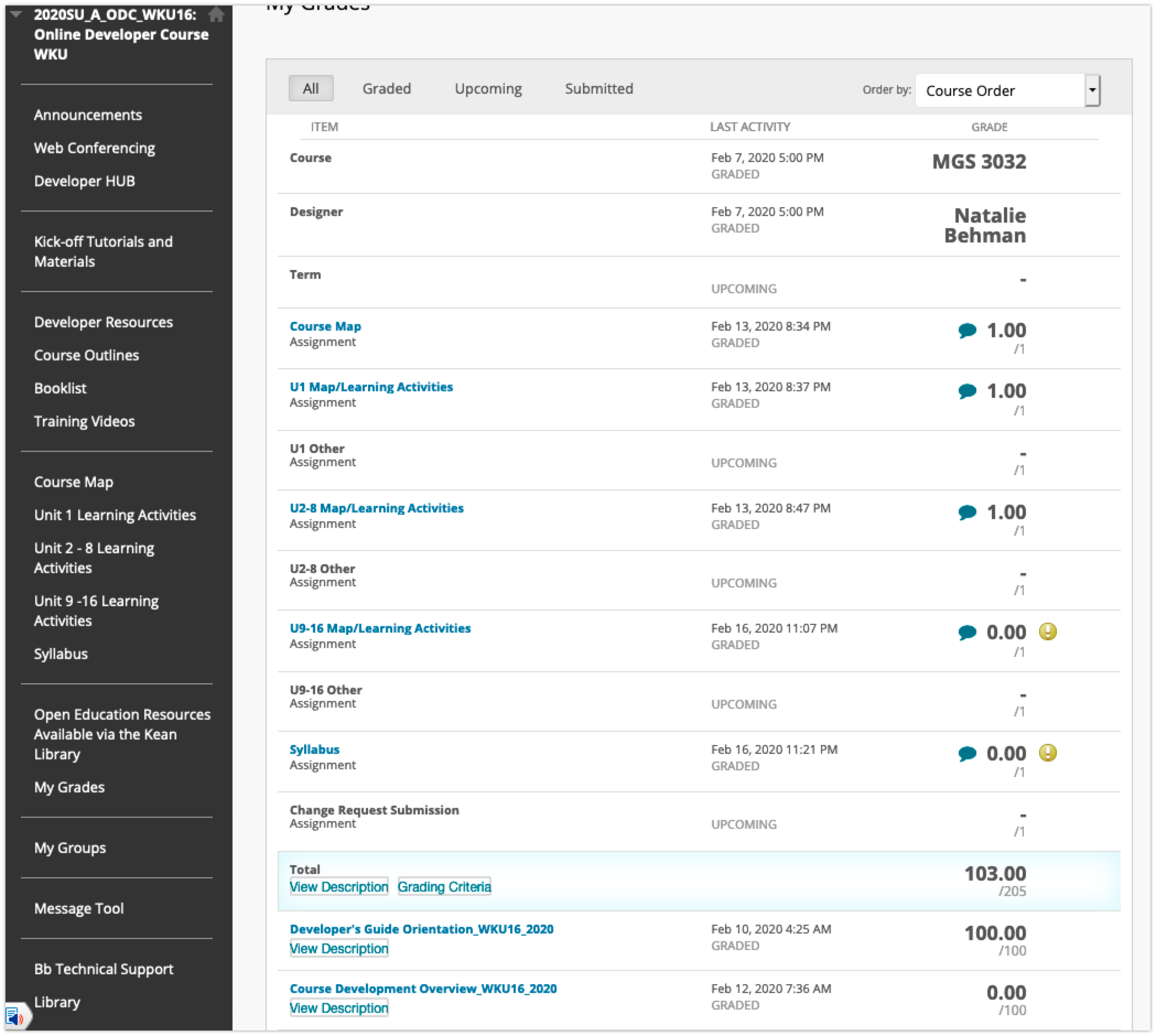 Feb. 17, 2020: Online Training Starts (for Instructors)
In Feb. 17 (Monday, 12:01AM, Eastern Time), All faculty members who are engaging in Online course teaching start the Three Online Courses.
1. WKU Online Faculty Training (Spring 2020)
2. WKU Online Student Orientation
3. KOFT_WKU_ITS
To complete these three online courses,
First, Go to www.kean.edu
Second, Scroll over QUICKLINKS
Third, Click Blackboard
Fourth, Login with your kean.edu ID/Password (not wku ID/pwd)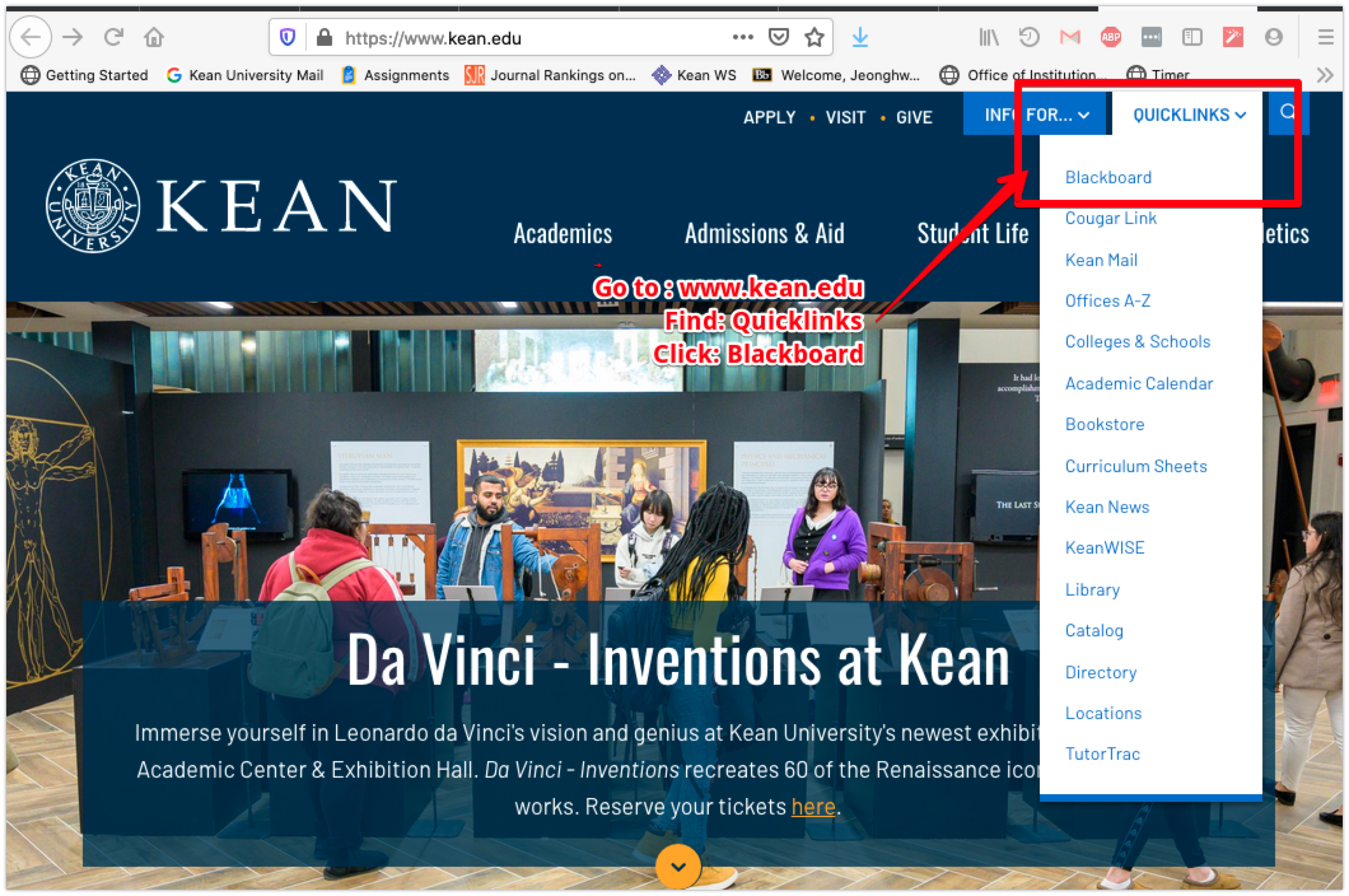 Once online course instructors login to the Kean Blackboard, You can see Blackboard dashboard.
Click course, and they can find out three assigned Online Training course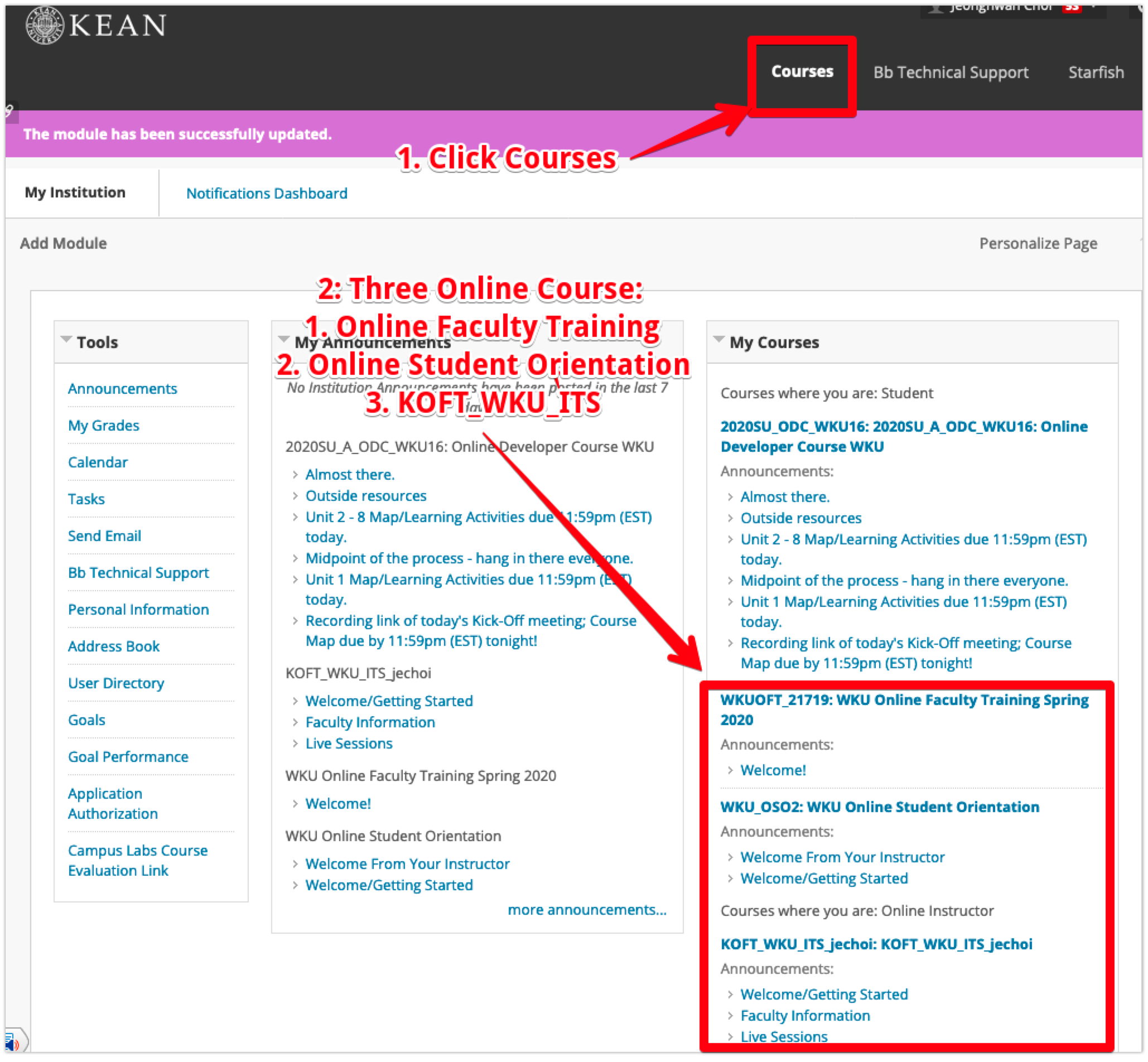 Completion of three online courses are necessary for all WKU Online course instructors and teachers between Feb. 17 ~ 19, 2020. (by Wednesday, Feb. 19th, 11:59PM US EST).
Feb. 19-20, 2020: Online Training (for Instructors)
1. Online Developer Course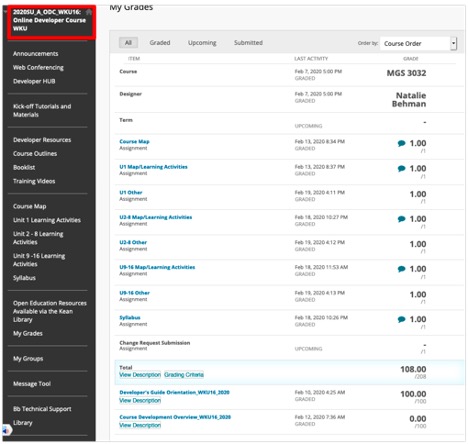 2. Online Faculty Training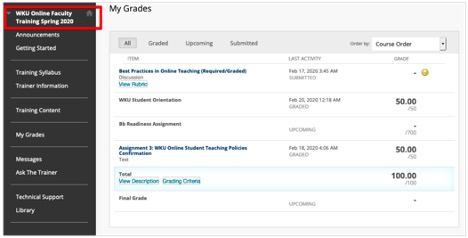 3. Online Student Training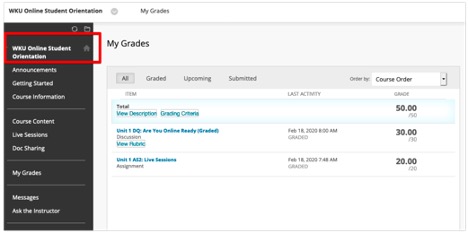 4. KOFT Online Faculty Training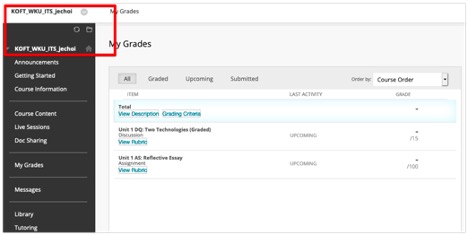 Mutual Understanding of "Two Certificates of Kean Online Course Development & Training" between WKU CBPM and Kean Online Team.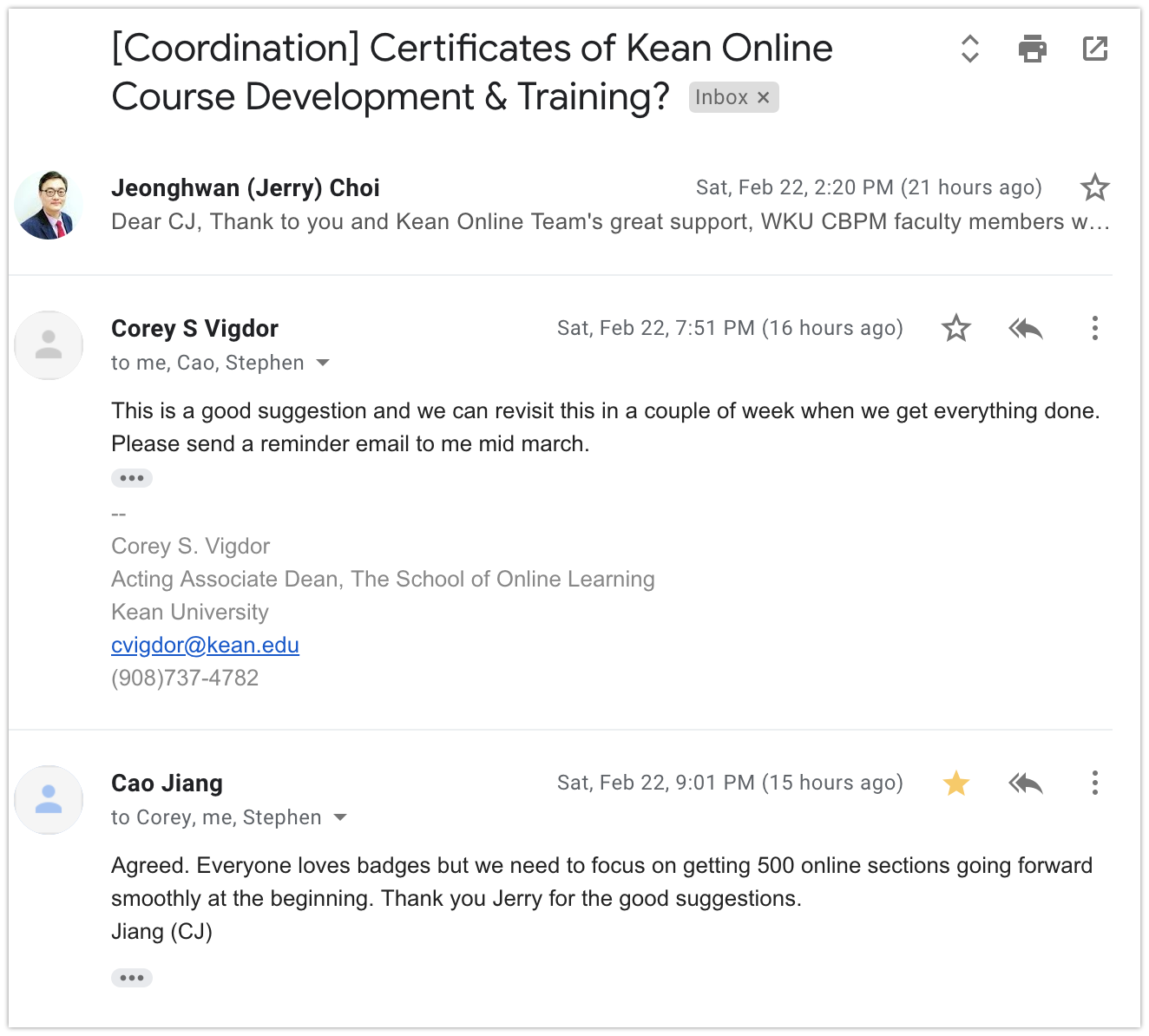 Example of Kean Online Faculty Training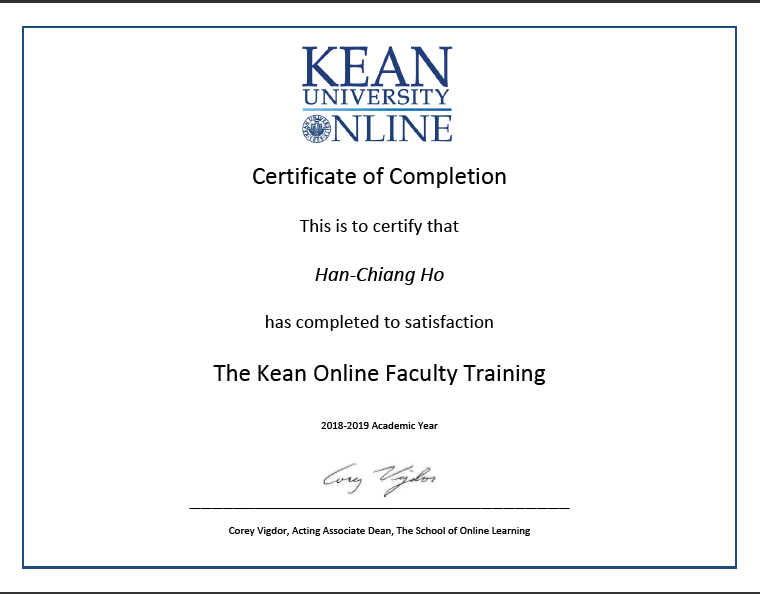 Feb. 23, 2020: All online courses were reconstructed for a technical reason.
Technical Format!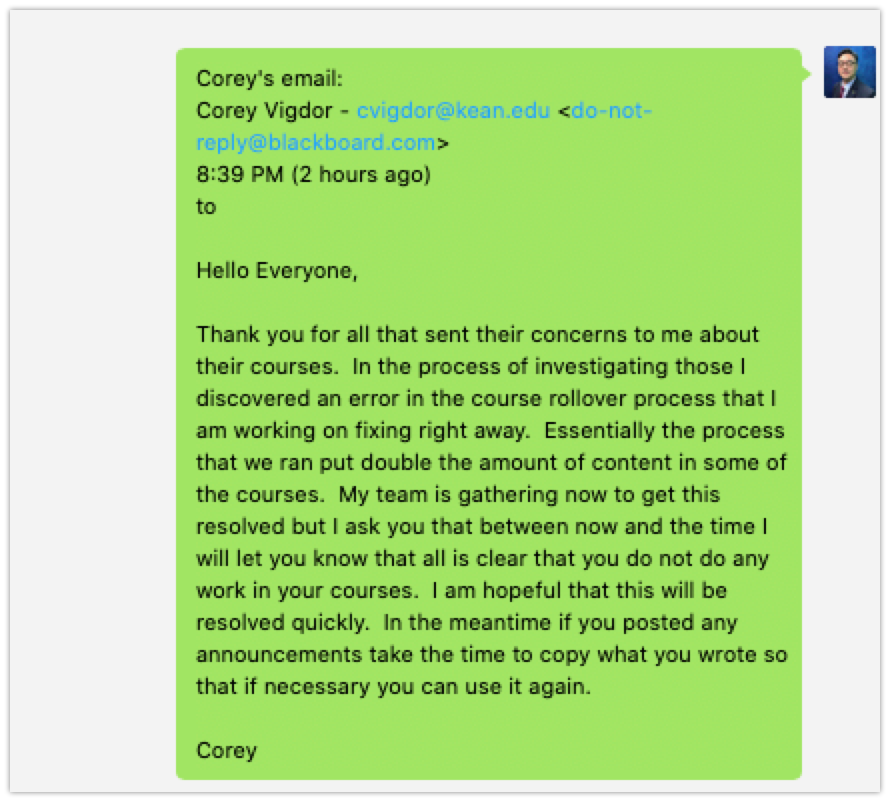 Feb. 24, 2020: A compromise of course teaching at Online ( CJ and Jerry).
Agreement of Understanding (No structural change).
But, individual instructors have contents change and grading authority with appropriate evidences (inside / outside of Blackboard).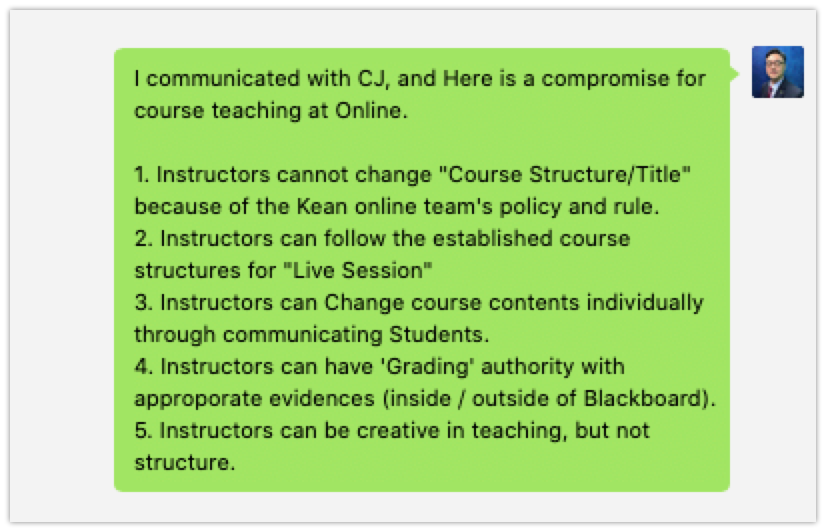 Feb. 24, 2020: The First Online Teaching day (WKU)
Blackboard Live Session Works fine.
Once recorded, instructors can share the recorded video like this.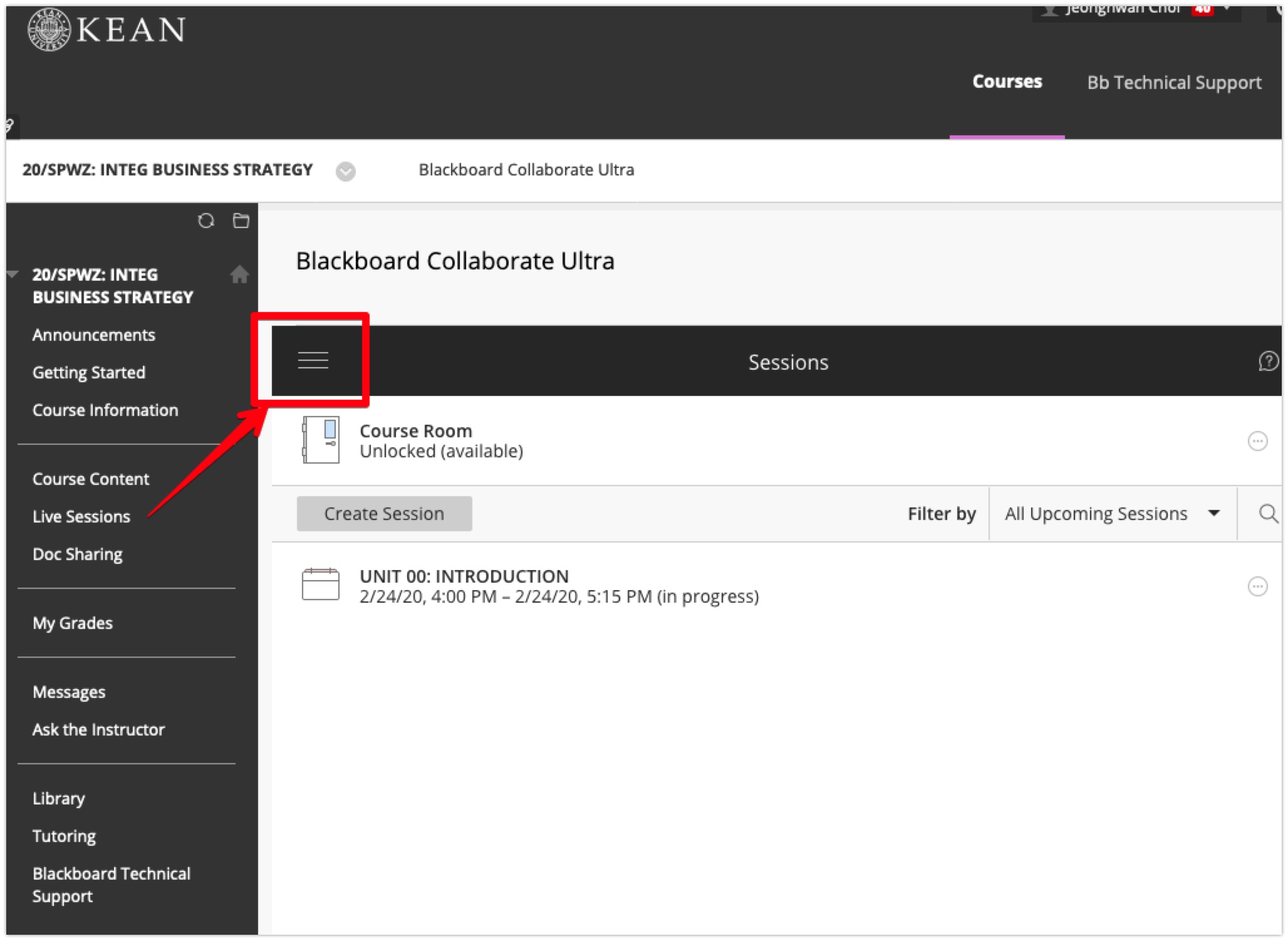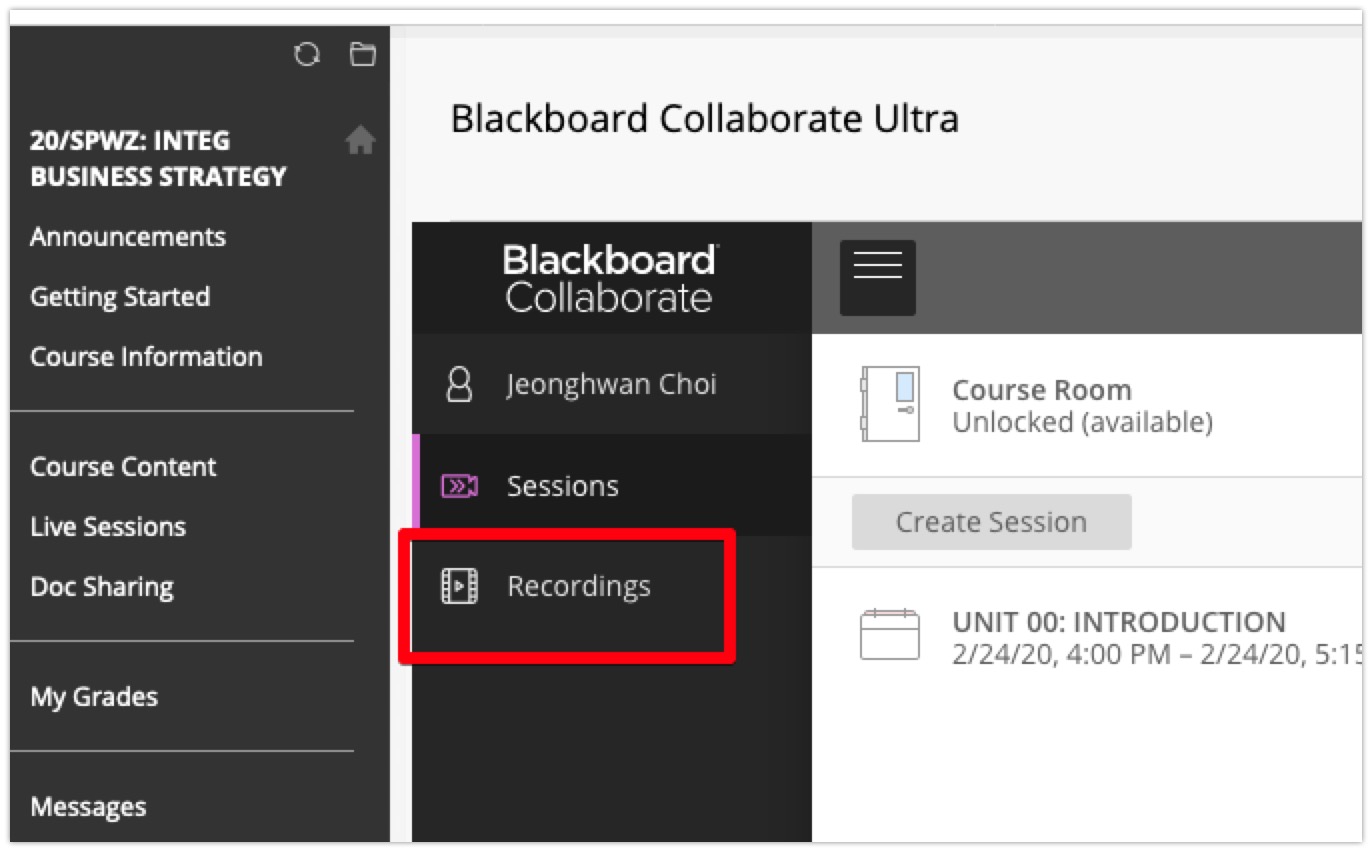 Feb. 24, 2020: Live Session Scheduling by Repeat Function
Blackboard Live Session Scheduling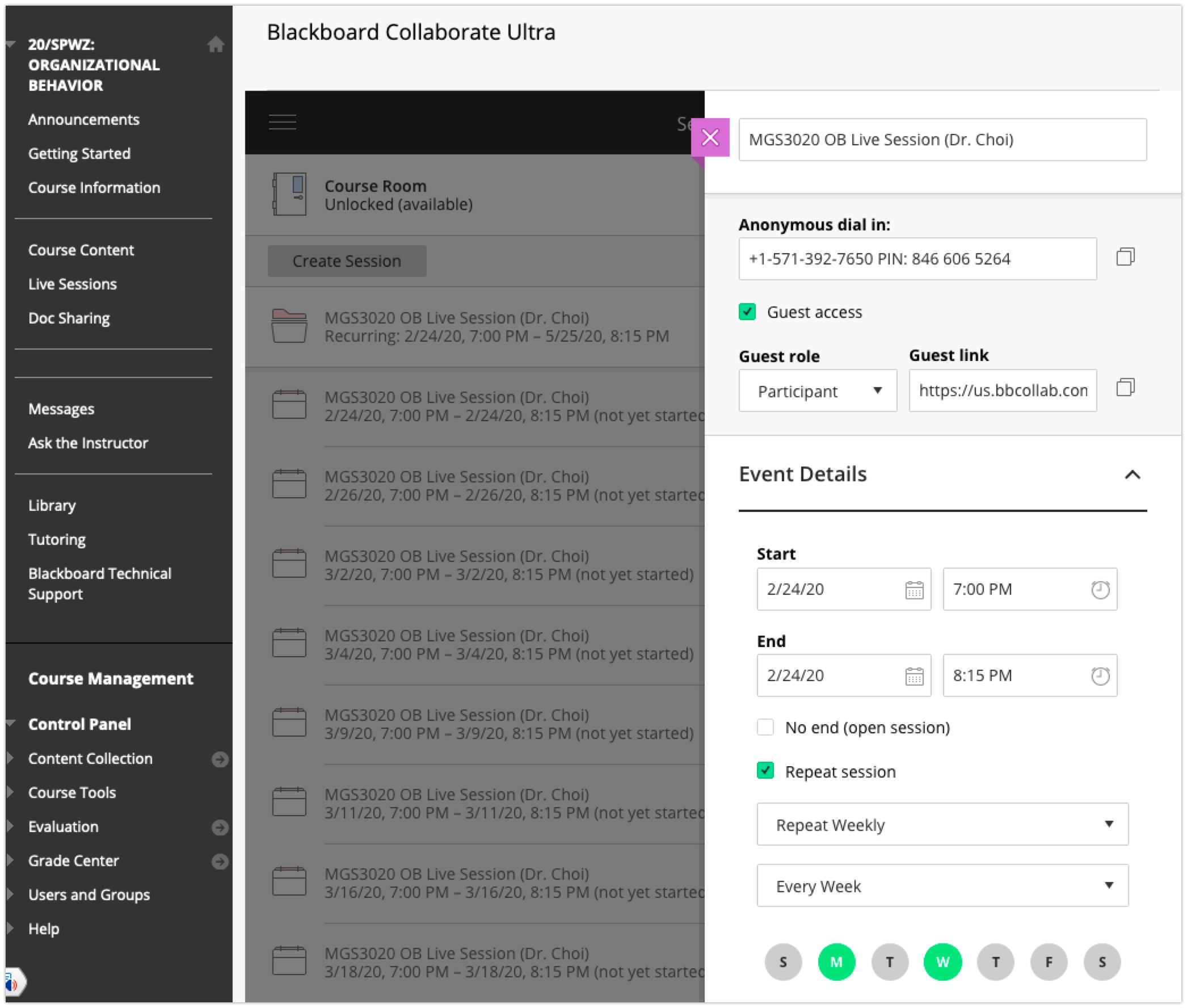 Feb. 25, 2020: Grading Policy Chaos
Blackboard Live Session Scheduling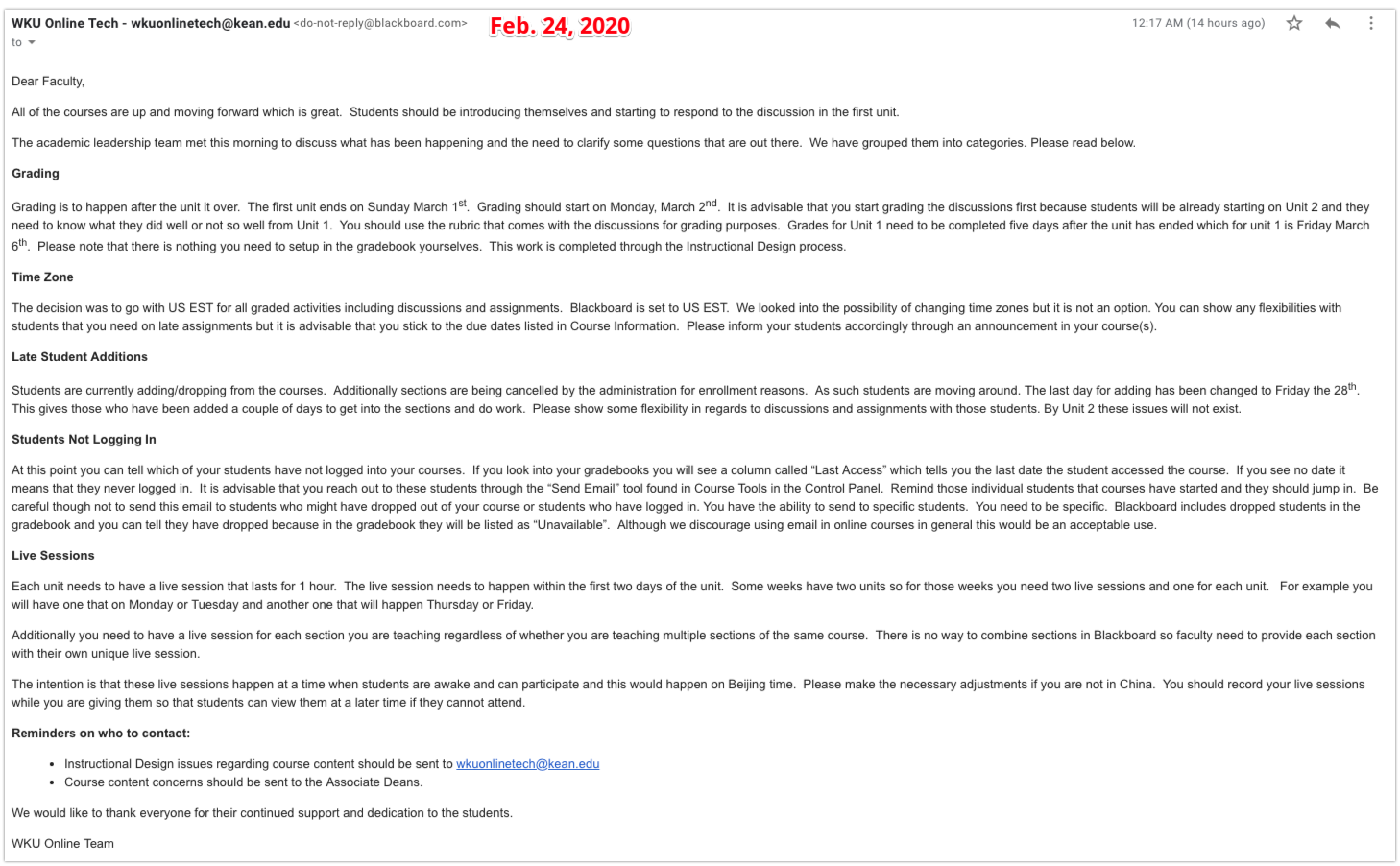 Responding to the Email from WKU Online Tech (WKU Online Faculty Training Spring 2020: Updates from the Leadership Team; WKU Online Tech - wkuonlinetech@kean.edu <do-not-reply@blackboard.com>; 12:17 AM),
These questions were raised (by Dr. Jerry Choi)
1. Instructors do not have any Grading authority at all? Why not?
2. I still do not understand why students and instructors must suffer from totally complicated DQ writing and grading. Can instructors have the full authority of grading?
3. Unavailable students must be contacted by instructor, Not administrators? Why?
4. Should we make two (2 hours) Live session per Unit? What is that mean?
5. Instructors have or do not have the Class pace (speed) management or not?
Should we complete each Units according to Kean Online Team?
Then, what is the schedule of Unit completion?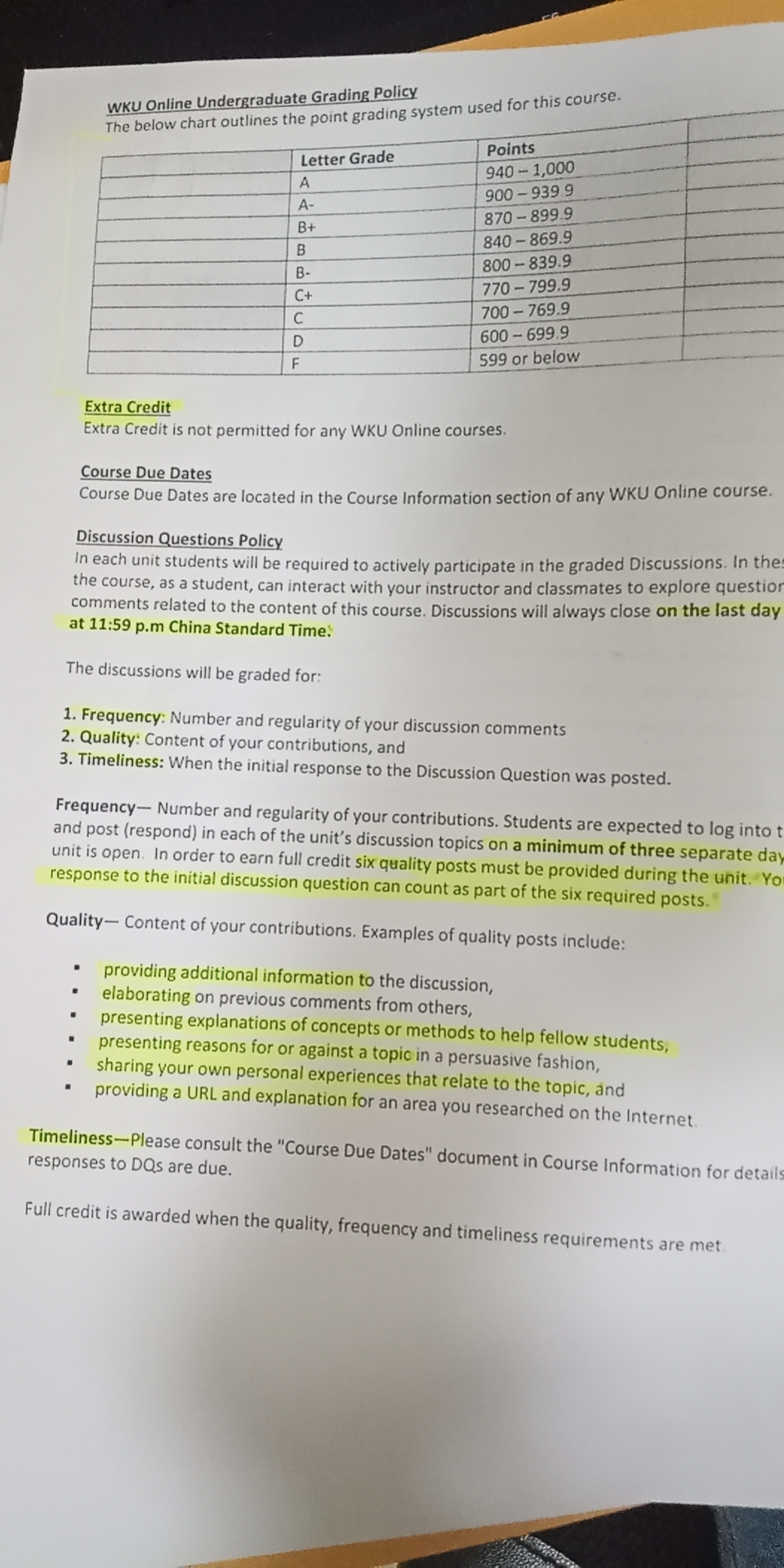 Feb. 27, 2020: WKU Online Academic Leadership Team addressed several issues
From WKU Online Academic Leadership Team
From: WKU Online Tech - wkuonlinetech@kean.edu <do-not-reply@blackboard.com>
Date: Wed, Feb 26, 2020 at 7:41 AM
Subject: WKU Online Faculty Training Spring 2020: Copy of email sent to students - February 25th
To:
This is an example of a Guide for Discussion questions (DQ) and Assignment for simple and efficient completion of course tasks.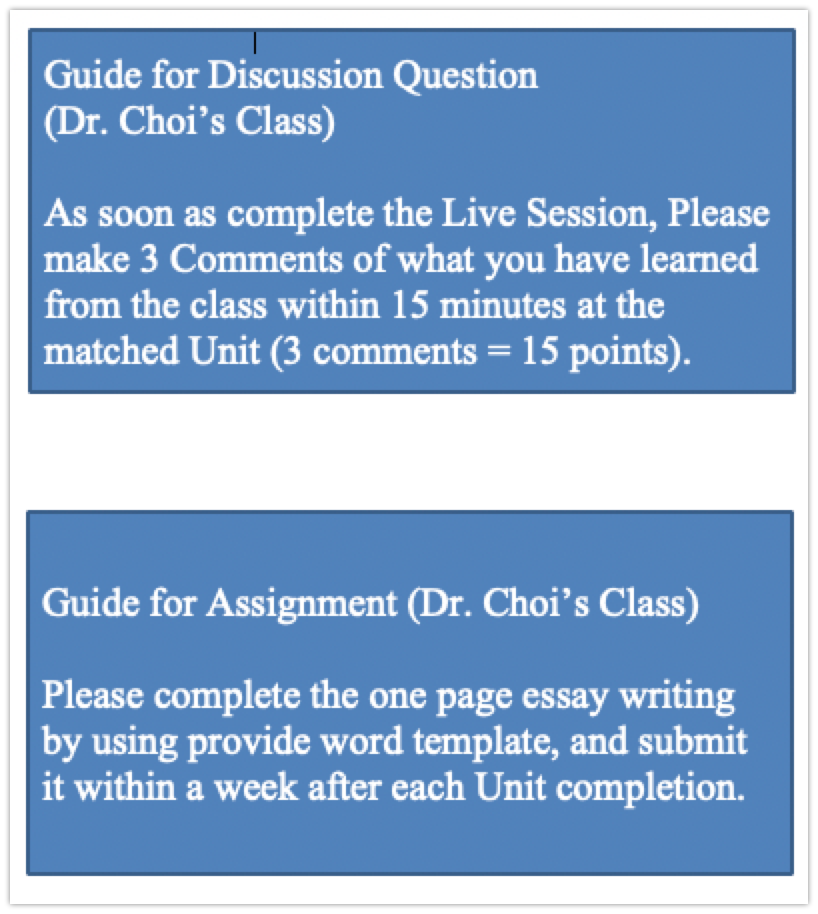 Feb. 28, 2020: WKU Online Academic Leadership Team addressed several issues
Reminder of Management detail: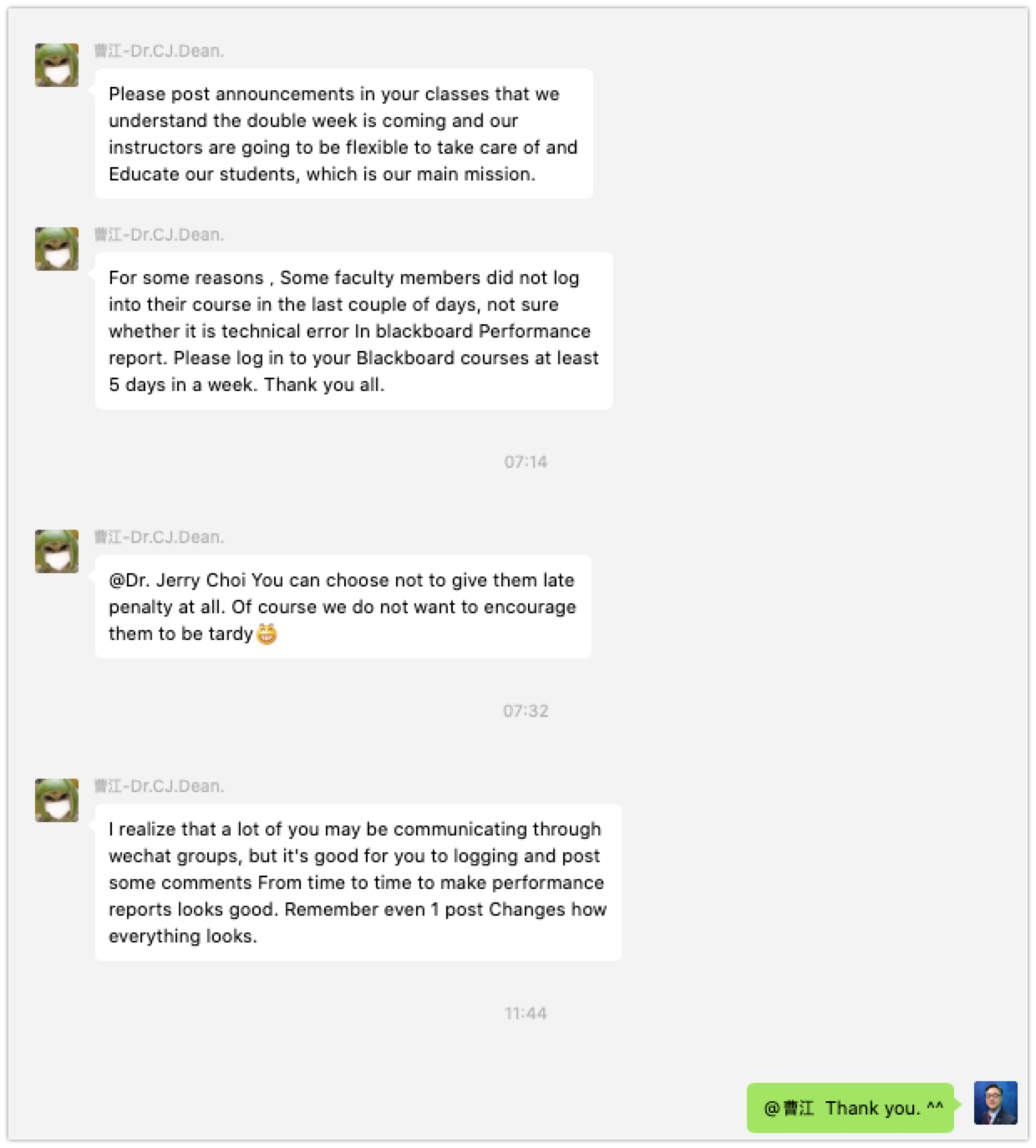 Another Reminder for keeping the Micro-Management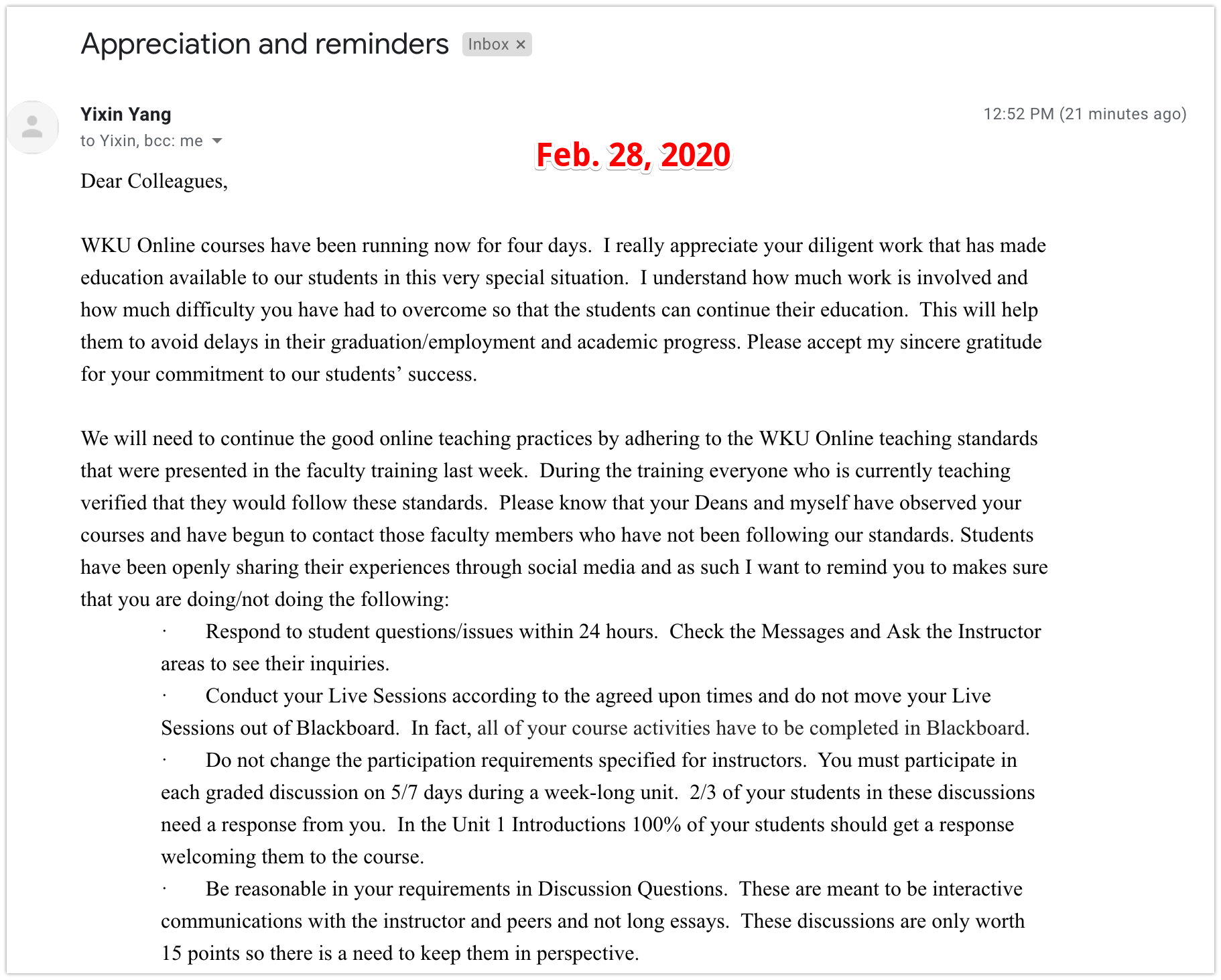 Feb. 28, 2020: All accessible WKU CBPM Faculty members gathered in a WeChat group (WKU CBPM Faculty). Ownership was transferred to CBPM Office staff.
29 members ( 25 faculty members; Dean (CJ); and Three Staff members)
Group ownership: Ms. Wang Yang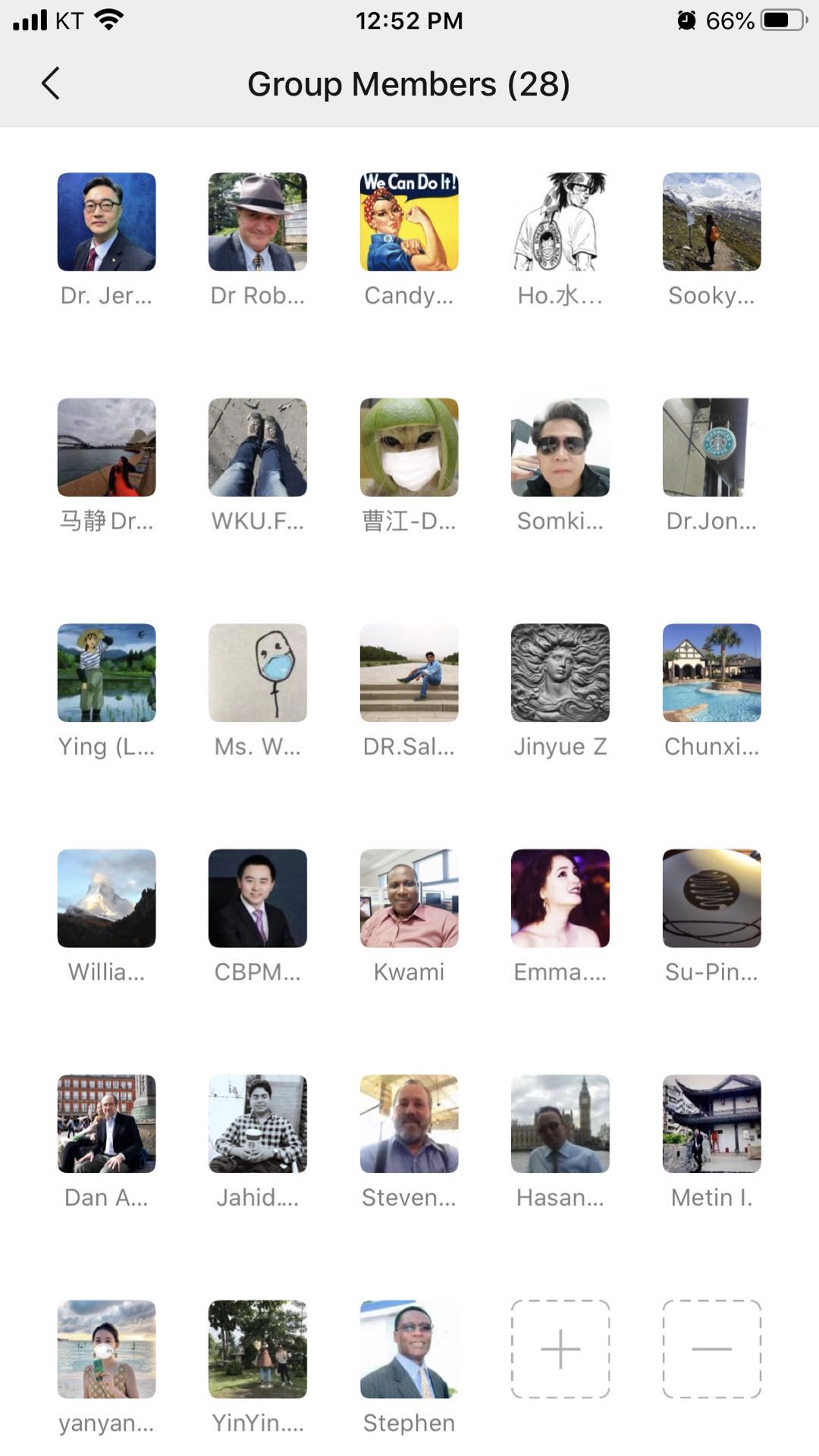 Adminstrative notice: Change group name: Transferring ownership.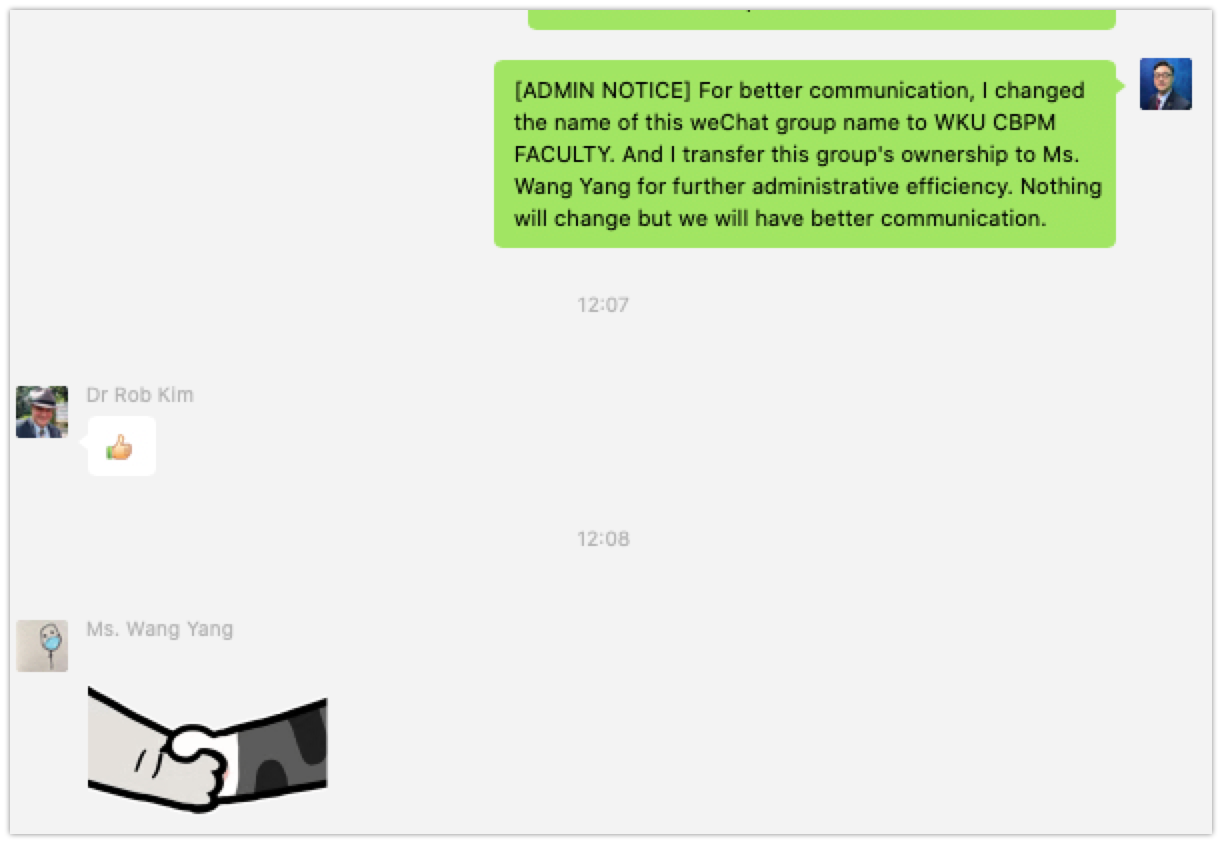 Feb. 29, 2020: First three weeks schedule updated.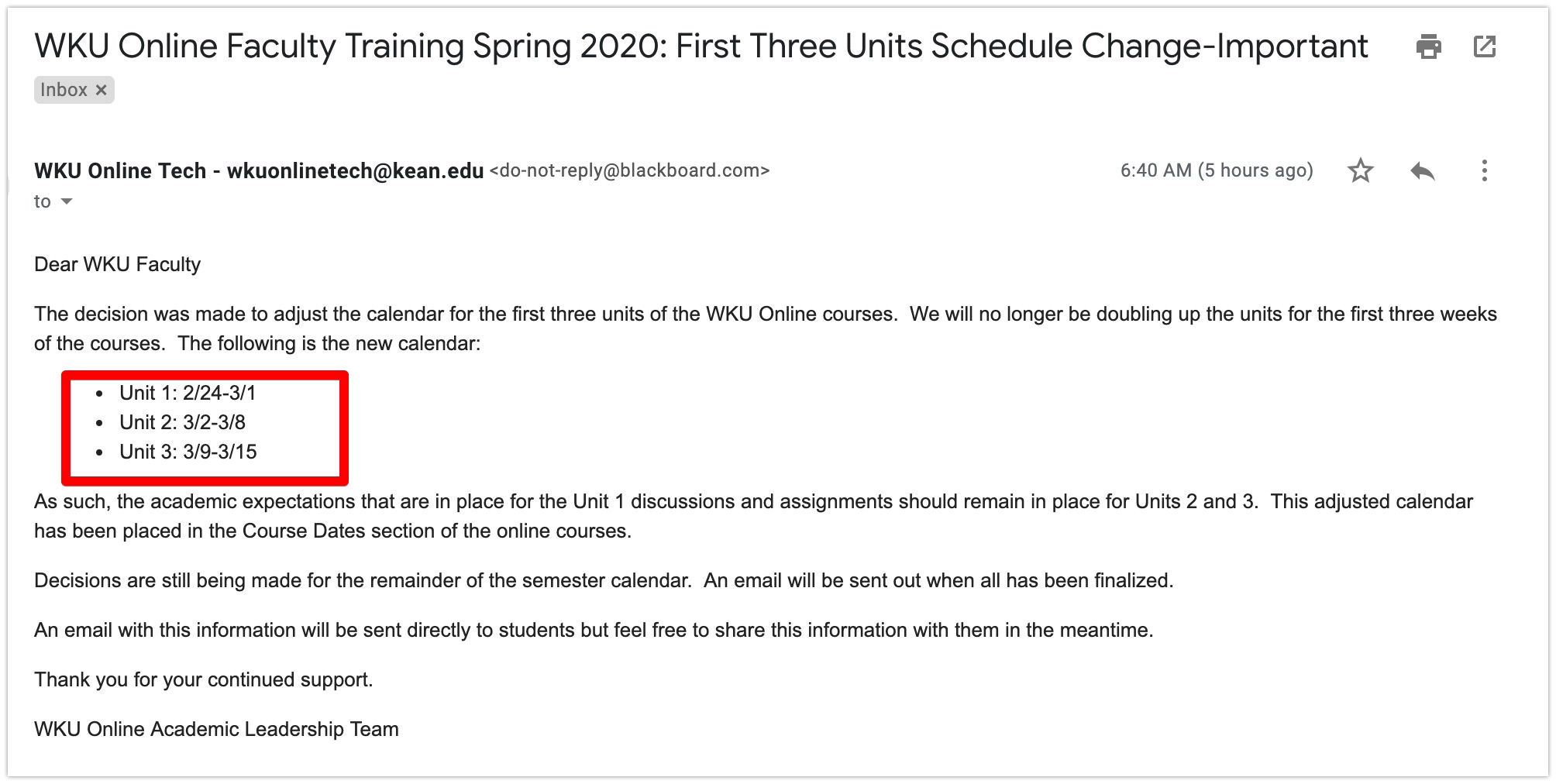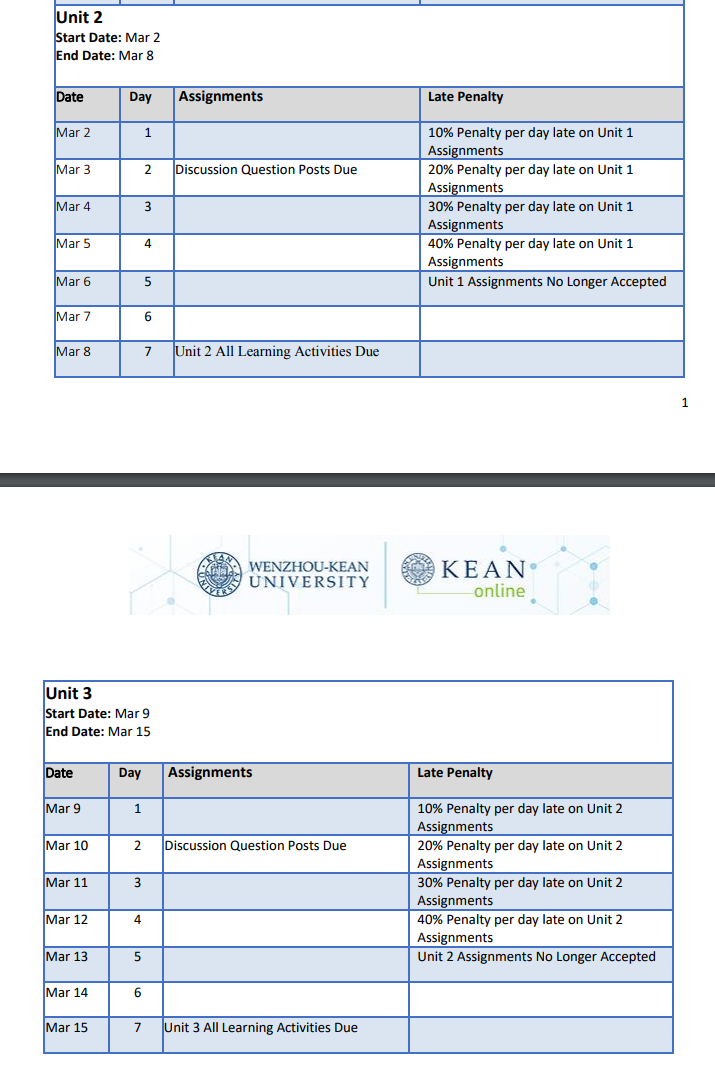 Feb. 29, 2020: Shared again "How to Grade Discussion Questions" at Assignment for Online course development course developers.
"How to Grade Discussion Questions"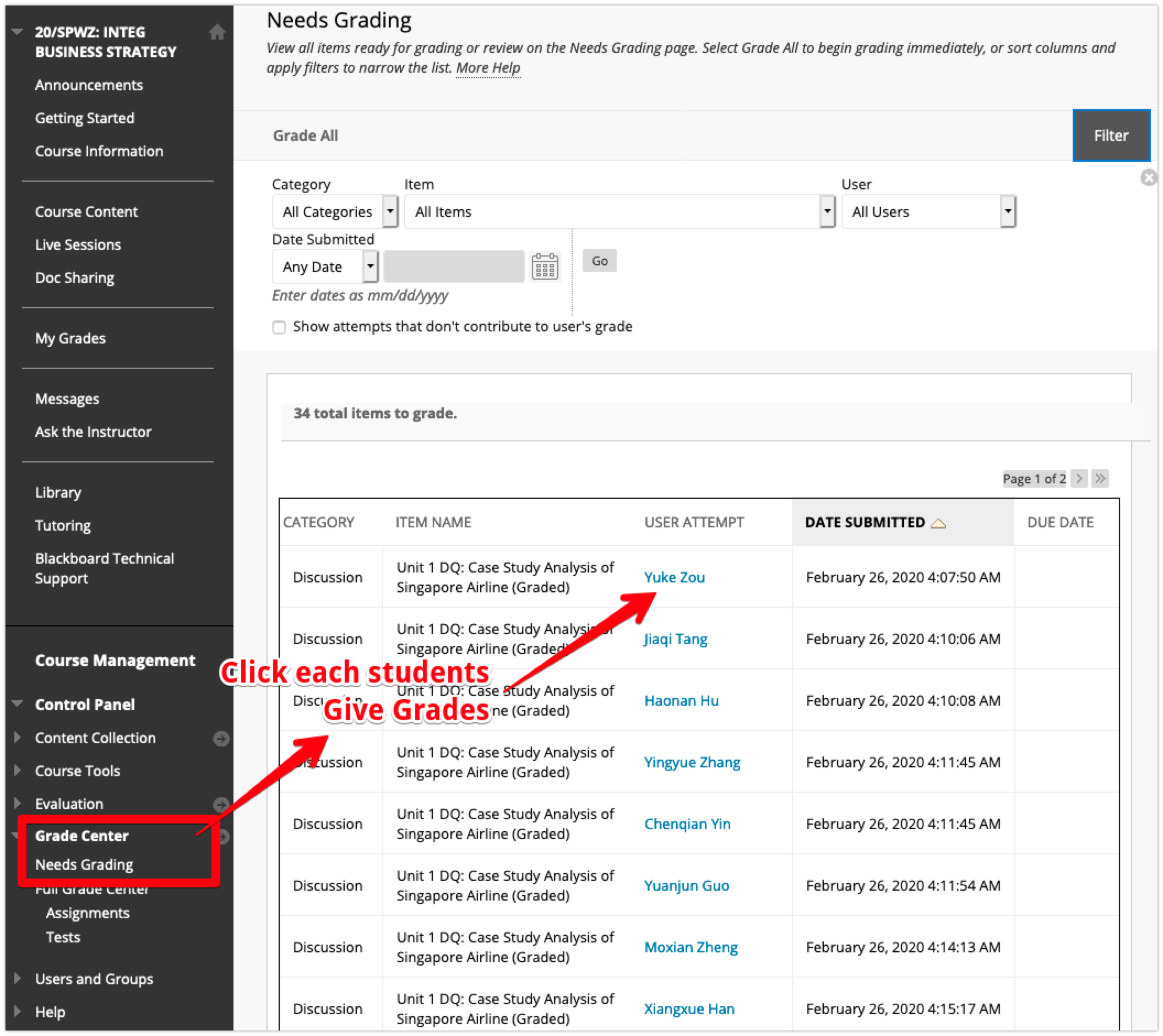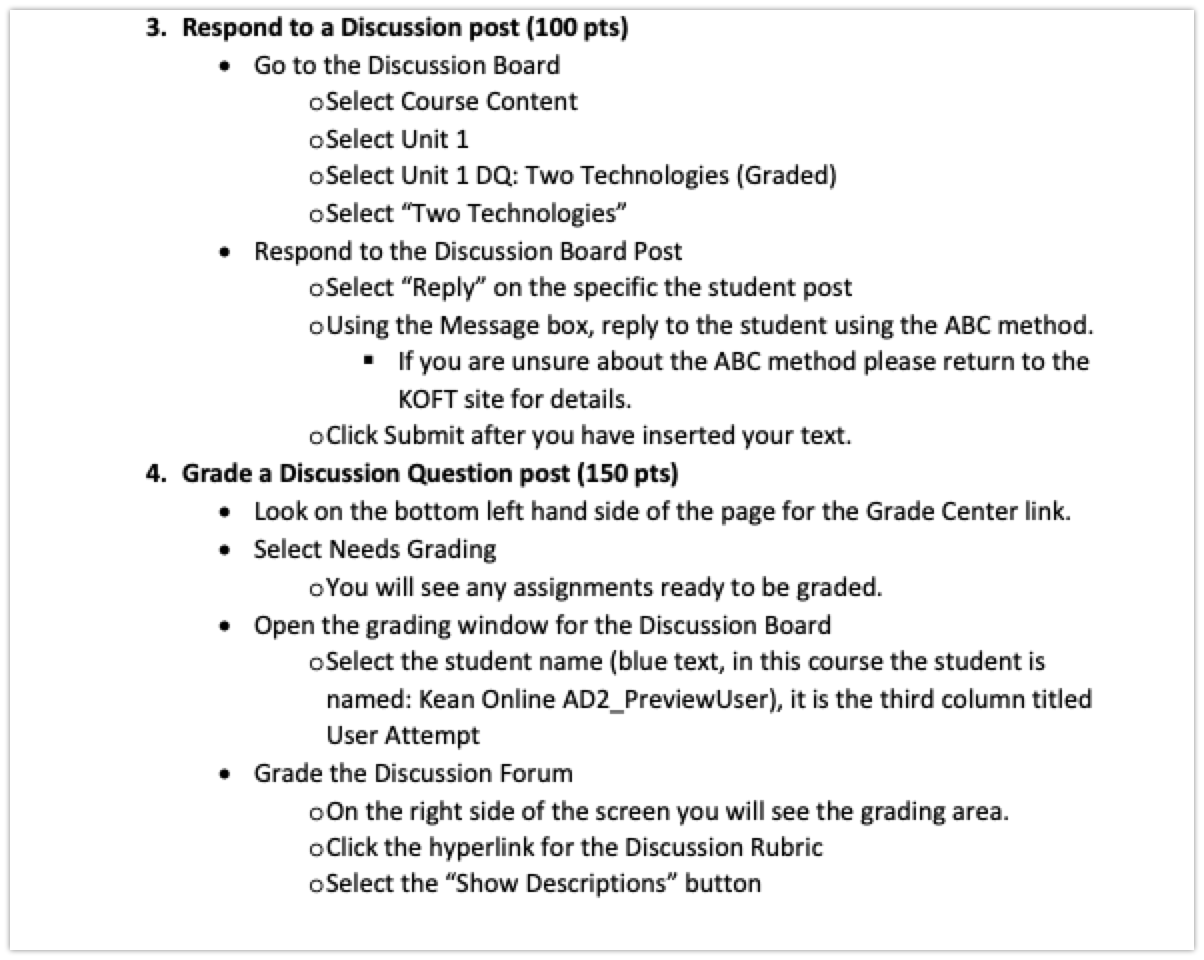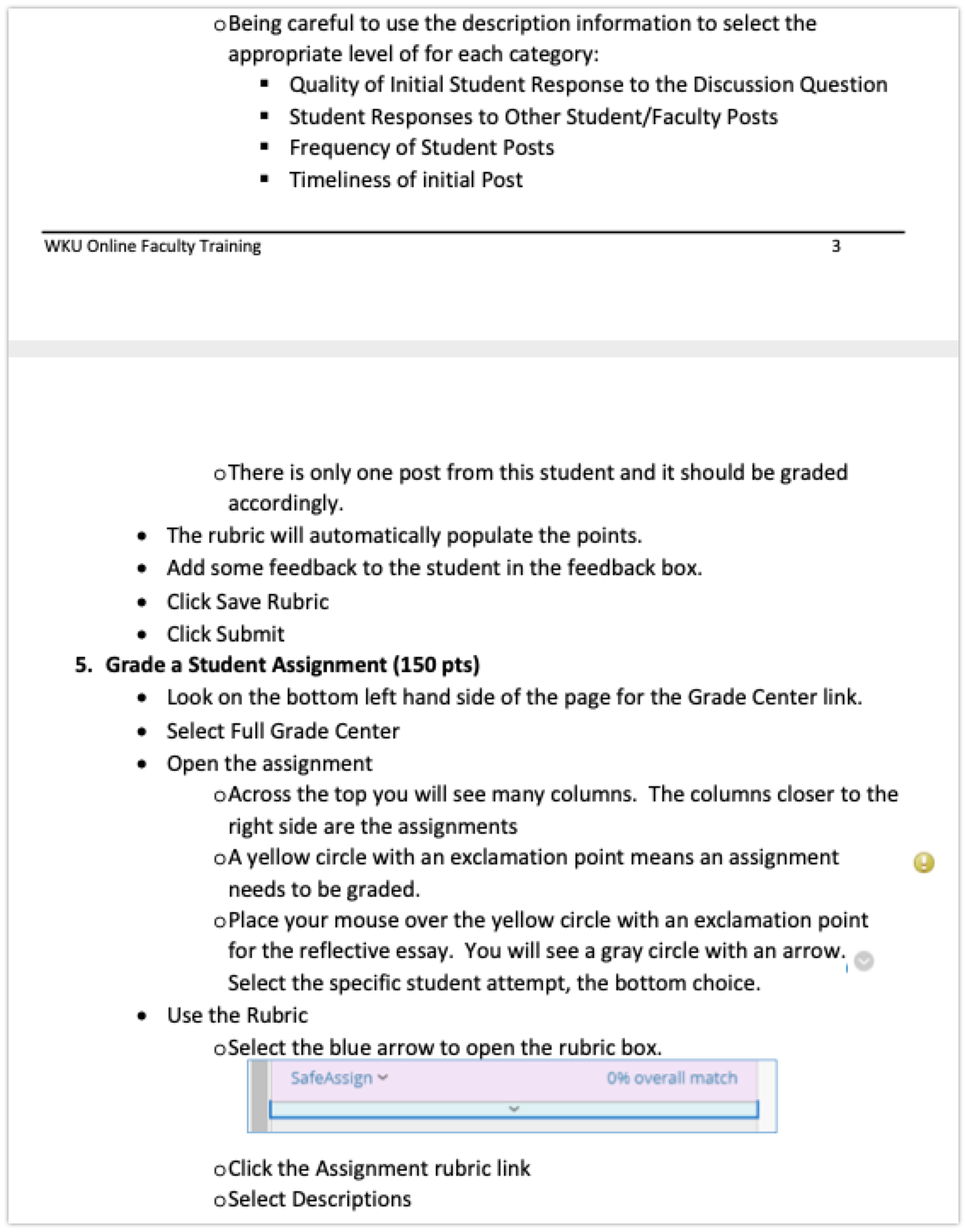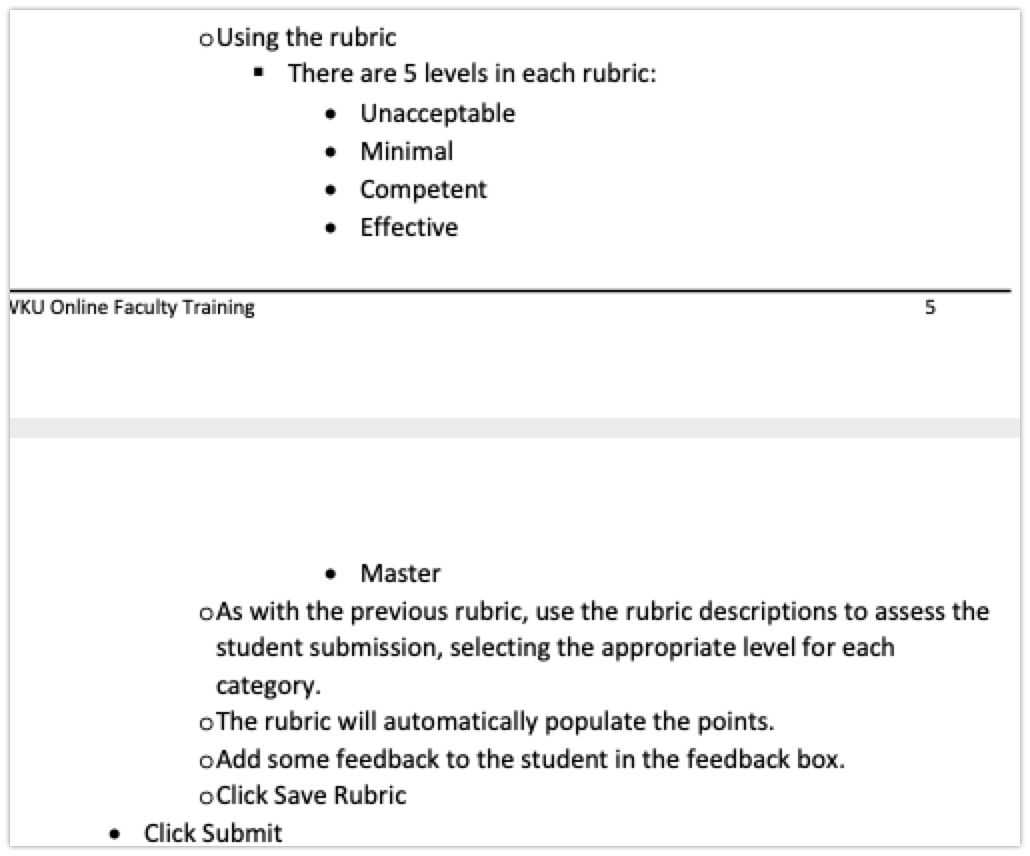 March 02, 2020: Confusion of Discussion Question Numbers
Originally, the Discussion questions post numbers.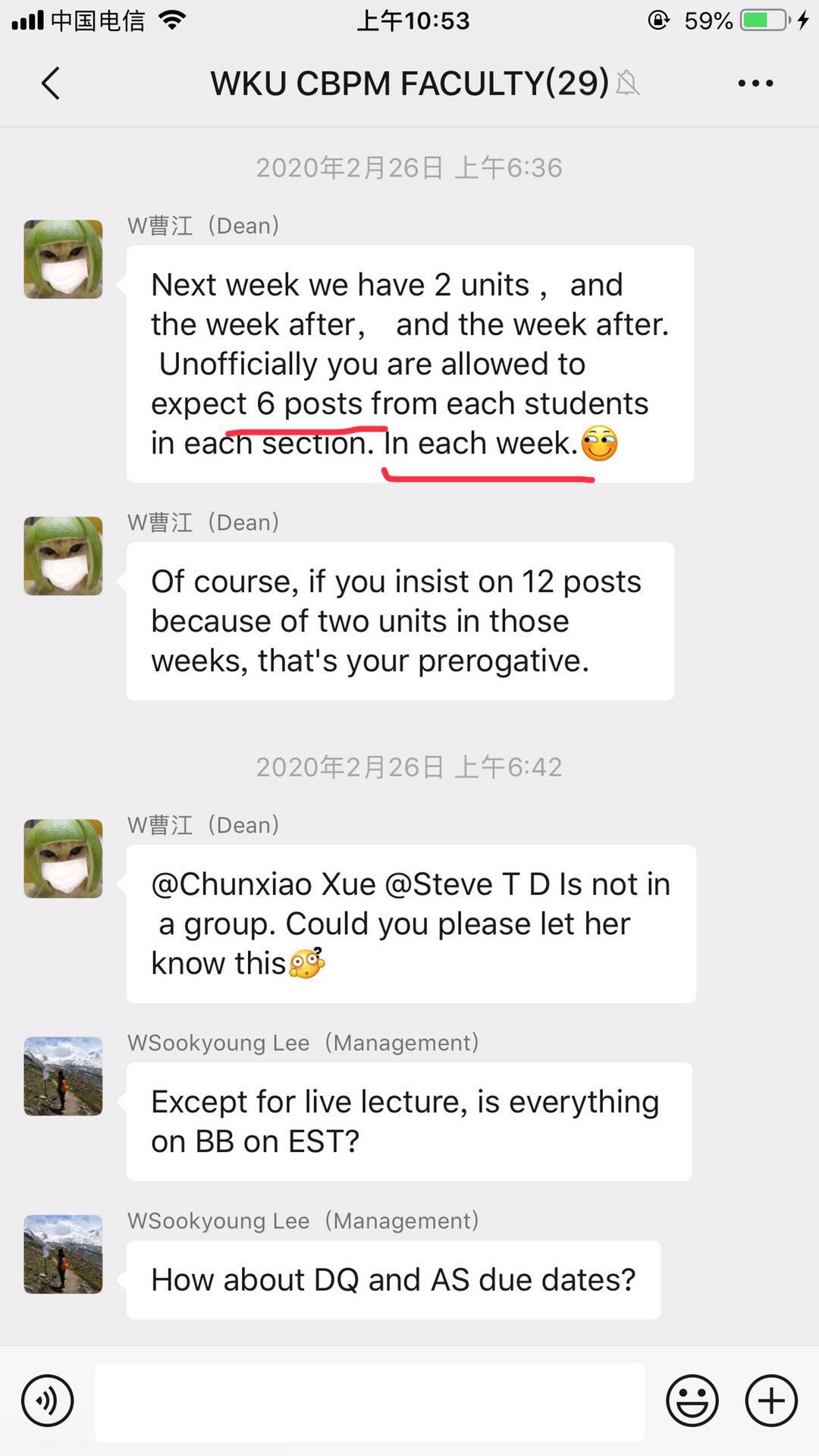 Somebody says DQ posts must be 6 as originally proposed.
Somebody says DQ post must be 3 for the first three weeks as HQ said.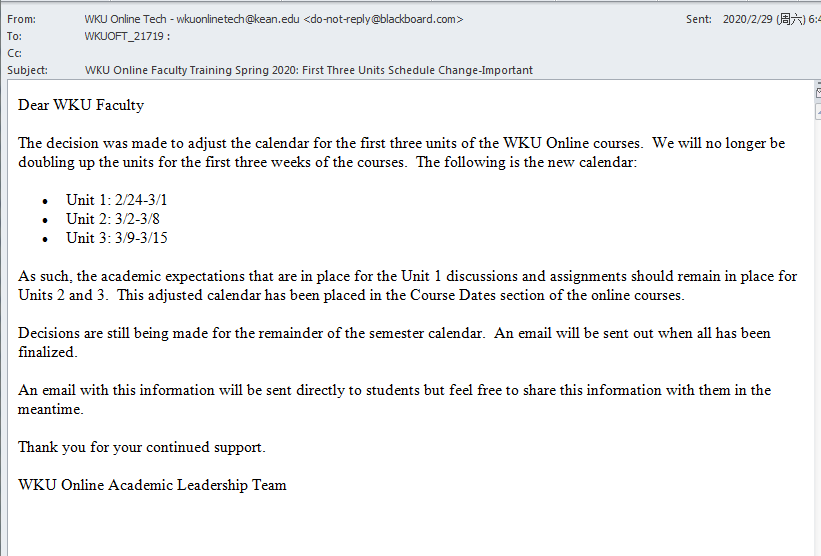 Individual instructors need to decide DQ and assignment workloads individually with own risk.
March 02, 2020: A High Dedication of CBPM Faculty
A Professor of WKU CBPM makes an online class at 2 AM (USA Time, Night) to make 3 PM (China Time, afternoon) class.
March 02, 2020: School Opening Delays continues
Wenzhou municipal government notifies that School opening continue delaying.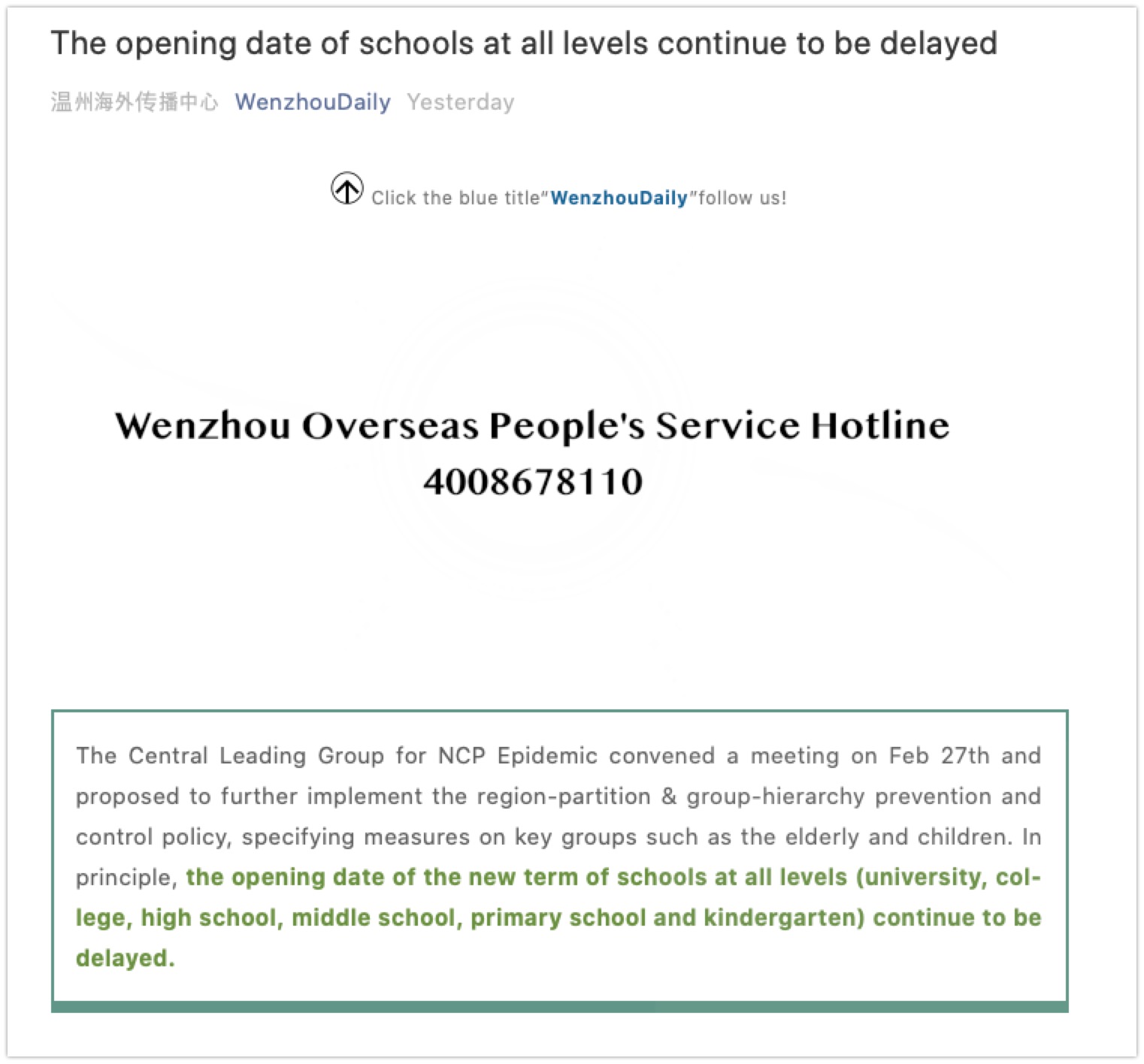 March 02, 2020: Continual Technical Problem in using Blackboard Collaborate (live streaming)
Instructors report 'Frequent and Continual' technical problems in performing Live session (live streaming) at Blackboard (Kean Learning Management System) especially on Monday (daytime in China) classes.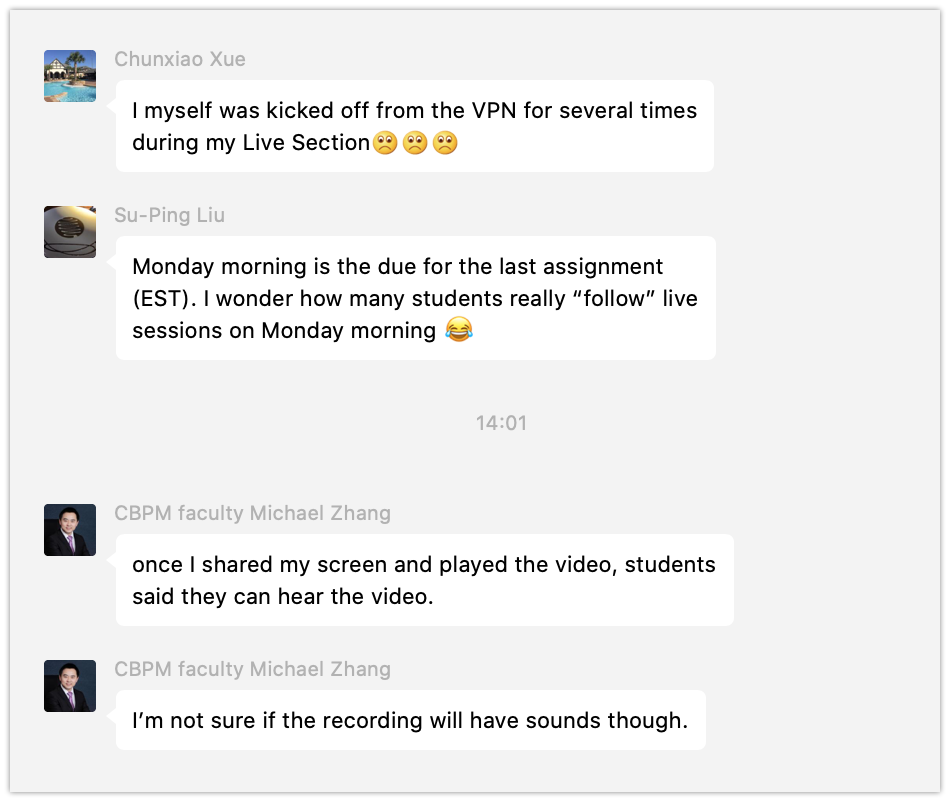 March 03, 2020: Evidence of WKU CBPM Faculty Members' Online Teaching
Dr. Jerry Choi (MGS 4999 W01, W02, MGS3032 W01) @ South Korea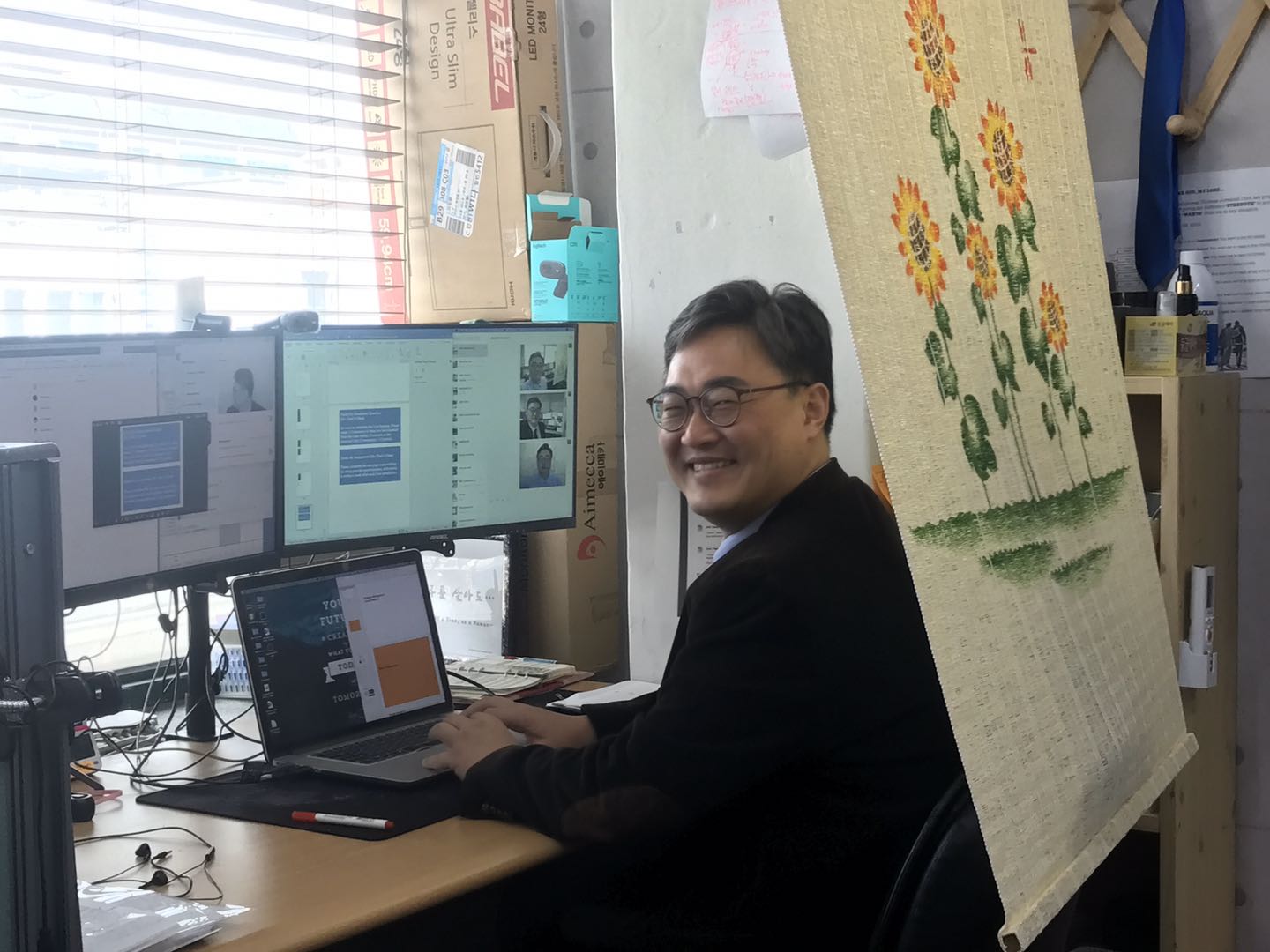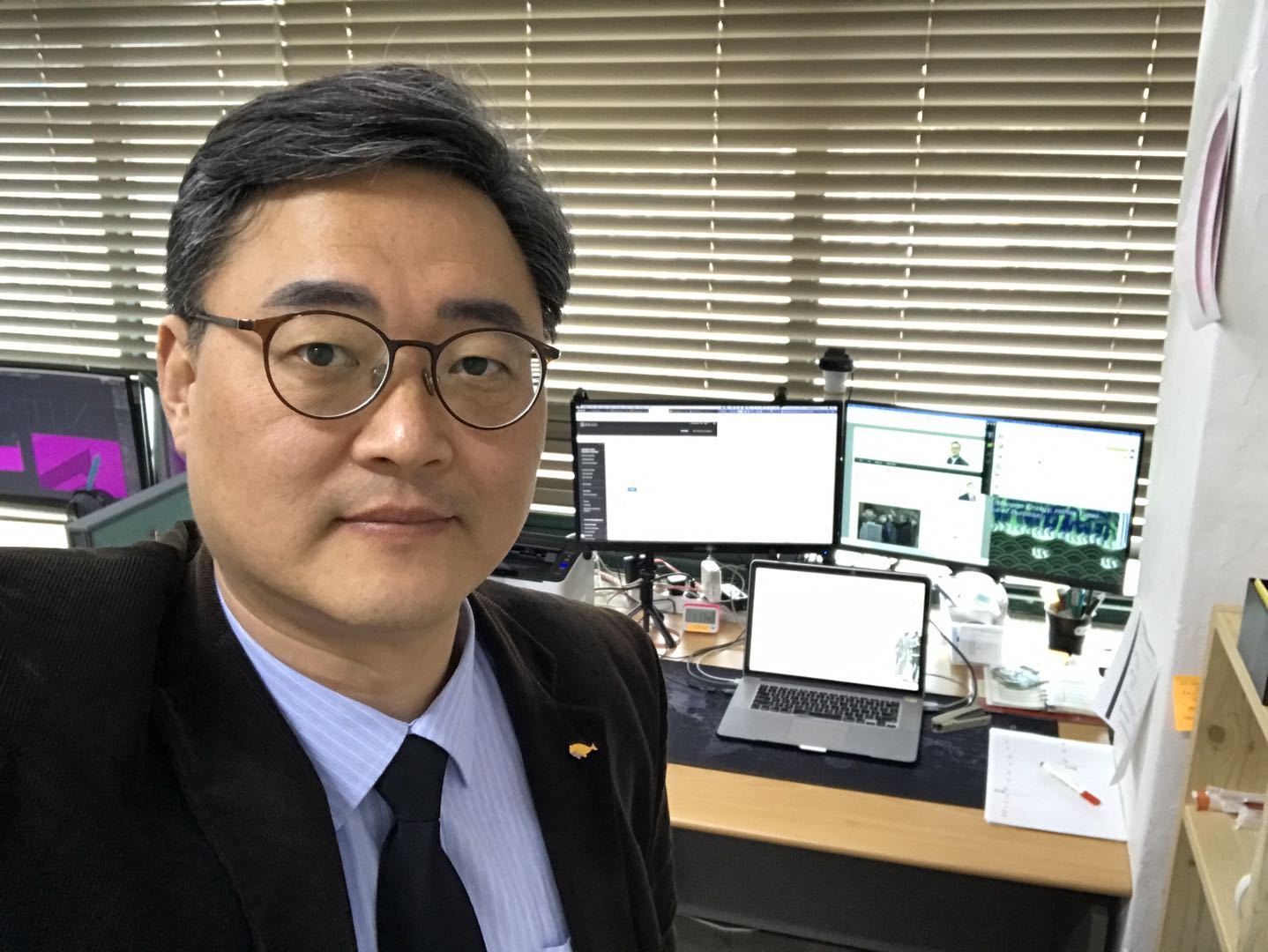 March 05, 2020: Payment issue arises for Online Teaching outside of China.
WKU continues paying for online teaching in China.
New instructors who do not have Chinese bank accounts get payment to their international bank account.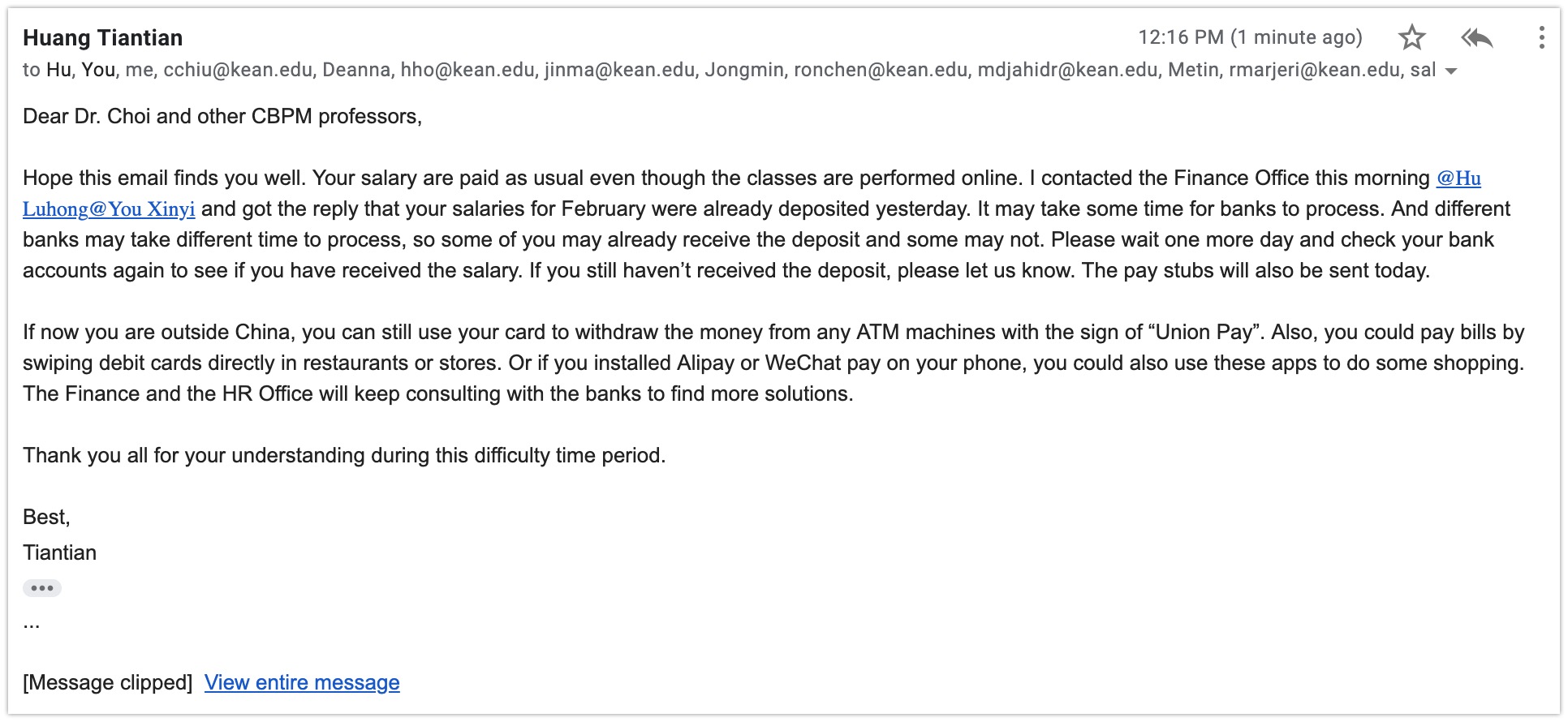 March 07, 2020: Summer / Fall 2020 Teaching Preference
CBPM Office requests for Summer / Fall teaching preferences while academic schedules are obscure.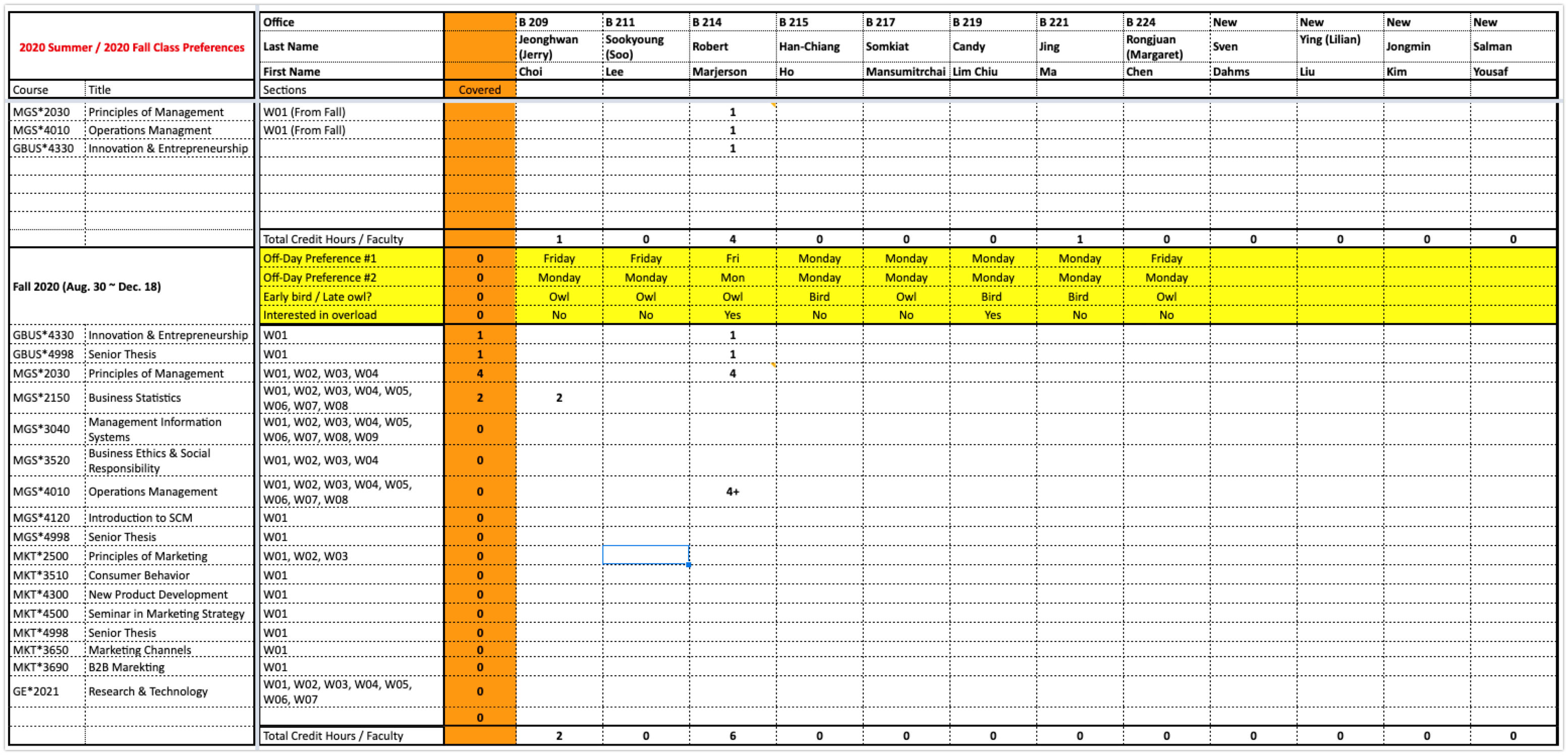 March 16, 2020: Kean New Jersey begins "REMOTE EDUCATION" at al campuses due to the Coronavirus.
https://www.kean.edu/coronavirus-information

Different from WKU, KU does not demand the Discussion Question requirement (5 comments / Unit DQ).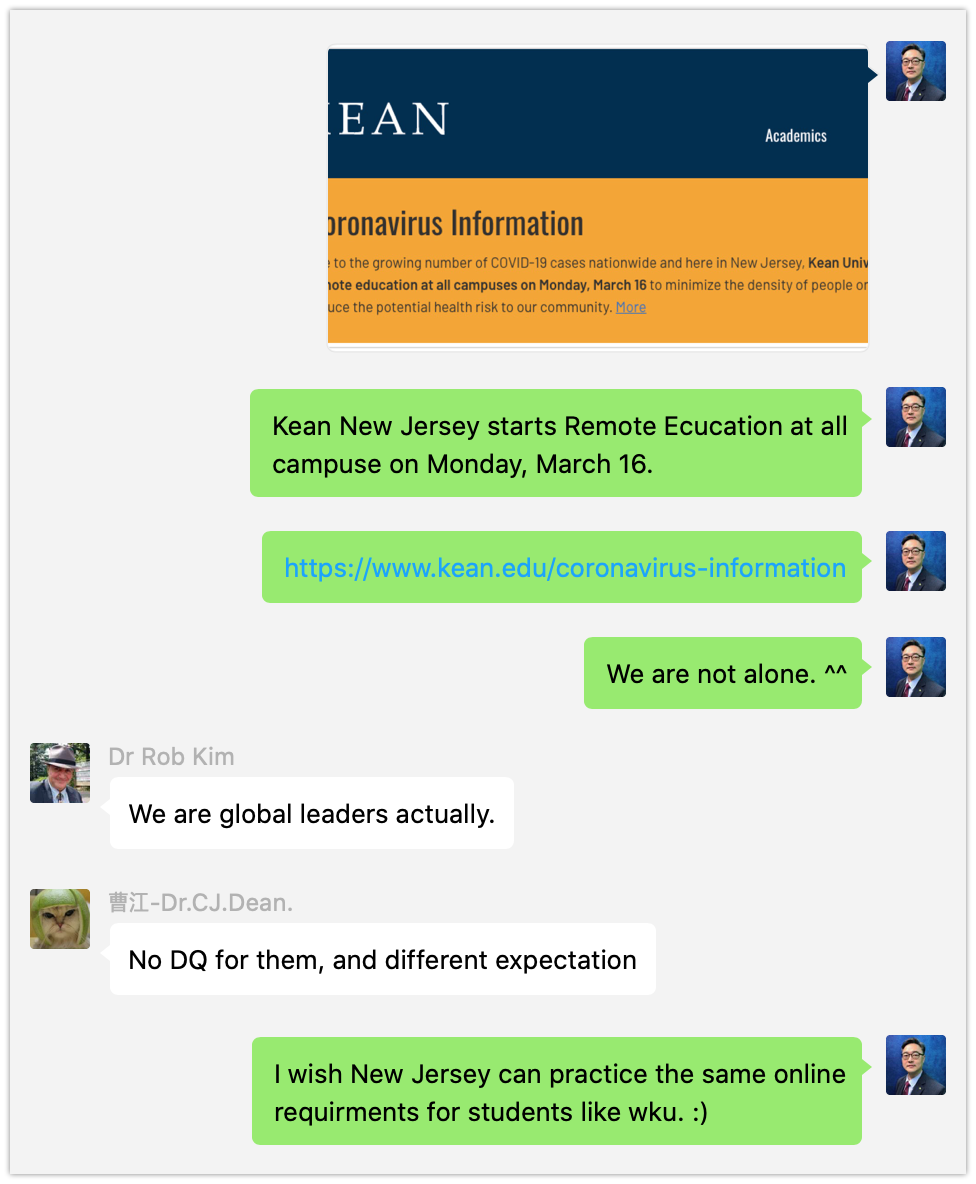 March 25, 2020: A Recommendable Online Class Setting (by Dr. Jerry Choi)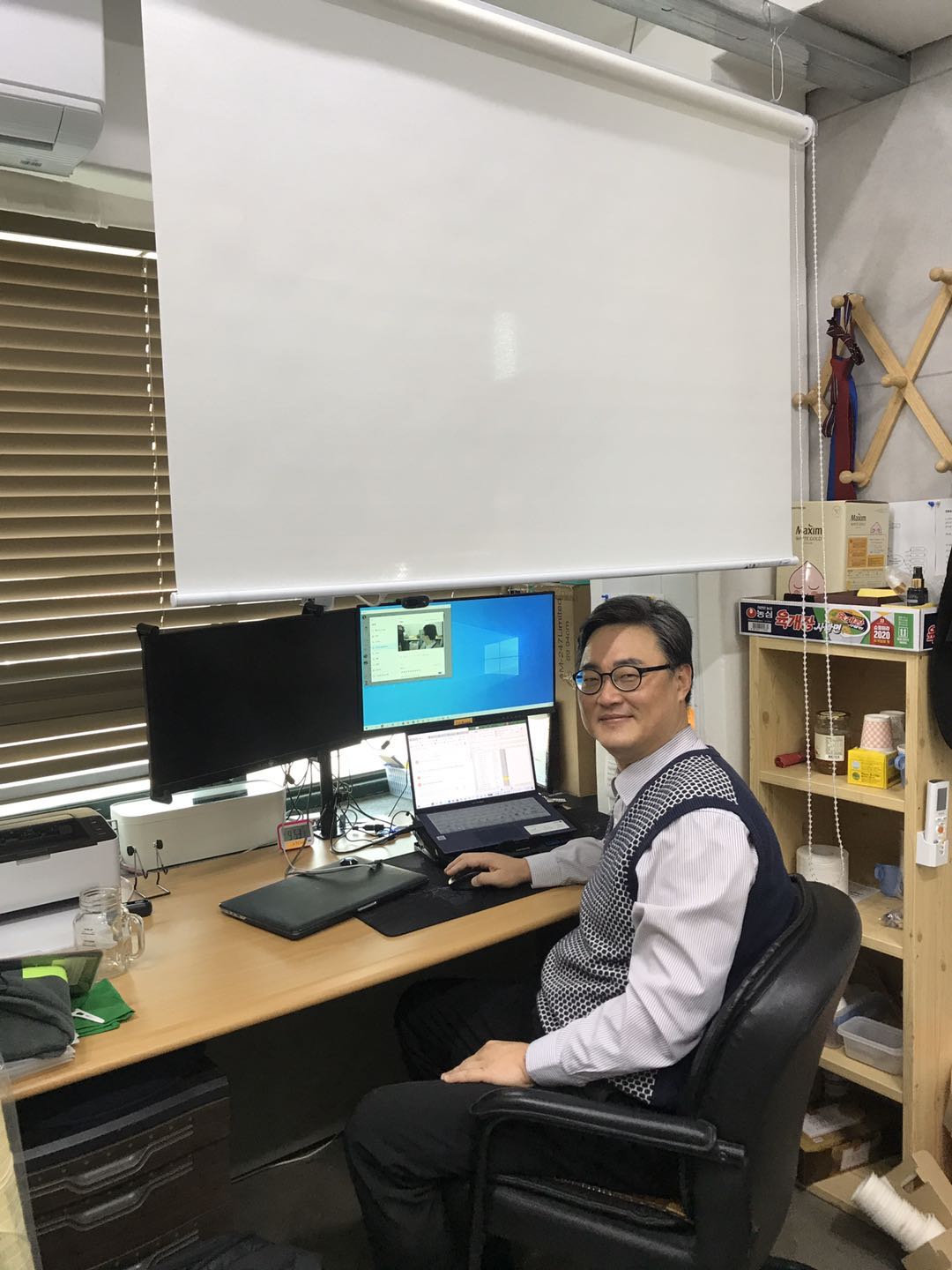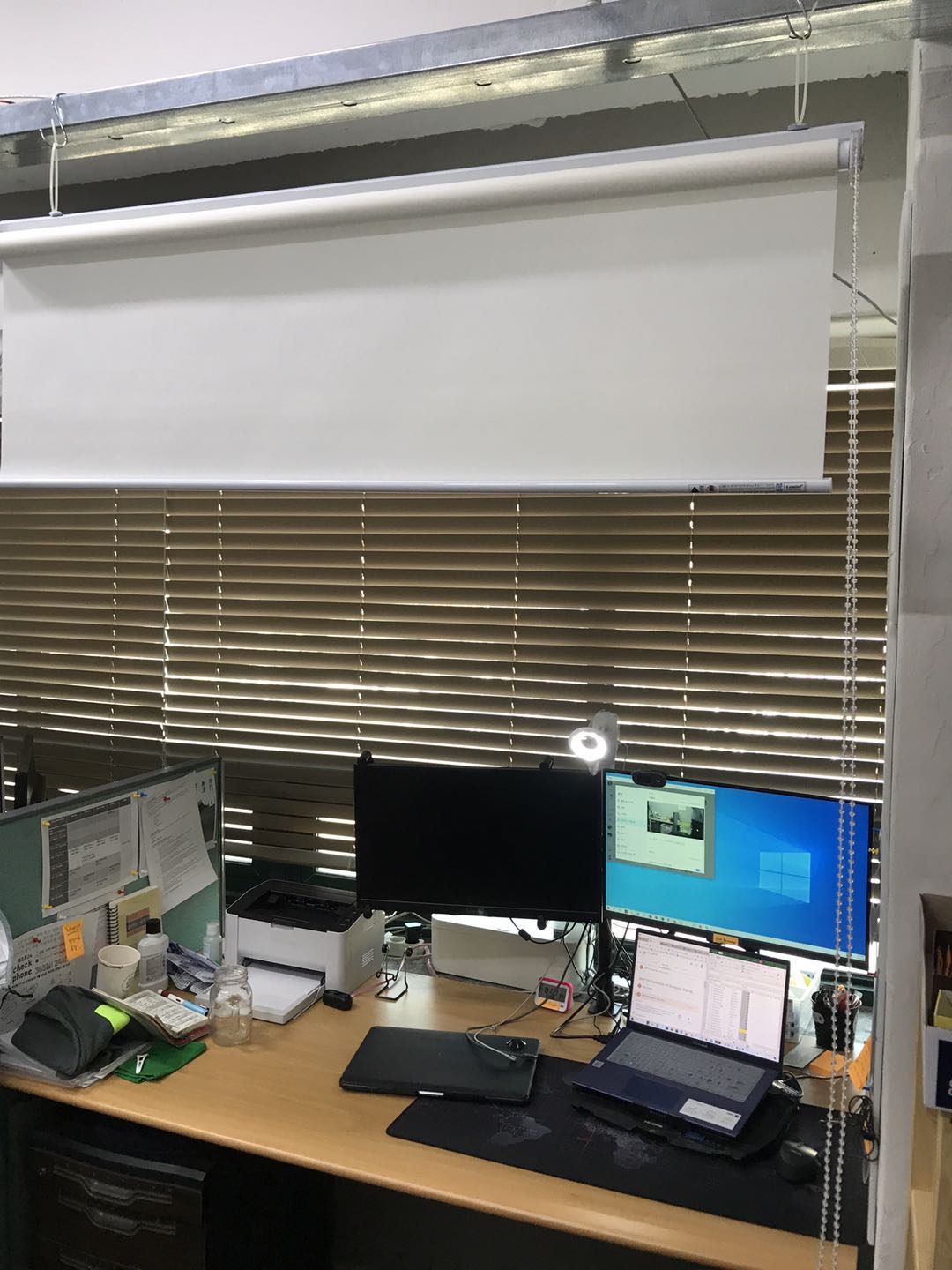 A Recommendable Online Class Setting for Teacher
Facility
Item
Function
Price
Laptop

(Any laptop higher than intel i5 processor with at least 8 GB ram).




ASUS VivoBook 14 (2020)

Online Class Performing
$ 723
External Monitor
Samsung LED Monitor (24 inch)
Displaying and moderating class contents
$ 110
Subtotal: $833
Webcam

Logitech Webcam C270




(Logitech Webcam C920 is recommendable for high quality, $100)

Video / Audio input
$26
LED Lamp
Clip LED Stand
Light up for Videoconferencing
$10
Back Screen
Roll Blind Curtain
Back screen for focusing and engagement
$15
Learning Management System

Blackboard




(Possibly, Zoom.us service for video conferencing & Google Classroom)

Managing and Performing online classes.
Free
Stationary
Keyboard, Mouse, Paper, Cable, etc.
Supporting productive online classes
Subtotal: $51
(items gained in South Korea)
Grand Total
$844
March 25, 2020: Reappointment Letter sent by WKU
WKU notified the annual contract (reappointment letter)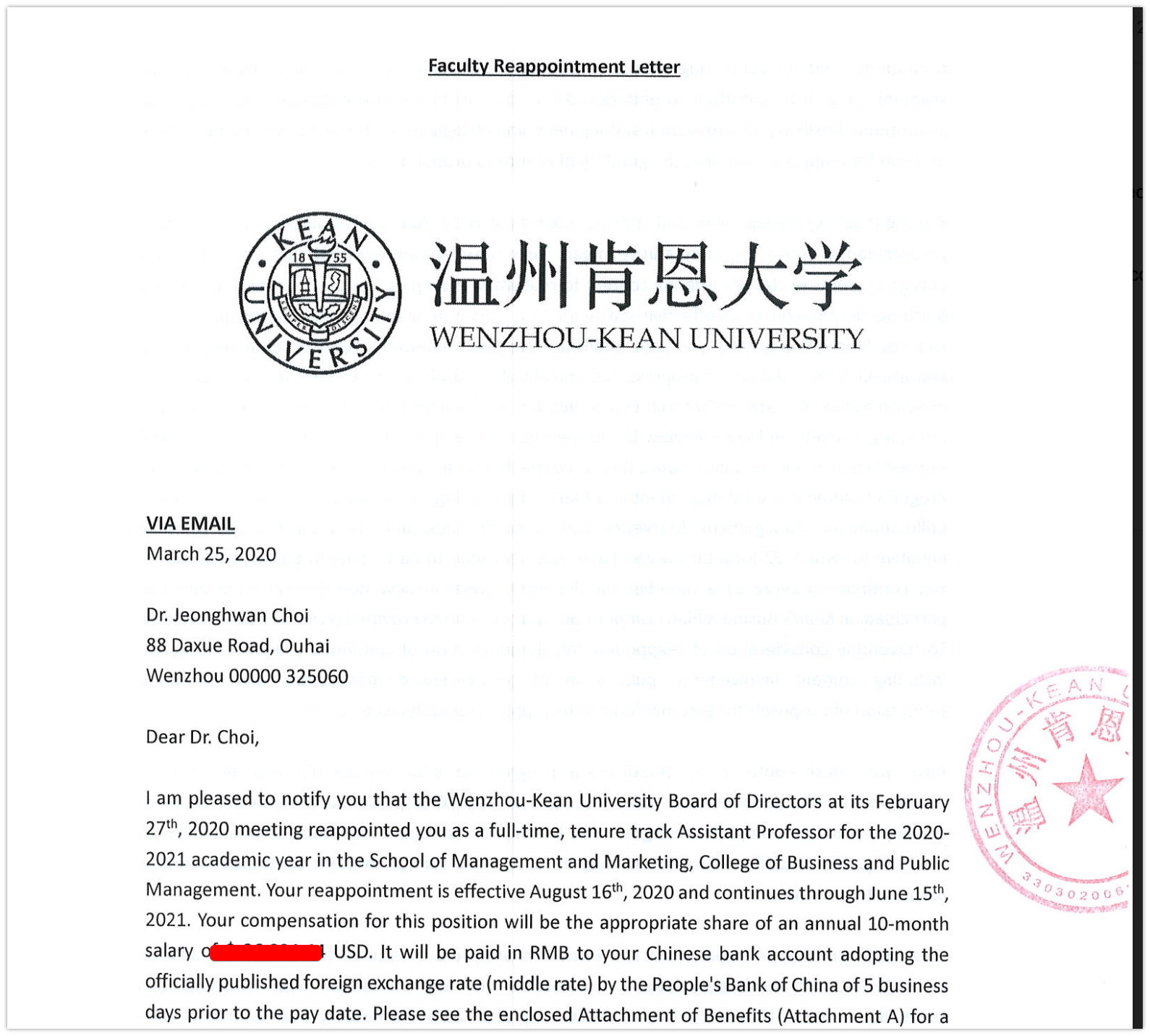 DATE: April 01, 2020: WKU Online Course Showed up in Wenzhou TV
Wenzhou TV reported the advanced Online Class performance of WKU.
Dr. Jeonghwan (Jerry) Choi appears on Wenzhou TV as a good example of Online Teaching.
April 02, 2020: Example of Online Class (MGS4999 W02) by Dr. Jeonghwan (Jerry) Choi
April 22 ~ May 06, 2020 Advising for Course Registration 2020 Summer / Fall
To help students registering 2020 Summer / Fall semester course, Faculty members invite 'virtual advisement session'.
Students who got necessary information from advisors would send a confirmation email with these information.
Title: Confirmation of Advice for 2020 Summer / Fall Course Registration
This is [ English name: Chinese Name (Pingyin): student ID: ]. I certify that I get necessary advice for registering 2020 Summer / Fall semester.
Date: MM/DD/2020
Once advisor get the confirmation letter from advisees, s/he would release the academic hold before May 06, 2020 to enable student registering 2020 summer / fall course.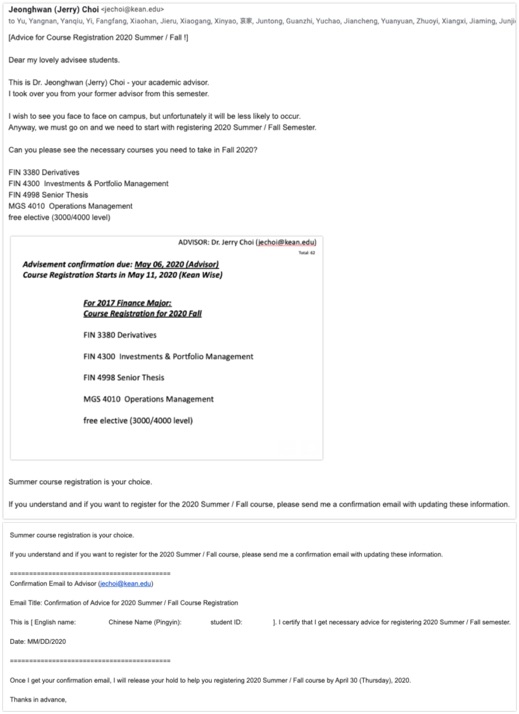 DATE: April 29, 2020: Online Class Structures Adjustment Issue (Dispute among Kean Stephen LeBeau; WKU Online; and a CBPM Faculty).
Email (from Jerry to Stephen, cc: CJ and WKU Online): April 29, 2020.
This issue was started when Unit 16 course structure was changed to Unit 15 structure in Mar. 07.
You can see the below Email.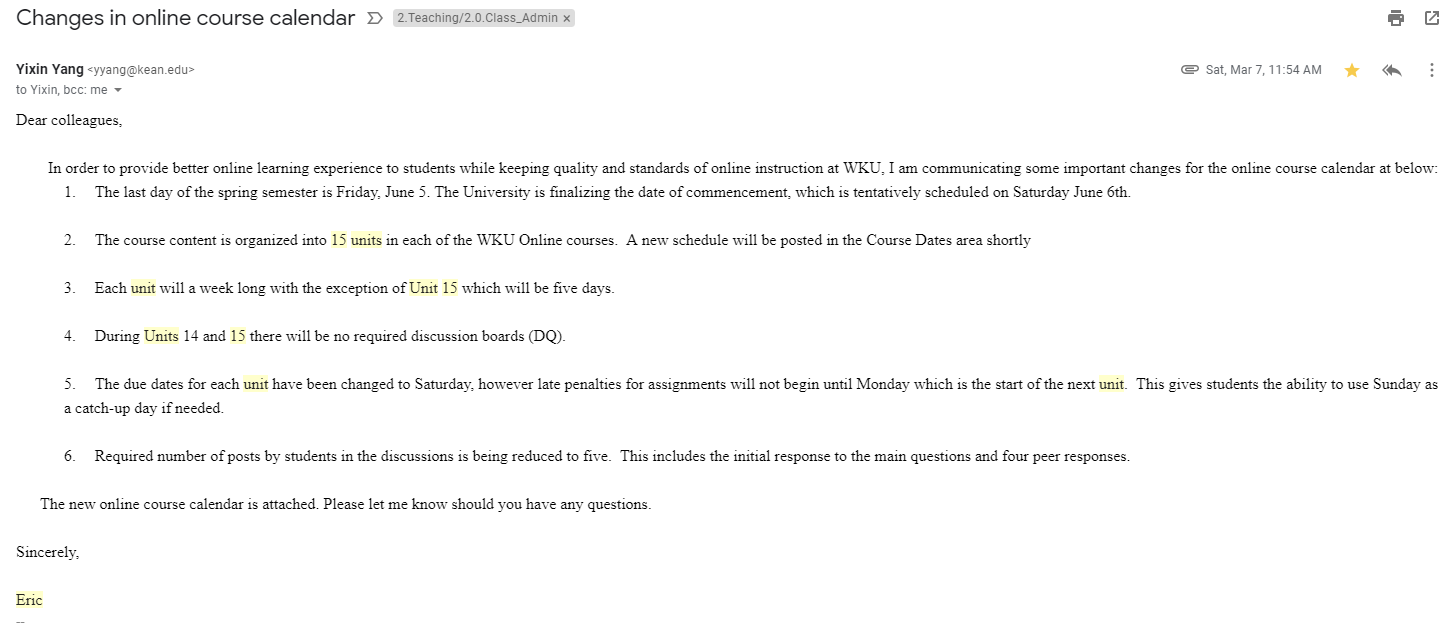 WKU online team then requested for changing Unit 14 and 15 only like this guide.

However, I am suggesting "Adjustment" of Unit 9, 10, 11, 12 ,13, 14 ,15 as attached file in this Email because I need to comply the grading policy as we had.
According to the original plan, we must have 1000 scores from 16 DQs and 16 AS as below.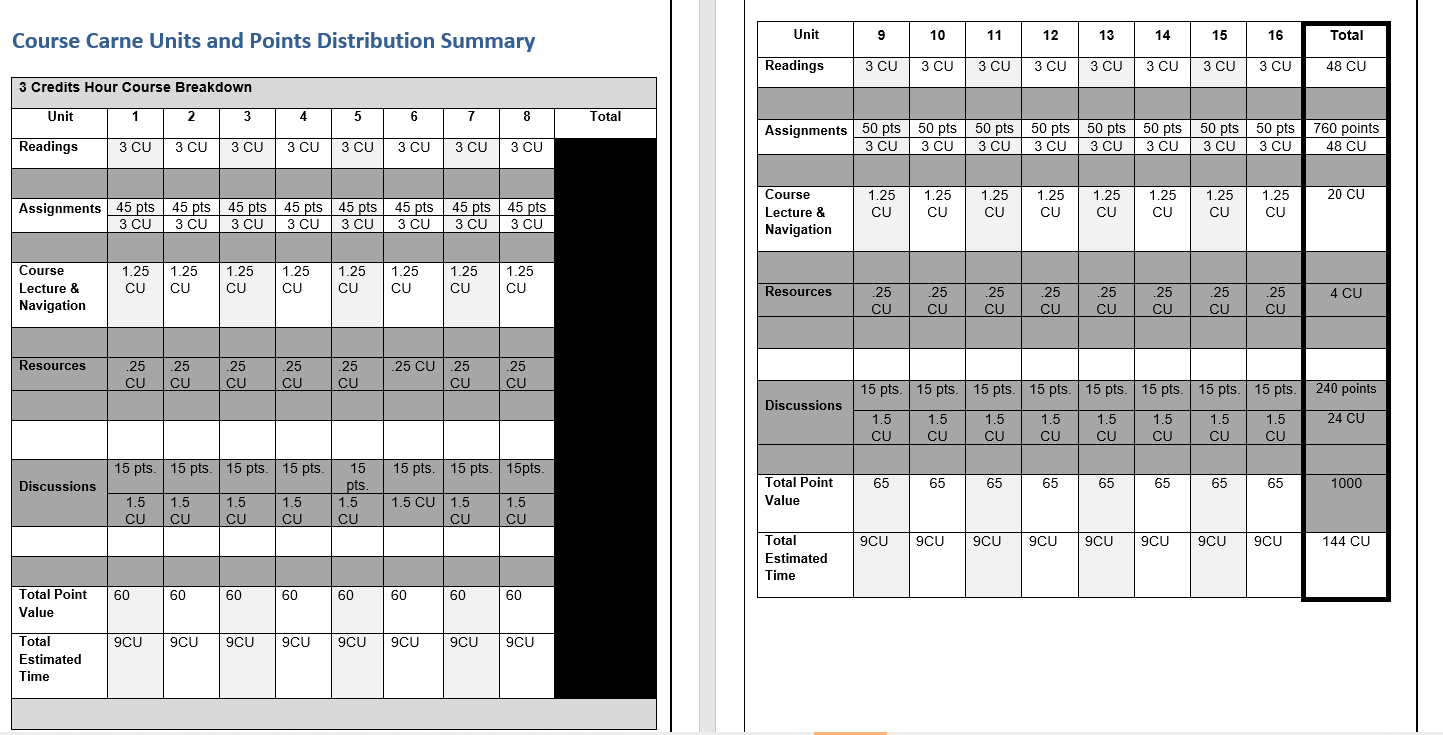 In order to meet the well-distributed 1000 score demand, I must change grading scores (DQ and AS) from Unit 9 as I am suggesting in the attached file.
But WKU online is "negative" to my suggestion and just orders me changing Unit 14; 15.
This is an issue between an instructor and WKU online.
Can you please give us a practical resolution?
If that so, I will cooperate by all means.
DATE: April 29, 2020: Warning from WKU CBPM Dean of WKU Online courses survey - Very Low Faculty Participation Score.

A clarification letter was sent to explain the low faculty participation on WKU Online classes.
An Online Class Participation Issue (WKU 2020 Spring, MGS 4999)

https://leadershipcenter.tistory.com/495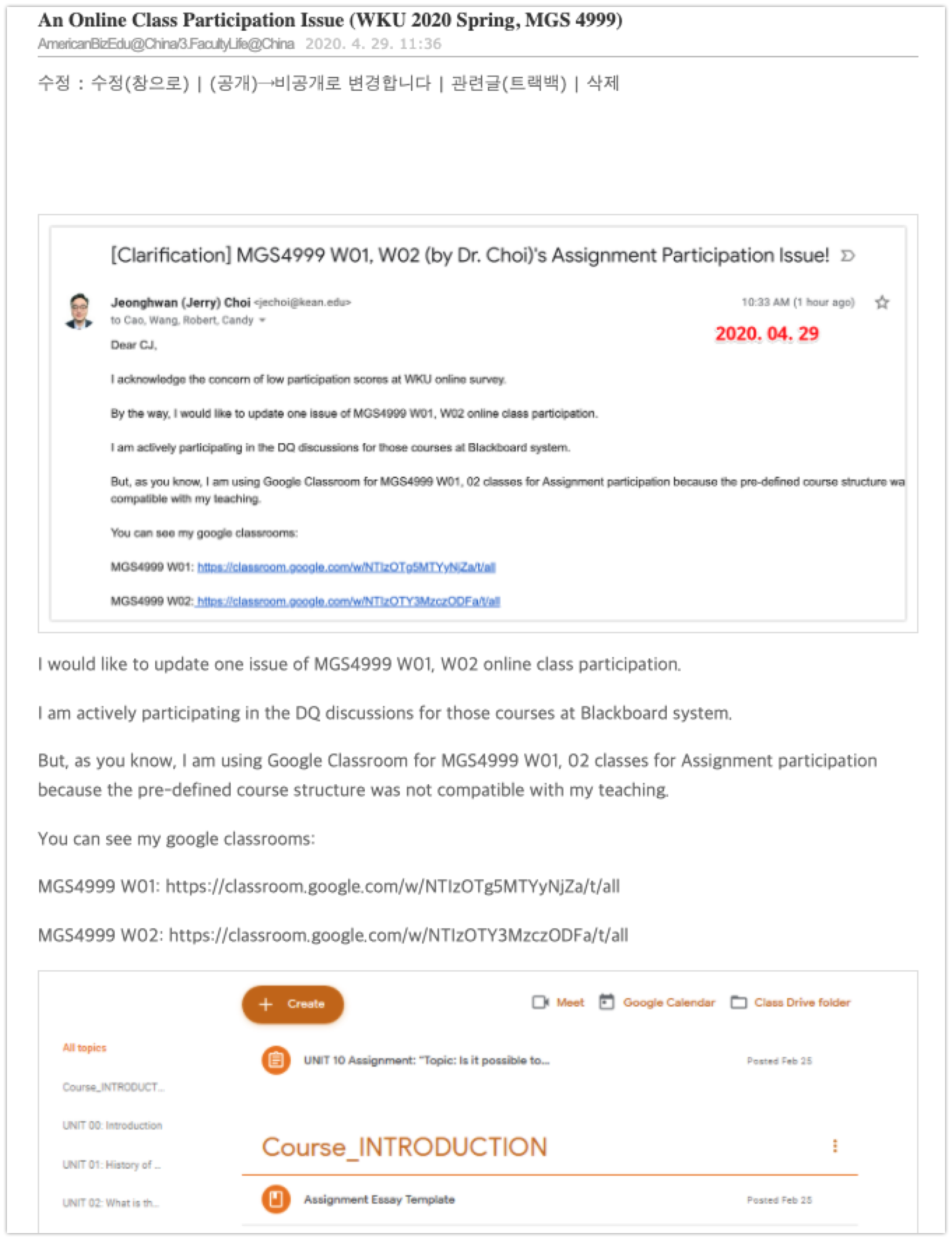 DATE: May 01, 2020: Kean Leadership Email: Prepare For Fall 2020
Kean VPAA request for Online / Remote Teaching for Fall 2020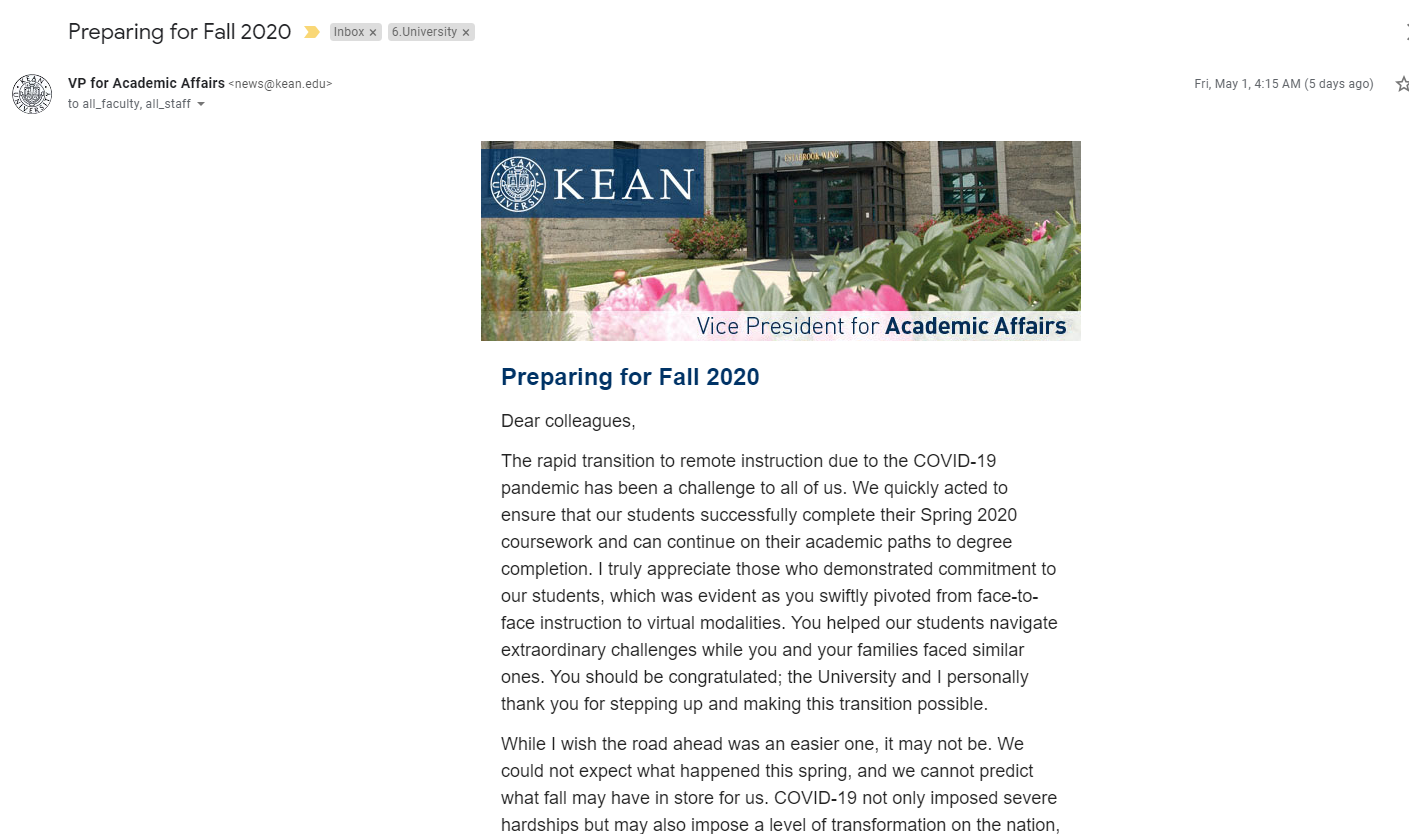 See the full message below.
Adding to Kean VPAA's Email, Eric Yang (VPAA at WKU) clarified the issue for WKU.
May 06, 2020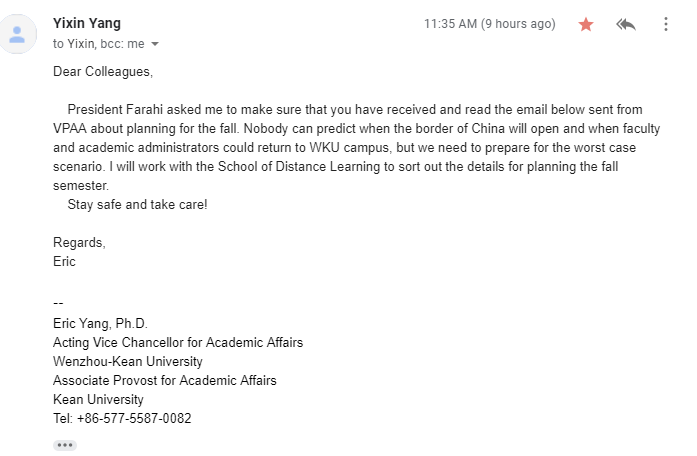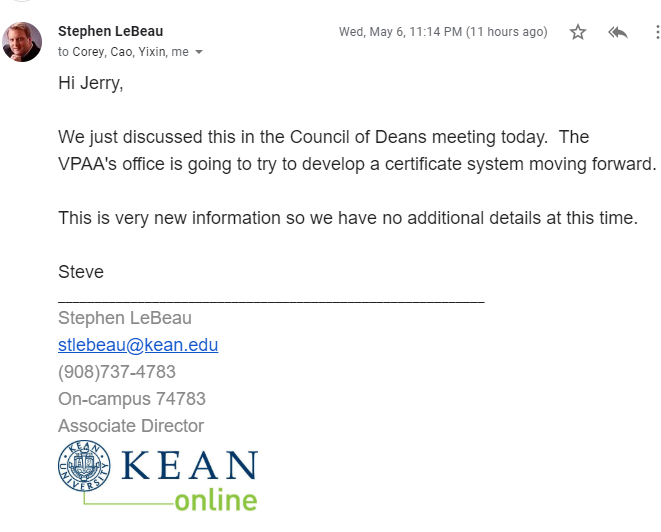 DATE: May 17, 2020: Online Course Evaluation for Online Courses
Every semester, WKU instructors are required for performing the course evaluation. In COVID-19 era, the course evaluations were 100% performed online.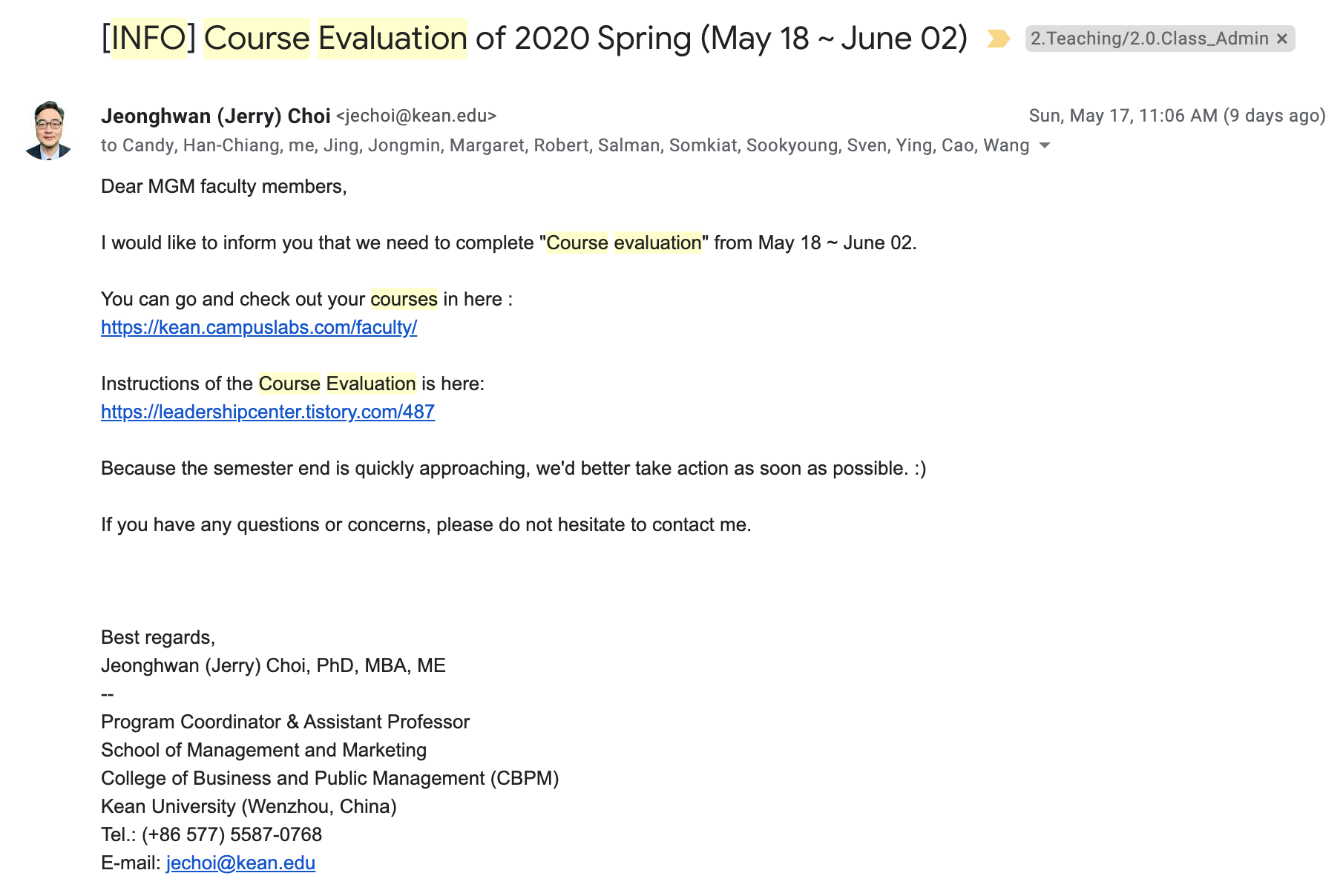 Course Evaluation Example: (at least 60% participation)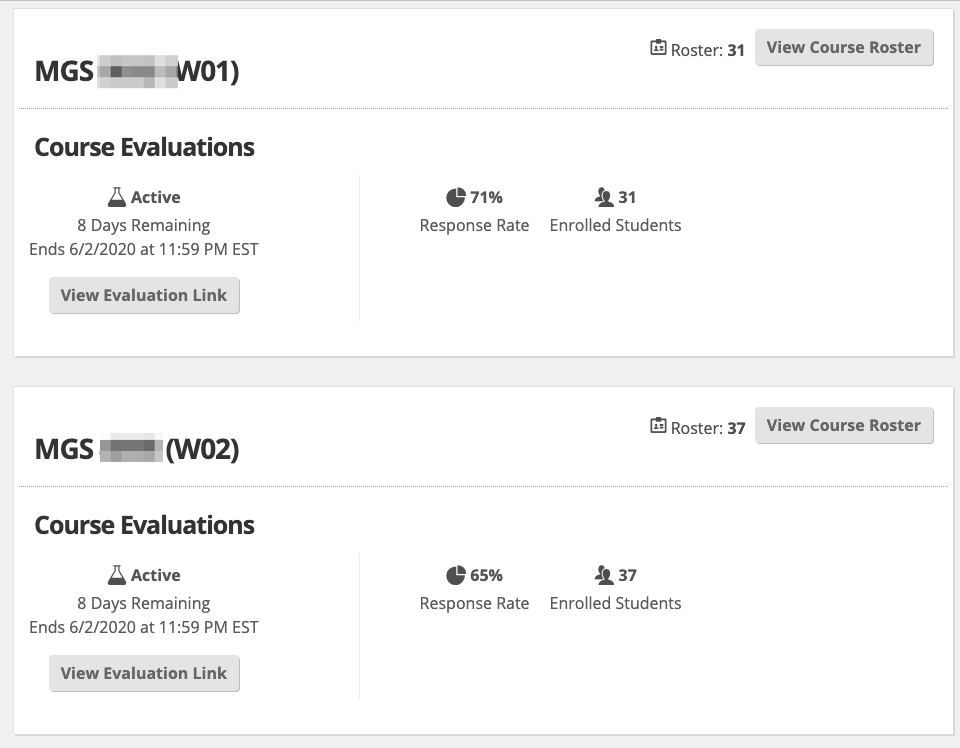 June 01, 2020: Invitation, 2020 Virtual Commencement of WKU
All WKU CBPM Faculty members are invited to the virtual Commencement Ceremony.
June 06, 2020 @ WKU Youtube Channel for Live
www.youtube.com/channel/UCnxU0Efm4PG6YjK_EVRKbLg/live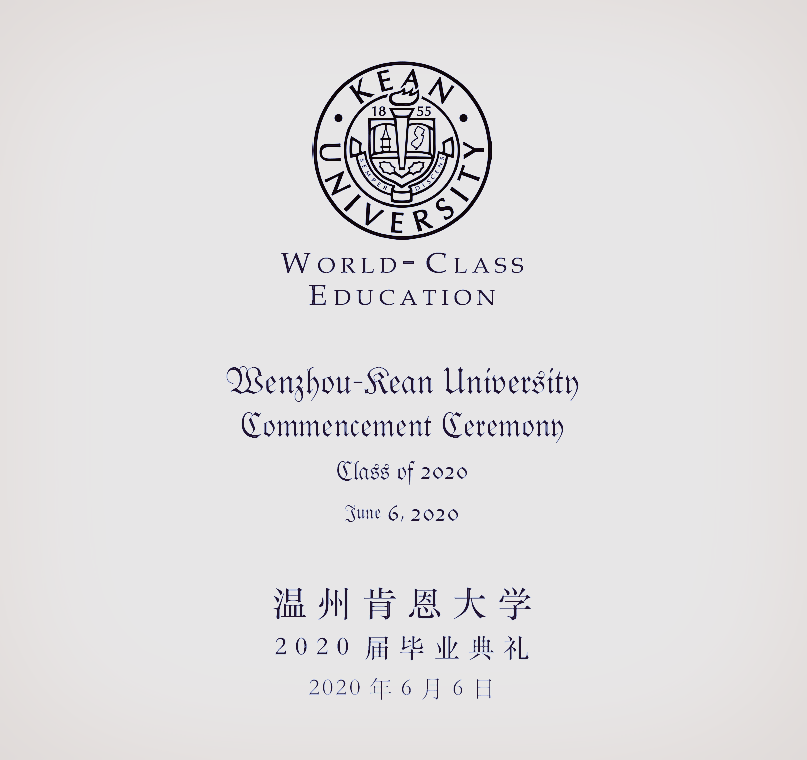 2020. 06. 02: PASS/FAIL OPTION
School provides students the PASS/FAIL Option in 2020 Spring to accommodate the flexibility of Online courses.
Please be reminded that the deadline for submitting your Pass/Fail grade option for the Spring 2020 semester is Wednesday, July1, 2020. Graduating Seniors should submit their P/F requests to their academic advisor by Friday, June 12, 2020. Please fill out the attachment and send it to your faculty academic advisor for approval.
PASS (P) / FAIL (U) Option Application Procedures in WKU CBPM for 2020 Spring Online Courses (suggested by Dr. Jerry Choi, June 043, 2020)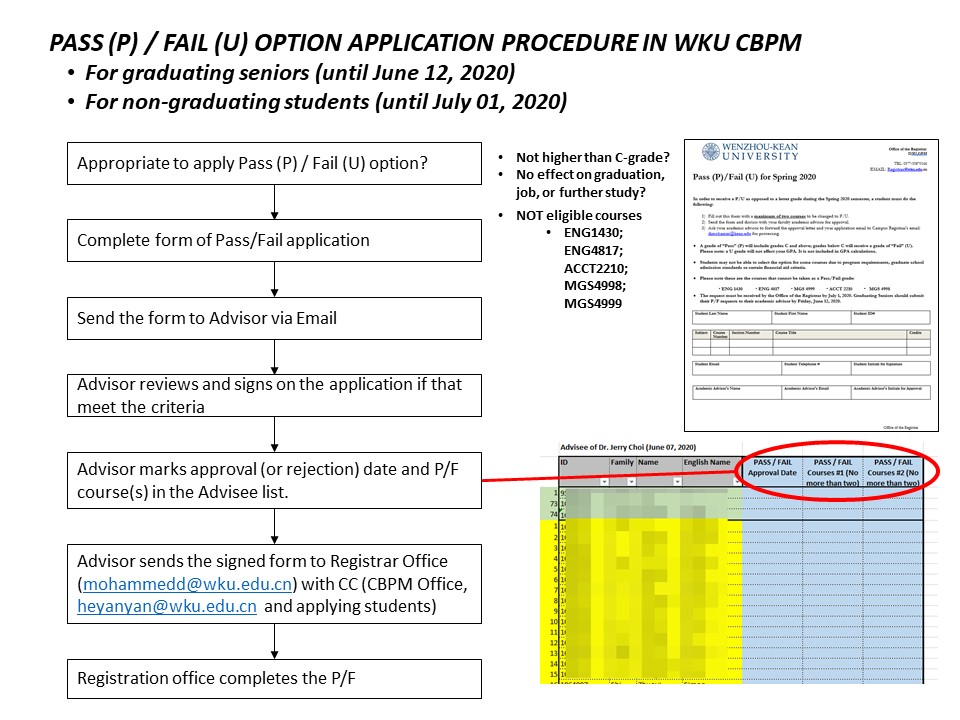 June 05 ~ June 12, 2020 : Final Grade Input
There are several different Grading options:
1. Conventional Grading Criteria
2. Online Course Grading Criteria
3. Accounting Course Grading Criteria.
MGM Department use this Grading procedure and criteria: https://leadershipcenter.tistory.com/499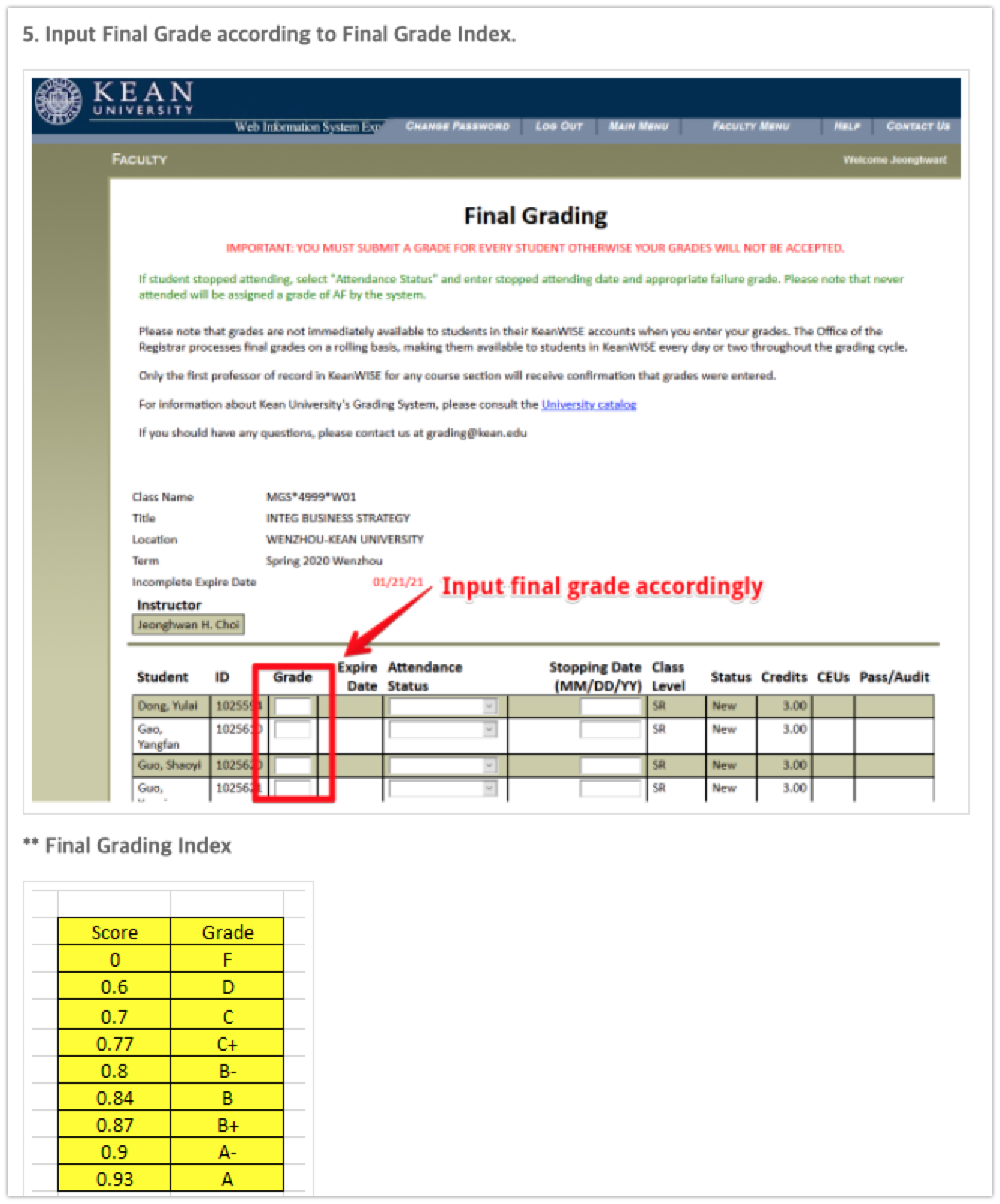 June 15~ July 01: Pass / Fail Grade Option Application of non-graduating students.
A typical complaint of the 2020 Spring Online Course Teaching and Grading in the non-Management course.
Repeatedly; Subjectively; Unfairly graded in the perspective of students.
Attitude is a matter, but learning or course itself.

---
---
==============================
CONVERSION of ALL KEAN / WKU Courses
June 27, 2020: Kean Conversion is announced.
Stephen LeBeau's Email.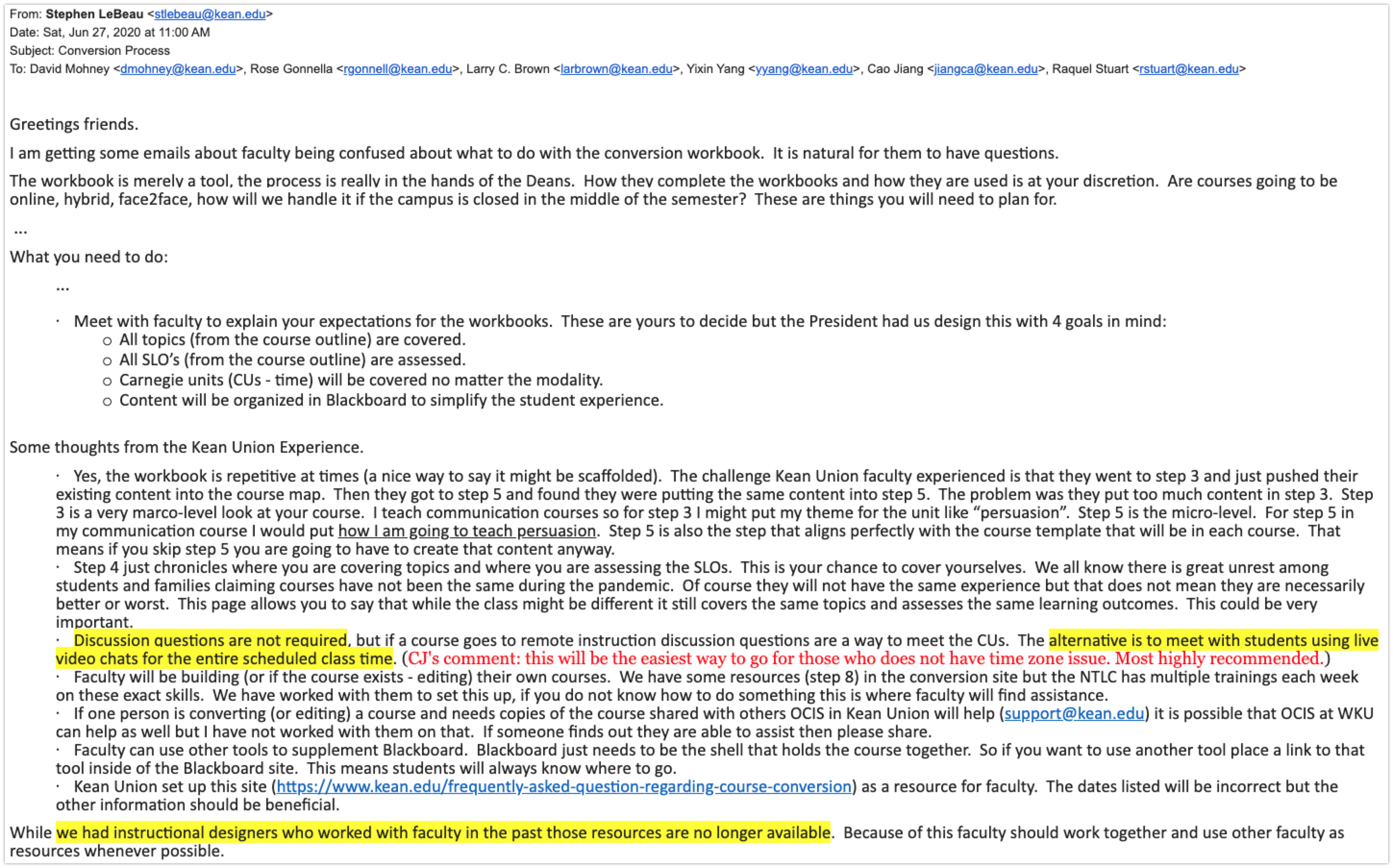 FAQ of Conversion:
https://www.kean.edu/frequently-asked-question-regarding-course-conversion
June 28, 2020: Kean University has launched Zoom,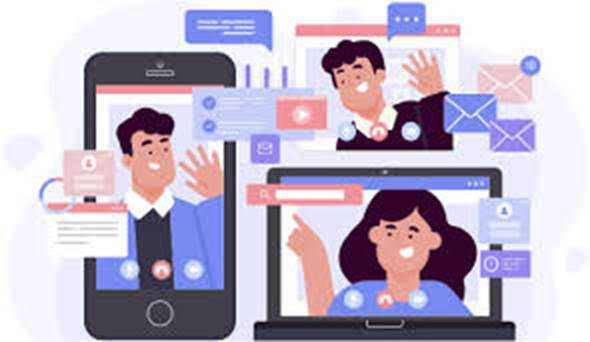 We are excited to announce that Kean University has launched Zoom as our new web conferencing solution. We have selected Zoom for its simplicity and reliability, not to mention consistency across devices for a seamless user experience.
Included in the Kean University site-license is cloud recording capability, extended meeting time limit from 40 minutes to 24 hours up to 300 participants.
July 06, 2020: US ICE (Immigration and Customers Enforcement) Syas International Students Must Take In-Person Classes to Remain in the USA.
https://www.ice.gov/news/releases/sevp-modifies-temporary-exemptions-nonimmigrant-students-taking-online-courses-during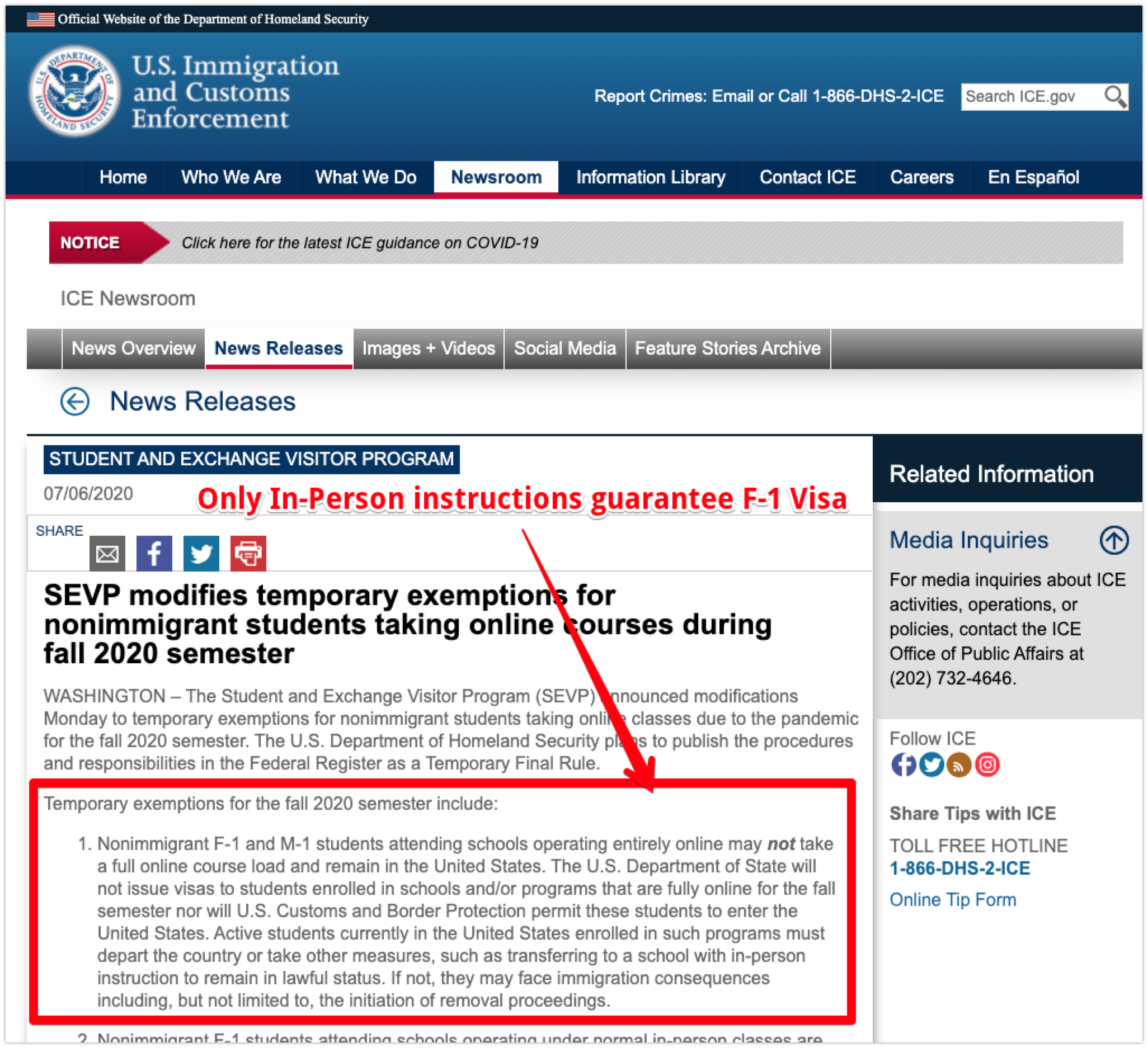 Two issues arise.
1. Does KU/WKU need to should do in-person classes to accommodate students?
2. How to manage KU/WKU Exchange Program?
July 27, 2020: Returning Order from WKU HR
All faculty and staff members are required to return to WKU campus by the end of August.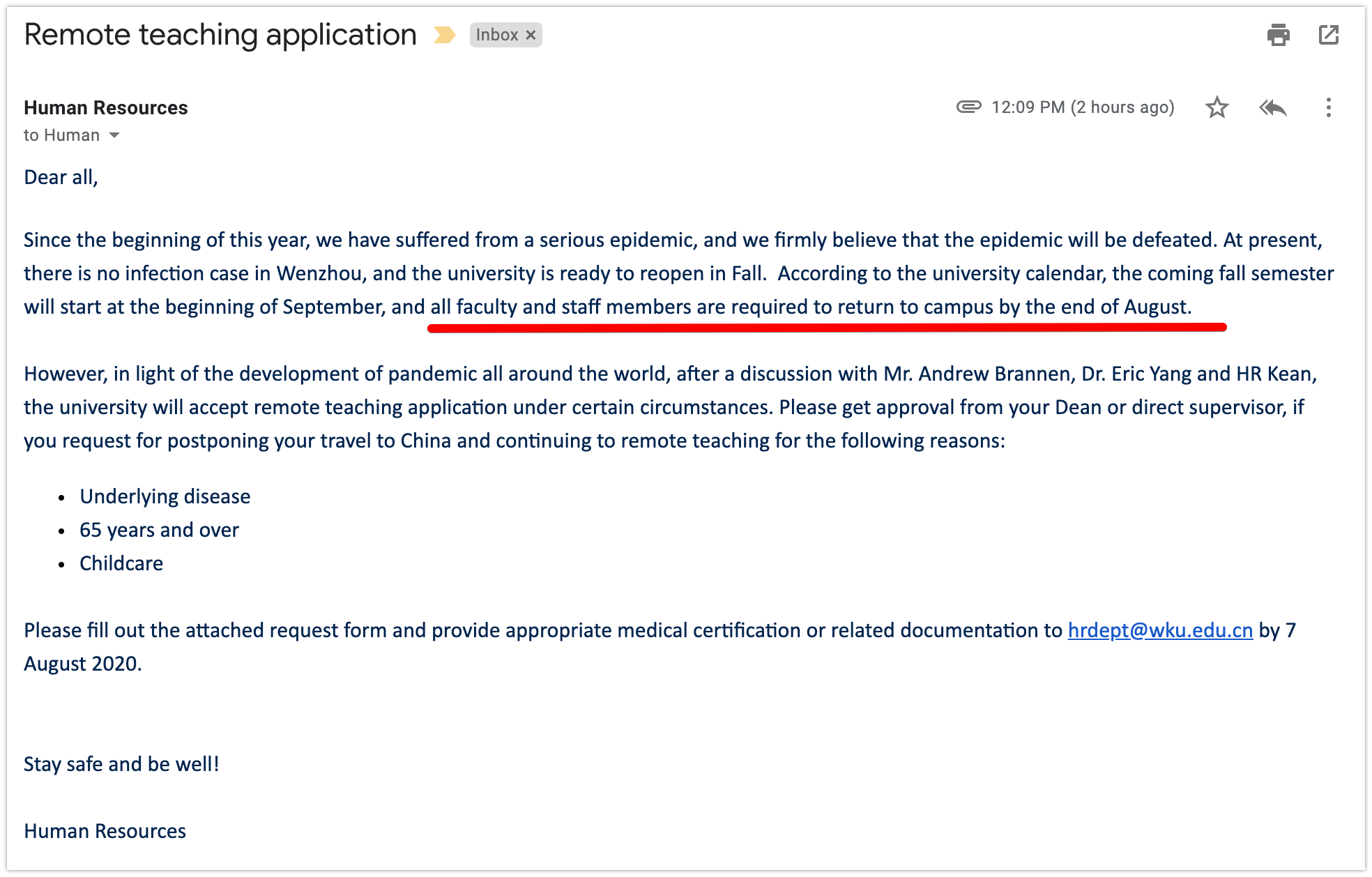 Please see returning faculty protocol
July 28, 2020: Four Types of Courses in Fall 2020
Important Information About Kean USA: Fall Registration and Courses

1. Face-to-Face (F2F)
2. Hybrid
3. Remote
4. Kean Online (ONL)
HOW TO USE WKU VPN?
For Windows:
For Mac: (Ask it to WKU IT)
---
---
2020. 09. 02 Eric Yang's Guide to Creating BlackBoard for 2020 Fall Classes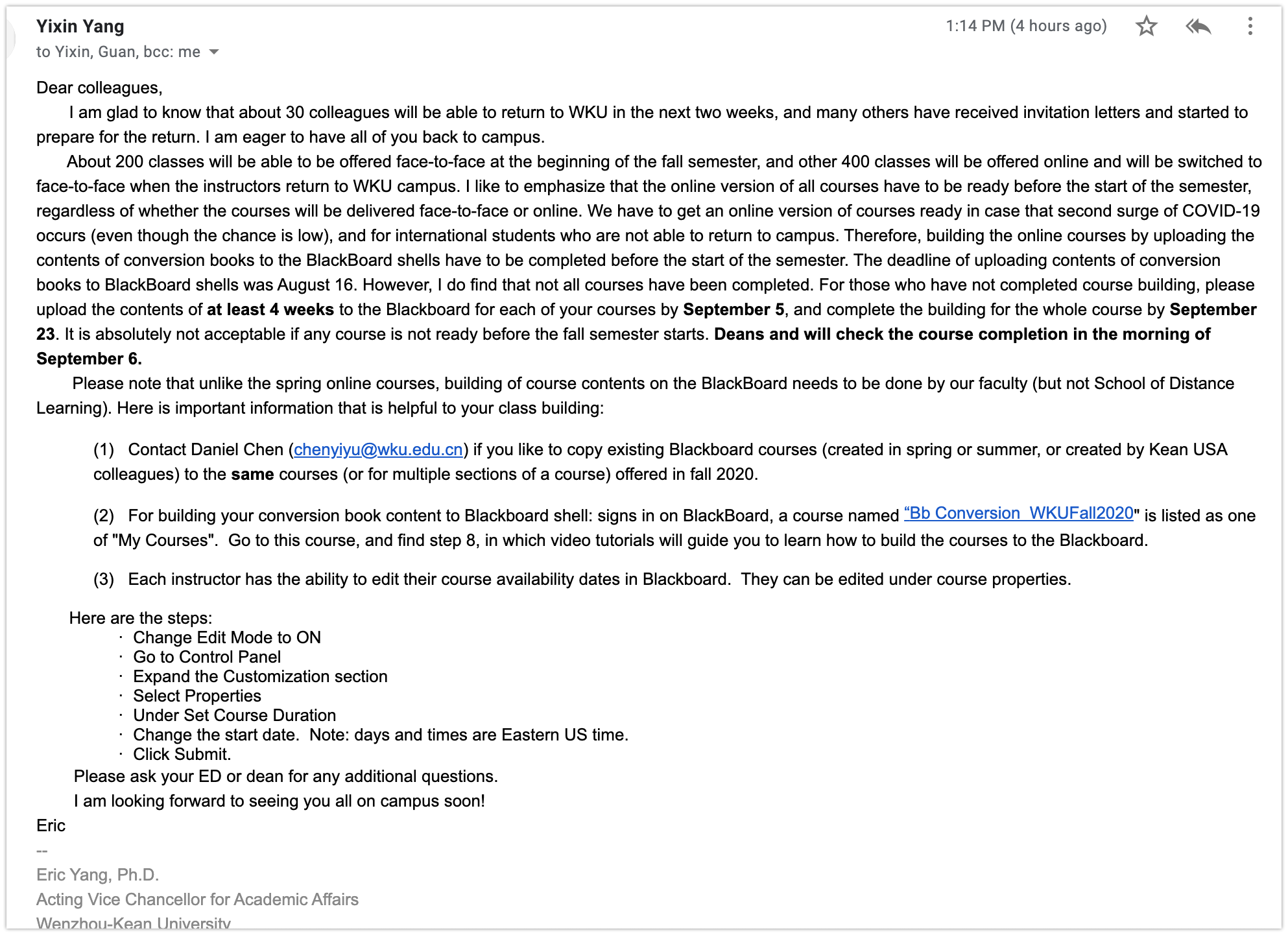 Please note that unlike the spring online courses, building of course contents on the BlackBoard needs to be done by our faculty (but not School of Distance Learning). Here is important information that is helpful to your class building:
(1) Contact Daniel Chen (chenyiyu@wku.edu.cn) if you like to copy existing Blackboard courses (created in spring or summer, or created by Kean USA colleagues) to the same courses (or for multiple sections of a course) offered in fall 2020.
(2) For building your conversion book content to Blackboard shell: signs in on BlackBoard, a course named "Bb Conversion_WKUFall2020" is listed as one of "My Courses". Go to this course, and find step 8, in which video tutorials will guide you to learn how to build the courses to the Blackboard.
(3) Each instructor has the ability to edit their course availability dates in Blackboard. They can be edited under course properties.
Here are the steps:
· Change Edit Mode to ON
· Go to Control Panel
· Expand the Customization section
· Select Properties
· Under Set Course Duration
· Change the start date. Note: days and times are Eastern US time.
· Click Submit.
Please ask your ED or dean for any additional questions.
I am looking forward to seeing you all on campus soon!
Eric
2020. Sept. 04: Acting Vice Chancellor's Urgent Request!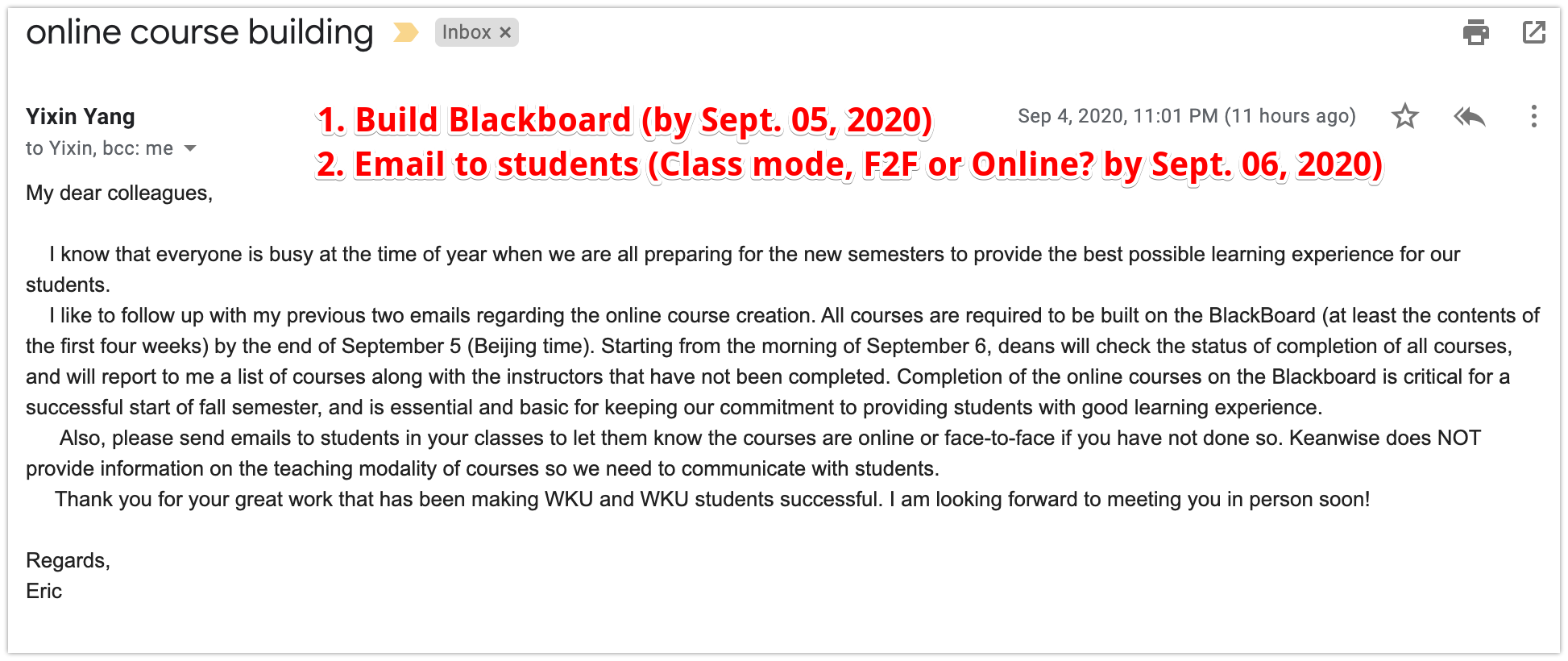 2020. Sept. 15: Acting Vice Chancellor's Reaction to Unprepared Courses.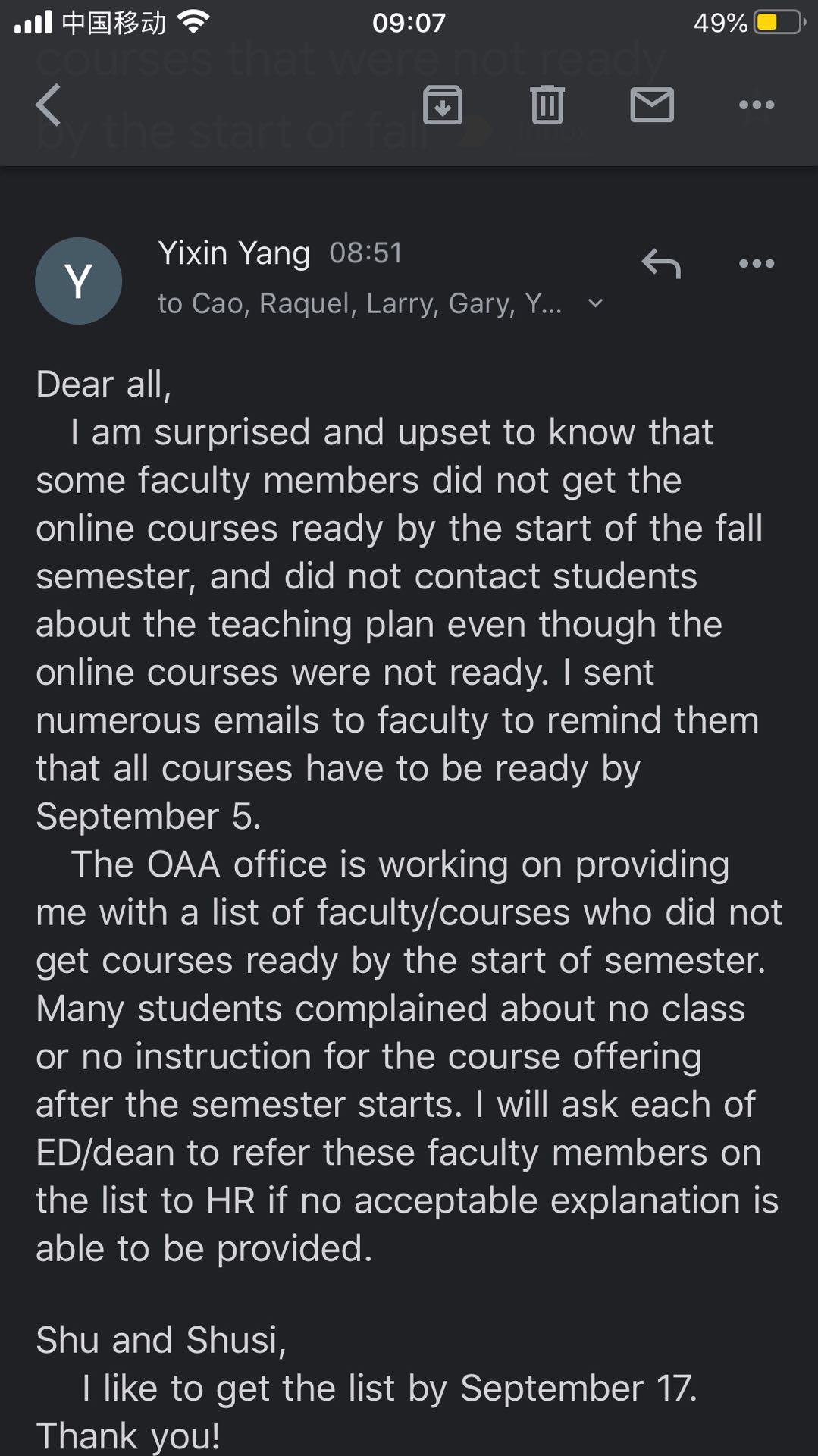 Some College of Liberal Arts and College of Science & Technology folks will face the 'music'.
Aug. 2020: Returning to Campus
==============================
Dec. 07, 2021: COVID-19 situation on Campus.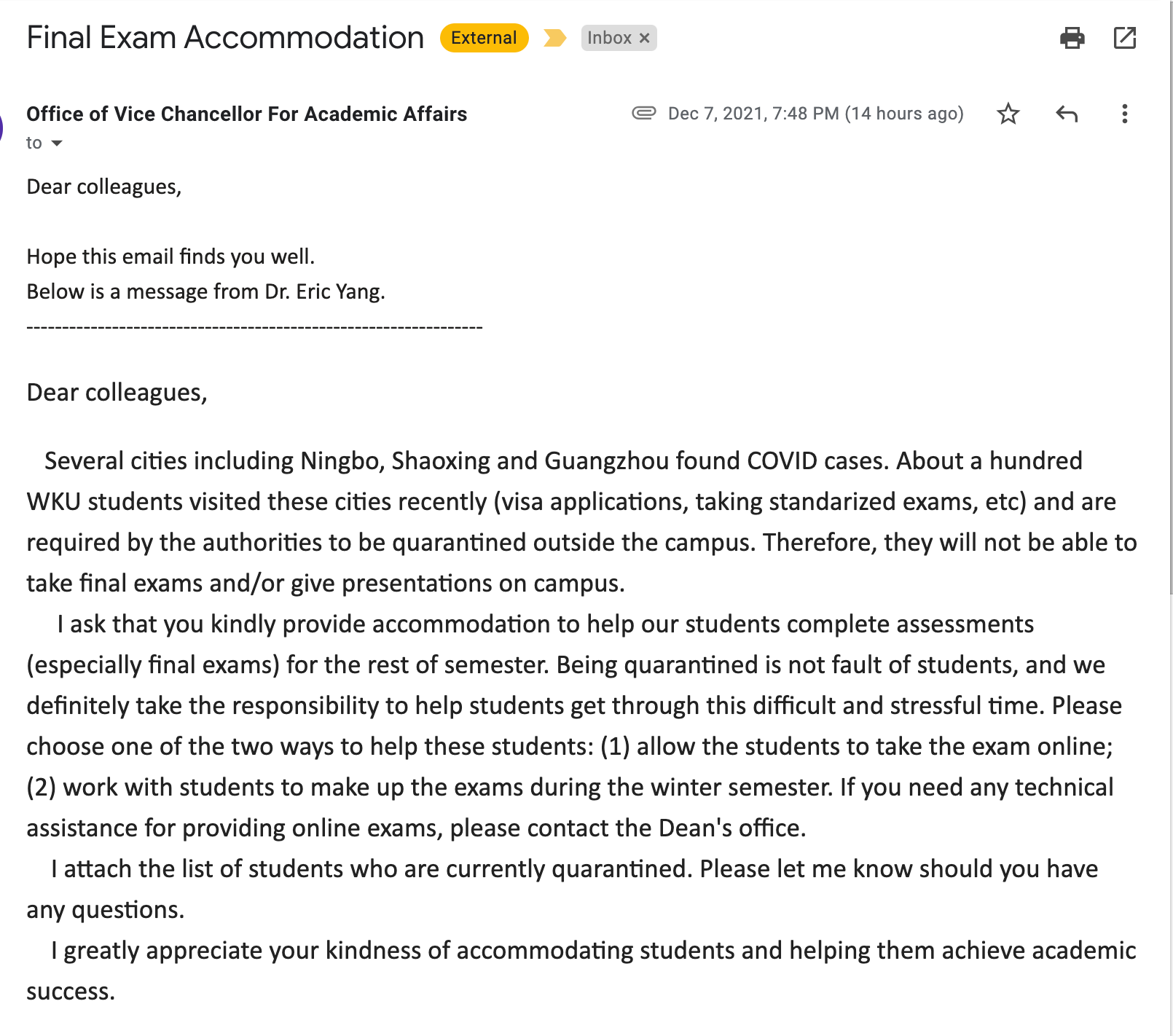 105 students were quarantined immediately, and the number increased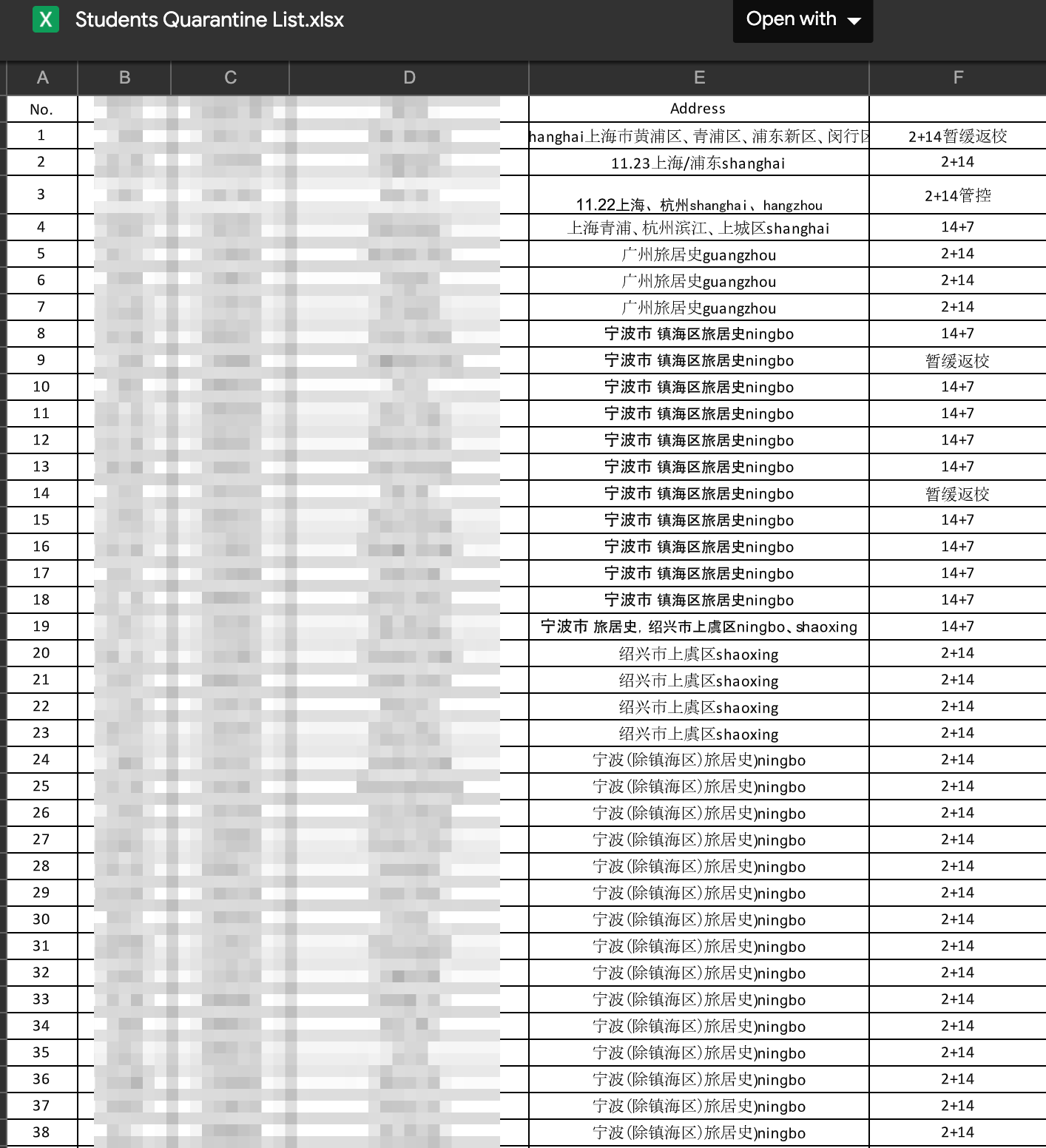 Dec. 08, 2021: Preparing the Worst Scenario
Brain Storming Ideas:
- Give "Incomplete" Grade - Complete Final Exam in Spring Semester
- Wait until students' quarantine is over (two weeks) - Complete the Final exam in the last week of December.
Possibility of Campus Lockdown (Worst Scenario)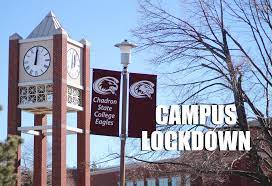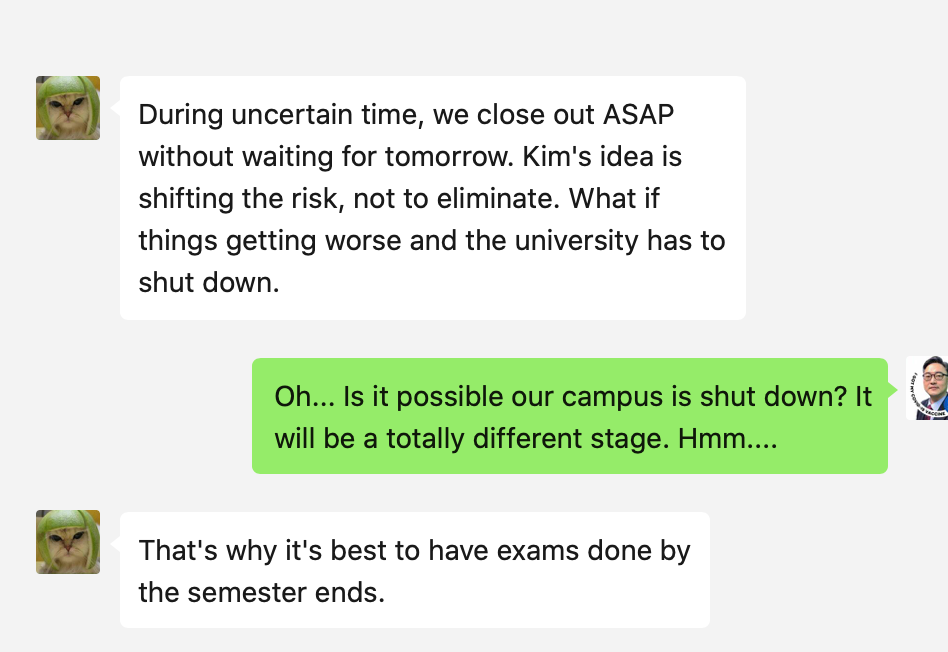 Dec. 08, 2021: Urgent message sent out! (for WKU CBPM MGM Department)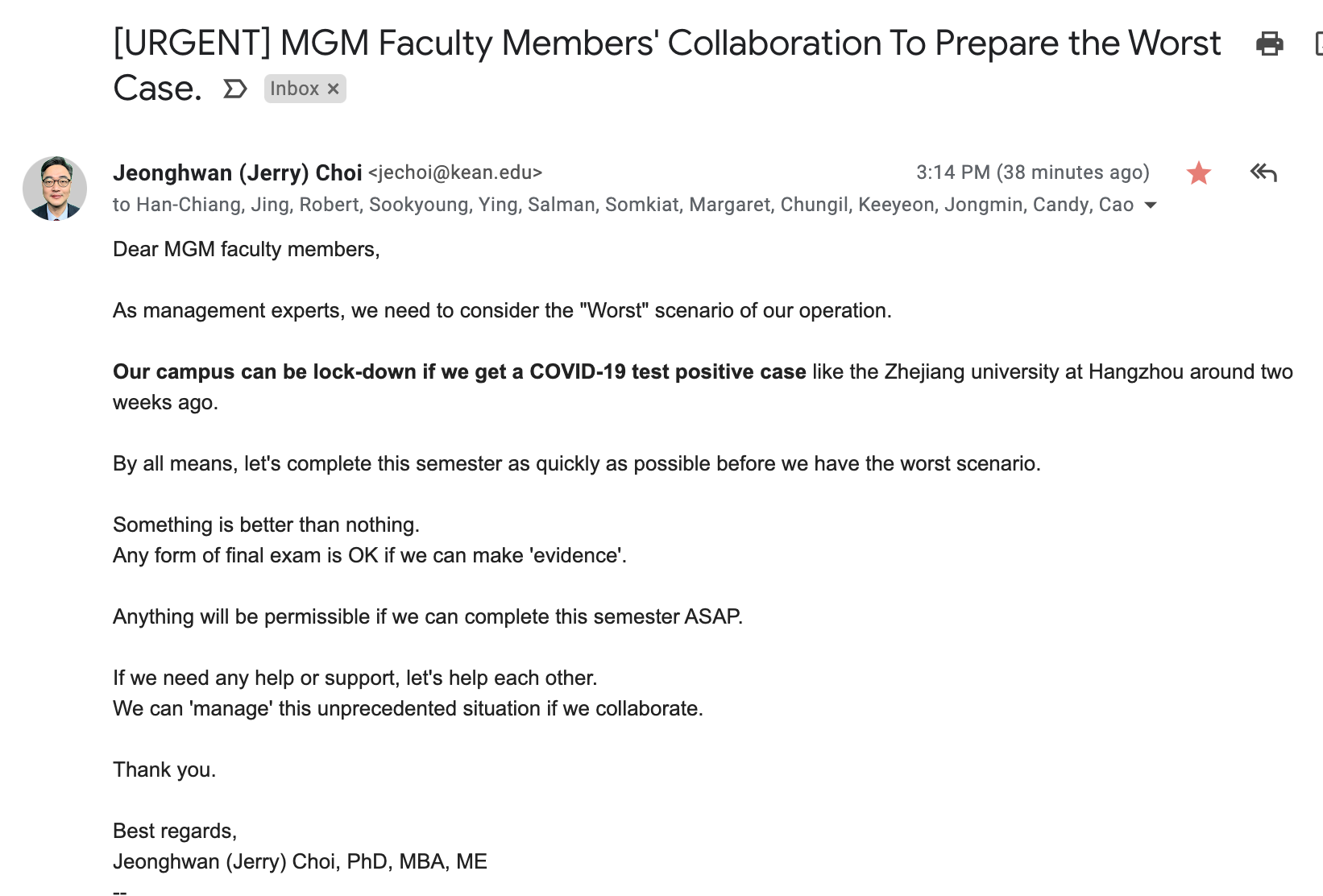 Sample of Zoom Exam (2021. Dec. 09)

(if you are NOT using BB online testing already) This is a good example asking for Zoom protectors:


Dear Sir/Madam, I'm the professor of xxx. I have two students in quarantine unable to participate in the final exam next week. I will arrange a synchronous online exam for them (Dec 15, 8:30 pm - 9:50 pm). Please help assign a proctor for the online exam. Below is the zoom link. Thank you.
During the exam, students should turn on the video. I'll send them the exam questions when the exam starts. They are required to write down the answers, take a picture of the hand-written answers and send it back to me immediately after the exam is over.
Best, xx
xx is inviting you to a scheduled Zoom meeting.
Topic: xxx Final Exam
Time: Dec 15, 2021 08:15 PM Beijing, Shanghai
Join Zoom Meetinghttps://kean-edu.zoom.us/j/ xxx
Dec. 12, 2021: Lockdown Mode (Students - No Leaving Campus)

While WKU Academic Affairs did not inform anything about the Situation, WKU CBPM prepared the 'Winter Semester' schedule adjustment and we agreed on the change.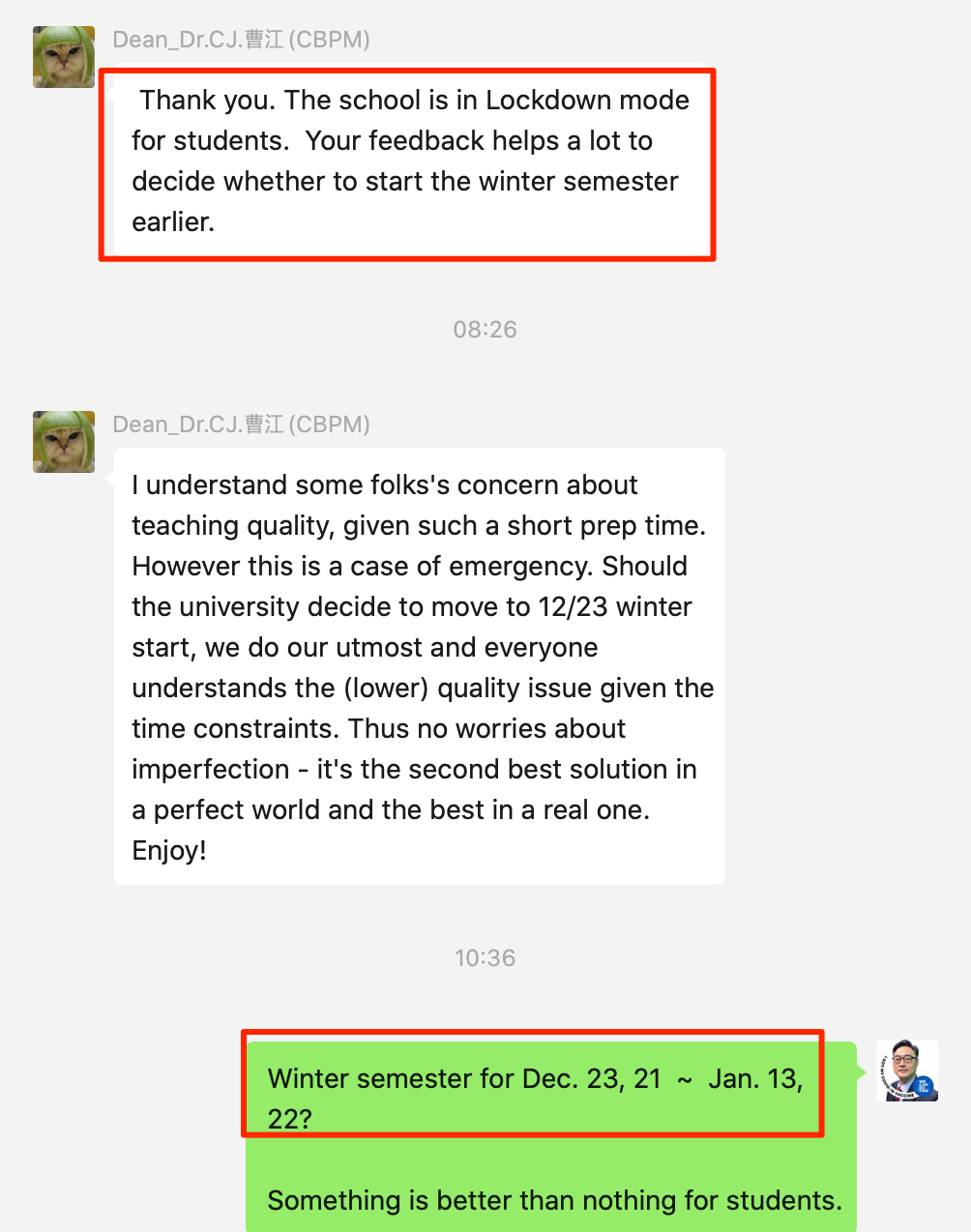 Dec. 13, 2021: Urgent message for the final week sent out! (for WKU CBPM MGM Department)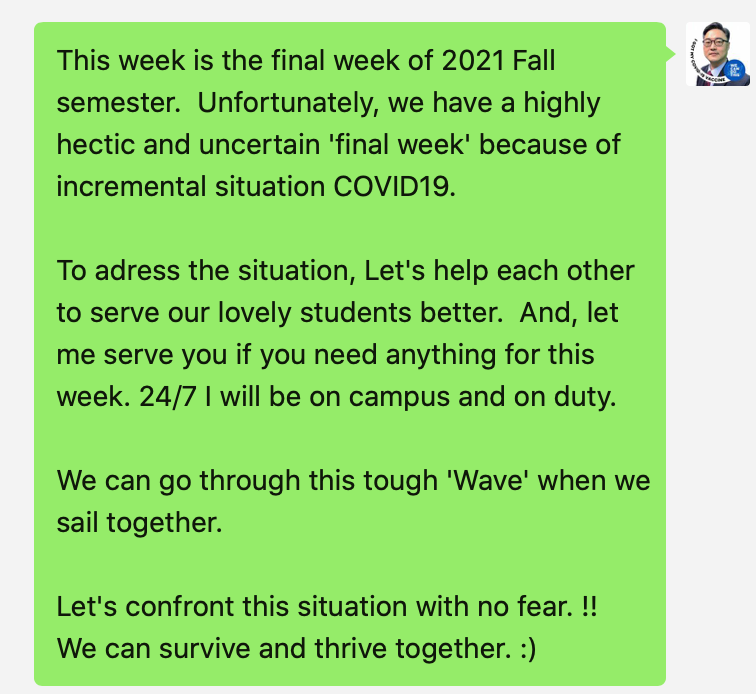 2021. Dec. 13: WKU Academic Affairs : Academic Schedule Adjustment for Winter.
Feb. 08, 2022: Idea of "Hybrid" form of lecture delivery for Spring 2022 from WKU CBPM Dean and Reaction: